Sony Is Developing A New AAA IP And Multiple Unannounced Games
It appears that the future of the giant conglomerate will not be affected by a drought.
Story Highlights
Sony Interactive Entertainment is reportedly brewing many unannounced projects, one of which is a whole new IP. The details were found in employees' LinkedIn profiles.
One of the games is likely planned to release this year because of the listing stating, "Unannounced project 2023." Judging by the dev's prior milestones, it could be an AAA title.
An Unannounced AAA IP is also in the brewer, but no details currently exist for it. A game by PixelOpus was also developing since 2021, but the studio is shutting down soon.
An unannounced product with a team of over 60 developers is also in the brewer, but it is not confirmed to be a game.
Sony Interactive Entertainment is reportedly brewing a bundle of upcoming unannounced games for the PlayStation 5, one of which is a whole new IP. The Twitter user Timur222 initially stumbled upon many unannounced projects currently being developed by Sony Interactive Entertainment behind the curtains.
The LinkedIn profiles of the devs involved have confirmed the different titles, but no explicit details for the games in question have been unveiled. Regardless, it is worth looking into the sparse specifics about multiple games that could release one by one after a few years elapse. The Senior VFX Dylan at Sony Interactive Entertainment is reportedly working on a new unannounced project likely planned for 2023.
The dev has also worked on the highly popular AAA God of War Ragnarok and various prominent Hollywood movies, including Topgun: Maverick. The developer's description reads, "I create photorealistic and stylized effects for film, television, and games."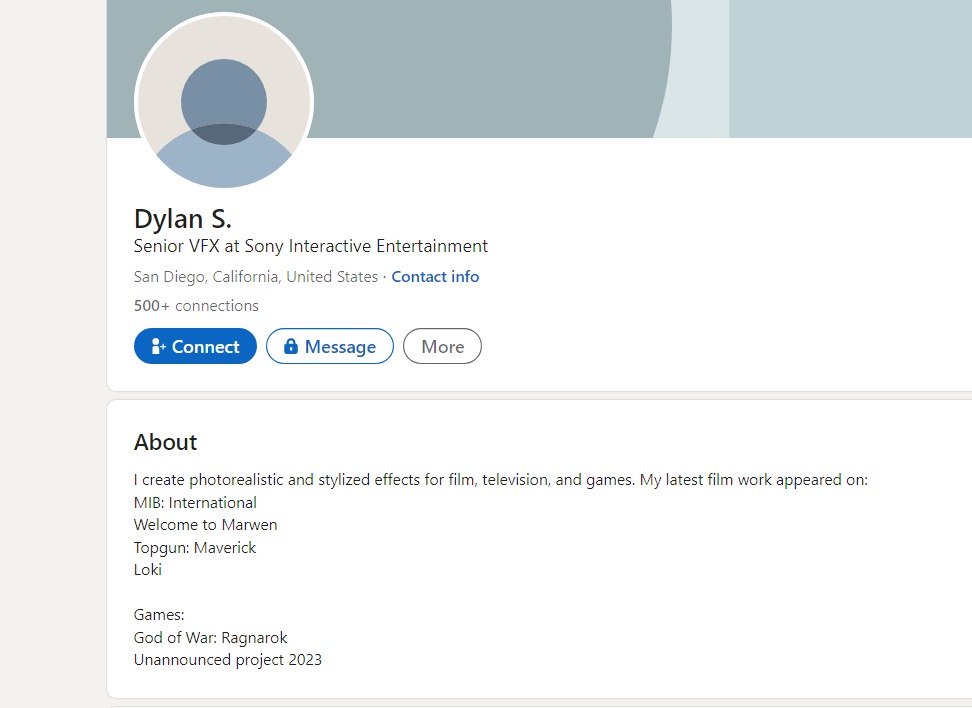 It is worth noting that it says "Unannounced project 2023," which could entail that a 2023 release is expected for the entry. The game in development could be an AAA entry that has been in the brewer for a few years, knowing the previous works of the Senior VFX artist. However, nothing else has been confirmed, so it is best to take the scale, genre, release window, and other particulars with a grain of salt.
Sony Interactive Entertainment is also seemingly whipping up a whole new unannounced IP, as mentioned by the former Visual Effects Supervisor and Art Director Jonathan Harman. According to his LinkedIn profile, Jonathan worked on a variety of projects, including Days Gone, Horizon Forbidden West, and more. He has also worked as an Art Director on an "Unannounced AAA New IP," leaving users confused about what it could be.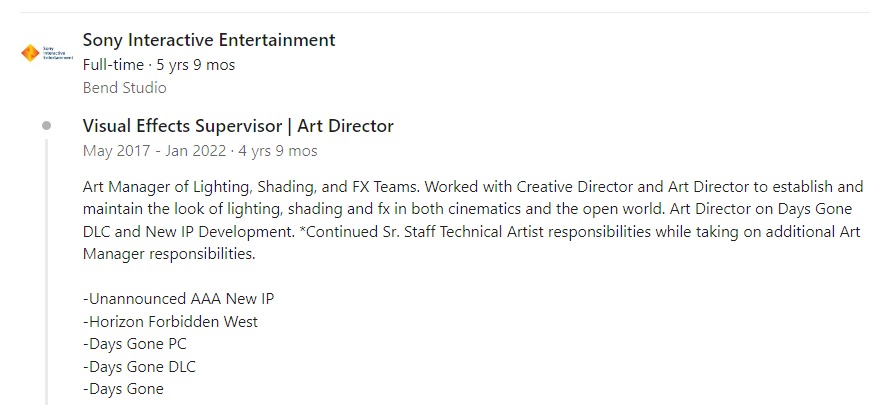 The list also mentions a Days Gone DLC, but it could possibly be referring to an older one. Regardless, no specifics for the new IP currently exist outside Jonathan's LinkedIn profile, curdling gamers' curiosity.
There is a third unannounced PS5 title in the brewer by Sony Interactive Entertainment, as found in the LinkedIn profile of the Lead Systems Designer Jing L at PixelOpus, PlayStation. The description reads, "working on an unannounced PlayStation 5 title in collaboration with Sony Pictures Animation."
The unannounced title was initially discovered in 2021, and it appears to be utilizing Unreal Engine 5 based on a job listing. However, as revealed in recent news, the studio is reportedly closing its doors later this year on June 2. It is unknown what comes of the project.
Dear friends, our PixelOpus adventure has come to an end. As we look to new futures, we wanted to say a heartfelt thank you to the millions of passionate players who have supported us, and our mission to make beautiful, imaginative games with heart. 
We are so grateful! ❤️🙏 pic.twitter.com/rQO2Cgvhnq

— PixelOpus (@Pixelopus) May 5, 2023
Lastly, an "unannounced product" by Sony Interactive Entertainment is also in the works with over 60 developers. The Principal Technical Program Manager Venkata Tangirala reportedly "assembled and led several large, cross-functional teams – even recruiting the onshore/offshore team of 60+ for an unannounced product." It is currently unknown whether it is a game or a new initiative by the company.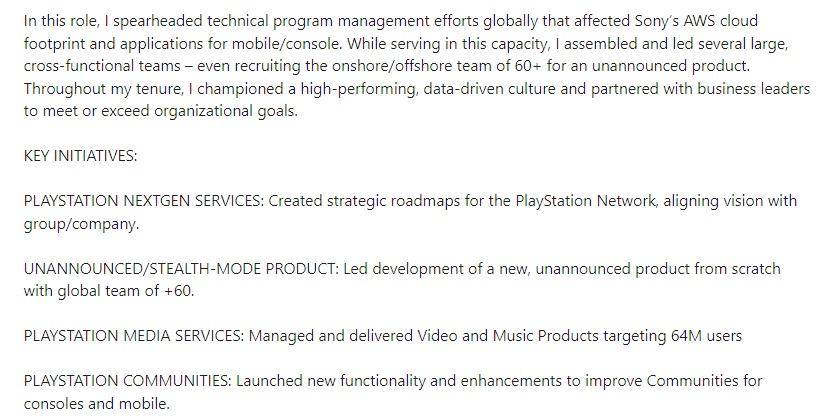 Reading through the key initiatives in the LinkedIn profile, it appears the product is likely not a game. Regardless, it is likely related to PlayStation Plus or the upcoming PS5 model. It could possibly also be referring to the PlayStation 6, but these are mere speculations based on the wording.
Finally, PlayStation Studios is also seemingly working on an "unannounced heavily stylized AAA game," as revealed by a PlayStation employee. All in all, we implore taking the new findings with a grain of salt since many details are missing to complete the puzzle. It has been revealed in the past that the company is heading to produce a bundle of unannounced games, which could be a few parts of the whole picture.
Similar Reads: Hogwarts Legacy Gets New Arachnophobia Mode As The Game Crosses $1 Billion Sales.
Was this article helpful?
Thanks! Do share your feedback with us. ⚡
How could we improve this post? Please Help us. ✍