Without a doubt, NieR: Automata is one of the most fascinating games to be released in the past couple of years. It earned praise for its character designs, fascinating narrative, and entertaining combat, among other things, and it was also a commercial success for the developer PlatinumGames.
And yes, it's been a while since the original release back in 2017, but many fans were still hoping that the title would come to the Nintendo Switch at some point in the future.
So I'm glad to let you know that we are now at that point in time, and The End of YoRHa Edition brings this critically acclaimed experience to the handheld in a big way. Many of you will have doubts about whether the game can run on a system that is generally viewed as underpowered compared to its peers, and that's one of the factors we will discuss in this review.
Quick Information
Developer

: PlatinumGames

Publisher:

Square Enix

Release Date:

February 23, 2017

Platforms:

Nintendo Switch, Playstation, Xbox and PC

Predecessor:

None
Story And Setting
Without getting into any spoilers on the off chance that you're someone who has not had the chance to try the game out yet, NieR: Automata has a very interesting approach to its story and it's best to go into it completely blind if possible. So I highly recommend not reading past this point if you truly want an experience that has not been tainted by preconceptions.
But basically, the story takes place on an Earth that has been overrun by machines who have forced humanity to abandon the planet in favor of the Moon, where the last vestiges of mankind are taking refuge. And you take on the role of an android known as 2B, who is part of an invasion force sent down to the planet to help defeat these machines in hopes of restoring the planet back to its former glory one day.
2B herself is kind of a stoic character, speaking only when necessary and not indulging in useless banter when possible. You initially expect this to be quite common for androids, but really early on in the story you're also introduced to 9S, your companion on this adventure. He is also an android, but he's a lot more talkative and friendly, almost human in many regards. The growing relationship between these two individuals is one of the best parts of the game, as they learn from each other and grow as characters in a post-apocalyptic world.
You also learn more and more about the machines who inhabit Earth, where they came from, and what their role is in the whole ordeal. The story is genuinely one of the most fascinating ones I've seen from games in a long time, and on top of some very traditional Sci-Fi themes, it also dives into many more subjects that not many titles have the guts to approach.
This is why many insist that to get the most out of this game, you have to go in completely blind. If you value good storytelling, then you owe it to yourself to play it. And remember, an ending is not always the end. Sometimes stories truly reveal their deepest secrets when you think they are coming to a conclusion, and boy does NieR: Automata have more than a handful of mindblowing reveals for its players.
Gameplay
And as good as the story is, I don't think many people would stick around to see most of it through if it wasn't for the gameplay, which is what we're going to discuss next in our NieR: Automata – The End of YoRHa Edition Review.
Right from the moment you start a new save, the game throws a number of extremely varied and bombastic sequences at you. It switches perspectives multiple times, and always keeps you guessing as to what is coming next.
At its core, NieR: Automata shares DNA with a number of different hack and slash titles that came before it. Think of the Devil May Cry series, or more specifically, the Bayonetta titles which are also developed by PlatinumGames. Combat is a mixture of hard-hitting and extremely fluid melee combat, as 2B makes use of two different weapons, mostly swords, to inflict devastating damage on her foes. Attacks seamlessly flow into one another, and there are a number of different combos to learn and utilize.
There's also the ranged side of things where 2B's flying companion Pod 042 comes into play. The Pod has access to a number of different ranged attacks, the most common of which is a barrage of ranged projectiles that can be fired indefinitely. There are also a few other attacks like a charged laser beam, and all of these can be used to inflict damage on enemies at a distance, or also as a means of defense by eliminating enemy fire.
By mixing both the melee and ranged combat together, what you have is a strange mixture of two different gameplay styles that work surprisingly well together, even if the emphasis is clearly on the melee side of things. But the game is also not satisfied with simply settling with these two elements either. Over time, a number of different gameplay scenarios are also introduced, such as occasionally switching the camera from a third-person view to a 2D or even a top-down perspective. These minor changes switch up the effectiveness of different attacks and give some much-needed diversity to the gameplay.
Additionally, there are light RPG elements in the game that allow you to enhance your abilities and provide you with new skills with the help of items known as Plug-in Chips. These help you customize the gameplay to your liking by focusing on the aspects that work for you specifically. And as expected there is also a very healthy dose of puzzle-solving and platforming in the mix as well. I won't go into too much detail obviously because a lot of these aspects are old news by now, but I just want to convey to our readers that very few moments in the game feel like they waste your time.
In terms of what content is new to The End of YoRHa Edition, some fans may be disappointed. The package comes bundled with the 6C2P4A118680823 DLC, which contains 6 new costumes, 4 accessories, and 2 Pod skins. All of these are purely cosmetic in nature and do not affect the gameplay in any way. They do look nice on the characters though.
Overall, this is a great game with some incredibly satisfying gameplay. If a PlatinumGames title has melee combat, then you know that it's going to be some of the best you've ever experienced, and that's a personal guarantee I'm willing to give you.
Visuals And Performance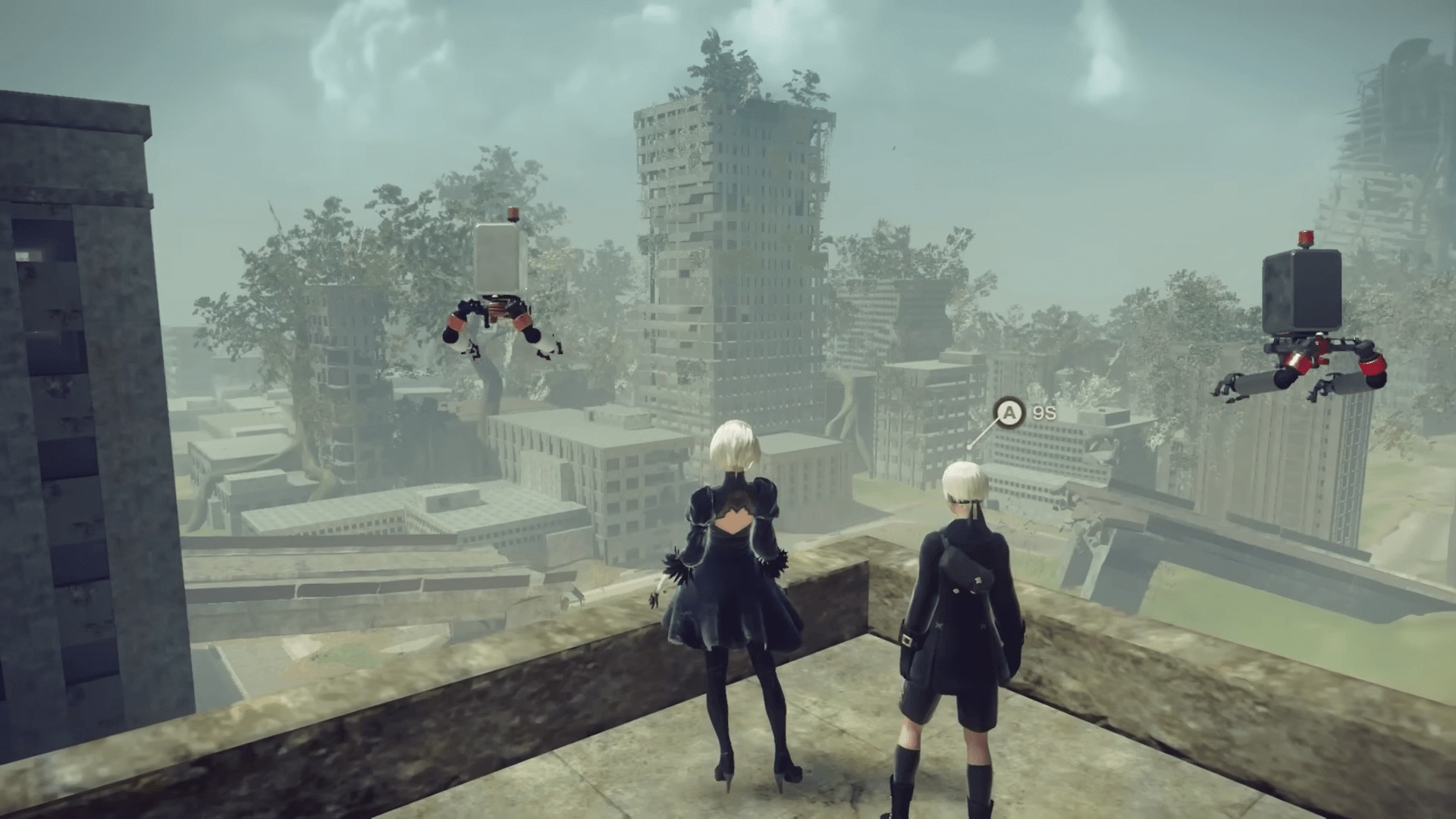 Now we arrive at the part of our NieR: Automata – The End of YoRHa Edition review that everyone was probably dreading because we all know how well certain ports of games have fared on the Nintendo Switch. But the thing is, NieR: Automata – The End of YoRHa Edition runs as well as any of us could have wanted.
Yes of course the title does not run at 4K and 60FPS, but being able to maintain a solid 30FPS on the handheld is a feat that many bigger studios seem to have failed in accomplishing with their ports. The game honestly runs as well as most native switch titles, and that helps immensely in maintaining the flow and speed of combat.
But some sacrifices were clearly made to be able to hit this target, and that is where the visuals come into play. The port does not look nearly as pretty as it does on the original platforms it was released on, but the fact that it still looks as well as it does here is nothing short of a miracle. If you've played the game before, then the changes will be apparent to you from the get-go.
Most of the textures are a bit blurry, and there is a really noticeable lack of detail in a lot of the environment. But that's simply the cost we have to pay to be able to get a solid 30FPS, which again, the game manages to maintain even in combat. So overall, I would say the sacrifices are worth it to be able to experience this great game on the Switch.
Verdict
With NieR: Automata – The End of YoRHa Edition, the highly popular title finally arrives on the Nintendo Switch. This is the exact same game, with the same phenomenal narrative and addicting gameplay, only now you can play it in handheld mode, and for some, that's enough to pay the price of admission.
But to be able to port the title to such an underpowered device, some sacrifices had to be made. The game doesn't look as pretty as it does on even last-gen consoles, and there is a very noticeable lack of textures in the environment. But the game is still far from ugly, and it manages to maintain a solid 30FPS even when the combat gets hectic.
NieR: Automata deserves all the praise in the world, and the more platforms it is available on, the better it is for both PlatinumGames and consumers. Everyone should try it out at least once because it is without a doubt one of the finest experiences you can have in the world of video games.
This has been our NieR: Automata – The End of YoRHa Edition Review. While you're here, consider checking out some of our other articles.
Was this article helpful?
Thanks! Do share your feedback with us. ⚡
How could we improve this post? Please Help us. ✍
NieR: Automata - The End of YoRHa Edition Review
Story And Setting

Gameplay

Visuals And Performance
Verdict
With NieR: Automata – The End of YoRHa Edition, the highly popular title finally arrives on the Nintendo Switch. This is the exact same game, with the same phenomenal narrative and addicting gameplay.
Pros
Excellent Narrative.
Great Combat.
The Reveals Are Great.
Performance On Switch.
Cons
The Visuals Are Not Sharp.