Skating has never been simple, and our Session Skate Sim review will show that this is even true in video games. This Crea-ture Studios game has been in early access since 2019, and it finally received a formal release on September 22, 2022. At first glance, you could assume that it is identical to other skateboarding titles that have been out for years, such as Tony Hawk's Pro Skater 1 + 2, but this differs not only in terms of controls but also in the level of realism that Crea-ture sought to achieve.
It's a simulation game that gives the impression of skating without actually getting on a board. Let's have a deeper look into this title to see what differentiates it from other similar experiences.
Quick Information
Developer

: Crea-Ture Studios

Publisher:

Crea-Ture Studios

Release Date:

September 22, 2022

Platforms:

Nintendo Switch, Playstation, Xbox and PC

Tested On:

Xeon E3-1270, GTX 750 Ti, and 8 GB of memory

Predecessor:

Project: Session
Setting
Because Crea-ture was more focused on bringing in a more realistic experience, the story mode in the final version isn't really a story, instead, it's a collection of missions scattered across the world that you complete in order to become a professional skater.
Additionally, the dialogue and 'Plot' is also really forgettable. You talk to individuals, and they ask you to get to specific locations and perform certain stunts. And you do exactly this, over and over again. Now a proper story isn't really what fans come to these game for, but it would have been nice if these interactions had some personality. Also, the developers' primary goal was to create a realistic simulator rather than an arcade-style game.
But a result of the lack of proper guidance, missions are not as enjoyable as I had anticipated. There is rarely a guide that details the button combination needed to perform a trick, which can be frustrating. Objective completion is also significantly more challenging due to a lack of advanced tutorials because mostly you do not know how to perform the specific trick required by the objective. Occasionally, the game doesn't register the tricks performed either, forcing players to repeat them in order for the system to recognize them, which is really annoying.
Gameplay
The intense realism of this hardcore title allows you to simulate real-world skating. Because Session Skate Sim is physics-driven, perfecting flips, ollies, and other tricks requires precise movements on the controller. The first few hours of this whole experience could be irritating due to the challenge of becoming accustomed to basic controls, and you'll probably also fall a whole lot. But on the other hand, once you master the controls, the gameplay is enjoyable and satisfying.
In contrast to other games in which doing a whole combo of tricks only requires pressing the right buttons after a jump, performing tricks in Session requires a thorough understanding of how the boards and jumps work. The controls are very similar to those of Skater XL. The left and right sticks control the matching legs while the triggers are used to turn in the respective direction. To pop a trick, you manipulate each leg differently. The main distinction between Session Skate and Skater XL is the switch controls. Skater XL uses the same inputs for both facing directions, but Session flips the controls when you switch sides. Even simple movements like steering require some experience with controls.
The camera angle is another element that makes the game more challenging. It is difficult to judge your distance from things and take notice of the terrain irregularities because the camera is really close to the player's legs.
There are a wide variety of different maps to choose from, some of which are even based on actual skateboarding spots. And when it comes to customization, the game offers a feature for customizing characters and boards in shops and apartments as well. There are even presets of well-known skaters like Anni Guglia, Billy Marks, Donovan Strain, and others.
Accessibility is always nice to see in titles like this and to ease up the difficulty, the game offers a number of settings that you can fine-tune according to your preferences like input mode, body rotation mode, flip tricks, grind settings, and so on.
Visuals And Performance
Session Skate is a bland title in terms of visual presentation. Graphically this game is inconsistent. The lighting is poor, the draw distance is short, and the textures are low resolution and lifeless. The world is so unreactive, and there's no traffic, and no NPCs to speak off. There is a feature to turn on pedestrians to add some life to the world, but it doesn't do a good job because most of them just keep getting in your way. So, you might want to keep that turned off.
Also, I did occasionally find small graphical glitches here and there, but the game managed to provide a stable experience at medium to high settings when tested using a Xeon E3-1270, GTX 750 Ti, and 8 GB of memory.
In story mode, there is no voice acting, and the game has some featured soundtracks that might not live up to your expectations. Sound effects on the other hand, such as kickflips and grinding, are fantastic.
Verdict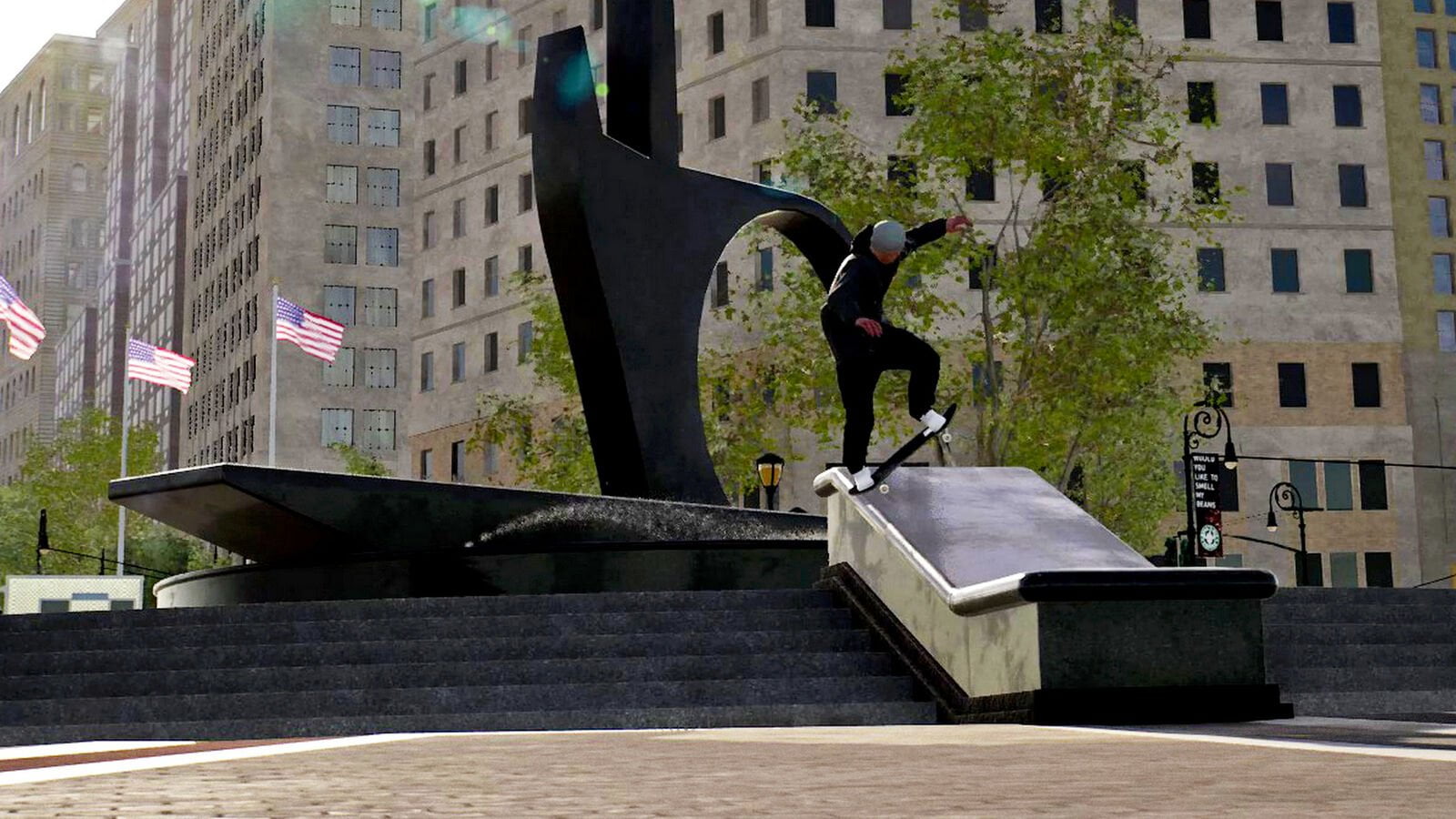 Session Skate Sim is a fascinating title, but it will not have any sort of mainstream appeal. It will not speak to those who are not willing to spend dozens of hours understanding complex physics and mechanics. In addition, the lackluster campaign mode and bland visuals might not do for someone who is not into skating or simulation-styled experiences.
Session Skate Sim, however, might be the perfect game for someone looking for a more in-depth experience of this adventurous sport in a virtual setting.
This has been our Session Skate Sim review. While you're here, consider checking out some of our other articles.
Was this article helpful?
Thanks! Do share your feedback with us. ⚡
How could we improve this post? Please Help us. ✍
Session Skate Sim Review
Setting

Gameplay

Visuals And Performance
Verdict
Session Skate Sim has a lot of issues, but it might be the perfect game for people who really like detailed skateboarding simulators. For everyone else, maybe stick to Tony Hawk's.
Pros
Realistic Skateboarding Sim.
Detailed Trick System.
Crispy Sound Effects.
Made For Hardcore Simulation Fans.
Cons
Bland Visuals.
Poor Tutorial.
Poor Mission Designs.
Lack Of Personality.