2022 has been a year of both epic wins and utter failures, featuring moments that span from the release of Elden Ring and Stray to the closure of Google Stadia and the massive surfacing of that industry-shaking GTA 6 leak. What a wild ride, wouldn't one agree?
Last year, a swath of new IPs made landfall, including Scorn, Stray, Sifu, Gotham Knights, and multiple others. However, sequels to established existing IPs like God of War, Bayonetta, and Horizon were also released. With that said, this isn't where 2022 drew the line.
Alongside games, other instances of noteworthy importance popped up, making 2022 an all-rounding influential year for the industry as a whole. Join us as we recapitulate the year and showcase the best highlights of 2022 in the video ahead.
1. Launch Of Stray
Stray is one of the most prominent games to feature an animal as a protagonist, and what better way to kick things off than with a furry feline struggling to find his (supposed gender) siblings? Stray features a gorgeous dystopian world in a unique setting, where you play and navigate the in-game world as a cat.
Stray was released in July of 2022, making the summers of many spent maneuvering neon-laden alleyways and outpacing killer robots. There are plenty of things that Stray gets right about cats, which is quite the beauty of it while leaving players glued to their screens as they uncover the mystery of a bacteria-infested cybercity.
Stray comes across as fun, sentimental, and highly enjoyable at the end of the day, featuring a single-player campaign experience with minimalism at the forefront of the title's gameplay. It's a massive break from the usual rip-roaring RPG, combat, or shooting action and more of a laid-back, soothing experience.
The moment you begin playing, it's shown that the cat protagonist is enjoying his time, jumping and running around and going on a walk with the whole family. However, due to some unforeseen circumstances, the Stray cat gets separated and is shown accidentally falling to a lower level of the ground below the surface area.
That's when things get real practical for our beloved kitty. He finds himself injured, waking up in a desolate sewer. As he struggles to regain his strength back, we're soon introduced to a bustling underground world that's loaded to the brim with robotic creatures.
At one point, Stray even beat God of War Ragnarok to become the highest-rated game of 2022 on PC, and this stat tells you alone what felines are capable of in the gaming industry if given the opportunity.
The sad thing is, though, Stray's ending leaves us in the state of a cliffhanger, but we won't probe further on that note if you haven't played the game yet. All in all, the title is something that you must experience, especially if you're a fan of high-quality indies.
If you ever get around playing the game on your PC, here are the 10 best Stray mods you cannot miss out on.
2. Elden Ring's Release
2022 will be remembered for the release of the giant that Elden Ring is alone, being the magnum opus of FromSoftware and Hidetaka Miyazaki up until now. This RPG is a genre-defining title that has managed to outclass its competition by a mile, featuring state-of-the-art gameplay and an exemplary open-world design.
Elden Ring has manage to best the likes of God of War Ragnarok to bring home the Game of the Year award for 2022, not to mention winning the highest number of awards at the Game of the Year event as well. If it's any consolation, Ragnarok did win Time's Game of the Year, but that's barely relevant here at this point.
It's safe to say that after years of anticipation, given the title's initial announcement in 2019, the RPG launched to extreme fanfare and was received accordingly by fans and critics alike. Elden Ring got called a masterpiece by one after the other and gradually gained a solid foothold in the industry merely days after its launch.
FromSoft has gone ahead and crafted an open-world Soulsborne title for the first time ever, and their execution has been nothing but world-class. Elden Ring is dripping from top to bottom with high quality, featuring enticing gameplay, a huge, bustling world to explore, and unspeakable terrors to face head-on.
As always, the in-game worlds created by Hidetaka Miyazaki love putting players in the doubt of the mystery, involving multiple endings and choice-based decisions that further the storyline of NPCs and mainline quests as well.
Today, FromSoft's latest work of art is an established IP with more than 17.5 million copies sold as of November 2022. It's rumored that "huge DLC" is on the way for the RPG, but we've yet to see how that will turn out. As of right now, 2022 will always be remembered for birthing a game as substantial as Elden Ring.
3. Massive GTA 6 Leak
It's not just the arrival of top-shelf games that somehow made the headlines last year. As a matter of fact, another occasion of utmost significance took flight in 2022, marking itself as one of the biggest leaks in history.
There's no doubt Rockstar Games is the proud creator of the Grand Theft Auto franchise and that there hasn't been a new rendition in the series for almost 10 years now. Given the scale of the developer, it was well speculated that the next GTA is certainly under development, if not nearing its release.
Then, simply out of nowhere, September 18 saw a massive dump of leaked Grand Theft Auto 6 footage, which is supposedly the next iteration in the franchise. A total of 90 clips were uploaded to various domains online, attributing to over 50 minutes of leaked footage.
The industry was in complete disbelief, but the damage was already done. An individual called "teapotuberhacker" initially took to the unofficial GTA Forums to create this wave of disruption.
The situation escalated as the leaks spread around the globe like wildfire, and more and more publications indulged in the leaked content.
Various different elements of GTA 6 came out into the open, ranging from a few visual aspects of the game's development thanks to the showcased dev kit footage and car chase scenes. Truth be told, from what we can tell after checking out the leaked footage, Rockstar is cooking up yet another thriller of a game.
Today, therefore, plenty is known about the upcoming action-adventure by Rockstar due to the courtesy of all these leaks that emerged last year, including how there's a Latian protagonist in the game, which is a first for the whole series.
What made the matter even worse was that the figure behind the giant info dump, going by their internet username of "teapotuberhacker" was reported to be 17 years old. Age is just a number, and it shows. Rockstar's 17-year-old nightmare was held responsible for the then-latest Uber hack as well.
As an ending to the whole sequence and drama, the hacker was allegedly arrested in London later in the month of September. The City of London Police, in concert with the FBI tended to the matter and reportedly got the 17-year-old Rockstar Games hacker in custody.
There have been multiple different video game leaks over the years — some even bigger than the one in question — but if 2022 is to be gauged, there's no doubt how this GTA 6 leak will be remembered for the years to come, especially Septemer 18 which genuinely seemed like just another morning in its early hours.
4. Microsoft's Buyout Of Activision Blizzard
Microsoft certainly got some money to spend, and by "some money," we mean a whopping sum of $69 billion dollars. That's what it took to kick the acquisition of Activision into motion, which is one of the most established interactive video game companies in the world, known for creating terrific IPs down the line.
Although the acquisition is yet to be processed fully, it did come up in 2022, therefore symbolizing itself as one of the most substantial moments of the year. With that said, multiple obstacles have surfaced in the way of Microsoft trying to acquire Activision Blizzard.
Over time, incidents such as Sony saying that the Microsoft-Activison deal will give Xbox an unfair advantage, along with Microsoft facing an anti-trust warning from the EU have popped up, leading many to wonder whether monopolies will kill gaming.
In addition to this, Microsoft has just been served a lawsuit by gamers to stop it from acquiring Activision Blizzard. This Microsoft vs Gamers scenario has found many in a rut, and things aren't proceeding so smoothly on that front.
However, along those lines, the European gaming labor group called EGDF has backed up the Microsoft-Activision deal, and Microsoft CEO Satya Nadella, in the past, too has expressed his confidence in the buyout's completion.
Activision Blizzard owns the Call of Duty franchise, among other noteworthy IPs, such as Crash Bandicoot, Guitar Hero, Guitar Hero, World of Warcraft, Diablo, and even Overwatch. Microsoft certainly knows what companies to go on a shopping spree with.
5. The Sunset Of Google Stadia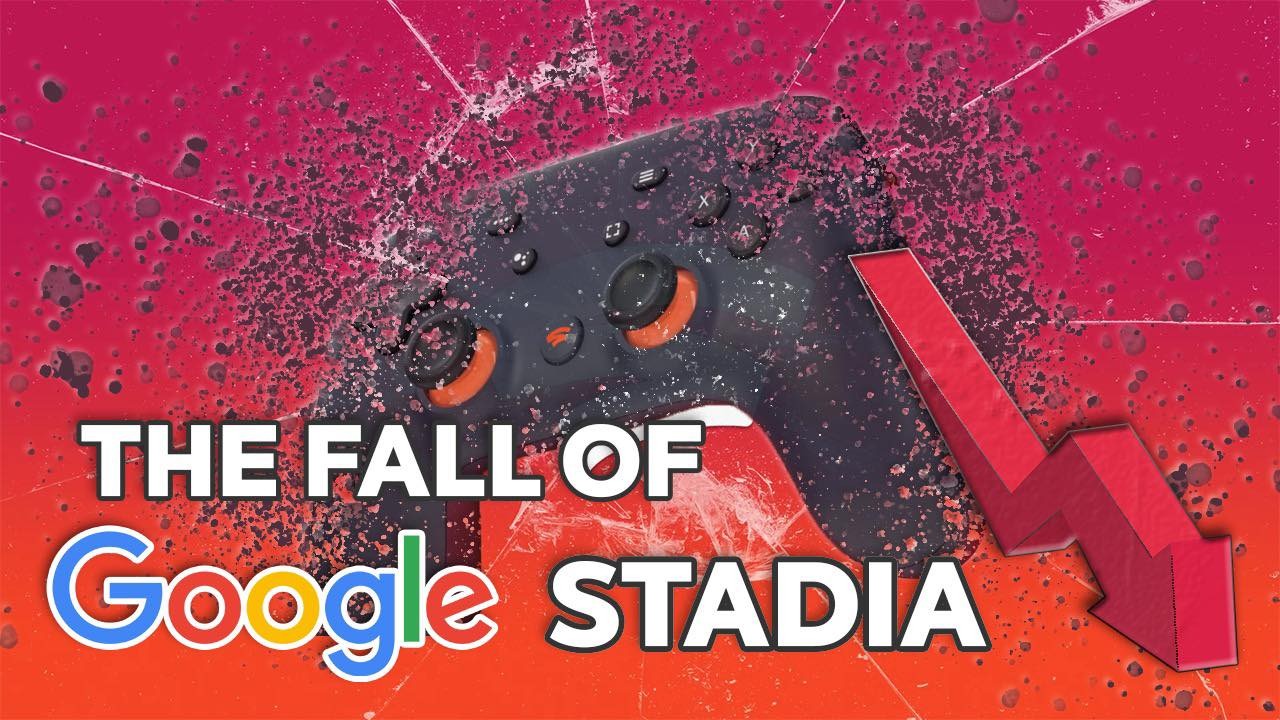 It's understood by now that 2022 was the year of many cutting-edge innovations, but on the flip side of things, there are some instances where the period proved to be unfortunate. Such is the case of one giant name in the cloud gaming scene, which was thought to reach the skies
Google Stadia was one of the pioneers of the concept of cloud gaming, marking its foray into the world publicly in November 2019. It's unfortunate we have to use past tense to address the situation, but similar to how the internet likes to say it these days, "it is what it is."
Things don't always go according to plan, and such was the case for Stadia, which unfortunately became the center for questionably greedy business practices. The focus shifted from keeping the product sustainable to something that was more profit-inspired.
As soon as things couldn't make money for the corporations anymore, the entirety of the project had to go. At the time when Stadia launched, though, the tech showed promise, quite a lot of it. Google even bought Typhoon Studios to work on Stadia games, but no results followed as they were expected to come up.
In 2021, therefore, the developer shut down its internal studios to shift the focus to video game streaming on Stadia. This attempt to revive some semblance of Stadia's workability did light a ray of hope for many, especially under the notion that cloud streaming improvements would be making haste toward the platform.
But then again, the principles that Stadia was built upon couldn't hold their ground, and unluckily, Google had to make the harsh decision to bid its cloud gaming platform goodbye. In the end, the developer went ahead and added another entry to the notorious Google Graveyard.
For a detailed account of what went wrong with Google Stadia, here's our in-depth analysis on YouTube.
6. Embracer Group Acquiring Square Enix's Various Assets
In case you're unaware, Embracer Group is one of the most well-grounded Sweden-based video game companies in the world, known for being the parent organization behind various top-tier developing studios, such as Crystal Dynamics, Eidos-Montreal, THQ Nordic, Gearbox Software, and others.
Although Microsoft's acquisition of Activision Blizzard seamlessly overtook 2022, things were relatively lighter on Embracer Group's side of things as the company acquired several assets of Square Enix. The latter is yet another major power player in the industry, best known for creating the Final Fantasy IP.
This acquisition, unlike the Microsoft-Activision merger, was received well by critics and cost Embracer $300 million, as the company announced in an official press release in May 2022. Here's what the release detailed with regard to the acquisition.
Embracer Group AB ('Embracer') has entered into an agreement to acquire the development studios Crystal Dynamics, Eidos-Montréal, Square Enix Montréal, and a catalogue of IPs including Tomb Raider, Deus Ex, Thief, Legacy of Kain and more than 50 back-catalogue games from SQUARE ENIX HOLDINGS CO., LTD. ('Square Enix Holdings'). In total, the acquisition includes ~1,100 employees across three studios and eight global locations."
Fast-forward to August 2022, Embracer completed the acquisition and finally became the owner of multiple cult-classic IPs, such as Deus Ex, Tomb Raider, Legacy of Kain, and other back-catalog games from Square Enix.
As many had grown tired of Square Enix not paying attention to its old IPs, Embracer came forward with the promise of spotting potential in Crystal Dynamics and Eidos Montreal sequels, remakes, and remasters, as reported by VGC. Quite the moment to go down in 2022.
7. Sony Porting Its Exclusives To PC
We never thought we'd see the day, but 2022 marked the beginning of something entirely unfound before. The thought of Sony's first-party exclusives coming to PC would've sounded incredibly strange a couple of years back, but late last year, this concept has now seeped into reality.
Back in October last year, Sony looked to change its investment strategy in the wake of Microsoft announcing its acquisition of Activision Blizzard. Sitting down with Reuters in an interview, the head of PlayStation Studios, Hermen Hulst, stated the following.
Further investments in areas that will strengthen the expansion on to PC, on to mobile and into live services, that's definitely a possibility for us."
As one thing led to another, things have turned out fortuitous for PC gamers across the spectrum. As of today, some of the Sony exclusives that have already been ported to PC include Days Gone, Marvel's Spider-Man 2, Horizon Zero Dawn, and, of course, God of War.
With that said, there is still a swath of other exclusives that still haven't made their way on PC, such as Ghost of Tsushima, Ratchet and Clank, The Last of Us, and others. But the fact that the process has been kicked into motion is enough to sate the thirst for having Sony exclusives playable on PC.
Other than that, PlayStation's live service games will release on PC and console simultaneously, Herman Hulst confirmed while speaking to French YouTuber Julien Chièze, so things are proceeding fairly nicely in that regard. Let's now shed light on the final considerable moment that popped up in 2020.
8. Rabbi Bill Clinton
Stage-bombers are a thing in various industries in the day and age we live in today, but no one like that has ever managed to grab the spotlight at The Game Awards ceremony, especially at the time of the Game of the Year award winner's—Elden Ring—announcement.
The teenager seemingly snuck up on stage quite eloquently and made his speech about dedicating the award to this rabbi Bill Clinton. Standing behind the developing team of Elden Ring, the Clinton kid took his chance as soon as Miyazaki finished his winning speech.
The now internet celebrity went on to say, "I think I want to dedicate this award to my reformed orthodox rabbi Bill Clinton, thank you everybody." In case you missed it, here's the footage of the teenager in action.
What a hysterical way to send 2022 off, in all fairness. Geoff Keighley probably didn't see this coming, and neither did any of us, but it happened and thereby claimed its name as one of the top moments to go down last year.
Takeaway
The multi-billion dollar gaming industry does not come without its fair share of moments, spanning versatile aspects of the domain to pop up and come into the light from time to time. Each year, gaming transcends to a new high, better than ever before, and 2022 has turned out to be no different.
Last year has, therefore, started a new trend of Sony exclusives getting ported to PC. The relatively recent re-releases of Marvel's Spider-Man and God of War, among other upcoming titles, are something that will certainly continue down the line—that's for sure.
Other than trends, games like Elden Ring and Stray came out in 2022, reminding us all what gaming is at its core. If that wasn't enough to pump the year full of excitement, the massive GTA 6 leak happened and showed us how even the biggest giants we know could come to their knees in a matter of minutes.
Do let us know if we missed any moment that you consider to be of substantial worth in the comments below.
Was this article helpful?
Thanks! Do share your feedback with us. ⚡
How could we improve this post? Please Help us. ✍