I, like many others, have been playing a s*** ton of Elden Ring lately and I have some very strong opinions about this game. I, also like many others, believe that Elden Ring is a new monumental achievement in open-world design. Its as big of a leap in quality from Breath of The Wild as Breath of The Wild was from other open-world games. This is not intended as a dig against Breath of The Wild either, take it from someone whose last favorite open-world experience was riding their glorious steed atop the mountains of Hyrule.
I believe Elden Ring is the tree (pun intended) that stemmed from the seeds sowed by Breath of The Wild back in 2017, paving the way for an open-world experience that sparks intrigue and curiosity from the player at every step. Unlike many AAA games where the open world serves as a way of going from one activity to the next, games like Breath of The Wild and Elden Ring make the terrain itself something to learn and conquer and I think there's something magnificent about that. And that's where we get to the title of this article, this is an analysis of Elden Ring's open world and everything that it gets right.
There is something about the way Elden Ring is designed however that makes it stand out even from games like Breath of The Wild, its willingness-almost stubbornness- to actually go out of its way to hide its most enticing content from the player. The way you challenge The Lands Between in Elden Ring is unlike any other game I've played before. There are often entire dungeons or secret bosses hidden in a random corner of the world, essential flask upgrades just randomly placed atop a long begotten ruin serving as a testament to a bygone age. The game constantly invites you to explore by making sure that you're thoroughly intrigued at every moment. Every step forward into The Lands Between showers the player with new possibilities.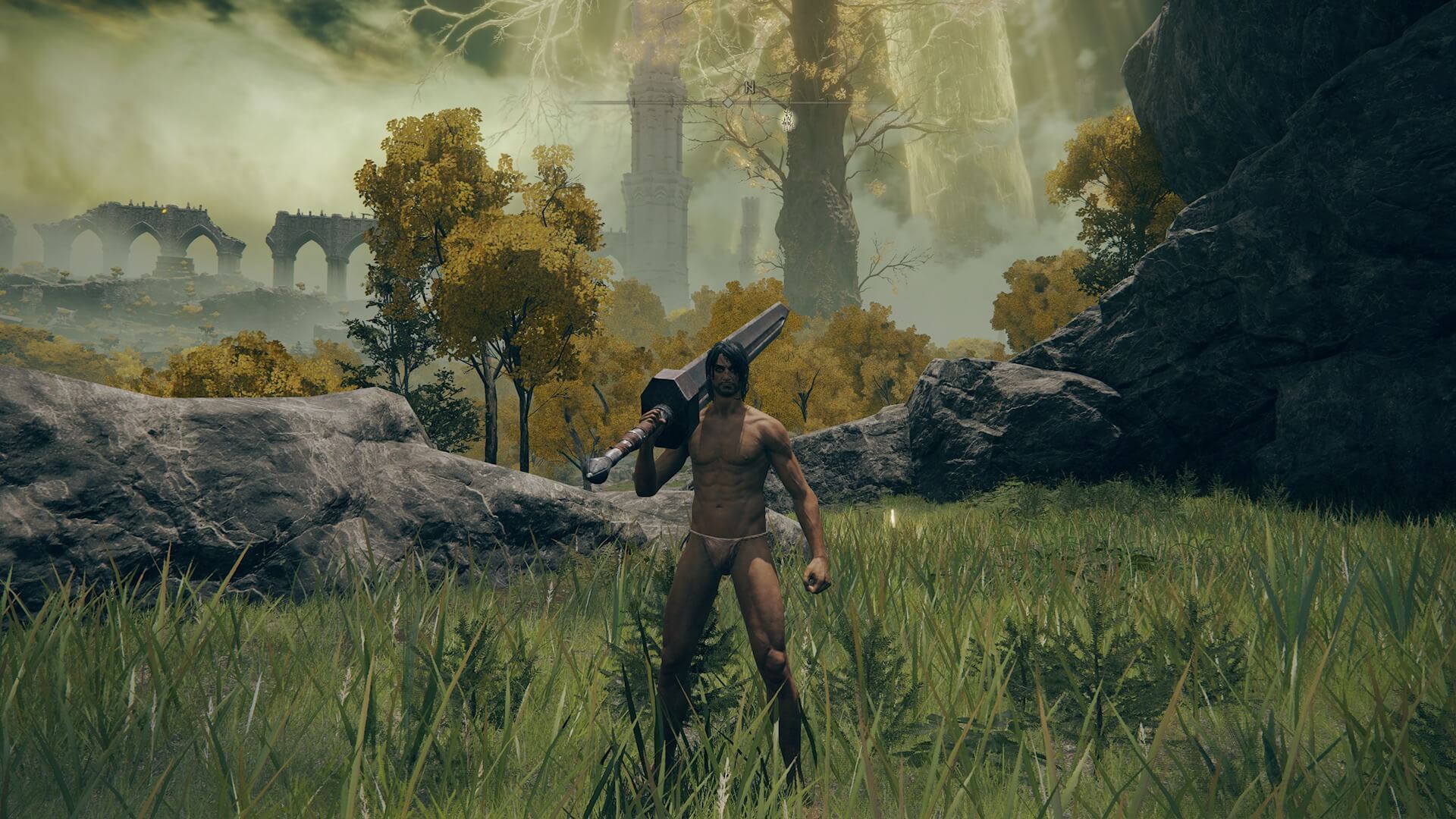 Due to the lack of things like waypoints, quest markers or journals, the open world is no longer a conduit to guide you from one place to the next, and no longer is your direction shackled by a constant hovering marker telling you which direction to go. In removing nearly all guidance from external factors and constantly proving to the player that there is something worth finding in the crevice of a random ruin, Elden Ring sparks an overwhelming internal dilemma of just choosing a single direction to pick. It is no longer a matter of heading to the waypoint, it is now a debate of the player wondering "Wait should I head westward? I can spot a pathway leading up to a mountain there. Oh, wait! There's a giant tower east of here too, should I take the detour or just charge on to this castle I was going to plunder?" And I think that sort of freedom is what more open-world games should try to achieve.
There's also something about how the world is constructed. Its terrain is confusing, labyrinthian almost. Its very easy to get lost and lose your sense of direction, ending up at a completely different place than where you initially started and discovering something entirely new from it. It feels completely different from just about any other game out there where the open world function upon a set of rules and algorithms. This world feels unnatural in the best way possible, its like seeing what has become of the world only a few years after the Big Bang.
This lack of direction proves beneficial to the game in more ways than one, because it gives the player an important lesson, telling them that every single direction is the right direction and while the game certainly imposes level restrictions on areas that you aren't supposed to enter early in the game, as it should, it successfully instills a sense of wonder and intrigue within the player to go off and see everything the world has to offer. Another extremely important detail about Elden Ring is how fun the basic act of traversal feels here. Torrent controls effortlessly and his jumps and movement have just the right amount of weight to feel both realistic and fun as well.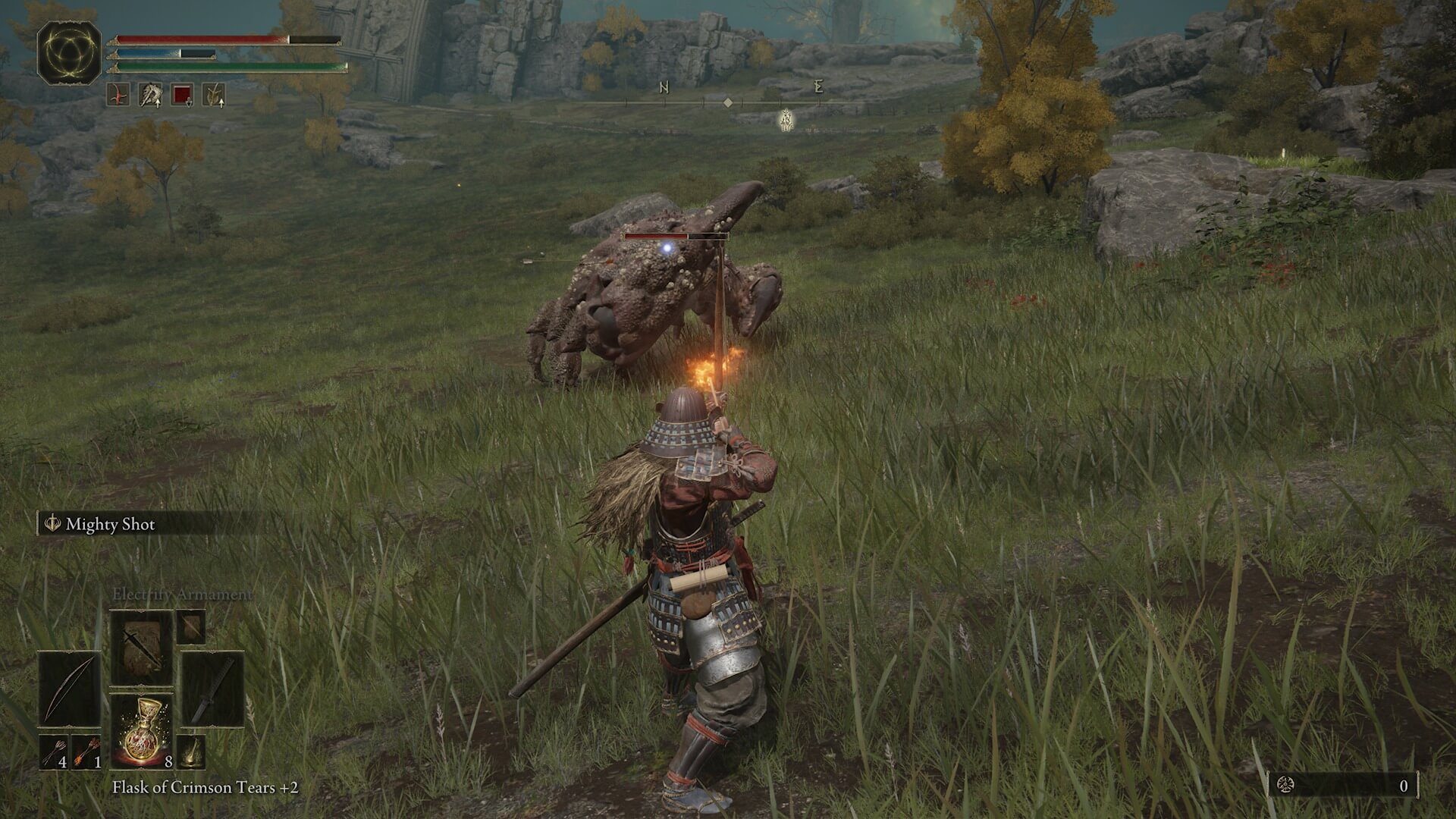 In defense of conventional open worlds, I know there are almost as many people who appreciate that style of open world. People like going through activities in a checklist, games like Horizon Zero Dawn, Far Cry 3-6, Ghost of Tsushima there is a reason games like that sell. These kinds of games are like fast food which provide a burst of dopamine every few minutes with every new activity and that's something I can understand. It starts to become a problem though when half the industry is crowded with "fast food". In an industry where most publishers play safely while aiming to appeal to the highest demographic of players, Elden Ring presents a king-size buffet of a selective cuisine meant to be enjoyed by a narrower audience and this sheer boldness is one of its most astounding achievements.
Elden Ring's incredible success also proves that point pretty clearly, many players are starting to get tired of this formula to the extent that games that try straying even slightly off the beaten path are given incredible praise *cough* Ghost of Tsushima *cough*. And the fact that Elden Ring promptly became the 6th most played single-player game of all time on steam mere weeks after its release is a testament to that fact.
Elden Ring is a rare beast that we only seldom see nowadays, with the rising costs of AAA game development publishers enforce tried and true formulae upon developers in order to ensure the most sales. Games are less and less considered an art form and slowly becoming a spin on tried and true templates. This begets a scary yet equally interesting question, will Elden Ring too in the future become the progenitor of a formula that people will once again begin to grow tired of? or will it continue to be a pioneer standing alongside the best of the best?
One of the most essential questions that stem from Elden Ring is what will be its legacy and how will it be remembered six or seven years down the line. As of now, the only thing that can be said is that building a world like in Elden Ring requires an incredible amount of passion, hard work and restraint. The restraint to hold back on guiding the player to all the exciting things that you as a developer have worked tirelessly to design for the game's sandbox. A game of this order and magnitude is incredibly rare and the fact that it even exists and is polished to such a degree proves that From Software continue to be the most talented studio of developers in the entire gaming industry.
Similar Reads: Opinion: The Problem With Game Remakes
Was this article helpful?
Thanks! Do share your feedback with us. ⚡
How could we improve this post? Please Help us. ✍