Using Nuke Simulator Codes is a great way to start off your game, the freebies you can acquire help provide a massive boost to your arsenal. These codes will provide you with tonnes of coins, gems, and boosts to begin your Nuke Simulator journey, and in this guide, we will be discussing exactly how to acquire and redeem these codes.
Key Takeaways
The

Nuke Simulator Codes

are used to obtain various

rewards

,

free gems

, and

luck and damage boosts

in the game.

To redeem these

codes

, Start the game on

Roblox

,

Open the Shop

and click on the

Twitter icon

,

enter the code

and press

enter

.

The current Active codes are CreepyCyberCoins, ImBrokeSoINeedThisCode, CYBERCOINZZ, and MOREBOOSTS!.

You can remain updated with the newly released

codes

by following the

developer's Twitter

or the official

discord server

.
List Of Active Nuke Simulator Codes
Last Checked on December 1st, 2023.
Instead of putting the absolute burden on checking each and every code for its active status, we did that for you. Here are all the active codes for Nuke Simulator in November 2023.
WHENUPDATE:

Redeem this code and get 3,000 mega tickets, 5 daily spins, 3x free exclusives, and 14 x 4-hour rewards.

HARDCOREBUG:

Get free rewards after making use of this code

MAGMIFACENT: Redeem for multiple rewards including the Green Magma Shark Nuke. (NEW!)
STILLFASTERTHANTHEDMV:

Redeem this gift code and get your hands on free 10 spins.

OLYMPIANCHESTBUG:

Redeem this code and get your hands on a plethora of boosts

ATLASEARTH:

Redeem this code and get your hands on a plethora of boosts

QUANTUMTICKETS:

Redeem this code and get your hands on free rewards

BIGTICKETZZ:

Redeem this code and get your hands on 15 mega tickets.

BIGTICKETZ:

Redeem this code and get your hands on 10 mega tickets.

MASSIVEGIFT:

Redeem this code and get your hands on a free gift

MEGANUKE:

Redeem this code and get your hands on 2 Mega Silo Tickets

ThanksAzure! – Receive 2 Mega Silo Tickets.
Only1ThisTime – Redeem one Daily Spin
MOREBOOSTS2 – Redeem for 8 Coin Boosts, 8 Damage Boosts, 6 Extra Luck Boosts, and 6 Crazy Luck Boosts
ILikeGems – Redeem for 500k Gems
CYBERCOINZZ2 – Redeem for 5million Cyber Coins
TIKTOKHYPE – Redeem for a TikTok Nuke
CYBERCOINZ2 – Redeem for 100k Coins
ImBrokeSoINeedThisCode – valid for 100k Gems
List Of Expired Nuke Simulator Codes
Here are all the codes that have expired and can not be redeemed anymore in Nuke Simulator:
CYBERCOINZZ – Valid for Free Cybercoins
MOREBOOSTS! – Claim All Boosts
CreepyCyberCoins – claim 666,666 Cybercoins
BOOSTS – valid for All Boosts
DESTROY2 – valid for 20k gems.
UPINOHIO – valid for 100k gems.
MOONBOOST – valid for 20k free moon coins.
ALIENGEMS – valid for 80k free gems
DOWNINOHIO – valid for 100k free gems
LOTTADAMAGE – valid for 4x extra luck boost
DESTROY – valid for Double Damage boost
MARTIANS? – valid for Free gems
BIGBOOM – valid for 250k free coins
OHIOSIMULATOR – valid for 30k free gems
LUNARLUCK – valid for 3x Crazy luck boost
BIGBOOSTGAMES – valid for 3x extra luck boost
MARTIANGEMS – valid for Free Boosts and Rewards
LUCKYBOI – valid for 3x Crazy Luck boosts
OHIO – valid for 25k free gems
PARI – valid for 3x Extra Luck boosts
GEMURITEZ – valid for 20k free gems
Kaboom – valid for 3x Damage boosts
How To Redeem

Nuke Simulator

Codes

Acquiring the codes was our first step, but we must redeem these codes to achieve absolute success. Follow the steps below to redeem your newly acquired codes.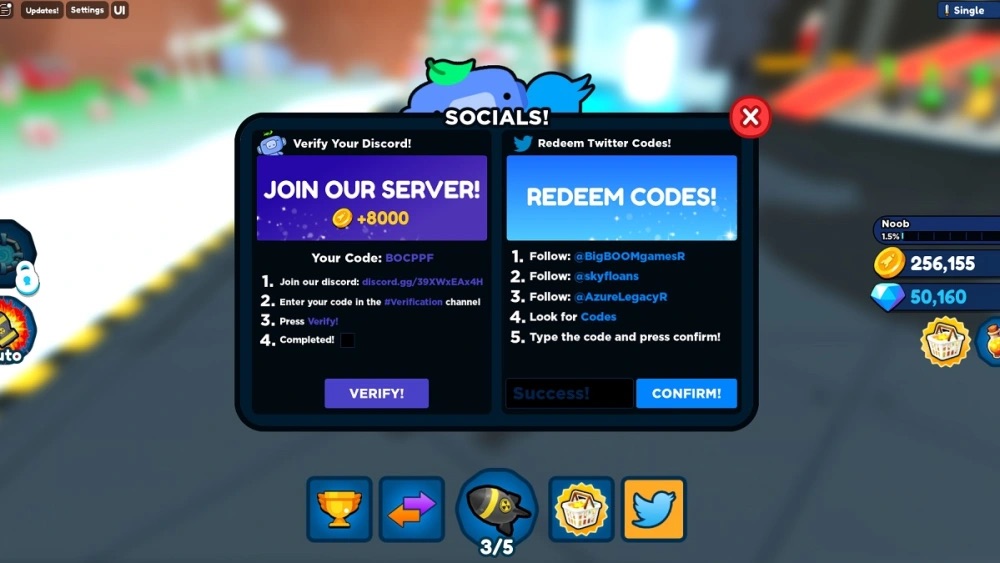 First of all, Launch Nuke Simulator on Roblox.
Open up the Shop using the button on the side.
Click on the Twitter icon button towards the bottom of the screen.
Enter your code into the box in the bottom right.
Press Enter, or click the button labeled "CONFIRM!" to redeem your freebies.
Why Are My Codes Not Working?
There are a couple of issues people encounter that lead to codes not working. Firstly, make sure you spell the code correctly and in the exact case as above; since Roblox codes are case-sensitive, you may have made a mistake there. We highly recommend you copy and paste the codes directly from above to avoid any discrepancies.
If the codes still aren't working, try closing the game and re-opening it; this should put you in a new and updated server where the code should work, and yes, the good old turning it off and on trick does actually work.
If all Nuke Simulator Codes still do not work, then the code may be inactive, but worry not; a new code will pop up sooner or later, as they always do. We also update our existing guides along with the ultimate game codes guide, so make sure you bookmark it.
Where To Get More Codes
New Codes are released by the developers at regular intervals; following the Twitter of Big BOOM Games might help to know whenever new codes are dropped. The official Discord server of Nuke Simulator also has the news for a bunch of stuff, codes included.
You can always check back here for new Codes, and this page is updated on a regular basis with all the new codes whenever they drop so that you won't miss out on any codes.
What Is Nuke Simulator?
Nuke Simulator is a simulator game, obviously, where the main aim is to build as big an arsenal of Nukes as you can. You will use these Nukes to destroy chests and gems to acquire coins, the in-game currency.
The coins are used in the shop to purchase even more powerful rockets, making Codes at the start a very good deal for new players.
What Are Nuke Simulator Codes?
These codes are released by the game's developers to give a helping hand to any new users starting out with the game, but it doesn't matter if you are just starting out or are a veteran in the game; free coins are for everyone. You can use the coins and gems acquired with these codes to unlock your first few areas and purchase some powerful rockets.
Final Thoughts
This is all we have regarding Nuke Simulator Codes for now; make sure to check back frequently to see if any new codes have been released; they probably have; this is also a good opportunity to bookmark this page for future references. Let us know in the comments below if you would like more guides like this.
Next:
Was this article helpful?
Thanks! Do share your feedback with us. ⚡
How could we improve this post? Please Help us. ✍