New Alan Wake 2 Update 1.0.12 Greatly Enhances Performance
Expect many of the issues occurring during the missions to be fixed as well.
Story Highlights
The devs have pushed out another notable patch for Alan Wake 2, fixing a lot of bugs and enhancing performance.
There are many lighting and mission-specific improvements. The overall gameplay should be much smoother.
It was released on October 27, 2023. The update is available on PS5, Xbox Series S and X, and PC.
Alan Wake 2 has been out for a few weeks now, but Remedy Entertainment has not held back on the updates. The latest 1.0.12 patch fixes plenty of performance issues and bugs that hamper the gameplay experience. It also deals with some mission-specific bugs that have proven to be a hindrance for many players. AW2 players can now finally push some movable items —by walking into them— with their feet instead of getting stuck on them.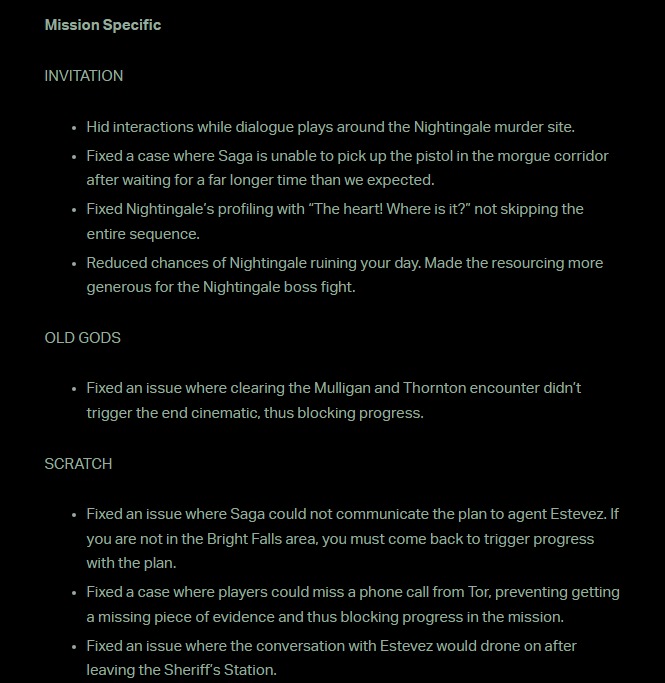 Many lighting and visual fixes and related improvements were added in the update. The devs have also patched some visual glitches happening because of Alan's flashlight alongside weapon-switching animation. No longer would Saga stay in a "broken animation state" after having her manuscript pick-up animation getting interrupted.
The movement controls will no longer be stolen from the player when Alan Wake 2 starts saving during an enemy grapple. Similarly, rare issues like one where the player could not view the Drowned video to get an achievement have been patched. Some other problems preventing auto-aim from working and Saga from shooting or damaging an enemy were also mended.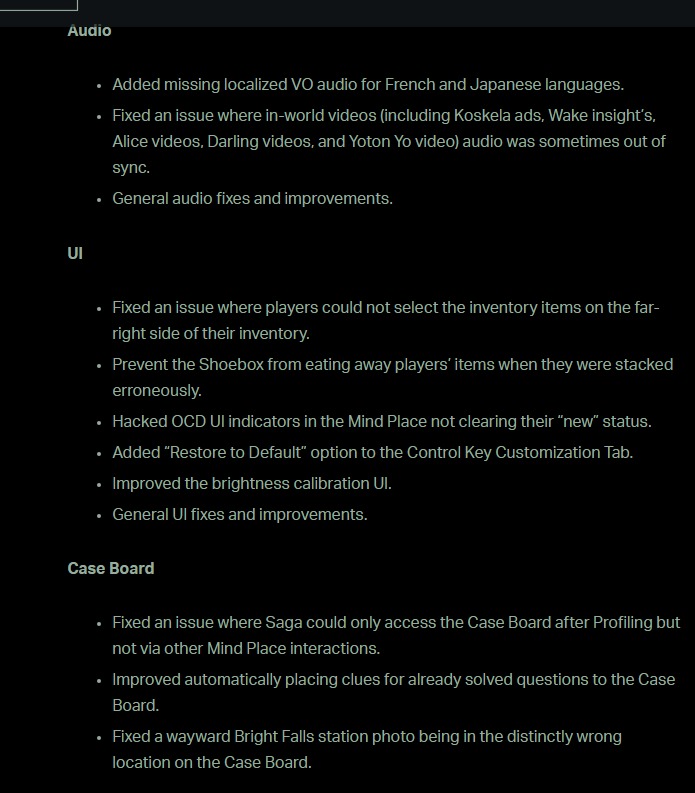 Some other bugs related to Nvidia DLSS Frame Generation were also fixed. Having it enabled when changing from real-time video to 3D rendering was previously causing visual bugs on PC. For PS5 Performance Mode, Alan Wake 2 was optimized further for players when walking up and down the stairs aggressively in the Nursing Home. The performance on the console overall has been improved, especially in some specific areas of the title.
---
Related Content:
---
The entry has basked in a lot of success and sales since its successful release. While it is undeniable that the Alan Wake 2 puts quite a bit of strain on mid-range PCs and consoles, the subsequent updates should iron out any anomalies to optimize the title.
The survival horror title came out with a bang on October 27, 2023, for PC and current-gen consoles, including PlayStation 5, Xbox Series S, and Xbox Series X. Alan Wake 2 can now also be streamed on the cloud via Nvidia GeForce Now service. eXputer's Huzaifah Durrani has reviewed it with an impressive 5/5 score. The title was praised for bringing an incredible story with equally enthralling visuals and world-building to the table.
Was this article helpful?
Thanks! Do share your feedback with us. ⚡
How could we improve this post? Please Help us. ✍