Forza Horizon 5 Receives Massive Update On Horizon 10-Year Anniversary
10 years of glory for Forza Horizon will be celebrated with incredible fan-service.
The first Forza Horizon game was launched in October 2012, and the franchise has definitely come a long way. Marking the game's tenth anniversary on this special occasion, Microsoft is releasing a Horizon 10-Year Anniversary update.
The Horizon 10-Year Anniversary Update was made available for download on Tuesday, October 11 on Xbox consoles, Windows PCs, and Steam. The celebrations don't end on October 11; instead, a four-week anniversary-themed Festival begins on October 13.
---
Major Takeaways:
Forza Horizon has received a major update on the series' 10th anniversary.
Some of the biggest changes are centered on more unlockable cars, more Badges and Assets in the EventLab, and revamped Accomplishments.
Following the anniversary, a four-week themed festival will kick off on October 13.
---
This has to be the best moment in histories of automotive festivals. Forza Horizon 4 and Forza Horizon 5 are both available for up to 67% off starting on October 11 on the Microsoft Store and up to 30% off starting on October 13 on Steam. These discounts are valid through October 24.
The 10GB anniversary update for Forza Horizon 5 is now available for players to download. Although it appears like some of the new content won't be available until the next Festival Playlist series starts on Thursday, it's time to get it loaded and start working on those new Forza Horizon 5 achievements.
Have a look at this incredible 10-year anniversary update revealed by Horizon on Youtube:
The return of first drives from prior Forza Horizon games is perhaps the biggest news here for die-hard Forza Horizon fans. Playground claims that it has recreated the opening drive from each prior Horizon game in Forza Horizon 5 for the new Horizon Origins Story so that players may relive these memories within the most recent game.
You can unlock the 2013 Dodge SRT Viper GTS Anniversary Edition after finishing this story. You may remember this car from the first game's cover. Horizon Origins won't be available until October 13th, when the new Festival Playlist series begins.
As seasonal incentives for the new Festival Playlist, Playground Games is bringing back famous cars that were in the first Forza Horizon game. There will be auctions for the 2010 Ferrari 599XX, 2011 Koenigsegg Agera, 2012 Eagle Speedster, and 2010 Aston Martin One-77.
Fans of Forza Horizon 3 might be familiar with Midnight Battles. For Forza Horizon 5, Playground Games is bringing back Midnight Battles. If you're unfamiliar with the game mode, it basically involves you racing the CPU head-to-head to receive the competitor's car.
After the update's release, you can unlock one of the four Midnight Battles, each of which is focused on a particular PI class, by earning four wins in Street Scene. A total of 16 race wins are required to unlock them all.
The anniversary update for Forza Horizon 5 also adds eight new accomplishments, allowing users to boost their gamerscore even further.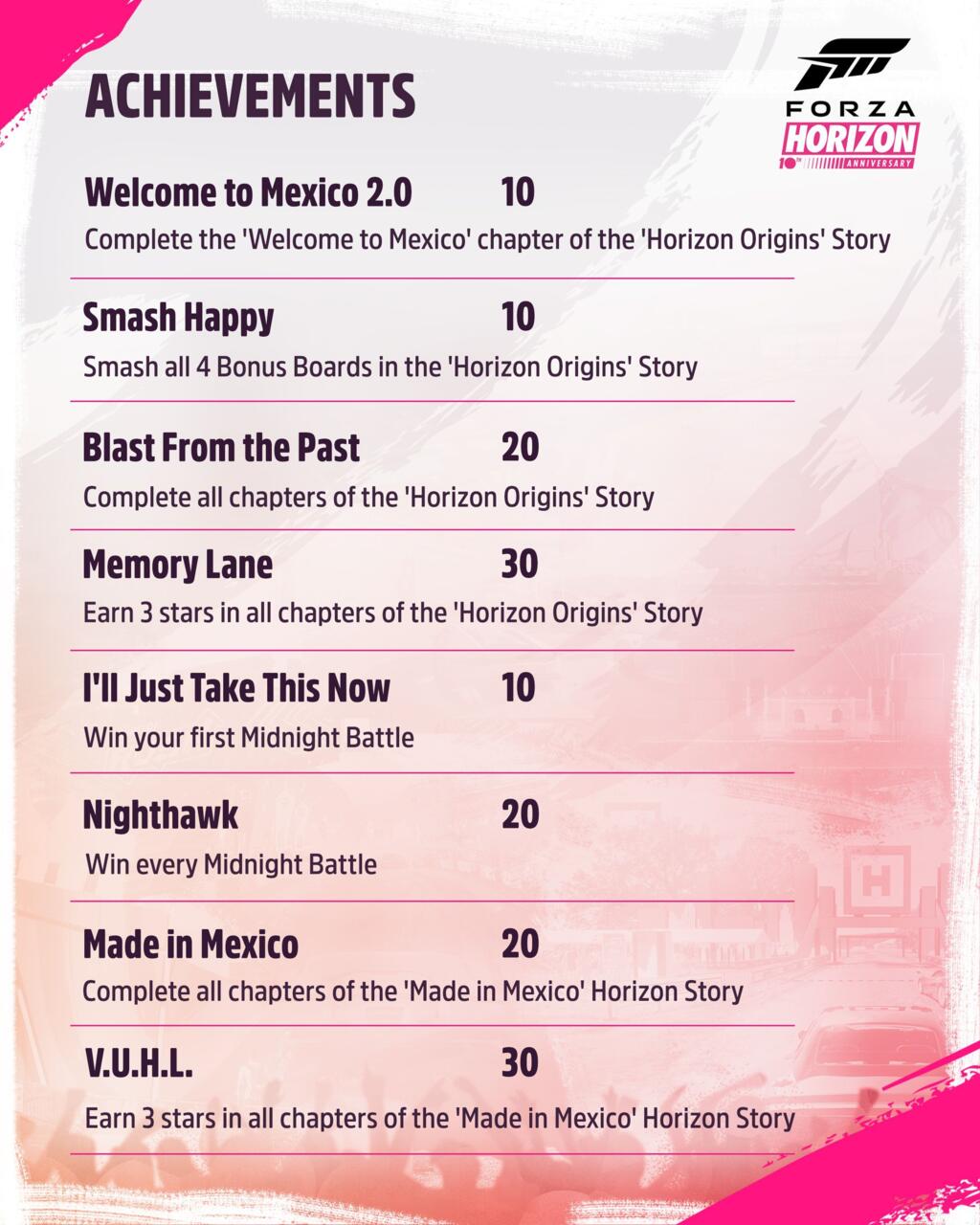 A sizable update is also being made to the EventLab. The Blueprint Builder is getting a staggering 97 new assets from Playground Games, including objects and buildings from prior Forza Horizon titles.
Regarding Accolades, Forza Horizon 5 will receive 28 new ones as part of the update, including new vehicles, Horizon Mixtape Songs, and other things.
Additionally, new Badges that are available to unlock during the Horizon 10-Year Anniversary can be used to personalize your Forza Horizon 5 profile.
In competitions and leaderboards, these are shown next to your Gamertag and include Horizon 1 Badge, Horizon 2 Badge, Horizon 3 Badge, Horizon 4 Badge, Horizon 5 Badge, 10-Year Badge, and Cake Badge.
Lots of new songs from the previous Forza Horizon games will also be included in Forza Horizon 5 with the update.
Although there are 15 new songs in the game thanks to the Horizon Mixtape radio station, some of them must first be unlocked by accomplishing new Accolades in the Horizon Origins Story and winning Seasonal Championships in the Festival Playlist. Here's a list of the latest additions.
A Moment Apart
Aurora (feat. Metrik)
Bored To Death
Constellations – FH3 VIP Mix
Dawnbreaker
Fly
Get It Right
Language
Levels (Skrillex Mix)
Nocturne
Show Me A Sign
Slipstream
Sunrise
Tied To You (feat. Justin Tranter)
Ingrid Is A Hybrid
Additionally, players may acquire additional t-shirts for the game's previous settings, like Australia and Colorado, as well as emotes and car horns themed around the Forza Horizon series.
How excited are you for the upcoming biggest car festival? Let us know in the comments ahead.
Similar Read: Forza Horizon 5 Might Be Getting DLSS 3.0 Support, Teases Nvidia
Was this article helpful?
Thanks! Do share your feedback with us. ⚡
How could we improve this post? Please Help us. ✍