Respawn's Untitled Star Wars Game Will Be Inspired By The Jedi Knight Series
The classic Star Wars titles, including Dark Forces I and II, will serve as influence for an upcoming FPS from Respawn Entertainment, according to a job posting.
Story Highlights
Respawn Entertainment is currently developing three different Star Wars games.
One is an untitled single-player FPS; the others are Jedi Survivor and an untitled strategy game.
The single-player FPS is reportedly influenced by the classic Star Wars: Jedi Knight games, according to a job posting by Respawn.
The upcoming game will be made in Unreal Engine 5, a first for the studio.
Back in January of 2022, Respawn Entertainment announced they were developing three new games set in the Star Wars universe. One of these was announced to be a single-player FPS game, with some speculating on some form of advanced movement mechanics being included. Respawn has a strong portfolio of first-person shooters, being the developer of both the Titanfall and Apex Legends Series.
The studio has also found success with the Star Wars IP with its 2019 release Star Wars Jedi: Fallen Order and its upcoming sequel Jedi: Survivor. Respawn has proven that the company is capable of developing high-quality, linear single-player experiences that outperformed even EA's expectations, while EA wanted to focus on multiplayer experiences.
The unannounced FPS game is perhaps Respawn's most intriguing project. The studio is well experienced with the Star Wars IP, and EA has played it safe with recent Star Wars games, refraining from microtransactions and focusing on a single-player experience. This untitled game may be finding inspiration in some of the Star Wars games of old.
Multiple job postings from Respawn Entertainment suggest the forthcoming game is inspired by Jedi Knight: Dark Forces and its sequel. The job postings for senior-level positions at Respawn's Seattle and Los Angles studios All reference the classic Star Wars Jedi Knigtht games, including a line confirming their inspiration for the new FPS title.
The postings for a Cinematic Lead, Lead Lighting Artist, Lead Mission Designer, and more all contain the same line about the game: "Inspired by classic titles like Dark Forces and Jedi Knight: Dark Forces 2, our story-driven single-player game is being developed from the ground up leveraging the power of Unreal Engine 5."
The Jedi Knight and Dark Forces games were classic Star Wars titles from the 90s and early 2000s. The first game in the series, Jedi Knight: Dark Forces released in 1995. Its Sequel, Jedi Knight: Dark Forces II released two years later. The original Dark Forces game was often accused of being a clone of DOOM, with the two sharing similar gameplay.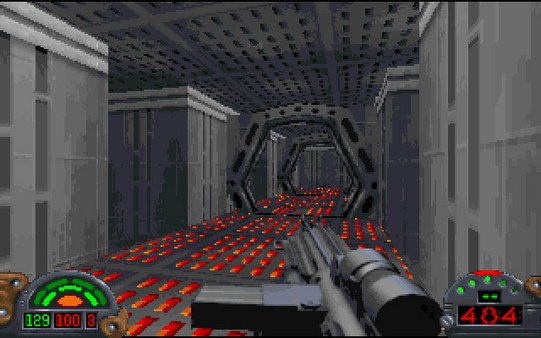 Its sequel, Jedi Knight: Dark Forces II, expanded on the first with branching story paths, live-action cinematics, and lightsaber melee combat. The Jedi Knight series would continue with further sequels, including DLC Jedi Knight: Mysteries of The Sith, and new games, including Jedi Knight II: Jedi Outcast and Jedi Knight: Jedi Academy.
If this new FPS indeed draws inspiration from the Dark Forces/Jedi Knight series, A DOOM-inspired Star Wars game makes sense with Respawn as its developer. DOOM is a game series focused on fast FPS gameplay, with newer titles featuring more advanced movement mechanics. Respawn has experience in such a style of gameplay with its Titanfall and Apex Legends games.
The Jedi Knight series follows the character Kyle Katarn during the period of the original trilogy. Katarn was an Imperial officer who would turn to the Rebellion and later a Jedi under Luke Skywalker in the old Star Wars Legends Universe. Kyle Katarn is a favorite character of fans of the era and is among the most popular legend characters alongside Revan and others.
The job posting also mentions that the upcoming game will be built on Unreal Engine 5. This is somewhat expected as Jedi: Fallen Order and Jedi: Survivor are built off of Unreal Engine 4. Epic Games showcased the future of the Unreal Engine in version 5.2 during the State of Unreal at GDC 2023 yesterday. Unreal is a nimble, high quality and easy-to-use engine that Respawn has chosen instead of EA's proprietary Frostbite engine.
Respawn's two other Star Wars games in development include Jedi: Survivor, which releases next month, and a turn-based strategy game developed alongside Bit Reactor, a studio formed by former devs of Firaxis who had worked on the XCOMM and Civilization franchises. Other studios are taking a shot at developing Star Wars games as well.
Nostalgia for older Star Wars content has grown in recent years. A remake of 2004's Star Wars: Knights of The Old Republic is in the works at Saber Interactive. The Jedi Knight series came out when Star Wars gaming was at a peak. The prequel movies were coming out, and multiple Star Wars titles were released every single year. The hype would die out slowly toward the end of the decade and would fizzle out entirely.
With EA's exclusivity license ending this year, the floodgates are soon to open for new Star Wars games. Jedi Survivor's release is close. Ubisoft is working on an open-world game; Quantic Dream is developing Star Wars Eclipse, a narrative-focused single-player game. Amy Hennig, who once helmed the canceled Project Ragtag game at Visceral, is working on a new SW game as well.
The Jedi Knight series is very popular. Could Respawn capitalize on nostalgia and reboot the series? Or will they build out a brand new story within George Lucas's universe? Nostalgia is powerful and has risen other Star Wars franchises from the dead. Regardless of their approach, fans are likely to expect a worthwhile experience from Respawn's upcoming FPS.
Was this article helpful?
Thanks! Do share your feedback with us. ⚡
How could we improve this post? Please Help us. ✍