Recent Sega Trademark Hints At A Potential Sonic & Friends Game
Some details suggest this could be a mobile game.
Story Highlights
Sega has filed a trademark for a potential Sonic & Friends game.
The trademark is fairly recent; it was filed on June 23 and published on July 3.
Some details suggest that this could be a mobile game, but the possibility of it being otherwise remains on the table.
Since it is still only a trademark, it is impossible to determine when or if the project will be announced.
On June 23, Sega filed a trademark for what appears to be a new Sonic game called "Sonic & Friends." It was published on Chizai Watch on July 3, and contains information typical of a game. One of the more interesting details in this trademark is the mention of game programs for mobile phones. But since the trademark for Sonic Frontiers also had that, it does not necessarily entail its availability on the platform.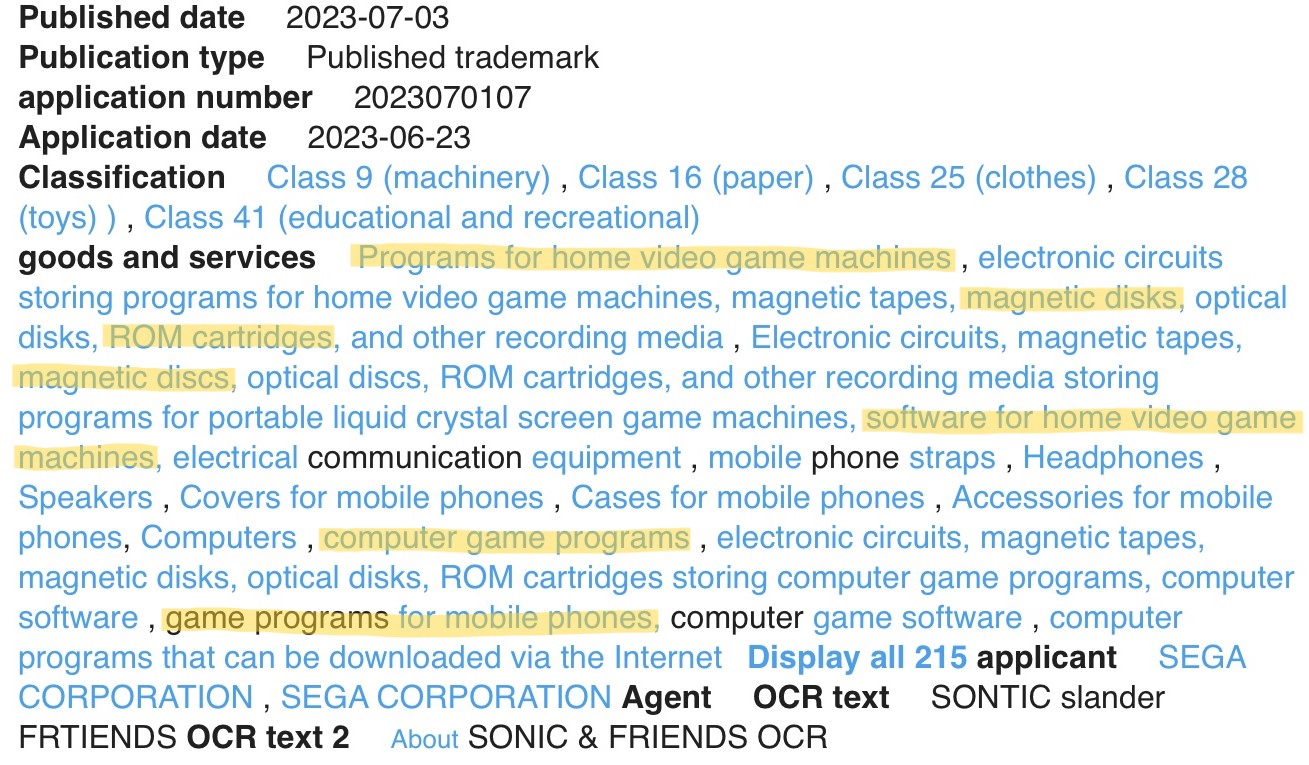 The categories for this trademark include machinery, paper, clothes, toys, and educational and recreational, which are typical for a game. Paper, clothing, and toys are most common for games that come with a lot of merchandise, like Sonic Frontiers, which had an additional "leather" category. As for the goods and services, there are many, but only a few have caught our attention.
The trademark includes details regarding the media formats, namely, magnetic discs/magnetic disks, magnetic tape, optical disks/optical discs, and ROM cartridges. Most importantly, there is the mention of game programs for mobile phones, which could possibly mean that it is for mobile devices. Still, Sonic Frontiers also mentioned that, but it is not available on mobile platforms, so this could be insignificant.
However, there have been rumors and soft confirmations that a new mobile game from Sega Hardlight is in development. SonicStadium compared the trademark to the trademark of 404 Game RE:SET, a mobile game from Sega Hardlight. These trademarks are very similar, which could mean that the game is the same rumored mobile game from Sega Hardlight.
Even so, it is hard to pinpoint what this game might be about and when Sega might release it. Sonic Frontiers was released a year after Sega filed its trademark, and some games take even longer. Having said that, the trademark strongly suggests the existence of the Sonic & Friends game, and maybe with some luck, it will be available for multiple platforms, including mobile devices.
Was this article helpful?
Thanks! Do share your feedback with us. ⚡
How could we improve this post? Please Help us. ✍