Halo Infinite Season 3 is Delayed to March 2023
Split screen co-op is officially cancelled, forge mode will arrive in November
Halo Infinite is often criticized for its long seasons, with season 1 lasting 3 months. 343 Industries officially released a roadmap for Infinite going forward, and Season 3: Echoes Within will begin on March 7th 2023, bringing with it new content and features. This also means Halo Infinite Season 2 will last for a very long 10 months.
Winter Update will bring content including:
Forge beta
30 tier battle pass
Match XP beta
Online co-op and mission replay
2 maps – Detachment and Argyle
New modes
Seasonal events
Season 3 will also bring:
2 new maps
New weapon – m392 Bandit (AKA the DMR)
New equipment
100 tier battle pass
New fracture event
QOL improvements
and more.
The roadmap released by 343i is below. Season 2: Winter Update will last from November 8th to March 7th. Season 3: Echoes Within will last from March 7th to June 27th 2023. According to 343i, the roadmap is subject to change. Content and dates could possibly shift in the future if 343 struggles with internal delays.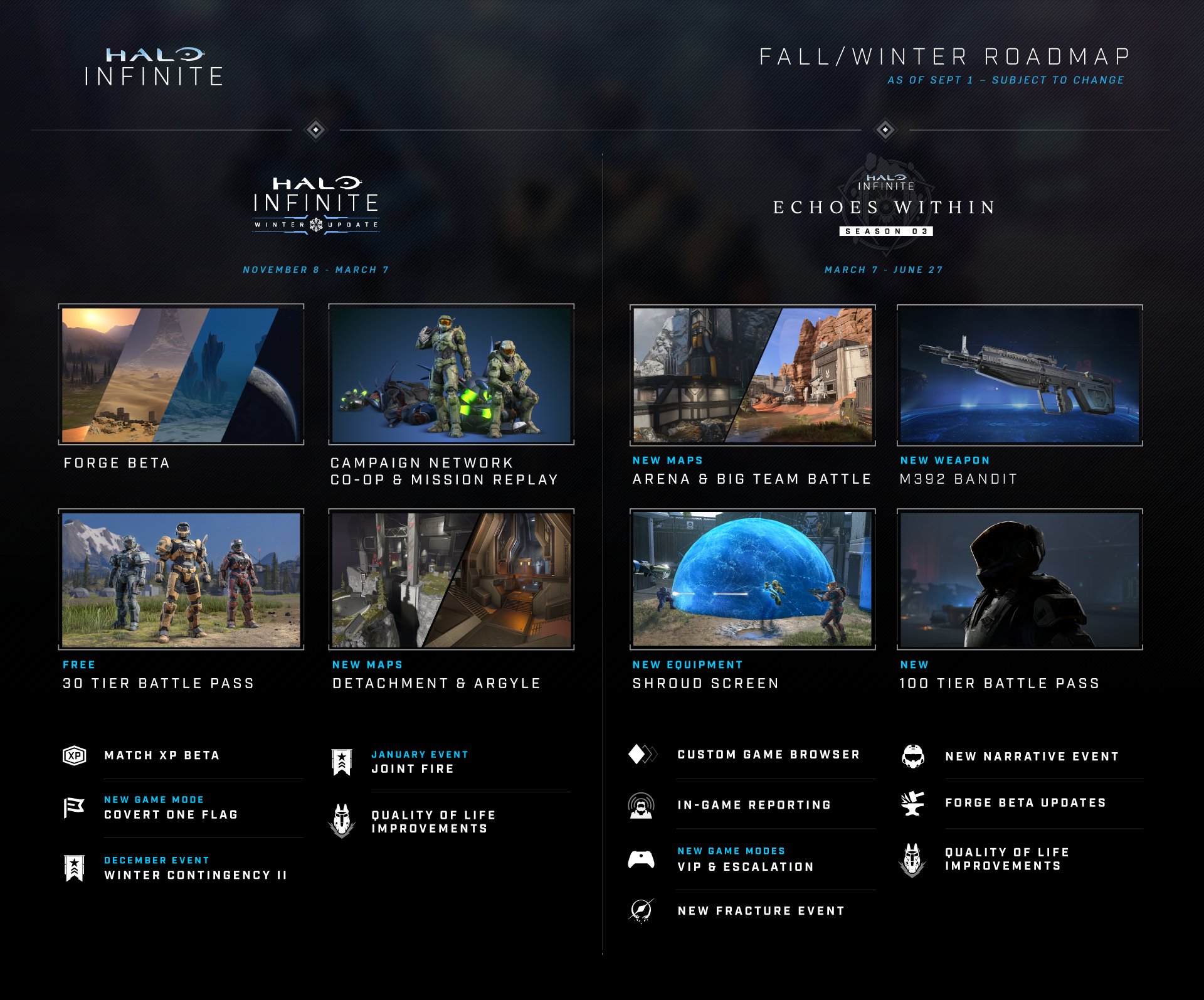 343 officially announced the cancellation of the long awaited split screen co-op mode. Halo fans were disappointed, as developers had promised the feature to release in August. Online co-op is still planned however, and will release on November 8th, along with forge. Players will be able to play online with their friends, however you will not be able to play split screen on the same console.
The decision was made to cancel split screen co-op as 343i intends to focus on creating life service content. While some players have complained about what they perceive to be a drip feed of content, 343i also detailed its plans for Forge going forward.
Forge has always been a staple of Halo games, allowing users to create their own maps, modes, and much more, but was surprisingly lacking from the launch of Infinite.
The wait may be worth it, though. Forge is rumored to be jam packed with features, with some comparing it to a game engine in itself.
PC players have had access to an early Forge build due to a bug, and have created some spectacular creations.
One user created Call of Duty Zombies style window barriers:
In response to my last post, here's a Halo Infinite forge script by Heliskrub that allows for Call of Duty zombies style window barriers, repairing, and breaching. Infection mode is going to be insane!
Source: https://t.co/78cm9lfcVg pic.twitter.com/ZHub8tyT8o

— Rebs Gaming (@Mr_Rebs_) July 24, 2022
Another created the room from Toy Story:
https://twitter.com/RedNomster/status/1564877359676735488?s=20&t=KQkCwwDcYUTw0nXswG544g
Somebody even built a Minecraft village in Forge:
https://twitter.com/DanBrindleyArt/status/1559937563552530432?s=20&t=KQkCwwDcYUTw0nXswG544g
Forge beta will not release until November 8th, however a flight could be available to select users soon.
Read our Halo Infinite review here.
Was this article helpful?
Thanks! Do share your feedback with us. ⚡
How could we improve this post? Please Help us. ✍