While going through this Coral Island Review, comparisons to other farming games are going to be unavoidable because this is such a niche genre that a lot of mechanics are simply borrowed again and again. And that's not a bad thing either.
But this is Coral Island, which was developed by an Indonesian game development studio named Stairway Games. It is a lovely farming simulator with a dash of a social sim, adventure, and a little bit of combat. The project originally asked for 70,000 dollars on Kickstarter, and the fact that 36,374 backers raised nearly 1.6 million dollars to bring it to life demonstrates exactly how eager fans were to see a title like this come to life.
So with this review, let's take a closer look at this game and see why it was so anticipated.
Quick Information
Developer

: Stairway Games

Publisher:

Humble Bundle

Release Date:

October 11, 2022

Platforms:

PC

Predecessor:

None
Story And Setting
Coral Island is set in a Southeast Asian-inspired setting, which resulted in a wide cast of characters, all of which have their own hand-drawn portraits that look pretty decent. Everyone is unique, with their own pasts and backgrounds, creating a realistic setting for us to engage with.
The story starts off like a lot of these titles do, with your main character spending a lot of time in urban environments and developing an urge for something simpler. Certain circumstances then allow them to travel to Coral Island, or more specifically Starlet Town, where the game truly begins.
Due to environmental problems, things on the island are not going as well as they were once upon a time, but you can help restore it back to its former glory. And it's fascinating how intriguing the story is in making such a serious topic into a fun little quest for you. There's a lot to do and explore on the island, including exploring under the waters themselves.
And yes, I am literally talking about an underwater settlement here known as the Merfolk Kingdom. This is a beautiful little area that sits beneath coral reefs that you may dive into and explore, and it provides a unique and enjoyable experience for those who may find communicating with only humans a little boring.
Gameplay
The game is mainly focused on environmental preservation. You clean up trash not only on land but also underwater and clear the coral reefs to revive nature's beauty. Players can also find some collectibles like chests, kelp, and some other stuff while exploring the sea.
There are different places around the Island where you can dive with different depth limits. There are four posts right now where you can dive and explore the sea, and you can explore deeper depths of as you progress and level up.
It's also your choice how you want to make your own character look, and the game gives you all the necessary tools to create the perfect avatar. At the start of the game, you can customize your gender, appearance, hairstyle, etc. Everything you would expect to be here is here. And when you're happy with your appearance, you can dive into the world and start exploring and meeting new characters.
There are over 50 different NPCs on Coral Island, out of which around 22 are romanceable. Coral Island provides you with a wide range of alternatives for your marriage partner, which as everyone knows is a key element of this type of title. The Merfolk Kingdom on the other hand is home to 20 merfolk, around two of whom are even suitable for romance, and they speak their own language. You must learn their language in order to communicate and build relationships with them, which is a fun little challenge on its own.
Another thing worth talking about is the outfit mechanism. Non-romanceable characters have one seasonal outfit per season, but all romance-able characters have a standard outfit along with event-based and season-based attire. And while this is purely visual, it's nice knowing that your partner will at least have different appearances year long.
And once you choose an NPC to marry, you can have up to two kids with them. But unlike other games, the remarkable aspect of this mechanism in Coral Island is that your children will age more than you would expect. They will grow into teenagers and form their own personalities as they do so.
When it comes to farming itself, you begin by clearing the trash from a plot of land that was given to you in front of your house before you can even begin planting, But once that's done, you can grow a variety of crops, the majority of which are season specific. Some crops, however, can be replanted and harvested in multiple seasons.
These crops must be cared for and watered every day, otherwise, you run the risk of them shriveling up and dying. But if you properly look after them and make sure to see them through until harvest, you can then sell them for money, which can then be used to purchase a variety of different items, upgrades, etc. Again, this is all pretty standard.
Stairway Studios has included a ranching mechanism as well because any farming simulator would be incomplete without livestock. Once you obtain several buildings to house the cattle at your farm, you can purchase livestock from the ranch near the forest. These animals can then be cared for so that they can then produce animal products, which can also be sold.
Keeping a pet is another option. The game offers a variety of alternatives for your companion, including dogs, cats, monkeys, and more. The intriguing thing is that, once you reach a particular level, you can even unlock a mythological pet. But that would be getting into spoiler territory.
You can pass the time by engaging in activities such as fishing, which is another well-known and traditional characteristic of farming sims. There are many creatures that can be caught, but they are weather and location dependent. Bug catching is also a feature, and both fish and bugs can be sold or displayed in the museum, which might sound familiar to Animal Crossing fans.
The game's map is pretty fascinating, and there are many different types of sites to discover and visit. The beach, the forest, the library, the lab, shops, restaurants, and others are all within reach of your home. Another feature worth mentioning is time speed, this game allows you to control how fast or slow days and nights will pass.
North of the farm, there is even a mine where players can go excavating for different resources. In addition to mining, you'll also run into monsters whom you must kill in order to continue mining.
Visuals And Performance
This indie video game has stunning, vibrant graphics that you might expect from a studio much bigger in size. The pixelated Stardew Valley experience has basically been transformed into a 3D one by Coral Island, and that's something that will appeal to a lot of players.
There are both newer buildings and older structures in the town, and it's nice seeing the variation between the different architecture. The verdant island is also lively and teeming with life, and the NPCs don't just stand there, they actually move about and engage with their surroundings.
This game's sound effects are also excellent. You can hear the wind howling, the foliage rustling, and the waves crashing on the beach. It does a fantastic job of enhancing the calming experience of the game.
But there is something that I have noticed which is not a bug, but rather a tiny little feature regarding the presentation. We're supposed to be on an island, with a coastal environment and a bunch of working-class people with rough jobs. But the funny thing is that the interiors of their homes are as gorgeous as those of five-Star hotels.
And while claiming that the island is experiencing an economic catastrophe, everyone is seen living in very lavish and cozy homes. Although it doesn't detract from the experience at all, it is a tiny little thing that stood out to me a lot.
Verdict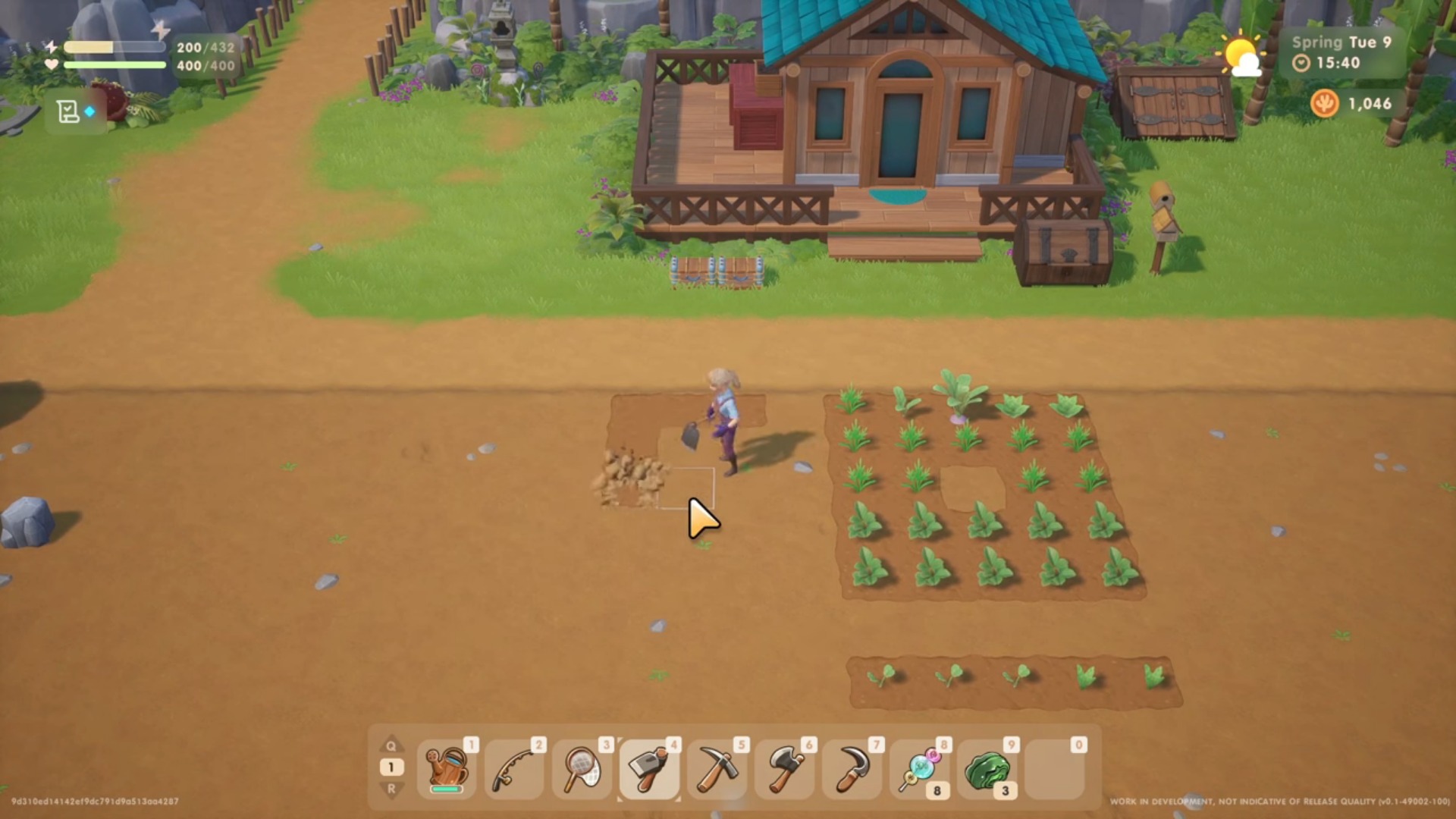 Coral Island offers a really enjoyable farming and sim experience, with a lot of different things to see and do. It borrows a lot from the genre at large, as well as a lot of its peers, and it's a better game because of it. With the exception of a few aspects, like combat, which I found annoying because there wasn't much area to move around due to the rocks, everything appeared and felt fantastic.
There are a lot of unique NPCs to befriend and romance, and the game is only just starting out right now. This is an early-access title, and I expect a lot more activities and characters to be added in the future. But as it is right now, this is still an excellent product.
This has been our Coral Island Review. While you're here, consider checking out some of our other articles.
Was this article helpful?
Thanks! Do share your feedback with us. ⚡
How could we improve this post? Please Help us. ✍
Coral Island Review
Story And Setting

Gameplay

Visuals And Performance
Verdict
Coral Island offers a really enjoyable farming and sim experience, with a lot of different things to see and do. It borrows a lot from the genre at large, as well as a lot of its peers, and it's a better game because of it.
Pros
Variety Of Romanceable NPCs.
Merfolk Kingdom.
Children Will Age.
Great Core Gameplay.
Cons
Lack Of Planting Animations.
Inconsistency Between Story And Environment.
Lame Combat Mechanics.