Story Highlights
Returnal is finally available for PC players to experience.
Returnal brings back the classic bullet hell genre in a modern game filled with creativity to create a brutally difficult but rewarding experience.
Housemarque masterfully crafted a mix of different genres that is difficult to execute but is handled with finesse in Returnal. The overall theme of the game reinforces this perfect blend.
Returnal's innovations of drifting away from one genre and trying a new approach might influence future games, but imagination and proper thinking are required to make the games unique and appealing.
Returnal is Housemarque's former PlayStation exclusive which provided us with a rogue-lite bullet hell experience set in a fascinating sci-fi fantasy world. Returnal is an excellent example of the revival of a classic genre in a unique new way.
Returnal was first launched as a PlayStation 5 exclusive and was meant to demonstrate the new console's capabilities, which it did splendidly considering its rich visuals, and a dark and gloomy atmosphere fitting the theme of an alien planet.
The game was leaked to be headed to PC prior to its official announcement. After the confirmation of the leak and its announcement, Returnal is finally available on PC as of 15th Feb. 2023. With the PC release, I'm happy this game considered to be one of the best PlayStation exclusives can now be experienced by a wider audience.
A Brief Overview Of Bullet Hells
When talking about bullet hells, the old era of arcade games with many space shooters comes to mind. Quite often these games employed stages or scenarios with an enormous number of projectiles on-screen for the player to dodge and then counter-attack between intervals, creating an adrenaline-fueled gameplay.
At first, it was only certain small fragments in these games. Starting off as only a concept in many space shooters like Galaga and side-scrolling arcade shooters such as Contra, bullet hell became a proper sub-genre in shooters over the course of time with many Japanese games like Ikaruga based primarily on bullet hell gameplay.
Even when playing many modern games with bullet hell aspects, long-term players are taken back to the time of arcades. With the scarcity of home consoles, kids rushed to the arcades with their pocket money in hand to play the nostalgic and beloved games they still remember fondly.
Housemarque possesses a considerable experience in the creative application of the bullet hell genre, as is evident by their successful launches such as Resogun and Nex Machina, and Returnal is no exception.
Playing the game reminds me of the nostalgic thrill I felt after effectively dodging the onslaught of bullets and then mashing the attack button to successfully kill the irritating enemy in arcade shooters. Returnal takes this concept and throws brutal difficulty and intriguing gameplay mechanics in the mix.
Being a third-person sci-fi shooter at its core, the game employs a bullet hell mechanism as the chief opposition for the players to overcome which brought a unique twist to the gameplay, making it different than other conventional shooters.
In addition to shooting down agile enemies and looking out for their melee attacks, you are also forced to actively avoid the patterns of projectiles across your screen. The real highlight of the game is the punishing boss fights.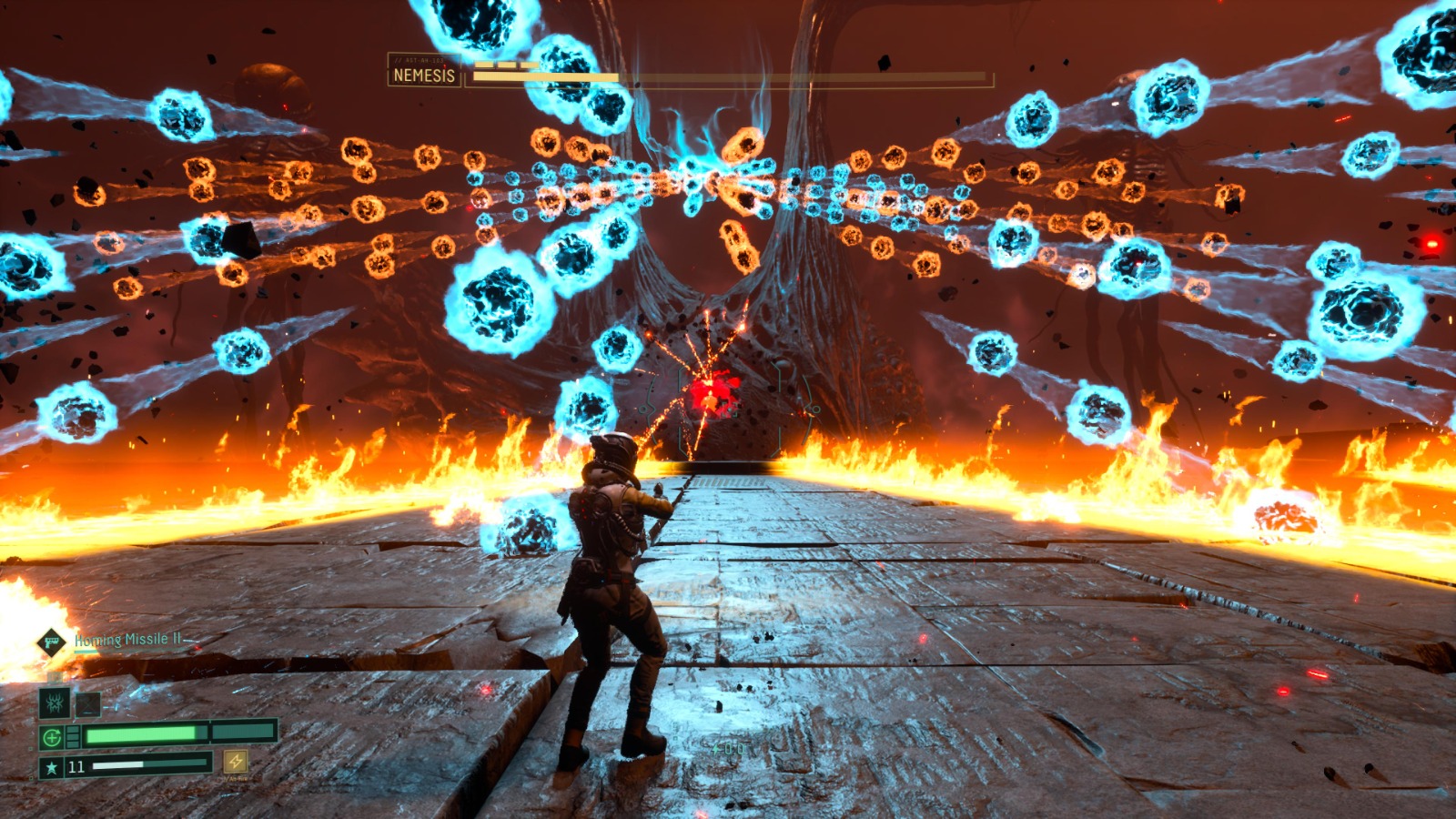 The crushing difficulty and versatile bullet hell attacks force you to be on edge all the time, requiring precise reflexes and discerning proper opportunities to strike back in order to reign victorious in these intense fights.
Returnal's Innovative Mix Of Genres
Returnal's appeal majorly lies in the fact that it tried to create a combination of various concepts and it really worked superbly with the overall theme of the game.
While being an excellent modern bullet hell shooter, Returnal is also a rogue-lite. Being a rogue-lite means you have various permanent upgrades that are not lost upon death. However, death will effectively restart your adventure with the loss of goods acquired in the playthrough.
This rogue-lite concept works exceptionally well with the overall story theme of the game. As per the story, you are trapped in a kind of loop on this alien planet where death puts you back where you crash land and begins a new cycle. It seems fitting you lose your progress when the cycle restarts.
In order to make the gameplay more interesting, Returnal brings a high-risk high-reward system in the form of malignant chests and parasites. Utilizing these mechanics gives a considerable buff while also bearing the chance of inflicting a nasty debuff.
Considering the intricate bullet hells and rogue-lite concepts, being inflicted with a particularly adverse debuff can result in you losing your entire progress. On the other hand, a tolerable debuff with a splendid buff can turn the tables in tense situations.
Moreover, Returnal is a psychological and atmospheric horror experience created by its excellently crafted sci-fi world. The strain of being stranded on an alien planet, with being caught in a loop on top of that is continuously emphasized through the various audio logs and lore bits collected over the course of the game.
The alien planet of Atropos is visually stunning and perfectly dark and ominous in accordance with the theme of the game. The fear of this unknown world is evident in the ghastly environments and horror-themed enemies. Every biome is distinct in its design and atmosphere.
One aspect I felt the game somewhat lacked was the story clarity as the overarching plot was exceedingly cryptic and ambiguous. Many of the story points uncovered are left up to interpretation by the player, which can be off-putting for many people.
The Need For Creativity In Future Games
With multiple different ideas in the mix, one wrong move could have created a complete mess. Returnal however is a perfect showcase of the developers' thinking and execution of these ideas, and the creation of the overall theme complements and reinforces this blend of genres and brings back a classic concept with finesse.
Returnal's PC release was an opportunity for this hidden gem to shine. Unfortunately, the PC port suffered some performance problems and was not as well received as the quality of the game demanded. Most believe this was due to poor marketing and a very competitive release window. The reception is improving now though due to players' efforts.
Returnal gives us an excellent depiction of how to utilize the nostalgia of classics while also creating a novel game filled with fascinating ideas. Rather than remakes that might fail to reach the expectations set by the originals, new games with a creative approach can provide a fresh take on the old concept.
When playing through Returnal, I realized how a properly thought-out blend of genres executed with perfection can create a very desirable game. With its success on PS5 and now the exposure on the PC platform, this blend of genres is likely to influence future titles.
Most of the time developers are hesitant to drift away from the core genre, and rightfully so as an improper attempt at following other successful games can result in serious drawbacks and the game failing to achieve what it hopes to.
So what we need right now is a creative approach and development of unique games with various aspects that perfectly complement each others' existence and nothing feels out of place as the narrative or gameplay demands those particular factors to be included.
I believe if properly executed we can see many well-designed games with their own originality. Housemarque has succeeded in crafting a perfect game with a blend of genres and I look forward to what other games we receive that demonstrate the developers' innovative thinking.
Was this article helpful?
Thanks! Do share your feedback with us. ⚡
How could we improve this post? Please Help us. ✍