Devil May Cry 5 features the return of iconic fan-favorite trio from the series such as Dante, Nero, Vergil, and a new playable character called 'V'. The game lived onto the expectations of the previous installments and delivered an engaging story, fantastic combat coupled with striking modern visuals. But, of course, a linear game is enjoyable as long as you beat the story to 100%. After that, everything starts to become dry, and players lose interest. This is where Devil May Cry 5 mods come in, and they refresh the game's replay value by bringing in new additions to the game unofficially.
As always, PC is the go-to platform if you want to apply mods to a game, because developers restrict all sorts of modifications on PlayStation and Xbox consoles. Previously, we suggested a couple of amazing mods for Risk of Rain 2 and State of Decay 2 game for players to try. So, yet again, we have come up with the top ten Devil May Cry 5 characters, and random mods players should at least give it a whirl after finishing the game.
Best Character Mods
Dante, Nero, Vergil, and V, the top four characters, are the meat of Devil May Cry 5. Replacing them with more conventional characters from other popular games is our primary focus in the Character Mods section. It is why we have suggested top five character mods that players will find relatable and at the same time enjoyable to try in the game.
Raiden Mod for Dante
Raiden, soldier turned cyborg, is the perfect skin players should try while browsing for Devil May Cry 5 mods. In Metal Gear Rising: Revengeance, Raiden packs a high-frequency sword and cuts enemies down mercilessly. Since the combat system in Devil May Cry 5 is based on a hack-and-slash mechanism, using Raiden as an alternate skin for Dante seems befitting.
Additionally, the Raiden mod comes in three variations which replaces Dante's basic color, ex-color, and the devil trigger mode. Uploaded by modder EXshinla, the Raiden mod for Dante looks and feels fantastic in the setting of Devil May Cry 5. Since most of Dante's gameplay style revolves around using the sword, the Raiden mod perfectly integrates with all the weapons of Dante. You can use Raiden rocking the dual pistols, Ebony & Ivory, and the rocket launcher as well. Take a look at these eye-candy images of Raiden in three variations and rocking the big guns.
Kylo Ren Mod For V
Call it a coincidence or otherwise, but the playable character 'V' looks a lot like Adam Driver, the actor reprising the role of Kylo Ren in Star Wars. The resemblance between the two is uncanny; maybe this has to do with the former's face model inspiration taken heavily on the latter's looks. In any case, the Kylo Ren mod for 'V' is a must-try mod in Devil May Cry 5.
Nxus64 uploaded the mod, which comes with Kylo Ren's lightsaber and costume without the robe. Overall, the mod works extensively with 'V' and sits well during the cinematic cut-scenes and while fighting enemies. However, the ex-color is currently bugged, and at times, the lightsaber turns off while performing the executions on enemies. Other than that, resisting to try this mod will be hard for Star Wars fans – the force is too strong with it.
Doom Guy Mod for Dante
The legendary Doom Slayer can now be made playable in Devil May Cry 5. The Doom guy mod uploaded by vZv is a work of art, and the integration of the mod's skin over Dante is incredible. By downloading and implementing the mod, players can replace the Doom Eternal version of Doom guy with Dante. There are even custom character symbols for various missions in the game. Out of all the Devil May Cry 5 mods, this one sure looks an excellent addition to Dante.
Dante's signature rose throw is also reworked to synergize with the Doom guy mod. the devil trigger ability is your cue if you want to see the Doom guy without the helmet. The mod even replaces custom menu skins while selecting characters for the missions. Here are a couple of images featuring Doom Slayer in the world setting of Devil May Cry 5.
Deadpool Mod for Dante
The Merc with a Mouth, Deadpool, is another excellent mod to try for Dante's character in Devil May Cry 5. After all, Deadpool levels with Dante's sense of humor, stylish sword strikes, and dual pistol action. The stylish combos, aerial sword swings, and trickster abilities of Deadpool look extremely good while playing with this mod.
Modder NanamiYuuuuuu pulled the resources from Fortnite, and thanks to RE Engine of Devil May Cry 5, the overall skin of Deadpool looks stellar, graphics-wise. Here are some of the images showcasing Deadpool rocking the hat and Moonwalk dance.
Nero Angelo
Cavaliere Angelo's boss fight with Dante is a fantastic mission showcasing the boss's powers and Dante's bike in action. Modder djheretostay took inspiration from Cavaliere Angelo and edited the skin to fit on Nero. However, the visual appearance of Nero Angelo can only be seen if you trigger the devil trigger mode of the character. It is because the mod is not designed for Nero's standard form; it is only for its DT mode. So, download the Nero Angelo mod and kill demons while rocking a dark knight demon stylized armor. Here is an image showcasing the proud demon slayer brat in action.
Best Random Mods
The random mods contains a wide variety of DMC 5 mods that are not strictly related to the character skin mods as mentioned above. Take a look at top five random mods you should try in Devil May Cry 5 game.
Devil Bringer
Nero's Devil Bringer was the signature demonic weapon that featured in Devil May Cry 4. After a turn of events in the next game, Nero had to fight enemies using tons of modifications of his brand new bionic arm. However, that did not stop modders from taking the resources out of DMC 4 and use it as one of the Devil May Cry 5 mods.
Modder NatsuKen has managed to replace the right bionic arm of Nero with Devil Bringer. It sure makes Nero look two times more badass after having a demonic right arm instead of a modified mechanical arm. However, there is limited application when it comes to using the mod in the game, and it is more of a visual treat to the players. Well, in any case, take a loot at flashy dark blue Devil Bringer in an image here.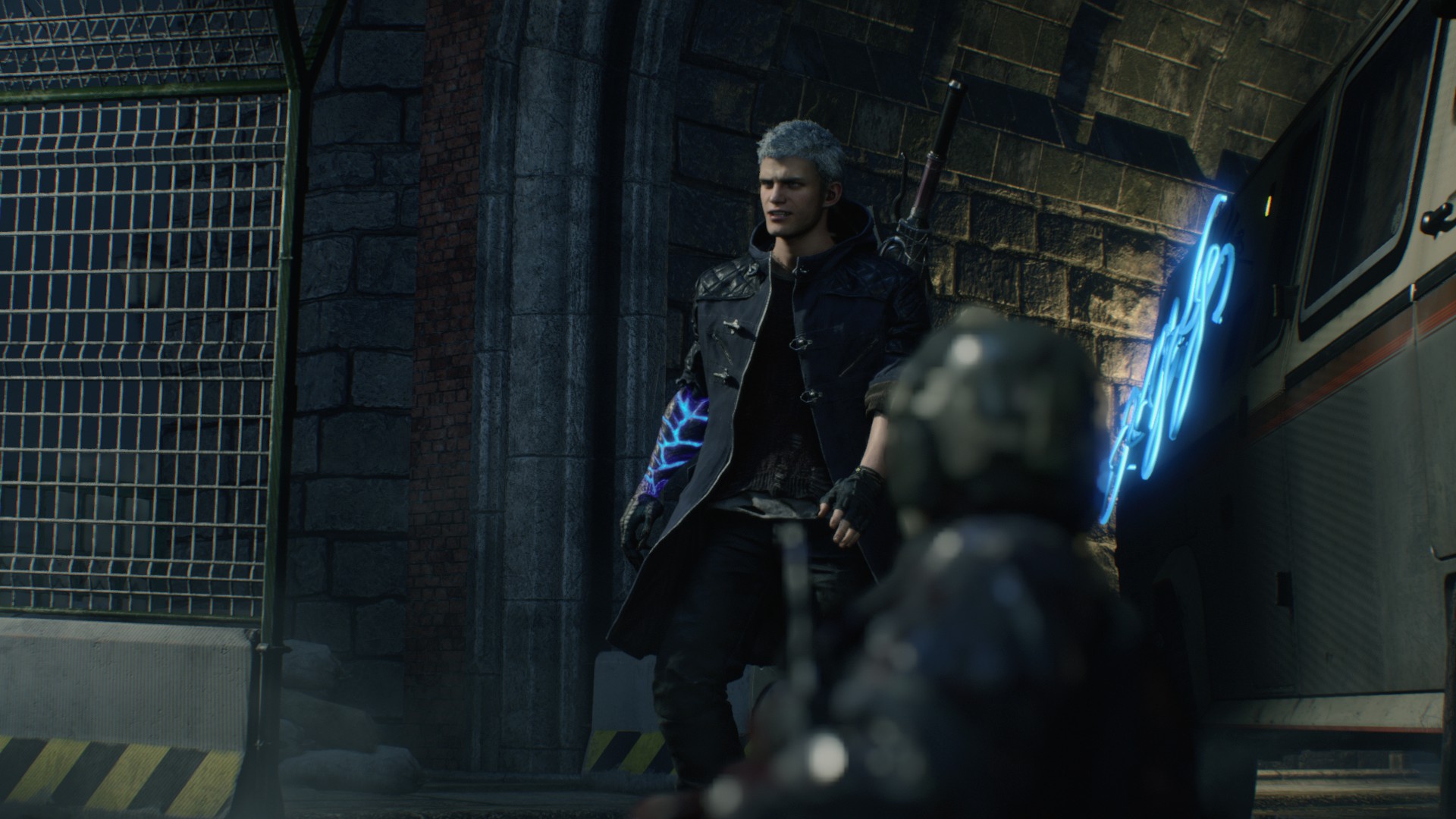 DMC 3 and DMC 4 Weapons and style switch SFX
A mod to enjoy the nostalgia of DMC 3 and DMC 4 sounds incredible, right? Well, AshR0X brings the weapons and style switch SFX from the previous two games in the installment to Devil May Cry 5. The weapons and style switching sound effects work on Dante as well as Vergil.
The DMC 3 and DMC 4 weapons and style switch SFX mod allows players to relive the good old days of slaying demons. Dante's weapons and style switch sound effects are my favorites, and to me, they are a tad bit better than Vergil. Nevertheless, let us know which one out of two identical twin brothers is your favorite in the comments section below.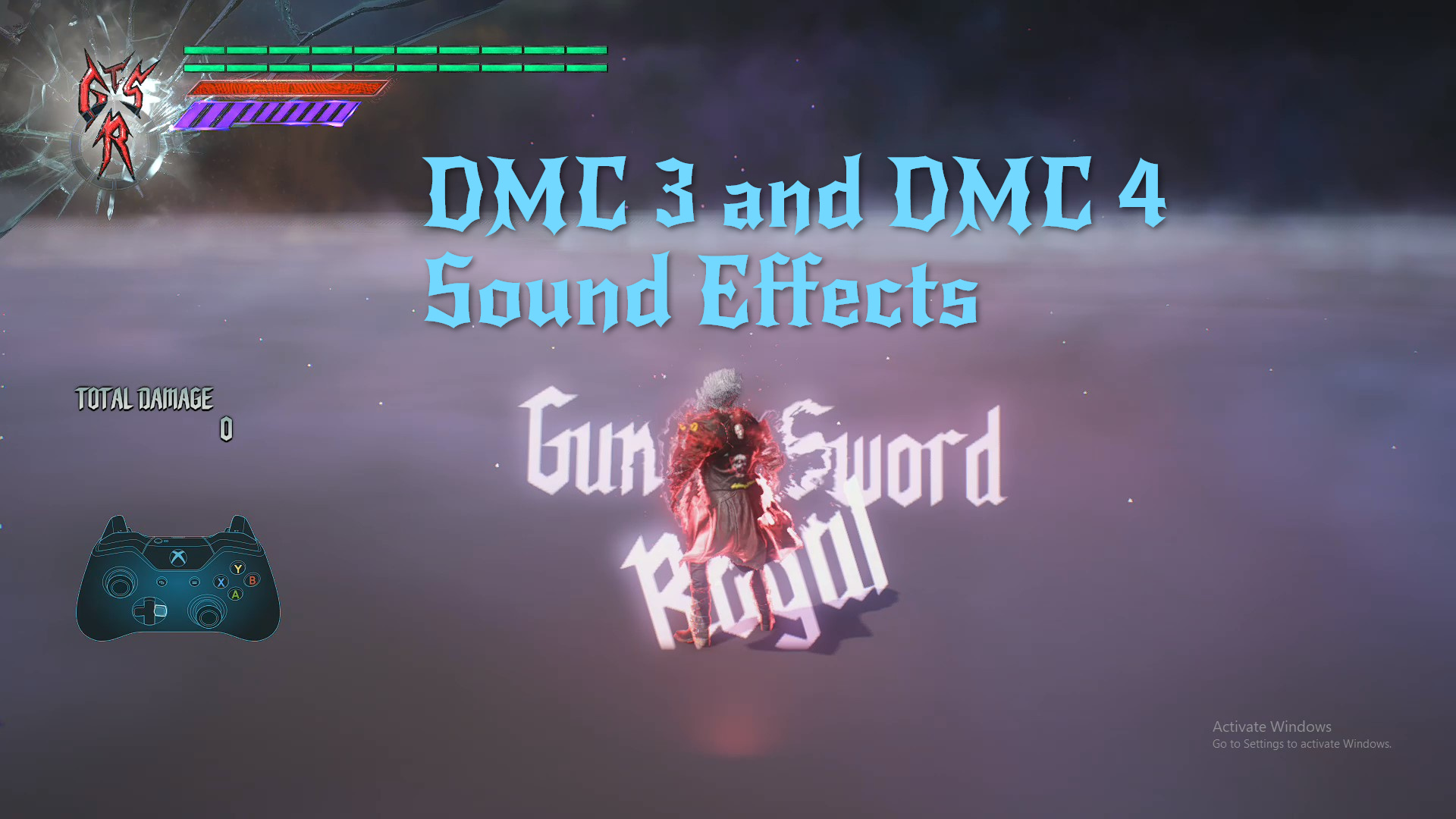 Michael Jackson Rank Announcer
The classic style announcer is perfect when it comes to chaining higher combos and listening to the style rankings announcement. That being said, now there is a mod where you can use the voice of King of Pop, Michael Jackson.
KantaKun modder replaced the default style announcer voice with Micahel Jackson along with custom rank names for each style. For example, D is now dirty, C for criminal, B for beat it, A for Annie, are you Ok? And other three S ranks also are stylized with MJs voice. It may not look appealing when you use the mod while playing with Nero or V. But, when it comes to Dante's dance moves, Michael Jackson's rank announcer mod sits perfectly adequate. So, if you are tired of listening to the same old voice announcer since the last couple of Devil May Cry games, now is the right time for a change.
Coop Trainer
Lastly, the Coop trainer mod comes with a plethora of options for players to play the story and Bloody Palace missions however they want. The Divergence mode of the mod allows you to select between Nero, V, or Dante for a story mission. The mod removes all limitations that strictly reserved specific characters for each mission. Play with whatever character you like by using the coop trainer mod.
Additionally, another excellent feature modder Rasierer introduced in Coop Trainer is of allowing up to three players in a single coop game. Since Devil May Cry 5 features coop in selective missions only, it only seems befitting to allow three players in a game instead of just two. There are many other mods Coop Trainer offers, including graphics options, boss swap, dirty player appearances, tweaking battle background music, floating pause menu Bloody Palace continues, and more. Take a peek at the image here and see for yourself.
SSSiyan's Collaborative Cheat Trainer
The cheat trainer offers tons of Devil May Cry 5 mods bundled into a single package. Players can use cheats, various mods and tweak the game heavily based on what they want using the SSSiyan's Collaborative Cheat Trainer. Of course, one should give this mod a try only after completing the campaign story. Or else, modifying the missions, enemies spawn rate can spoil the overall experience.
Modder SSSiyan did a fantastic job in creating this mod, giving players the freedom to change how they can play the game whenever they want. Furthermore, since the mod is a cheat trainer, you can always toggle its contents on or off on the fly. Currently, SSSiyan's Collaborative Cheat Trainer offers turbo mode, Devil Breaker switching, Bloody Palace stage jump and boss rush, must style mode, extended practice options, and a lot more. So, download the mod and experience the game by tweaking the settings as per your desires
That is pretty much everything you should know about Devil May Cry 5 mods. Which mod are you going to try first from our top ten mods mentioned above? Let us know your thoughts in the comments.
Image Source: Nexusmods
Was this article helpful?
Thanks! Do share your feedback with us. ⚡
How could we improve this post? Please Help us. ✍