Use of Training Room
The training room in Lost Ark enables players to test the builds, either current or customized, that too without spending anything. It allows them to test various skills, engravings, and much more on enemies, even the boss monsters. Players need to initiate the Training Zone with Beatrice. Also, consider reading our other guide about Lost Ark Skins.
---
Key Highlights
As the name

"Training Room"

implies, players test various weapons, buffs, engravings, and more here in Lost Ark. It is all free of cost.

For this, they will be required to continue with the main storyline and reach

level 30

. Once players reach level 30, they will be able to acquire

Song of Trixion

.

With the advent of a new update of the training room,

"Battle for the Throne of Chaos"

, more people are inclined towards this mechanism. The training room is a great way to measure one's competitiveness before getting into a fight.

The training room is also known as the

Training Zone

or

Training Area

.

Reach level 30. Complete mission

"Luteran King's Grave"

. Defeat the

demon

in a battle.

Find NPC named

Minstrel Allegro

. This NPC provides players with the item

"Song of Trixion"

.

There is an item in your inventory that will play the music when you click on it.

Players need to speak with

Beatrice

next and select the

training icon

.

Getting access to the training room is a bit of a headache and grind but it is definitely worth it as it will save you from spending a vast amount of money on useless items.
---
For this, they will be required to continue with the main storyline and reach level 30. Once players reach level 30, they will be able to acquire Song of Trixion. While you're at it, our Lost Ark Weapons Tier List guide will also be helpful for you.
Training Room gives players a chance to explore everything about the game and test their builds and weapons before reaching a higher-tiered or dangerous area. It will give them an excellent opportunity to get the hang of the ropes before progressing further in the game. You should also explore the training room's allowances.
New Update: Battle For the Throne of Chaos
Training Room has always been very useful to the players of Lost Ark, as they have made the best use of it by gaining an understanding of various combat mechanics in the game. Although the training room has been in use for quite a while now, more players are inclined towards using it after the recent update in Lost Ark in the month of April, "Battle for the Throne of Chaos".
Changes in Recent Update
This recent update included Super Express Missions, which allowed players to use a character that can level up quickly to Tier 3 content. There were many missions in the update, but the second mission, which was Training Room Advanced, involved players going to the training room and then completing a weak point tutorial.
Benefits From Recent Update
The completion of the mission is marked by rewards such as 10 Destruction Bombs and Whirlwind Grenades. These weapons can be extremely handy in the fights against deadly enemies no matter what class you have chosen to play the game.
This update sounded interesting to many players, and thus they are being encouraged to seek the training room even more after this update.
How To Get To Training Room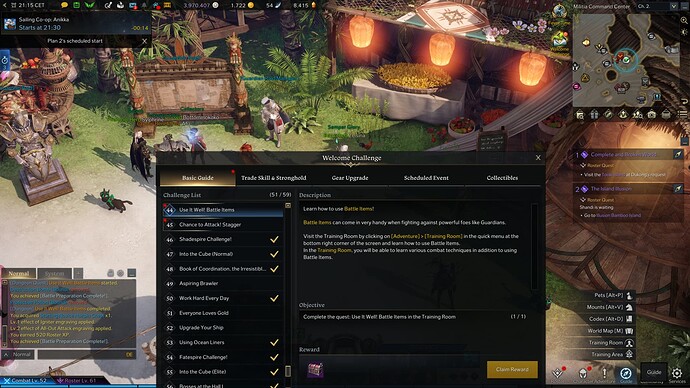 The training room is not a secret anymore, but many players can completely miss it while playing the game. The training room is also known as the Training Zone or Training Area. Thus, if someone mentions any other name, you should quickly grasp the idea that they are referring to the Training Room. The following steps will help you reach the training room easily.
Advance Main Storyline And Hit Level 30
You need to follow the main storyline and keep progressing by finishing missions unless you reach a mission called Luteran King's Grave. It will take a bit longer to complete this mission, as it is tricky and lengthy.
You will pass through an entire graveyard scene until you reach the demon battle, which is a fire-breathing monster.
You will be required to hit level 30, which is possible after you defeat the demon. Follow the given steps after defeating the demon to progress further.
Speak to Arman, King Sillian, and then go to the librarian Lazarus Poudor who will send you back to the Monastery.

Talk to Arman and King Sillian in the given order.

After going back to Monastery, speak to Epheon.

Pick up a book that will be in Monastery.

Go back to the Luterra Castle and head to Crypt. You will pick up another book here.

There will be Nomad NPC within the Catacombs; you will speak to this NPC.

Speaking to Michael will be the last step, and after that, you will hit level 30.
Obtain Song of Trixion
After the player reaches the game level 30 by following the main storyline, there will be an NPC named Minstrel Allegro. This NPC provides players with the item "Song of Trixion". Thus, if you also want to obtain the song of trixion, make sure to talk to Minstrel Allegro.
Go To Beatrice in Trixion
There is an item in your inventory that will play the music when you click on it. After playing the music, you will learn it and open the player's music book. This music book will let you play the song of trixion to teleport them to trixion.
Select Training
Players need to speak with Beatrice next and select the training icon. While following the main storyline and completing the missions, most players can miss this training icon completely.
You need to look out for this training icon carefully, and once you click on it, a small pop-up will appear on the screen.
You will be headed to the training ground area by clicking OK. There will be a variety of tabs and options which will enable you to customize your training experience.
How do You Practice Skills in Lost Ark Training Room
The training room will allow players to access builds, skills, and engravings that you do not have on your character. You can use these elements to change your character and experience the essence of the game. The guide to Practicing different training items in the training room is as follows.
Training Zone Options
The first step in the training zone is to manage the builds or skills you are about to test. To manage these skills and builds, use the main vertical tab, which is on the right-hand side of the screen. All the elements in the training zone can be modified according to the player's liking and preferences.
As you interact with the settings in the training zone and later, according to your references, the settings will show "Modified".
Once the character is modified, the players can test this modified character by testing the current build. You can test your current features to test the skills and builds you have and imaginative features to test the builds and skills you do not have.
Testing Skills
Like any other feature, you can test any skill you want to try that is available in the game. It does not matter if the skill is high-tiered or endgame; you can try these on and test them. The skill points also will not affect your selection. You can use whatever you like.
Trying Engravings
As the training room enables you to test everything you do not own, it also allows you to test all engravings in Lost Ark on your build, that too up to level 3. This includes all kinds of engravings as well as class engravings which players cannot access until they reach level 50. Thus, the training room is the best option to try out stuff that unlocks towards the end of the game. On the subject of level, consider reading our Lost Ark leveling guide.
Character Feature Settings
You can not only change the stats of your character, but you can also move these stats to the max by pressing shift + Left click. You can max your stats, including agility, crit, or whatever you want to try on your character. If you face any errors like Lost Ark Not Loading, our guide has covered everything you need to know about this.
Summon Monster
You will head to the Monster section in the training zone once you are happy with the training build. You will have a choice between various monsters ranging from standard enemies to Raid Boss. Players will be able to test different builds and try out standard builds for adventuring and battling mobs.
You can check your build's efficiency for Raids. If you want a dummy-like enemy to act as a target, the ideal choice is Scarecrow. This will be an ideal choice, as it will stay in one place and not move, thus acting as the right dummy for testing builds. This will also not attack the players.
Lost Ark Training Room Advantages
Accessing the training zone is not that easy; it does require a little amount of effort to unlock. First, players need to reach level 30 by following the main storyline. Considering the amount of freedom the training zone gives the players, it is worth the effort of unlocking and participating in it.
The entire experience of the training room that involves giving players access to unlimited items of the game makes it unique.
This experience is something the players will not be able to access otherwise. It can prevent you from making expensive purchases, as you might not like something expensive when you try it. It also reduces the indecisive moments while buying the items in the game.
Lost Ark Training Room is another fun factor in the game. It is essentially helpful for beginners. It gives them a chance to try different weapons, builds, and skills in the game to help them have an overview of what actual fights with the enemies will look like. Must read our next guide that covers the best places to level up foraging in Lost Ark.
Was this article helpful?
Thanks! Do share your feedback with us. ⚡
How could we improve this post? Please Help us. ✍