Most previous Mortal Kombat games have showcased Bi-Han owning the role of Noob Saibot, but in Mortal Kombat 1, Noob doesn't appear on either the main roster, the list of Kameo Fighters, or in the campaign. After the reboot, Bi-Han is now the new Sub-Zero in MK1, while his brother, Kuai Liang, the original Sub-Zero, has become Scorpion. However, despite Noob Saibot missing from the title's initial release, recent leaks suggest he might appear as DLC.
Key Takeaways
Noob Saibot is currently not playable in Mortal Kombat 1, but Bi-Han, his previous character role, is playable as Sub-Zero in-game.
There is also no official statement by NetherRealm Studios that Noob Saibot will be coming to the roster, either as a playable main character or a Kameo Fighter.
However, a recent leak on X (formerly Twitter) suggests several upcoming characters in MK1, including Noob Saibot.
The leaker released a few tweets showing hidden interactions within MK1's files, where existing characters, such as Nitara, refer to an opponent who matches Noob's appearance.
Is Noob Saibot Currently Playable In Mortal Kombat 1?
As mentioned, Noob Saibot is neither a part of MK1's initial launch playable roster nor a Kameo Fighter, and he also doesn't make an appearance in Story Mode.
While Noob nor any of his movesets are showcased in-game, his character role, Bi-Han, is a part of Mortal Kombat 1, and he now plays as Sub-Zero. Upon completing the campaign, you'll see Bi-Han changing from an honorable Lin Kuei Grandmaster to an evil, power-hungry ninja.
This transformation supports the idea that NetherRealm Studios could use Bi-Han to introduce Noob Saibot in the DLC storyline.
And since previous Mortal Kombat games have DLC storyline characters playable, like with Sindel, Fujin, and Sheeva in MK11 Aftermath, they could do the same if Noob appears in any future MK1 story add-ons.
Will Noob Saibot Come To MK1?
Despite no initial release, recent leaks and data mining from @thethiny suggest that Noob Saibot may appear as a DLC character in future Kombat Packs.
Alongside other leaks like MK1's Invasion Season 2, @thethiny recently made a Datamine Tweet on September 18, 2023, highlighting a list of new characters hinted at from the character intros within the game files.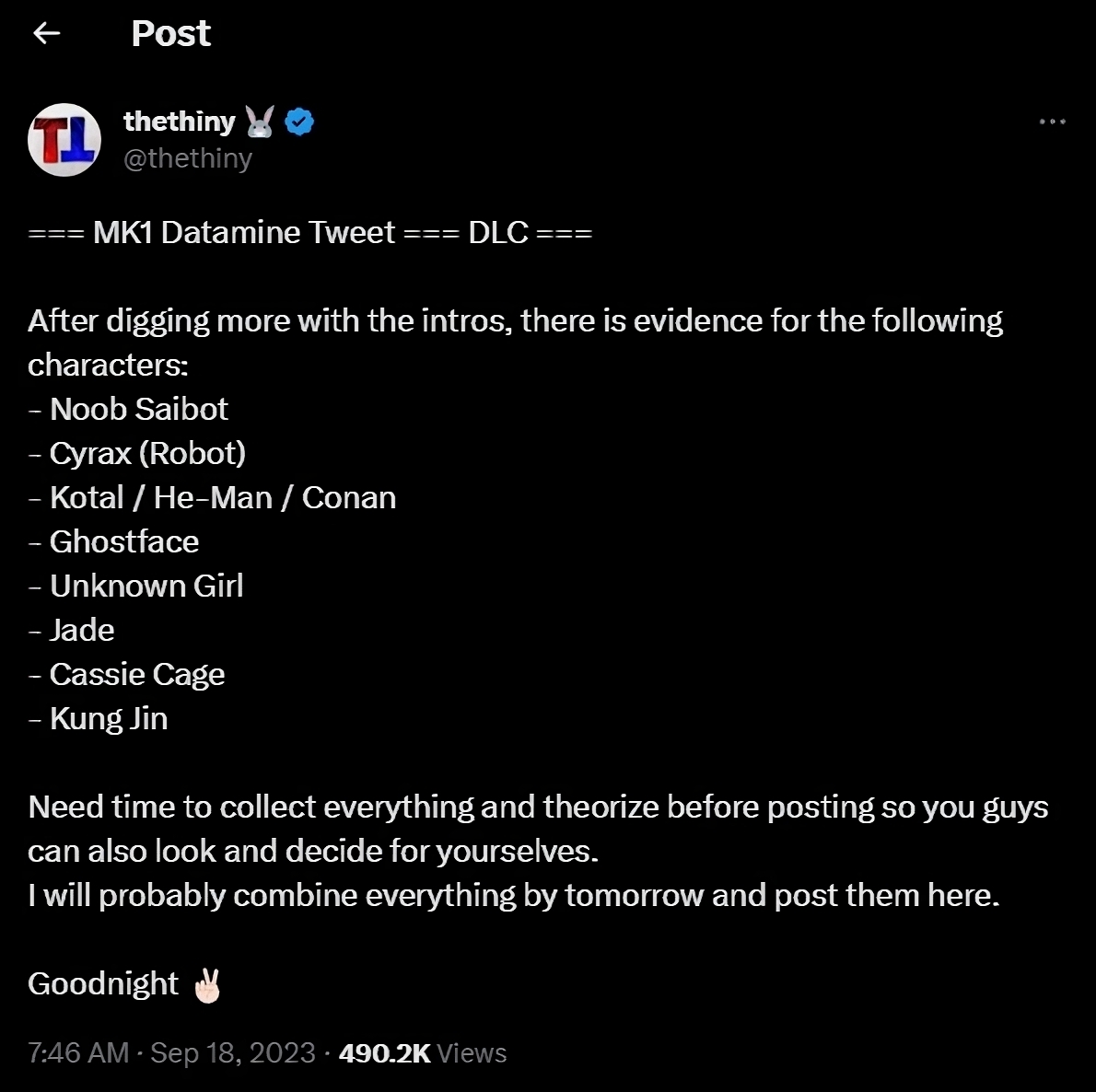 This list of characters includes:
Noob Saibot
Cyrax (Robot)
Kotal / He-Man / Conan
Ghostface
Unknown Girl
Jade
Cassie Cage
Kung Jin
Later on, to further prove the above theory, @thethiny made another tweet thread sharing images of the hidden intros in Mortal Kombat 1. Here, one image specifically features other characters exchanging dialogue with someone who matches Noob Saibot's appearance and descriptions.
For more detail, here's how these interactions reference Noob Saibot:
Nitara calls the fighter Bi-Han and characterizes them as a part of the Lin Kuei.
Homelander makes a comparison of the unknown character to Black Noir's appearance.
Omni-Man calls the unknown fighter a dead man.
Nitara references the other fighter as a wraith.
Important: The developers have already revealed the characters for Kombat Pack 1, so they might include these leaked characters in Kombat Pack 2 or even Kombat Pack 3 if the latter exists.
That wraps up this brief guide on Noob Saibot in Mortal Kombat 1, covering his current status as a playable character and the recent leaks surrounding him. These data mining leaks have been a common thing with Mortal Kombat games, specifically Mortal Kombat 11, whose game files disclosed upcoming DLC characters like Shang Tsung, Joker, and Spawn. Given that history, it's reasonably likely that Noob, as well as the other leaked characters, will come to MK1, even though NetherRealm Studios haven't given any confirmation themselves yet.
Learn more about the latest backstory changes to Hanzo Hasashi in MK1, who was previously Scorpion and the main rival to Bi-Han. For reading up on gameplay-oriented content instead, here's how to unlock Fatalities in Mortal Kombat 1. And be sure to check out Netherstones and how you can use them to access the NetherRealm during Invasion Mode.
Next:
---
Picture And Leak Credits: @thethiny
Was this article helpful?
Thanks! Do share your feedback with us. ⚡
How could we improve this post? Please Help us. ✍