No matter how good you may be at the game, free boosts and cash rewards are always helpful. This is where codes come into play; redeemable for rewards just like these, they help for a better gaming experience. This guide entails everything you need to know about Roblox My Store Codes in June 2023, where to redeem them, and how to get your hands on even more game codes, so make sure to read till the very end.
Important: Codes usually expire pretty quickly; make sure to use codes as soon as you find them.
List Of Active Codes
Last Checked on June 1, 2023.
Not knowing whether a code is active or not is a stressful task, and having to separate those codes is a long and tedious task too. For this reason, we have separated the active codes from the expired ones, and now the following list only features active codes.
| | |
| --- | --- |
| Code | Reward |
| CashBoost | Valid for a 2x Cash Boost. |
| Release | Valid for lots of Cash. |
List Of Expired Codes
This list only includes expired codes for My Story. These codes cannot be redeemed for any rewards, so make sure to stay away from them.
| | |
| --- | --- |
| Code | Reward |
| Easter | Valid for a Free Boost. |
| Easter2021 | Get your hands on a Free Boost by redeeming this code |
How To Redeem Codes?
Now that we have our hands on the codes, it is time to redeem them and get access to their rewards. Redeeming codes is a fairly easy process, and in just a few steps, you can redeem your codes. Follow the steps below to redeem your codes.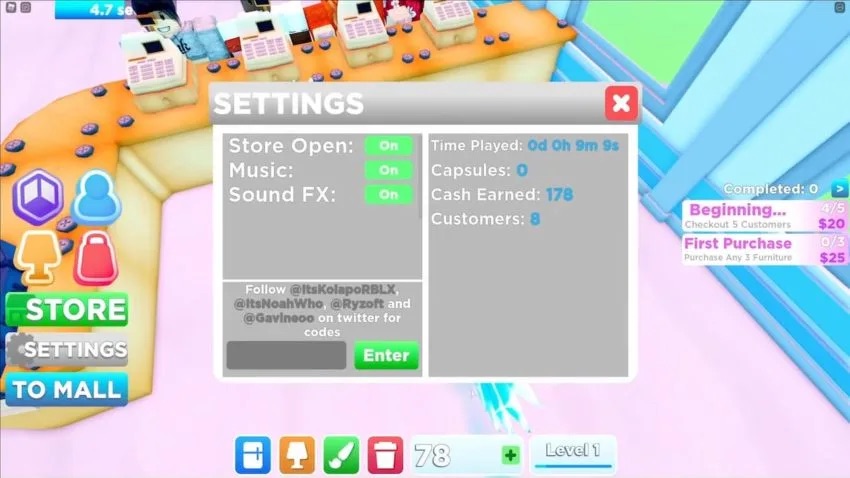 First of all, launch My Store on Roblox.
Open up the Settings menu on the left-hand side of the screen.
Enter your code in the redemption box.
Press Enter.
Enjoy your Rewards!
Why Are My Codes Not Working?
Codes not working is not that big an issue, and there are a few main reasons why codes do not work. Thankfully so, each specific error is accompanied by a fix. Check out the errors explained in detail below, and get yourself a working code.
The biggest reason why codes do not work is simply a spelling error. A spelling mistake will read the code as broken and not redeem them for any rewards. Make sure to double-check your spelling before you hit Enter to redeem your code.
Another major issue is capitalization. Roblox codes are case-sensitive, and any inconsistencies in the case notation will result in a not working code. Our recommendation is to copy & paste the codes directly from above, and this will result in no errors for both the spelling and case notation issues by completely removing human intervention.
If the above fixes have not been fruitful yet, there is one more fix to attempt. Restart your game, and this will launch your game into a new and updated server where the codes should work.
Finally, if neither of the fixes mentioned here has worked, this means the code has expired. No worries, though; at the rate codes are recycled in and out, new codes will be available in a hot minute.
Where To Find More Codes?
If you're still hoping to find more codes, you will need to go to the game's social media. The developers release new codes over there as soon as they drop. Follow @ItsKolapoRBLX, the developer of the game who releases new codes from time to time.
If you do not want to follow any external accounts, we have you covered still. We aim to have this page updated all the time, and new codes are at the top of the list. Make sure to bookmark this page, and check back whenever you are in need of new codes.
What Is My Store?
My Store is a Roblox game where players have the opportunity to design and operate their own store. You can unlock better customers who are willing to pay more for certain products, increasing your cash flow to make improvements to your store. Build your own store, and see how successful you will end up being.
What Are My Store Codes?
My Store codes are released frequently by the developers, and the codes are redeemable for rewards such as Cash and other boosts. This helps for a better gaming experience. Make sure to redeem codes whenever you find any, and take full advantage of them!
Final Thoughts
This is all there for My Store Codes in May 2023, and we hope you were able to find some working stuff for yourself. If not, check back in a while when we have updated this guide to include more working codes. Till then, check out our guide on The Most Popular Roblox Game From 2018 To 2023, and find some more fun Roblox Games. Let us know in the comments below if you would like more guides like this one.
Similar Reads:
Was this article helpful?
Thanks! Do share your feedback with us. ⚡
How could we improve this post? Please Help us. ✍