In this economy, who can say no to a cheat code that is not actually a cheat code? Everybody appreciates a helping hand, and that is exactly what this guide attempts to provide. The codes can be used to redeem free gifts and enhance your game experience. Make sure to read all the way to the conclusion of this tutorial because it has all the information you require about NBA 2K Mobile Codes.
Key Takeaways
NBA 2K Mobile Codes are used to redeem rare cards to add to your squad and free perks.
A better and healthier squad helps to win more games.
To claim codes, head to the News tab and enter your code.
To find more code, follow them on Twitter.
Important: Codes usually expire pretty quickly; make sure to use codes as soon as you find them.
List Of Active Codes
Last Checked on June 5th, 2023.
Code
Reward
ICETRAE11

Valid for a TRae young card.

BIGTICKET

Valid for a Kevin Garnett

Card

DMWILKINS

Valid for a Dominique Wilkins

Card
List Of Expired Codes
| | |
| --- | --- |
| Code | Reward |
| BACK2BACKMVP | Valid for a Niko Jokić Card. |
| LUKAMAGIC | Valid for a Luka Dončić Card. |
| LARRYLEGEND | Valid for a Larry Bird Card. |
| NBAISBACK | Valid for an Anthony Davis Card. |
| PDMORANT | Valid for a Ja Morant Card. |
| GALAXYPG13 | Valid for a Paul George Card. |
| TACOTUESDAY | Valid for a LeBron Card. |
| BILLRUSSELL | Valid for a Bill Russel Card. |
| RAYALLEN20 | Valid for a Ray Allen Card and 2x Energy Recharge. |
| SKYHOOK33 | Valid for a Kareem Abdul Jabbar Card. |
| MVPDROSE | Valid for a Derrick Rose Card and a 2x Energy Recharge. |
| JORDAN23 | Valid for a Micheal Jordan Card and a 2x Energy Recharge. |
| GYROSTEP | Valid for Free Rewards. |
| THEADMIRAL | Valid for a David Robinson Card. |
| TAINKLAY | Valid for Klay Thompson Card. |
| WHATITDOBABY | Valid for a Kawhi Leonard Card. |
| DAMETIME | Valid for a Damon Lillard Card. |
| JRUESUMMER | Valid for a Jrue's Summer Card. |
| SHOWTIME | Valid for a Magic Johnson's Card. |
| THEBIGCACTUS | Valid for a Shaq Card. |
| KPPLAYOFFS | Valid for a Porzingis' Theme Card and 2 Event Energy Chargers. |
| ELGINBAYLOR | Valid for an Elgin Baylor Card. |
| CP3PHOENIX | Valid for a Chris Paul Card. |
| EMERALDKLAY | Valid for a Klay Thompson Card. |
How To Redeem Codes?
Now that we have gotten our hands on some working codes, prying out their rewards is the next step. To get those rewards, we need to be able to redeem the codes, which is an easy enough process. Check out the steps below, and you will be able to redeem your codes.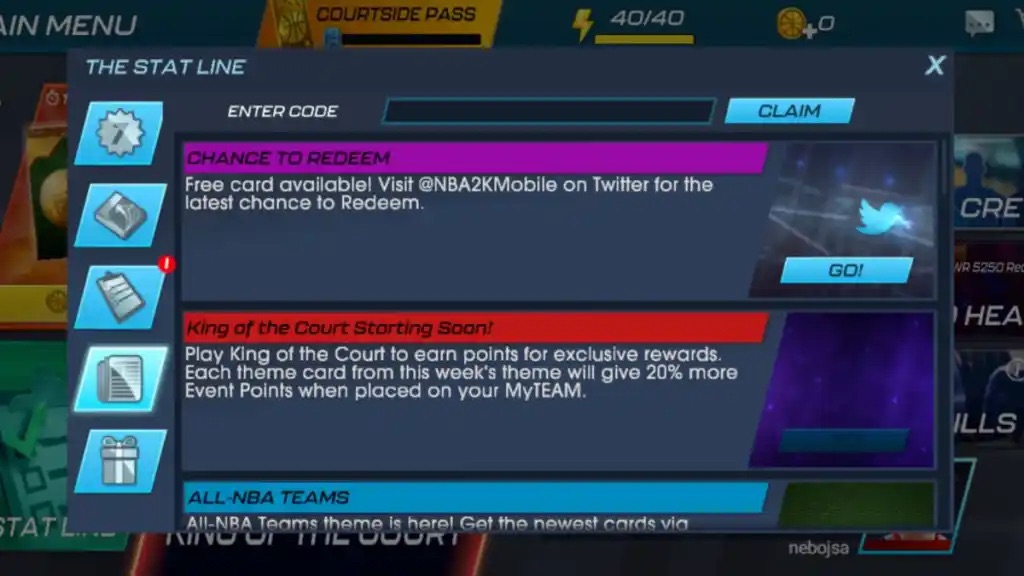 First of all, launch NBA 2K Mobile.
Click on the button labeled "News" towards the left-hand side of the screen.
Enter your code into the redemption box at the top of the screen.
Press the button labeled "Claim."
Enjoy your Rewards!
Where To Get More Codes?
To know of new codes as soon as they are birthed into existence, going to the developers is your best option. Check out the Official NBA 2K Mobile Twitter. Over here, you can find new codes and information regarding any updates, so leaving notifications on might be in your favor.
If you are not in the mood to join any external groups, we have you covered in that case too. You can check back here whenever you need a new code since this website is also updated frequently. Save this page for later use, and remember to return it the next time around.
What Is NBA 2K Mobile?
NBA 2K Mobile is a game available to play on both iOS and Android. The game has been developed by 2K Sports; the official developer for all 2K Games. The game includes playing basketball with Official NBA Teams and Players. Create your own team and play against other crazed NBA fans anywhere you want!
What Are NBA 2K Mobile Codes?
The codes are redeemed to provide players with rare players that are extremely hard to come by. You can use these players to assemble one of the best squads by adding players such as the likes of Luka Doncic, Ja Morant, and many more.
Codes can also be redeemed for perks to increase your energy recharge rate, and get back in the game as soon as possible. The codes provide help all the time, and using them helps make the game a more enjoyable experience, so make sure you never miss out on a code!
Final Thoughts
This is all we have for NBA 2K Mobile Codes for now, and we hope you found some great additions for your squad in these codes. If you were not able to find any working codes, or get the desired card you wanted, check back later on for any new working codes. In the meantime, check out our guide on Streetball Allstar Codes, another basketball game we believe you will have fun playing. Let us know in the comments below if you would like more guides like this one.
Similar Reads:
Was this article helpful?
Thanks! Do share your feedback with us. ⚡
How could we improve this post? Please Help us. ✍