CS: GO Shatters Its All-Time Peak Record, Reaching 1,320,219 Players
The passionate community behind the 11-year-old entry strikes again.
Story Highlights
CS: GO has garnered a staggering 1,320,219 players, breaking its old record to reach a new all-time peak.
The current active player base is sitting at 991,234 users at the time of writing.
Valve's first-person shooter became the most-played entry on the Steam storefront yesterday, and its player base continues to thrive.
Titles like Hogwarts Legacy, Dota 2, and PUBG stand as the competition for the classic FPS, but their concurrent recent all-time peak remains very low comparatively.
Counter-Strike: Global Offensive, generally known as CS: GO, has proven to be a timeless FPS experience, which is still going strong due to its dedicated fans. Its community has rocketed Valve's decade-old venture to reach the highest peaks in the gaming industry. It has yet broken another milestone, which is its own meritorious record.
As noted by the Steam tracking site, SteamDB, the accredited first-person shooter entry, has climbed up to 1,320,219 active players relishing CS: GO together. In other words, Valve's title is the most-played game on the Steam digital store, surpassing its prior records and other contenders by a wide margin.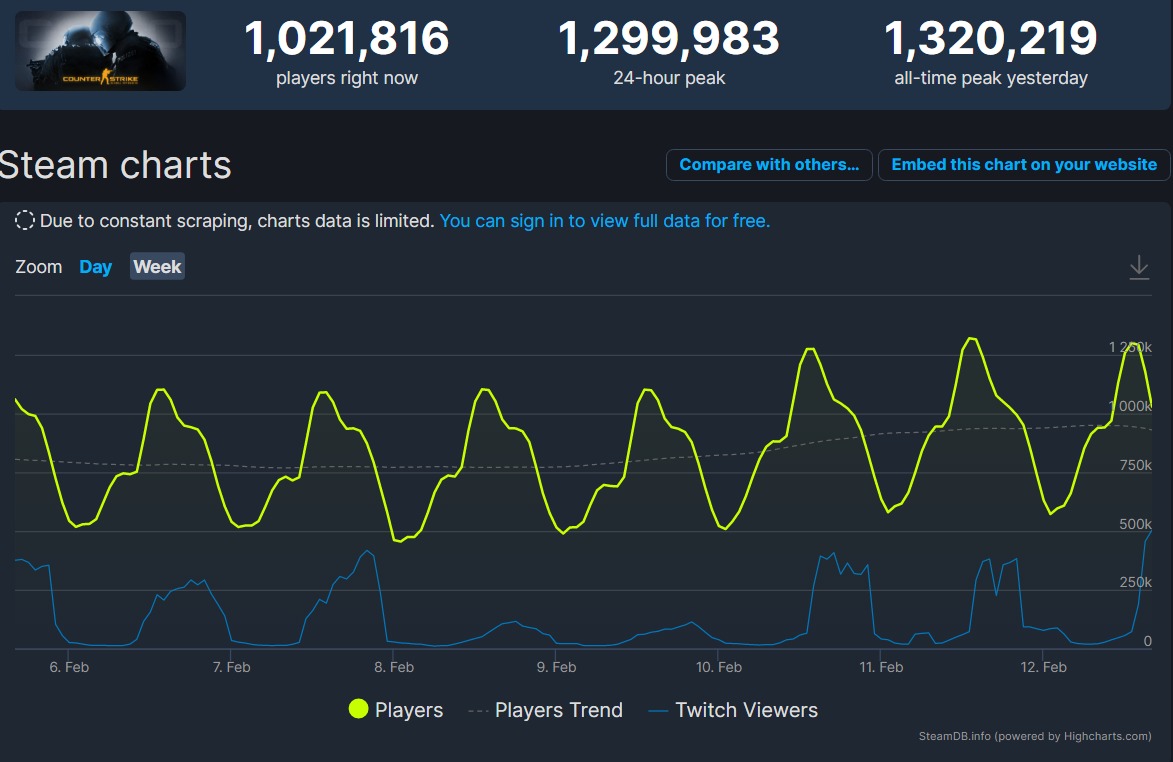 The new concurrent peak of users playing together was hit on a weekend yesterday on February 11, 2023. The previous record was set around three years ago, and now it has crossed its last concurrency despite many new AAA FPS releases in recent years. The current active player base is sitting at 991,234 users at the time of writing.
The disparity between CS: GO and the rest of the competition is easily noticed; for instance, other prominent entries like the recently released Hogwarts Legacy have garnered only over 840,000 players. Usual dominators, including Dota 2 and PUBG: Battlegrounds, also fall short when compared in terms of recent player concurrency.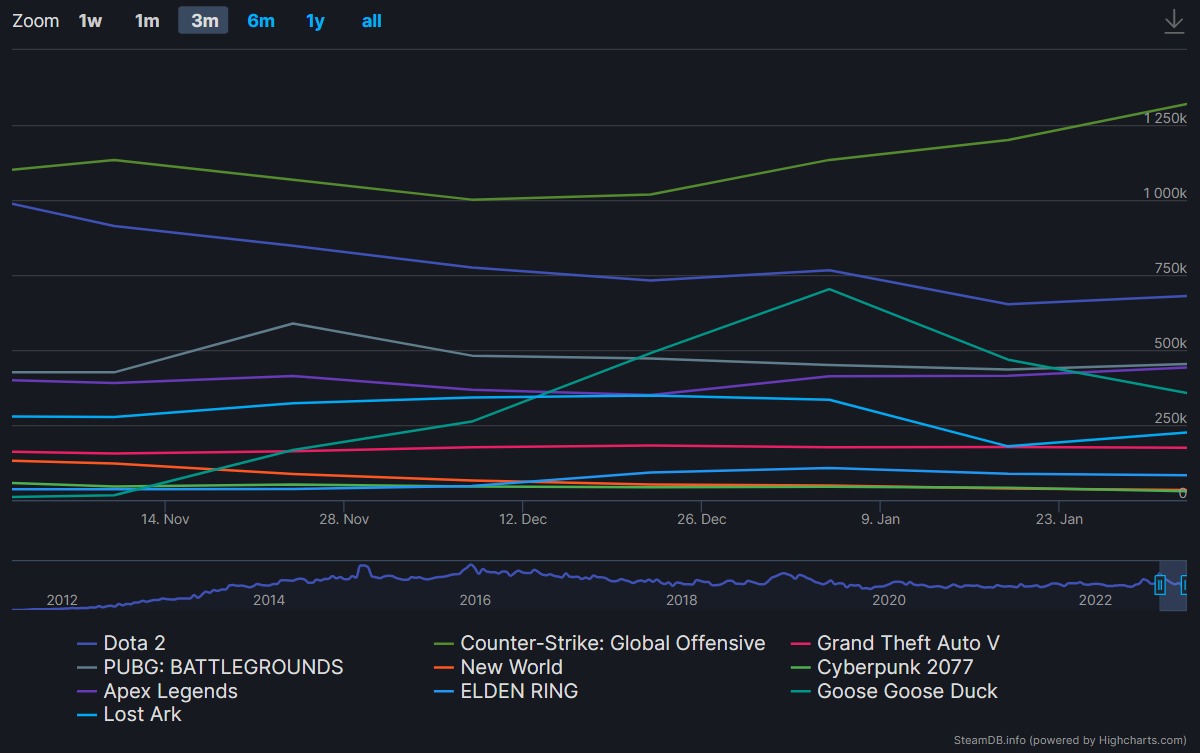 The simplistic bomb-defusal gameplay has proven to be really popular in contrast to newer alternatives like Valorant; CS: GO never lost its essence despite many refinements and eye-catching colorful gun skins over the years. The nostalgic visuals have also kept some of the players loyal to the addictive gameplay.
One aspect that has affected its growing allure despite its age is its free-to-play nature. The game gained a slew of players after it went free-to-play in 2018. Moreover, its low system requirements have also caused a boost in its fan base, with CS: GO being more accessible and populated with users in contrast to the other alternatives.
Another aspect that has kept it relevant and popular over the decade is its most lucrative skin market, which is still booming and seeing profits. Some users only play the game to do business in the skin market, turning up noticeable profits.
CS: GO features a variety of game modes, but it is well renowned for its 5v5 mode, where 5 terrorists try to plant a bomb, and the other team has to either stop or defuse it before the time elapses.
One of the most popular FPS titles in the gaming sphere continues its dominion with its sheer player base. The title has continued boasting an esthetic number of players throughout its lifetime, and it has just set a new threshold in the Steam storefront. Valve's classic shooter has become the most-played game on Steam.
CS: GO is among those games that only seem to grow with age, and its player base is highly dedicated to keeping it alive and thriving. Recently, a player created a playable CS: GO Dust II map in Unreal Engine 5.
What are your thoughts regarding the classic CS: GO managing to shatter its old records and set a new, nearly unclimbable peak? Do you think any modern shooters will be able to dethrone the long-reigning king? Do Let us know your opinions in the comments below.
Similar Reads: Hogwarts Legacy PS1 Demake Trailer Is A Sight To Behold.
Was this article helpful?
Thanks! Do share your feedback with us. ⚡
How could we improve this post? Please Help us. ✍