Monster Hunter Rise Has Rolled Over 13.2 Million Copies; Sunbreak Sold 6.1 Million Units
The entry continues to explode in popularity.
Story Highlights
Monster Hunter Rise has sold a staggering 13.2 million copies in lifetime sales, as announced in Capcom's recent Q1 FY23 financial report.
The Sunbreak expansion has now sold 6.1 million copies on all platforms.
The overall series has sold over 94 million copies. It is the second best-selling Capcom IP.
Monster Hunter Rise is persisting to roll over a huge number of copies despite after years since its release. As recently reported by Capcom in the Q1 FY23 financial report, the game has hit another major milestone. It has sold a staggering 13.2 million copies in lifetime sales. The Sunbreak expansion has also crossed the six million mark, which was affirmed only a while ago. It now stands at 6.1 million copies sold globally on all platforms.
The sales figure for Monster Hunter Rise has grown by over a million in the last few months; it sold over 12 million copies in February 2023. The franchise has made a lot of money for Capcom. For instance, the series has rolled over 94 million units so far. It makes it the second best-selling series for the company. Only the Resident Evil series overshadows the Monster Hunter games, with 146 million copies sold in the new report.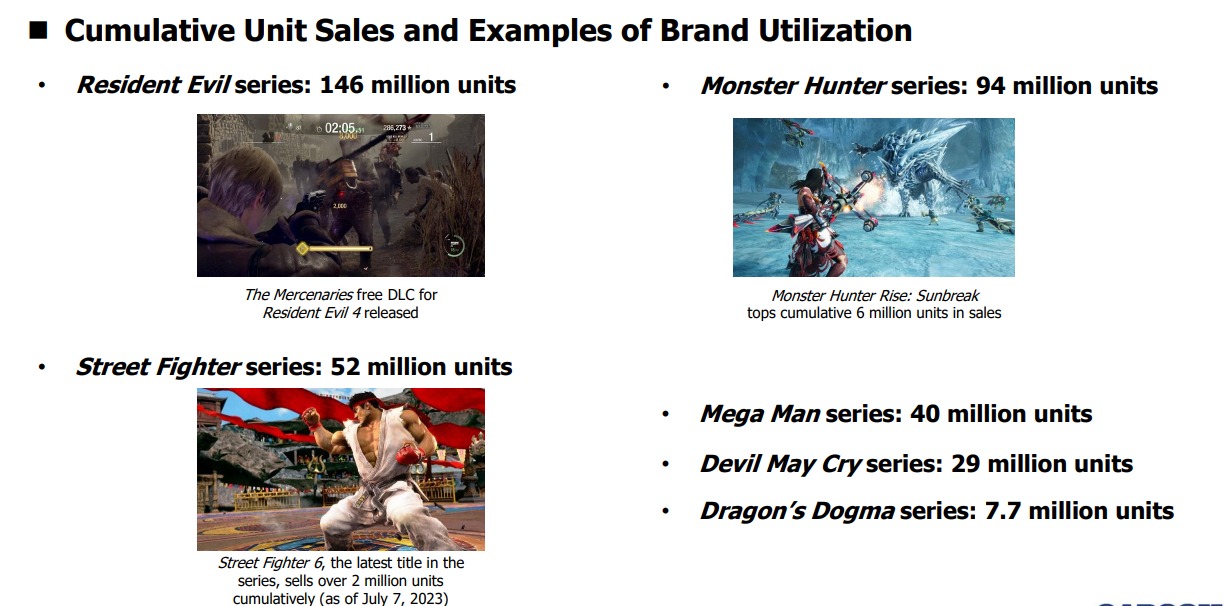 Monster Hunter Rise sold over five million copies in just a week after its initial release. It is a gargantuan figure when compared to some of the other best-selling AAA IPs around the globe. The consistent number of updates and new additions in monsters and other features have continued to boost player engagement in the game.
The recently released Sunbreak expansion has also proven to be a cherry on top for the sixth mainline installment. A slew of players have bought the expansion to relish the new content, including a wide variety of monsters and new areas to explore. The title's release on newer platforms caused a resurgence of gamers willing to try the game all over again.
Monster Hunter Rise launched on 26 March 2021 for the Nintendo Switch. A launch followed for PC soon after on 12 January 2022. The PC release of the title was also surprisingly very well optimized, bringing a new group of interested players. It saw a massive rise in player count after coming out for PlayStation 4, PlayStation 5, Xbox One, Xbox Series S, and Xbox Series X on 20 January 2023.
Similar Reads: SteamDB Seemingly Hints At Possible DLC Update For Gotham Knights.
Was this article helpful?
Thanks! Do share your feedback with us. ⚡
How could we improve this post? Please Help us. ✍