Starfield's New Mature Rating By ESRB Confirms Various Gory Details
Starfield is confirmed to blend many mature and gory themes in gameplay.
Story Highlights
Starfield has recently been rated by ESRB on the site, receiving a mature score; it has confirmed various new gory details for the alluring upcoming entry by Bethesda.
The game will feature a variety of weapons that can be used to cause enemies immense visual damage. Elements like cries of pain will also be added to the game for realism.
The rating also heavily emphasizes the suggestive content implemented in the game, along with suggestive in-game dialog examples.
Heavy drug use will be included in the entry, which was also confirmed in the rating by Australian Classification Board in the past.
Starfield is a highly anticipated entry that has been in the brewer for nearly three decades, and new details have started oozing out in a recent rating after eons of silence. As per the Entertainment Software Rating Board, Bethesda's new IP will reportedly mix a bundle of mature elements alongside gory gameplay to amalgamate a realistic and satisfying spacefaring experience.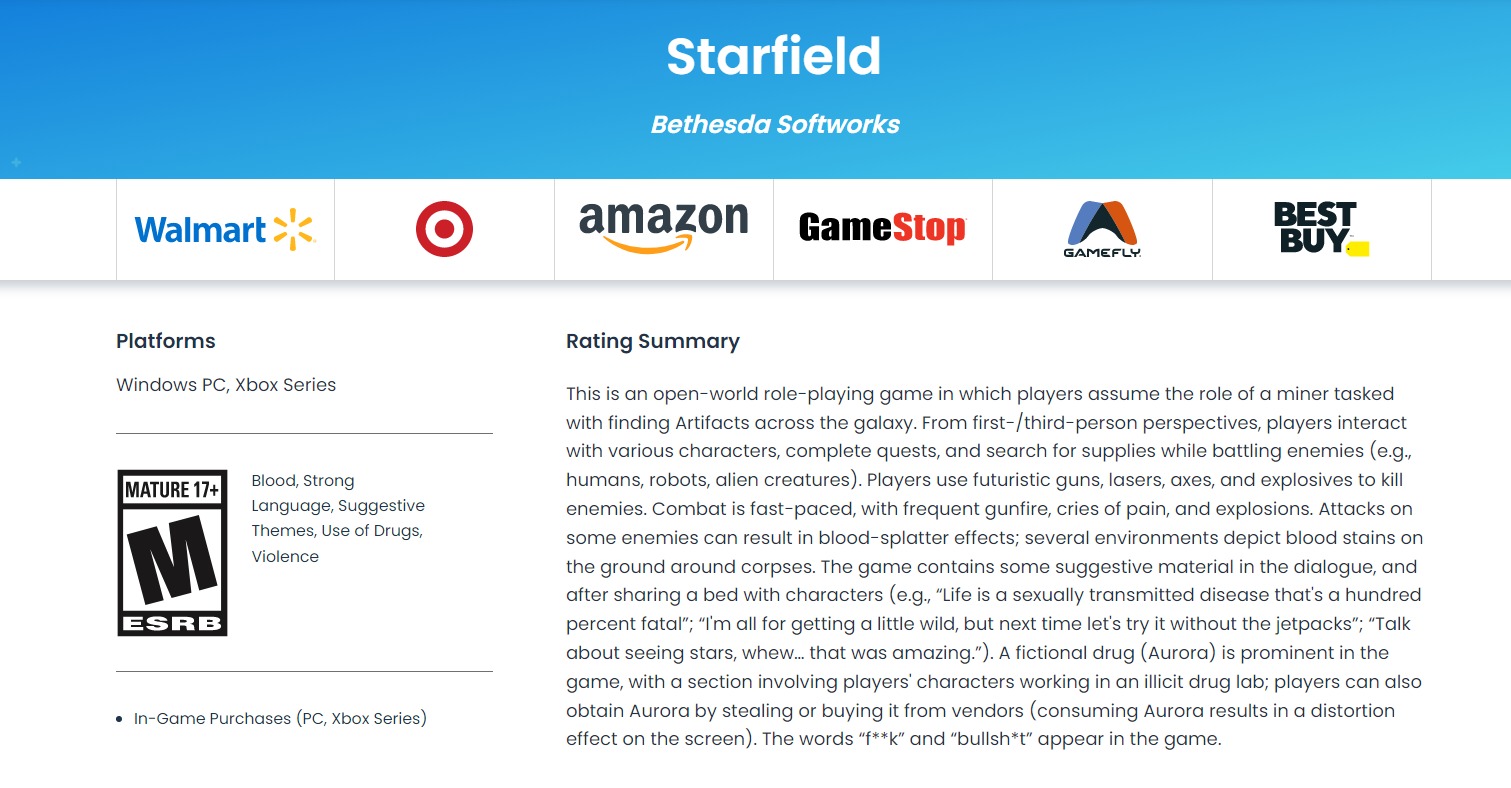 After considering all the adult-oriented topics included in the entry, the Goliath classification board ESRB has decided to give the mature 17+ rating. There will reportedly be heavy integration of gore elements alongside sexually suggestive content, which is undoubtedly inappropriate for players of most ages. As per the rating, the players will utilize a wide array of melee and ranged weapons to meld enemies into a bloody pulp.
Combat is fast-paced, with frequent gunfire, cries of pain, and explosions. Attacks on some enemies can result in blood-splatter effects; several environments depict blood stains on the ground around corpses," says the ESRB rating.
As listed in the new Entertainment Software Rating Board rating, Starfield is also not short of any suggestive content. The rating features some adult-oriented themes, including spicy in-game dialog and the character's ability to share a bed together, which is likely among the defining factors for such a high rating for Bethesda's new IP.
Moreover, the ESRB rating emphasizes heavy drug use and its integration into the title. At one point in the game, the players will get to work in an "illicit drug lab." This factor was initially hinted at in the rating by the Australian Classification Board, which stamped the title with a mature rating as well.
A fictional drug (Aurora) is prominent in the game, with a section involving players' characters working in an illicit drug lab; players can also obtain Aurora by stealing or buying it from vendors (consuming Aurora results in a distortion effect on the screen)."
While we know the type of gameplay that will be featured in Starfield, no official description has delved this deeply to point out the specifics above. The rating serves as a pleasant surprise for fans of gore and other realistic elements in games since Bethesda is going all out with exploring the sober themes in the entry.
The rating also affirms that the game will not be held back by its wariness to dive too deeply into the mature themes rumored to exist in the game. The ESRB rating for Starfield was only recently leaked by Bethesda itself, as it was minted into the official Twitter account's profile banner. However, no one was expecting such a detailed official explanation of some of Starfield's enticing themes.
Starfield is Todd Howard's passion project that has been in the brewer for 25 years. It is considered a very important turning point for Microsoft and is set to release on PC, Xbox Series X, and the Series S on September 6, 2023.
Similar Reads: Payday 3 Already Has 1 Million Wishlists On Steam Ahead Of Summer Reveal.
Was this article helpful?
Thanks! Do share your feedback with us. ⚡
How could we improve this post? Please Help us. ✍