Xbox Live Gold May Be Replaced By A New Tier Of Game Pass
The Gold subscription may replaced by a lower tier of Xbox Game Pass called "Game Pass Core," according to leaks.
Story Highlights
Xbox Live Gold could be replaced by Xbox Game Pass Core on September 1st.
The new tier may include 25 select Game Pass games, multiplayer, and could cost $9.99 a month.
Games with Gold will end, and any Live Gold subscription will renew into Game Pass Core.
Microsoft didn't really know what to do with the Xbox Live subscription in the last couple of years as Game Pass grew more popular.
Update: The new tier of Game Pass has been confirmed.
A new rumor suggests that Xbox Live Gold could be replaced. Reportedly, the subscription service is being replaced by a lower tier of Xbox Game Pass called "Xbox Game Pass Core," which will add new features but completely replace the Xbox Live subscription. Ever since the release of Game Pass, Live Gold has had an awkward position in Xbox's subscription lineup, but this may soon change.
This is according to a leak on the Korean site Naver, where images of the new tier of Game Pass were leaked, along with information about the new subscription tier. The Game Pass Core tier will reportedly cost $9.99 a month, the same as Gold, with the standard tier costing $10.99. This makes sense as Microsoft recently raised the prices of Game Pass, and you can't have two $9.99 subscriptions that do the same thing.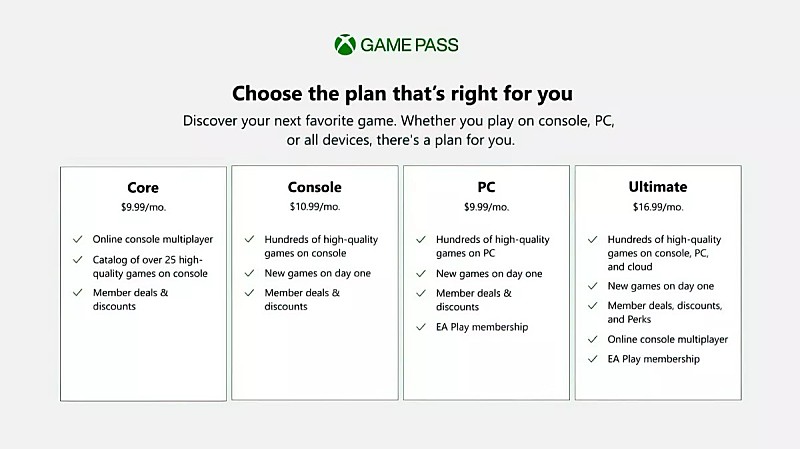 According to the leak, the new Core tier will include 25 select Xbox Game Pass games, and online multiplayer, with all owned Live Gold games staying in the user's library. Users may also get deals and discounts, likely identical to the deals available to Live Gold subscribers. All Live Gold subscriptions may be converted to Game Pass Core subscribers.
The Game Pass games included with the Core service will reportedly be Among Us, Descenders, Dishonored 2, DOOM Eternal, Fable Anniversary, Fallout 4, Fallout 76, Forza Horizon 4, Gears 5, Grounded, Halo 5: Guardians, Halo Wars 2, Hellblade: Senua's Sacrifice, Human Fall Flat, INSIDE, Ori and the Will of the Wisps, Psychonauts 2, State of Decay 2, and Elder Scrolls Online: Tamriel Unlimited.
Reportedly, more Game Pass games will make it to the lower tier service. Being that most of the above games are first-party titles, it would be expected that any new game that comes to the service will be first-party. It was also mentioned that games with Gold could be suspended on September 1st when the new Game Pass tier goes into effect.
Xbox Live Gold has had an awkward place in the Xbox subscription lineup. It didn't really offer much value compared to Game Pass, sure you got a free game or two every month with gold, but you literally get hundreds with Game Pass. Xbox has been planning to drop the Xbox Live Gold subscription for years, but now it seems like the time is right, especially with how popular Game Pass has become.
The post on Naver cites a Windows Central article that was deleted. Windows Central is a site that often reports on exclusive Microsoft and Xbox news, so they may have accidentally released a scoop early. With the nature of the leak, it is plausible that we could hear more about the new Game Pass tier soon. Might as well be time to bid farewell to Xbox Live, but don't hold your breath.
Was this article helpful?
Thanks! Do share your feedback with us. ⚡
How could we improve this post? Please Help us. ✍