This Marvel Snap review targets Marvel fans and card game enthusiasts specifically, as there are a lot of CCGs out there, and they probably already have this title on their radars. And you probably know what to expect from it as well, as you collect different superheroes and villains and then use them in matches.
The clarity of the game keeps the players chummed up, and the most salient feature of the title is that every card does exactly what you are expecting from it. Players use these cards to gain the upper hand over their opponents in an effort to control different zones on the board. Marvel Snap also features a brief tutorial that teaches you the fundamentals of card design, how to play around locations, and also tells you how to beat your opponent comprehensively.
Quick Information
Developer

: Nuverse

Publisher:

Nuverse

Release Date:

October 18, 2022

Platforms:

Android, IOS, and PC

Predecessor:

None
Story And Setting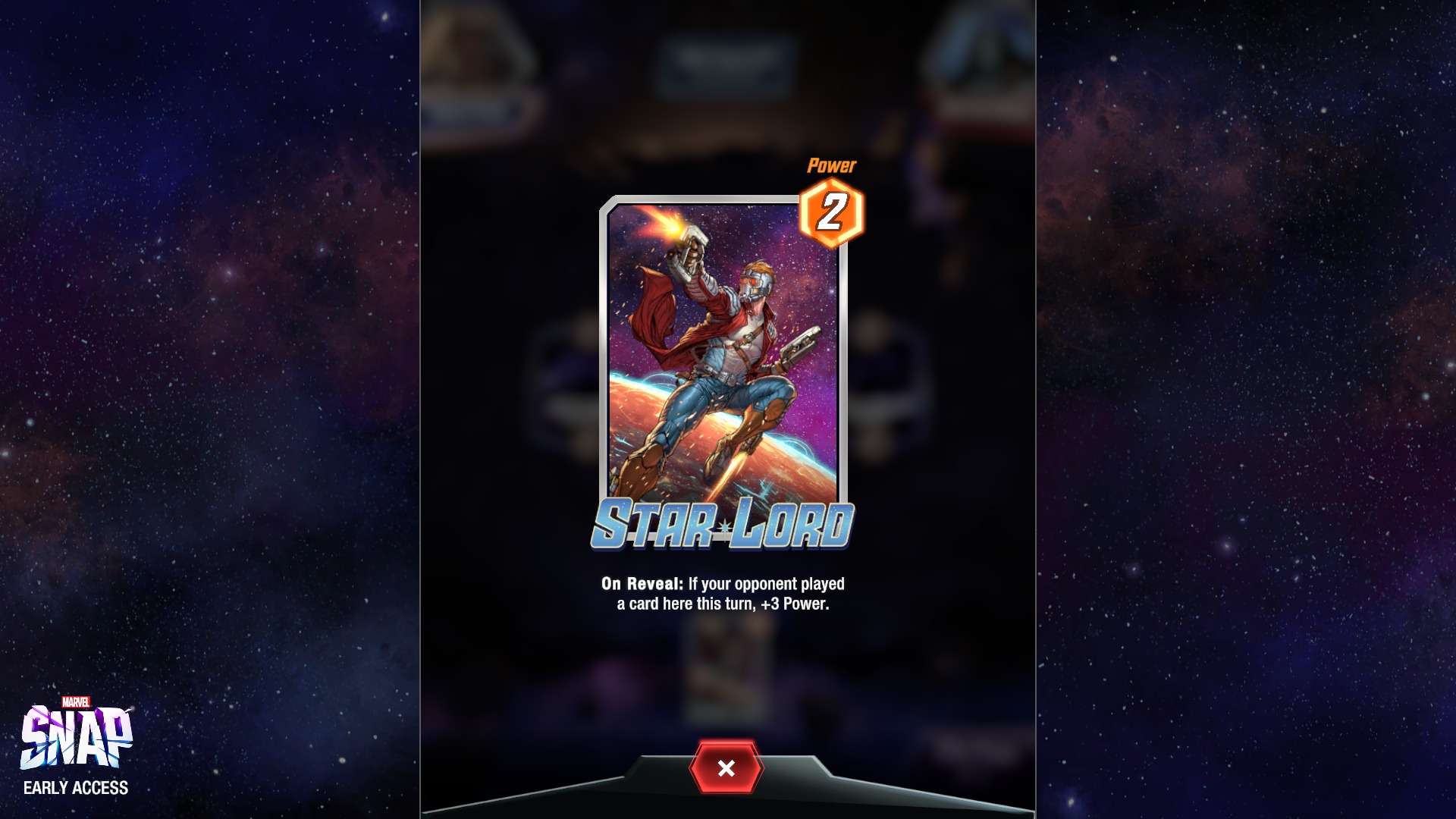 There is no campaign or story here, not even in the way that something like Marvel Puzzle Quest has. Fans of that game may be aware that you are able to take on a series of set levels with brief story settings, in an effort to learn how to play the game and level up some of your early characters.
None of that is present here, and instead, there is only one game mode, which is the option to play ranked with no alternatives for casual, arcade, or other similar friendly playlists on offer. You're constantly competing with other players to move up the ladder because there isn't much variety. However, this always-competitive environment soon begins to reveal flaws beneath the surface, which we will discuss in the next section.
Gameplay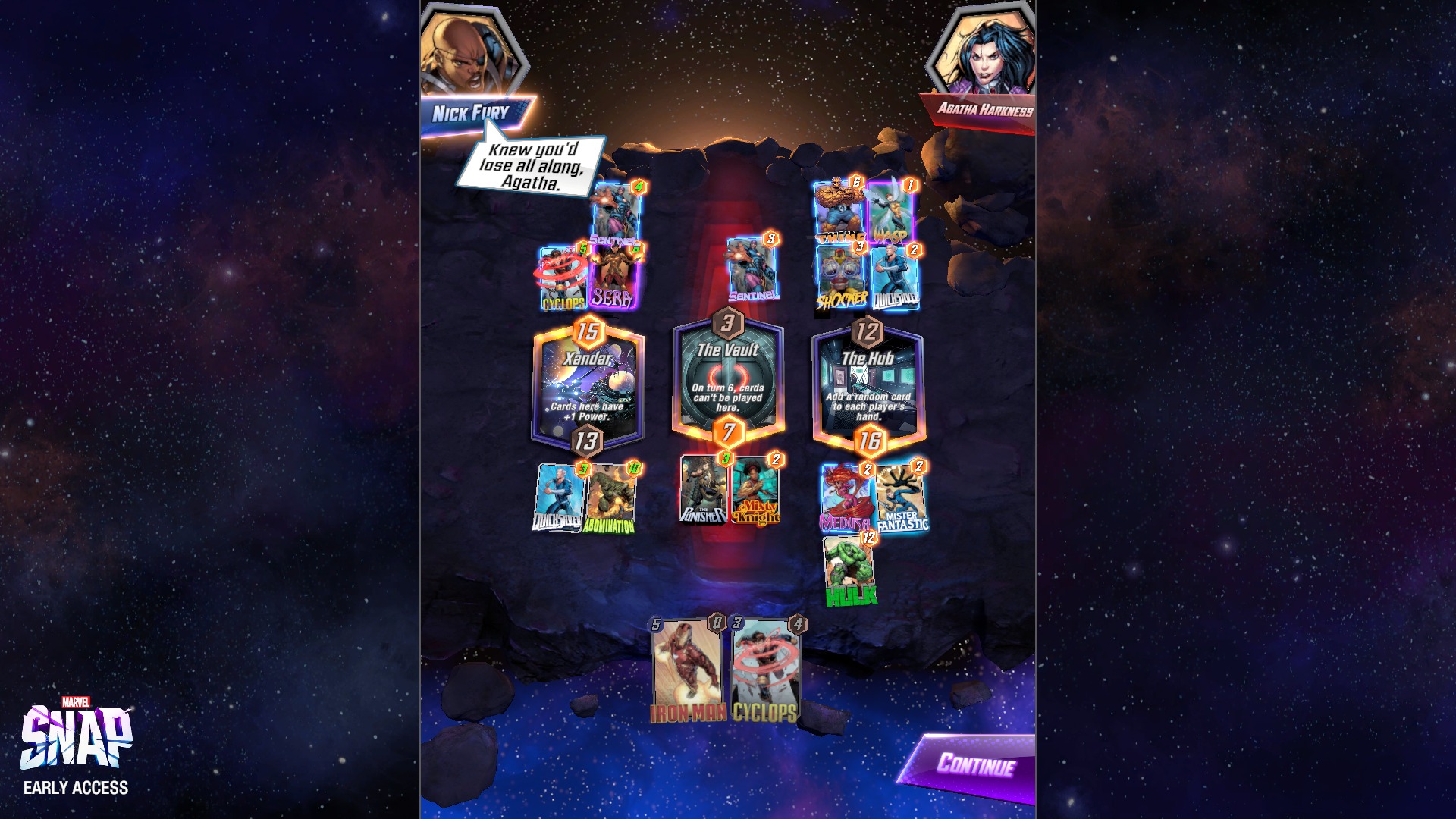 While playing the game as part of this Marvel Snap Review, we noticed that it is not a time-consuming title. Each match is composed of a few minutes with six turns in total, during with both players take their turns simultaneously. The game is all about the cosmic cubes, and the more of these you have, the higher your rank is in the game. The winner of the match gains one cosmic cube and the loser loses theirs.
The premise of the matches is that there are three locations on the table, and the goal is to win two out of three of these in order to win the game. You can capture locations by playing cards on them, and since every card has its own set amount of power, that is added to your side. You keep stacking on cards with each turn, and the side that has more power by the end of the sixth round takes it over. Cards also require energy to play, with stronger heroes having higher costs. With each turn, your energy pool increases, starting from one and ending at six by the final round.
And the best thing about Marvel Snaps is that the deck is limited to only 12 cards. You start with only 3 cards in your hand and then draw one more for each turn that you play through. And you are going to have at least 9 of the 12 cards in your deck in hand at any time, which means that you can build decks that are far more compatible than any other card game. Games are won or lost at final turns which makes it a very exciting and thrilling game.
There are around a hundred and fifty cards in the game right now, with new ones expected to be added periodically over the next couple of months and years if the title lasts that long. All cards have their own abilities, many of which have the ability to change the course of the match in an instant. There are some features of each card like cost on the top left corner which shows the amount of energy required to play them, while power on the top right corner shows the base power of the card and the border depicts the rarity of the card.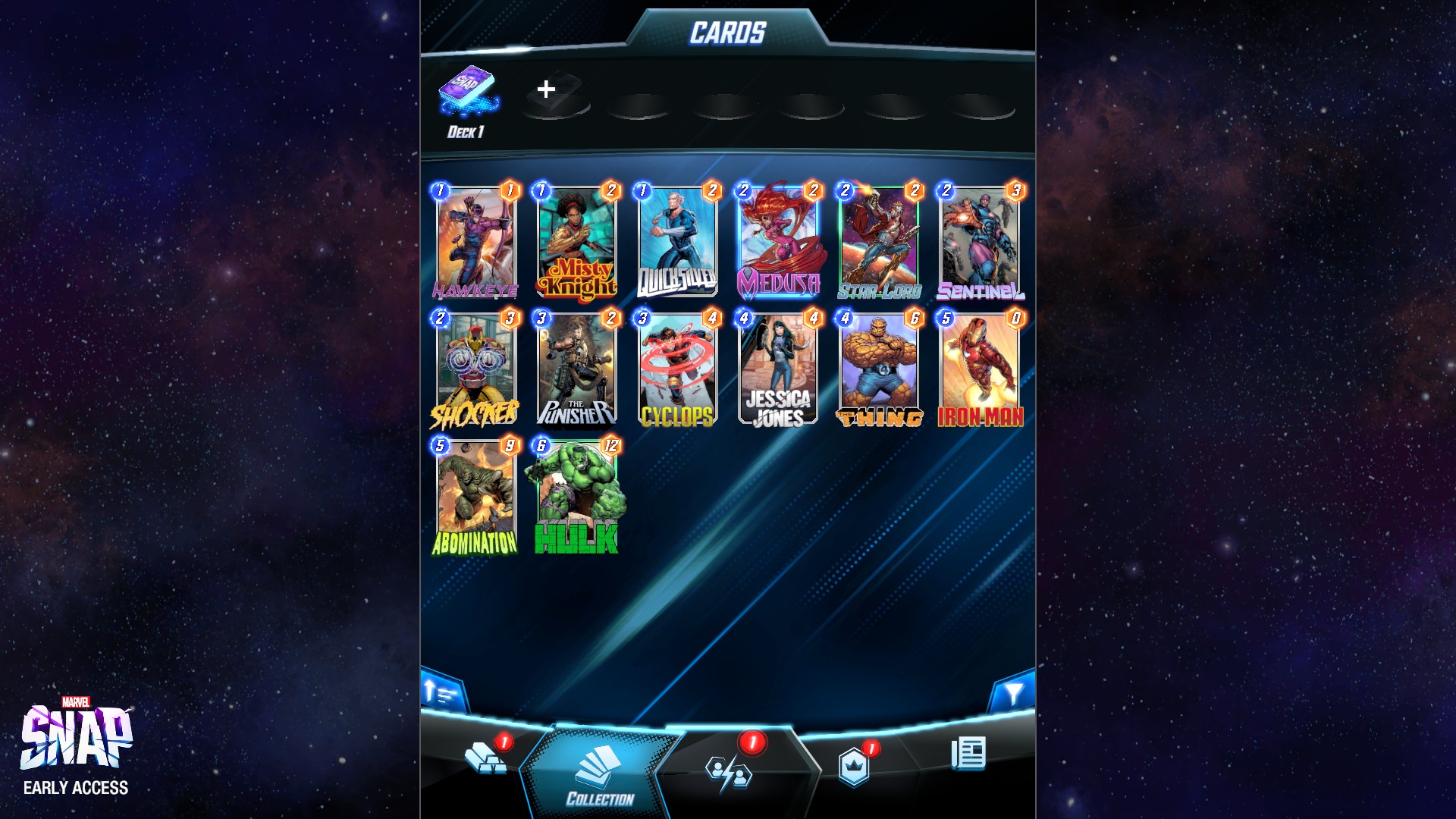 Each deck can have up to 12 cards and only a single copy of the card of the same name in the same deck, apart from some exceptions. You can earn new cards through a unique collection level system by using credits which make them rarer and they can also be turned 3D, which makes them really great to look at. Boosters can also be earned by simply playing matches in the game, while Credits are only rewarded for completing challenges.
Upgrading cards is an arduous process since most of the meta-defining picks are either locked behind the paywall or immense grinding. Yes, in some cases, you can get access to trending cards early but that does not happen every time.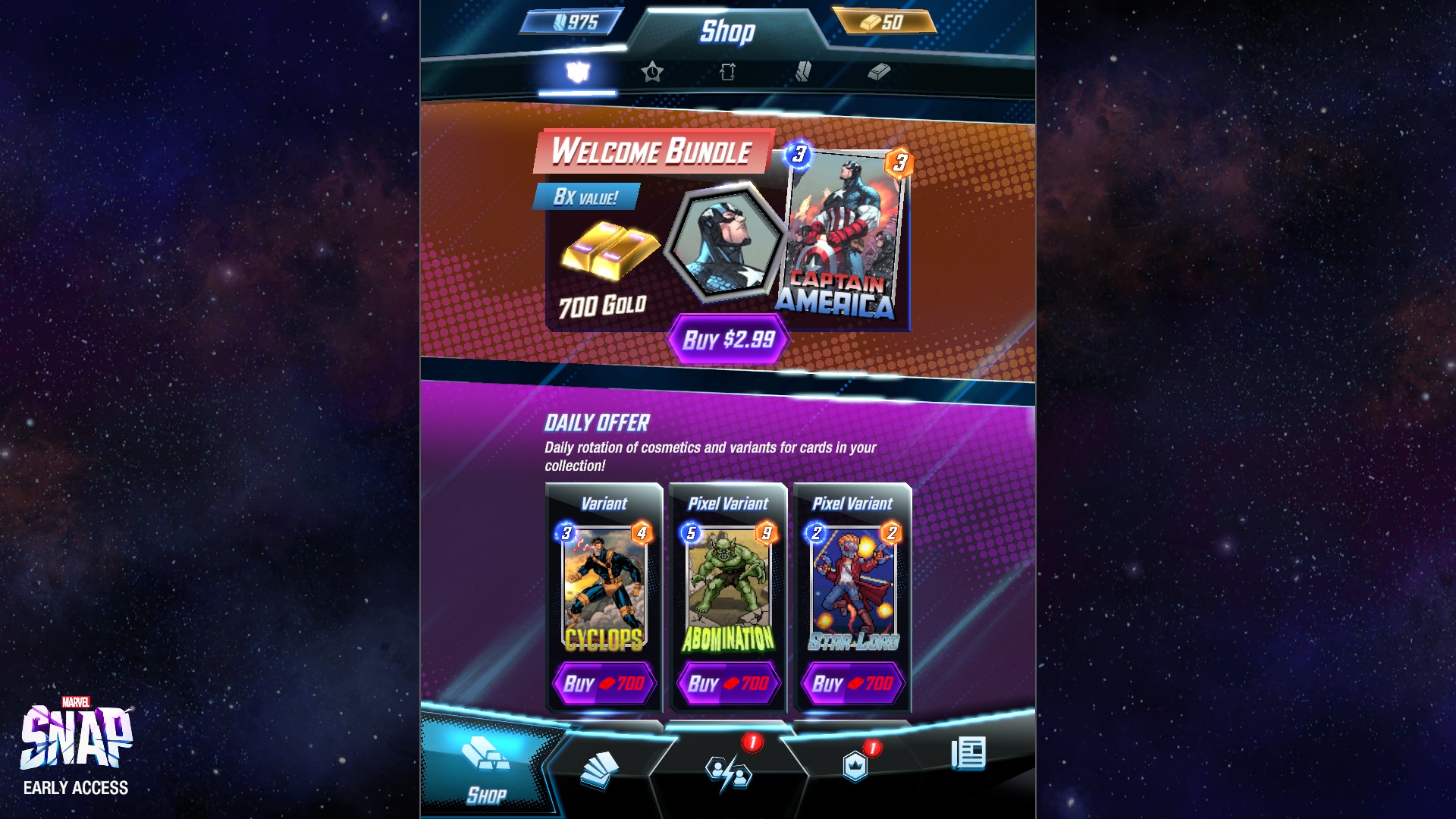 Luck plays a part in what you get as well, and it is quite disappointing when the game constantly reminds you to spend real-world money in order to progress forward.
Visuals And Performance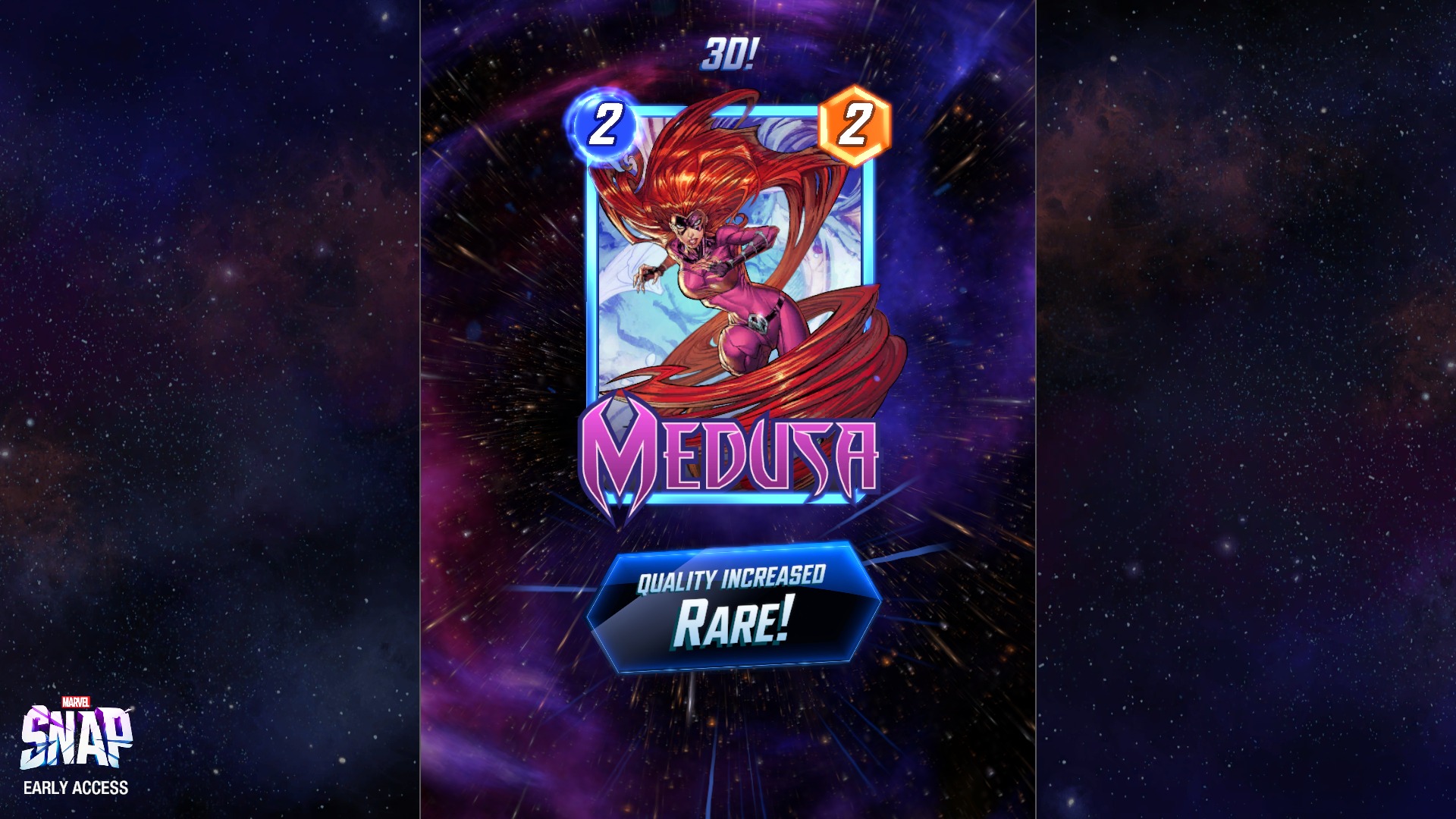 When it comes to card games, visual fidelity does not matter a lot, still, I would say the graphics here are crisp and beautiful. From the character cards to the background, the visuals are eye candy. Each character also has unique animations and effects, like how the Hulk's arrival creates a crater or how Cyclops fires off a kinetic blast on arrival.
Vibrant cards and battles do make this one of the flashiest-looking free-to-play games right now, but I do have to say that there is not a lot of originality. Looking at the UI, you'd hardly be able to find something that truly sets it apart from other Marvel games like Puzzle Quest.
Verdict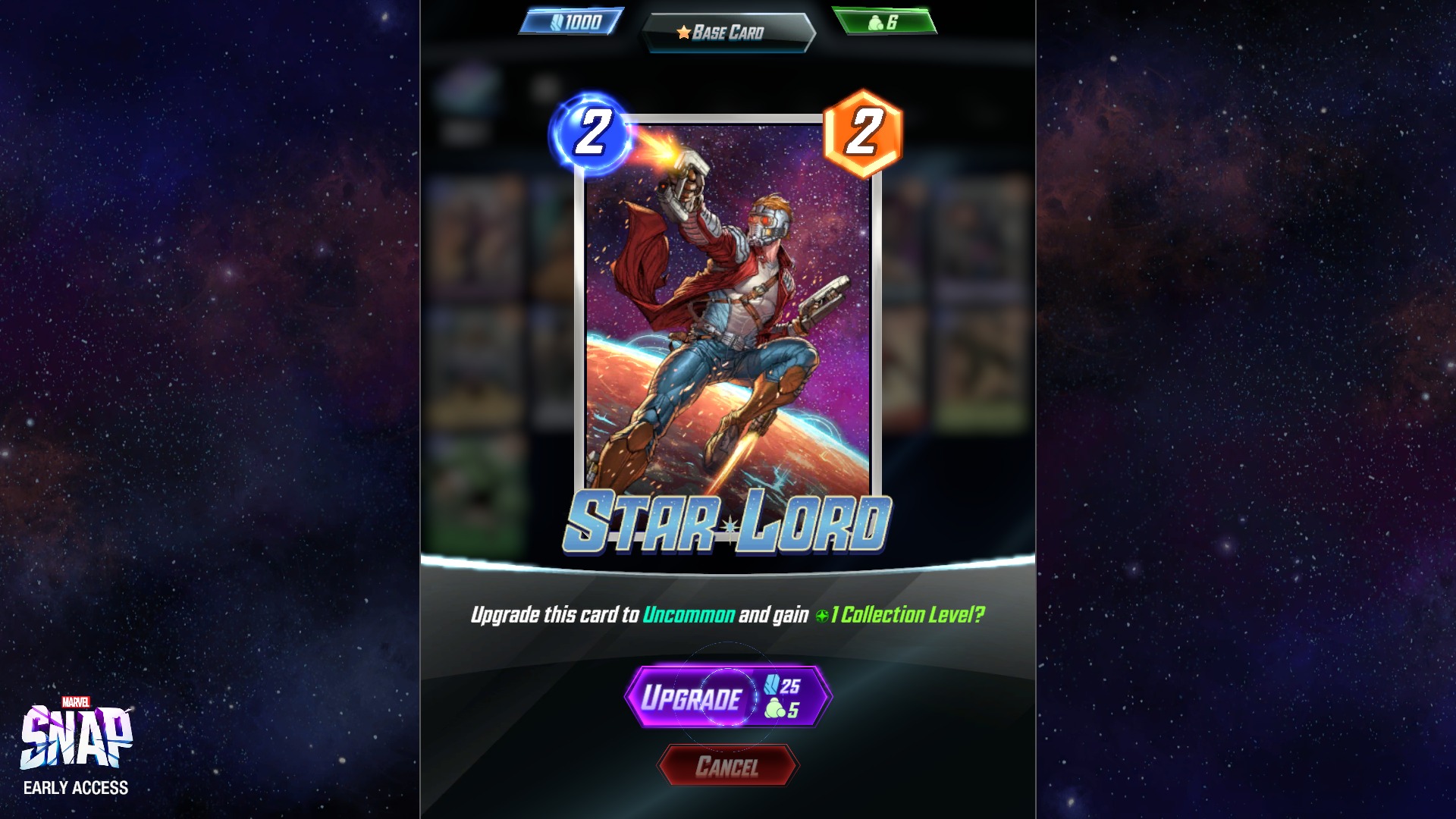 Moving on to the verdict of our Marvel Snap review, I would say that this game has a lot of potential. The matches are short and fast pace for quick fun, and I also loved the visuals present here. Having the Marvel name slapped on the title, the title has a chance to garner a healthy fan base, at least initially.
There is a little bit of grind here and upgrading cards can be tedious, but the fun gameplay makes up for it. It is a solid game with room for improvement here and there. However, the top priority of the developers needs to be adding more game modes, to prolong its life. Because the content present here isn't simply enough to support it long-term, especially right now when there is only a single game type present and the microtransactions are so egregious.
This has been our Marvel Snap Review. While you're here, consider checking out some of our other articles.
Was this article helpful?
Thanks! Do share your feedback with us. ⚡
How could we improve this post? Please Help us. ✍
Marvel Snap Review
Story And Setting

Gameplay

Visuals And Performance
Verdict
I would say that this game has a lot of potential, but right now it doesn't feel like a complete product.
Pros
Visuals Are Great.
Fast Paced.
Simple Gameplay.
Cons
Single-Game Mode.
Progression Is Grindy.
Upgrading Cards is Tedious.
Microtransactions.