What Are The Buildings in Farthest Frontier
Farthest Frontier lets you create your own town. It is much like a city-building game but set in medieval times with more survival mechanics implemented in gameplay. You basically have to harvest a large number of different resources and then construct the different buildings in the game.
However, construction is not the only key highlight of this game. You have to sustain a whole economy and will additionally need to have villagers who can do the labor of construction. Without keeping your villagers healthy, you won't be able to create more buildings.
Key Highlights
Farthest Frontier is a medieval city-building game with survival mechanics.

Players must harvest resources and construct various buildings to create a functioning town.

Buildings include: Town Center, Service Buildings, Houses, Storage Buildings, Food Production Buildings, Resource Buildings, Defense Buildings, Walls and Roads, and Decorations.

Buildings will lose structural integrity over time and will need to be repaired to maintain function.

Repairs require raw materials and free builders/laborers.

Upgrading buildings increases durability and can be unlocked by leveling up the Town Center.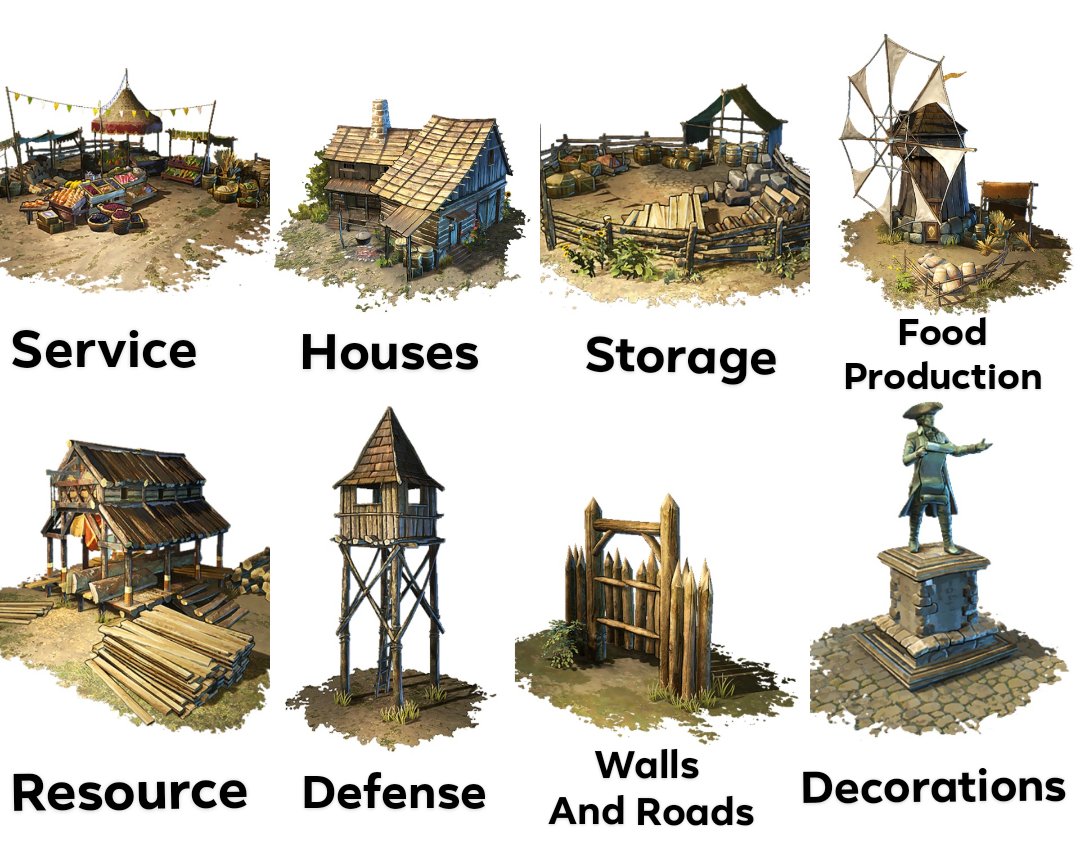 The Town Center is going to be the main powerhouse of your village. That building is of the greatest importance in the game. It is recommended to upgrade that building first so you can unlock more types of other buildings in the game. Following is the list of different types of buildings that you can construct in Farthest Frontier.
Service Buildings distribute goods among the people and collect taxes.
Houses that provide safety and shelter.
Storage Buildings to store some of the raw materials in the game.
Food Production Buildings like the Windmill that convert grain into flour.
Resource Buildings that create certain items from raw materials.
Defense Buildings that can warn the villagers about any kind of threat.
Walls and Roads that provide both protection and routes for efficient deliveries.
Decorations that amplify the aesthetic of your town.
All of these buildings will need to get repaired at one point during your journey to Farthest Frontier.
Why Do You Need To Repair Buildings
Buildings will eventually lose their structural integrity in Farthest Frontier. It translates to the materials withering away that were used to construct the building in the first place. The withering becomes faster when the weather conditions are much more hazardous, like the winter storms or freezing rain.
You will need to repair these buildings in Farthest Frontier. Otherwise, they will get condemned or destroyed. It will result in your town losing the function of that building. If a storage building gets destroyed, you will end up losing your resources.
Condemned buildings will have to be constructed from the ground up. Repairing buildings should be done as soon as you can in the game. However, the process is not as easy as it sounds. But we will guide you through the whole method of repairing these buildings in the game.
How To Repair Buildings In Farthest Frontier
You will need raw materials and free builders to repair a building. The number of raw materials needed is a percentage of the materials that were used to construct the building in the first place. It means that you will not have to spend the same amount of resources on repairing the building again.
The structural integrity of a building indicates its health in Farthest Frontier. Do not let the structural integrity fall to 0; otherwise, you won't be able to repair the building. It is recommended to repair the building when the structural integrity is almost half.
Make sure always to have free builders/laborers in your village as you might end up needing an emergency repair. Buildings not only require raw materials, but you will also need workers that can repair the building additionally. Without workers, your buildings will end up getting condemned.
Repairing buildings is not that hard when you have the required amount of raw materials and free laborers. Just allocate the materials to the building, and the workers will take care of the rest. It will take some time before the building gets completely repaired, though.
We also recommend that you upgrade your buildings once the upgrades become available. Upgrades are unlocked when you level up your town center. It should be noted that upgrading your buildings also increases their durability. So your buildings will last much longer without needing any repairs for a longer time.
Important Note: Just allocate materials to the building and workers will take care of the rest"After you have collected all the resources you need, click on the building. You will see a "Repair" option. After selecting it, the idle workers will start working on repairing the building instantly.
Summary
Farthest Frontier is the recently released simulation game that allows the players to create their own medieval kingdom where they can construct different kinds of buildings. However, constructing buildings will require you to harvest certain materials. Buildings can additionally get damaged, and you will have to repair them from time to time in Farthest Frontier.
Gold is a form of currency in Farthest Frontier, and you will need that in order to perform some of the upgrades, repairs, and constructions. You can further read of Gold Farming guide to get more information on how you can obtain a hefty sum of gold in the game.
The game even allows you to create your own farm with a variety of plants. However, you will need to obtain best Seeds in order to create a farm in Farthest Frontier. If you're new to the game, then check out our Tips and Tricks guide for Farthest Frontier, which goes through the basic mechanics of the game.
The developers tried to add realism to the game with its town-building experience. It is noticeable as the people in your town can get affected by various Diseases in Farthest Frontier. Additionally, it can create havoc in your kingdom if not taken care of quickly.
Some of the upgrades during the later levels of the game even require the use of Heavy Tools in Farthest Frontier. You can also create certain drinks in the game, including Beer, if you have the ingredients for it. Now we will discuss the building repairs in Farthest Frontier.
This concludes our building repairs guide of Farthest Frontier. We hope that the guide helped you to understand the mechanics that help in repairing the buildings in Farthest Frontier. Let us know what you think about Farthest Frontier in the Comments below!
NEXT: Farthest Frontier: Best City Building
Was this article helpful?
Thanks! Do share your feedback with us. ⚡
How could we improve this post? Please Help us. ✍