Every aspect of Horizon Forbidden West enhances the functionality and gameplay mechanics the previous game provided. It is a mind-boggling visual spectacle featuring open-world exploration, machine destruction, exploring stunning underwater views, and visiting lovely sceneries.
Our Horizon Forbidden West Walkthrough will cover everything like the Best Weapons, Best Armor, Survey Drones, Door Codes, Apex Stalkers, and much more.
Review
Reviews can help gamers make the correct choice after they learn more about a game. It examines every aspect of a game, including its plot, location, gameplay, combat, world, art style, and visuals, as well as how well it works. Furthermore, after outlining all the good and bad points of the game, it provides a conclusion that helps gamers in making their final decision.
Best Bows
Like in the prequel, bows are the most common choice of the players. Some are intended for mid-to-long-range situations, while some are best for close-quarters combat. There are several tiers for bows, just like there are for every other weapon.
The legendary bows are the strongest, but you won't be able to get them early on. All of the bows, including the Hunter Bow, which is the first bow a player can get, will be covered. The Hunter Bow makes an exception to the norm that starting weaponry can't assist you in the game.
The Hunter Bow can even assist you in defeating adversaries you'll run into in the later stages of the game with the correct upgrades. We'll talk about the Forgefall Bow as well.
It's the only bow that makes use of the Advanced Plasma Precision Arrows. You can improve the damage that the bow deals if you improve it and gain access to all of its Coils. You can learn about all the bows in our Horizon Forbidden West Walkthrough.
All Survey Drones Locations
Drones doing surveys are visible all over the world. Ten survey drones can be interacted with, and their modules are collected as they go from one area to the next. They are essentially collectibles players must engage with to collect them.
You cannot destroy a survey drone to get the modules since there are ten of them wandering around the map. It is useless to attempt to shoot them down since they are protected by an almost unbreakable barrier. This wiki will teach you all about survey drones and provide you with their location as well.
All Black Box Locations
Nextly, Black Boxes are another collectible item. These Black Boxes can be recovered in airplane wreckages all across the world. Our Horizon Forbidden West wiki will cover all 12 Black Boxes and give you their exact location of them so you can progress in the game.
Best Armors
In Horizon Forbidden West, armors are essential to Aloy's survival. Even while it won't matter all that much in the beginning, you'll need decent armor as the game goes on. This is because if you don't have decent armor on you, the monsters will get increasingly more difficult to defeat and will kill you right away.
You will encounter armors in the game that range in rarity. The legendary armors are the most effective, but you'll only find them as you progress through the game. The Nora Anointed, Nora Sentinal, Oseram Wayfarer, Utaru Harvester, Utaru Thresher, Tenakth Skirmisher, Utaru Ritesinger, and many other armors will all be covered in our wiki.
Apex Stalker Location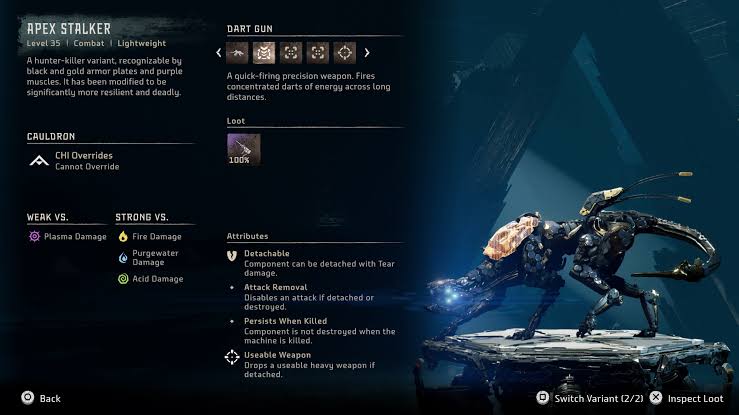 An Apex Stalker is one of the most lethal and potent enemies you'll come across in Horizon Forbidden West. They will ambush you from the cover since they are stealth-oriented. You can only get to the jungles where they are located after navigating the mountains in the "The Dying Lands" objective.
It can be challenging to predict the fighting machine's attacks because it can conceal itself and practically become unstoppable. Alarm flares and dangerous mines are used by Apex Stalker to assault the players. They are capable of both physical and ranged attacks, draining the players' HP quickly.
Since Apex Stalkers are lightweight, you won't have much time to heal before they attack by leaping on you. Use weapons like arrows to explode any explosives nearby and use their tricks against them. Our Walkthrough covers everything about the Apex Stalker and its location.
All Door Codes
You'll come across locked doors that need codes to be unlocked. The majority of the time, these codes may be discovered by doing an exploration and puzzle. But occasionally, things may become quite difficult. There are seventeen storyline missions.
These missions are split into two categories: the fourteen-quest Main Quests and the three-quest Interludes Quests. They each make up a combined seventeen storyline quests. There are two of these missions that require certain codes to open doors. We'll be going into detail about all of them and tell you how to unlock them.
Skykiller Location
The Skykiller is a legendary Top-Tier weapon. It accommodates the Spike Thrower's legendary form. Spike Throwers are just spikes that are hurled and explode a short time after touching down. They are occasionally slow in execution, but they hit strongly when the execution is performed, making them effective in exceptional situations.
By default, it delivers 15% more damage to enemies in the air and has a faster reload speed of 10% than other spike throwers. It's one of the uncommon weapons, and getting it requires finishing the side quest The Way Home. You can learn more about the Skykiller and its location in this wiki.
How To Use Face Paint and Kratos Face Paint Location
It's easy to paint Aloy's face with distinctive face paint patterns. To apply face paint on your face, you need certain supplies. However, you can't simply select an option from the menu and apply. The only person who is capable of using face paint or applying it to Aloy's face is a special NPC by the name of Painter.
There is one very unique face paint option available. It's the Kratos face paint, the iconic face paint that the legendary Spartan Kratos sported. Our Horizon Forbidden West Walkthrough will teach you all about this face paint and how to unlock it.
Pouch Upgrading Guide
The open-world nature of Horizon Forbidden West encourages you to do a lot of exploration. You are continuously in need of goods that you may pick up due to the game's weapons, crafting, traps, and potions. Horizon Forbidden West divides its inventory into various "pouches."
Each kind of ammunition or resource has its bag. The first time that you pick up a certain item, you immediately receive the base form of each pouch. Our Horizon Forbidden West wiki will cover all the Pouch upgrades for your ease.
All Cauldrons Location
The "Cauldron Cores," which are found in the center of the dungeons, are accessible only through particular tasks, riddles, and boss battles that Aloy must overcome to pass through the "Cauldrons," which are sealed locations.
Aloy can train in these cauldrons free certain machine overrides so that they fight beside her. Six cauldrons may be found scattered over Horizon Forbidden West; two of them need you to finish specific main objectives, while the other four can be unlocked on your own.
All Signal Towers Location
Horizon Forbidden West has six Signal Tower sites. Even though most of them involve some climbing and traversing, none of them are very challenging. For the prize "Recovered 5 Different Collectables," you require at least one of them.
They have a lens that you have to reach and acquire at the top of what appears to be a tall tower building. You can interact with all of the Signal Towers with the help of our Horizon Forbidden West Walkthrough.
XP And Metal Shard Farming
In Horizon Forbidden West, XP Points and metal shards are two crucial elements that may provide Aloy an advantage in the early, middle, and late games. There are many skills that you can invest skill points in, and the skill trees have been completely redesigned.
The same applies to metal shards since there are a variety of more than a dozen various guns, armor, and weapon modifications. Our Wiki will teach you how to farm XP and Shard Farming.
Early Game Tips
You are thrown into the dynamic, open world of Horizon Forbidden West, where the new machines continue to rule the environment. Many in-game mechanics, such as discovering all tall necks, finding cauldrons to override machinery, and many other things, should be known if you played the first game.
Yes, the sequel includes several machines from the original game in addition to a ton of brand-new ones, and playing it without any basic knowledge and tips become overwhelming, especially early on. You can learn all about the tips and basics and get a head start with the Horizon Forbidden West walkthrough.
Fast Travel And Flying Mount
The map of Horizon Forbidden West is five kilometers long. Traveling from one side to the other can be quite time-consuming. It takes thirty minutes on a land mount versus twelve minutes on a flying mount to put it into perspective.
Fortunately, the fast travel in Horizon Forbidden West is cleverly designed and makes getting around much simpler. In a similar way to the sequel, "Campfires" are used to facilitate speedy travel. These campfires are scattered across the map, allowing you to move between them freely.
Flying mounts also make moving across the landscape much simpler. They also give access to four exclusive side missions and tasks that must only be carried out when mounted on a Sunwing. Its name is "Sunwing." It becomes available following "The Wings of the Ten," the 16th Storyline Quest.
You will receive this mount as a part of the storyline for the last story mission. For comparison, the game has 17 Main Quests; therefore, this is just near the conclusion. Our wiki will teach you how to fast-travel and get from one location to the other in a few moments.
Relic Ruins Locations
Aloy must solve puzzles to get access to Relic Ruins to obtain Ornaments, collectibles, supply caches, experience points, and skill points. A Legendary Weapon can then be unlocked by giving these to a person in The Stillsands. There are nine of these Relic Ruins hidden around the map.
They are found inside Old World structures or infrastructure. An ornament, a collectible in Horizon Forbidden West, is available in All the Relic Ruins. To complete the Relic Ruins and obtain the Ornament, you must solve several incredibly inventive riddles. We'll cover all of these Relic Ruins locations in this Horizon Forbidden West wiki.
How To Get A Diving Mask
You could only dive underwater for a short period at first in the game. This greatly restricts the amount of exploration you may do in the game. The exploring process itself may seem monotonous, which would leave the player dissatisfied.
Without having the diving mask, you cannot finish the "The sea of sands" quest. Once you have your diving mask, you are free to explore the underwater environment at your leisure. With no time restrictions, you may efficiently explore it.
The immense underwater environment that the game offers to offer may be further experienced by exploring many seas, lakes, and rivers. Our Walkthrough will help you dive deep and explore the waters of Horizon Forbidden West.
All Vista Point Locations
The map of Horizon Forbidden World is littered with structures called "vista points" that resemble telephone poles. So, when you come across one, you must use your "Focus" to scan that Vista Point so that a hologram will appear. The hologram is essentially a remnant from the "Old World," but it is in ruins and a mess.
To complete the puzzle, you must find the ruins' position, which will be near Vista Point itself, and line the hologram up with the ruin. This Wiki will go into detail about all the Vista Points so you can complete the puzzle.
How To Get Regalla's Wrath
One of the best and most powerful bows is Regalla's Wrath. Regalla's Wrath is a weapon that depends on a choice you have to make. Either Regalla has to be killed or saved. Regalla's Wrath is an extremely rarer weapon. It functions as a different kind of Sharpshot Bow.
It automatically does 15% more damage while fighting foes from a distance. Regallas Wrath can be upgraded five times in total. You can easily get this rare weapon with the help of our Walkthrough.
Wings Of The Ten
One of the game's hidden or, as you may call it, "secret" weapons is the Wings of the Ten. It is one of the greatest weapons in the game, namely a blasting, and is classified as a legendary weapon.
It might take a lot of effort and time to get since you have to visit 12 different places to gather "black boxes," which you must then present to Untalla in exchange for the legendary weapon. Our Wiki will teach you how to get the Secret Weapon easily.
All Tallnecks Locations
A Tallneck is a machine built for communication. Moreover, the game forbids Aloy from killing them since they are peaceful, innocent machines. Since these Tallnecks are peaceable machines that just roam the map carelessly, you may easily overcome them.
You can find six Tallnecks. Finding all of these Tallnecks is worthwhile since doing so will allow you to interact with its top-disc-like head and remove the fog from a sizable portion of the area, allowing for simpler exploration. Additionally, once you overpower a Tallneck, Aloy will also get some skill points and experience. This Horizon Forbidden West wiki will help you find all of the Tallnecks easily.
Best Weapons
The game offers a similar variety of weaponry as the precursor, including Bows, Blastslings, Spears, and many more. Every one of them is unique, and some of them are potent. Our Horizon Forbidden West Walkthrough will tell you about all the Best weapons in the game so you can pick the best ones.
Was this article helpful?
Thanks! Do share your feedback with us. ⚡
How could we improve this post? Please Help us. ✍