The customization options in Armored Core 6 (AC6) have opened a new avenue for fans to replicate their favorite robots. After its release, many of the best builds by fans have surfaced for shows like Evangelion, Transformers, and Gundam. Megas XLR is an animated show aired on Cartoon Network (CN) from 2004 to 2005. Users on Reddit and X were quick to share their Megas XLR Armored Core 6 builds on these social media platforms.
Key Takeaways
Megas XLR is a famous American animated show aired on CN in 2004 and early 2005.
The launch of Armored Core 6 allowed the show fans to build and play as the mech based on the show.
The AC customization option in AC6 has paint and decal features that can apply the color scheme of Megas XLR to your AC.
Many players on social media platforms have shared their build with the community.
Reddit user u/rjsbrowse and X user @Yautrek have built some of the best-looking Megas XLR-themed builds in AC6.
You can also use their share codes and parts list to try the builds yourself.
What Is Megas XLR In Armored Core 6?
Mega XLR is a custom build in Armored Core 6 that is based on the popular show by the name of "Mega XLR" that aired on Cartoon Network in 2004.
Coop and Jamie were two slacking teenagers who stumbled upon a Mechanized Earth Guard Attack System (Megas) in a New Jersey junkyard one day. Although the control system for Megas was faulty, Coop replaced it with a classic muscle car to pilot it using his video game skills.
The similarity between the show and Armored Core 6 is quite obvious. Using a video game controller to pilot a giant mecha is something the two have in common. This similarity was meant to inspire some Megas XLR-themed builds in the newly released AC 6.
Consequently, many players have shared their AC makes on multiple social media platforms resembling the original show.
How Can You Build Megas XLR In Armored Core 6?
Replicating Megas XLR in Armored Core 6 is not a straightforward task. Since AC 6 has no dedicated components for the show, you can only choose parts resembling Megas XLR's appearance. However, the trick here is to use the paint and decal features in AC 6 and cosmetically design the armored core to look like the one in the show.
The paint feature in the customization menu can be useful in applying the blue and yellow colors of the Megas XLR to your build.
On the other hand, the Decal function comes in handy when applying custom emblems and designs on your AC, which are particularly helpful in making the flame design of the original robot.
On the brighter side, it allows you to choose whatever lookalike parts you want. So rest assured that you can still be free to make the best PVP build you prefer.
Megas XLR Builds By Other Users
Now that you understand the mechanism behind building Megas XLR Armored Core 6 let's look at what other players have achieved.
Reddit User: Rjsbrowse
The Reddit user u/rjsbrowse shared a side-by-side comparison of his AC build with the Megas XLR in r/armoredcore. The post was made on the 25th of August, 2023, and received positive feedback from the community. The user was kind enough to share their Armored Core and Flames image editor codes with other players.
Here are the codes for PC:
Whole AC: SUY7PK2YY9EX
Chest Flames: 68SHZRUE71L8
Eightball Flames: GT98QTKXT959
Eyeball Flames: 3C3DUJXW8MTF
Although cross-platform codes are unavailable, you can replicate their build if you play on a PC.
X (Twitter) User: Yautrek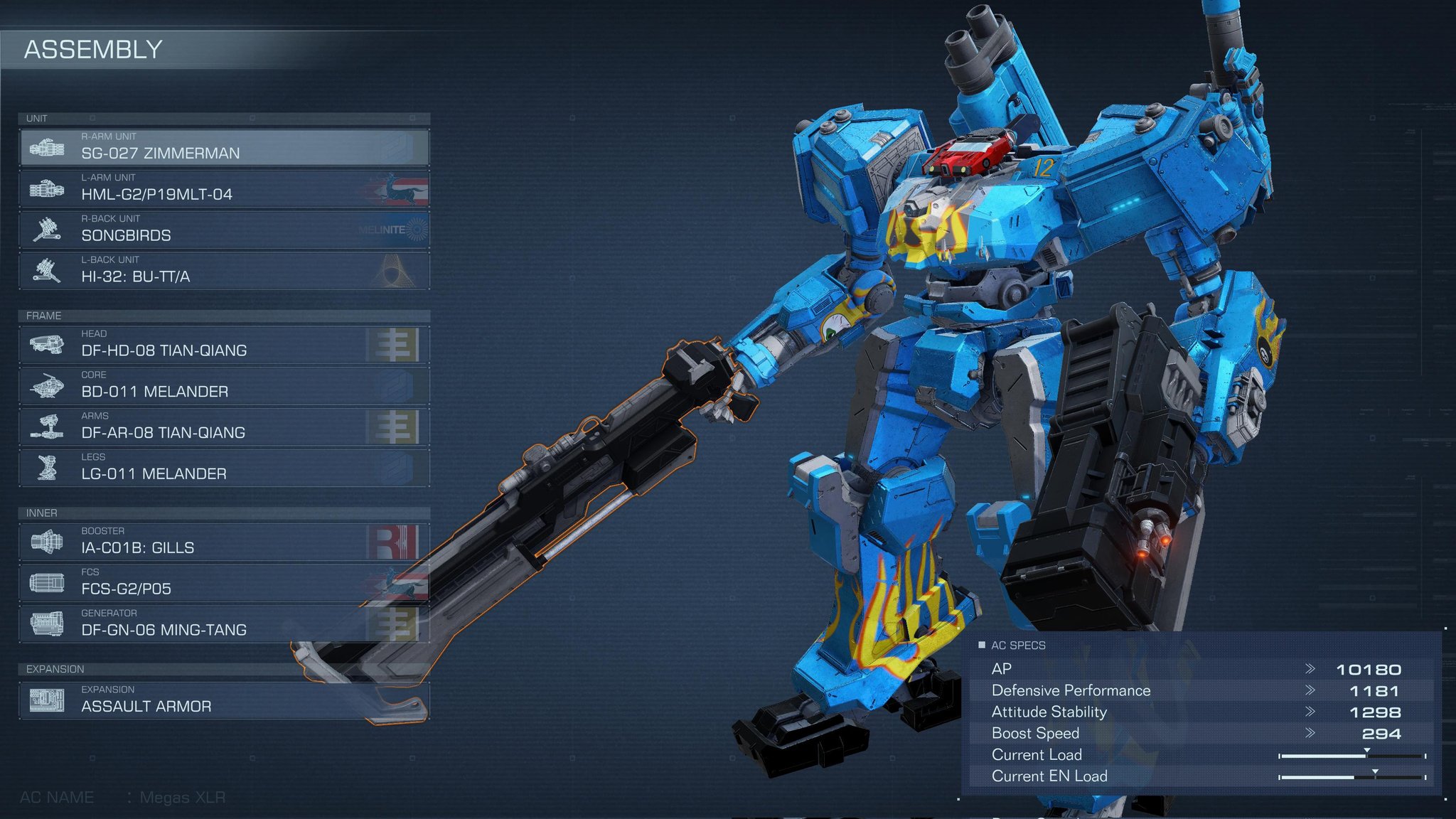 An X user @Yautrek, also shared their Megas XLR Armored Core 6 build by posting a Ticktok video on the platform. The defining feature that makes it one of the best builds in the Megas XLR theme category is the head module. The DF-HD 08 accurately resembles the red muscle car from the show. Although I do not have the shareable codes for their design, I found a list of parts in their build.
You can freely replicate and modify the above build if you can design your version of Yellow Flames. However, if you are on PC, you can combine the above AC parts with rjsbrowse's designs to complete your Megas XLR AC.
Here is a list of the parts used:
| | |
| --- | --- |
| Component | Name |
| Head | DF-HD-08 Tina-Qiang |
| Core | BD-011 Melander |
| Arms | DF-AR-08 Tina-Qiang |
| Legs | LG-011 Melander |
| Right Arm Unit | SG-027 Zimmerman |
| Left Arm Unit | HML-G2/P19MLT-04 |
| Right Back Unit | SongBirds |
| Left Back Unit | HI-32: BU-TT/A |
| Booster | IA-CO1B: Gills |
| FCS | FCS-G2/PO5 |
| Generator | DF-GN-06 Ming-Tang |
| Expansion | Assault- Armor |
Detailed game customization options always encourage players to get creative with their builds. As a result, it is normal for many unique and jaw-dropping builds to float around the internet. The concept of building Megas XLR-themed mechas in AC 6 is one such idea. Using the share codes and list of parts mentioned in the guide, you can also build a Megas XLR-themed AC if you are a show fan.
Apart from a themed build, there is much more to explore in AC6. For instance, you can read about the Armored Core 6 Arena mode and all stats in AC6. If you are progressing through the main story, read the handy boss fight guides on Juggernaut, Ayre, and the Ice Worm.
NEXT:
Image Credits: @Yautrek, Gerofreed Gaming
Was this article helpful?
Thanks! Do share your feedback with us. ⚡
How could we improve this post? Please Help us. ✍