Choosing professions after reaching level five can become quite a headache. Well, of course, you're deciding what you'll do in the foreseeable future. If chosen wisely, picking a Stardew Valley profession shouldn't be taken lightly as they play a massive role in your Stardew Valley career. Players should be wary of what will happen if they choose a particular profession by knowing its pros and cons beforehand. You get to decide your profession after reaching levels 5 and 10, respectively. Essentially, professions are based on your own like and dislike. If you don't like a specific profession, then there's no good in choosing that, even if it's the better choice.
Key Highlights
In

Stardew Valley

there comes a time when you will have to choose a

Profession.

There are a total of

5 Professions

to choose from which are

Farming, Foraging, Mining, Fishing, and Combat.
Each profession will offer the player a Specialization whenever they reach Levels 5 and 10.
In the Farming profession, the player can take the roles of:


Reach

Level 10 as a Rancher and

you will be able to choose between the

Coopmaster or The Shepherd.

Reach

Level 10 as a Tiller

and choose between two choices which are

Artisan and Agriculturist.

In the Foraging profession, the player can take the roles of:


Reach

Level 10 as Forester to choose between the Lumberjack and the Tapper.

Reach

Level 10 as a Gatherer to choose between the Botanist and Tracker Professions.

In the Mining profession, the player can take the roles of:

Reach

Level 10 as a Miner

and make a choice between the

Blacksmith or the Prospector.

Reach

Level 10 as a Geologist

and choose between the

Excavatar or Gemologist.

In the Fishing profession, the player can take the roles of:


Reach

Level 10

as a

Fisher

and choose between the

Angler or the Pirate.

Reach

Level 10 as a Trapper

and choose between

Mariner and the Luremaster.

In the Combat profession, the player can take the roles of:


Reach

Level 10

as a

FIghter

and choose between

Brute and Defender.

Reach

Level 10

as a

Scout

and choose between

Acrobat and Desperado.
Best Stardew Valley Professions
Professions are chosen after leveling up skills in Stardew Valley. There are five skills in total. These are Farming, Foraging, Mining, Fishing, and Combat. Every skill has its own advantages, and you need to polish these skills to level up.
Note: If you just want to find the best professions in each skill, scroll to the end where they are listed in a table.
To reach level five, you must have a total experience of 2150. As for level 10, you must have 15000 experience altogether. The highest level you can reach is 10, and as you level up, you are rewarded with new recipes and much more. To level up in each skill, you must:
Farming– Harvesting crops and taking care of animals' livelihood.
Foraging– Foraging goods and woods with an ax.
Mining– No need to go to a specific place; just get a pickaxe and start breaking rocks.
Fishing– Just fish in your spare time. After a while, you'll start catching more of them, increasing your level.
Combat– Fight against monsters and defeat them to level up.
Now that you know the basics of each skill level, here are the best Stardew Valley Professions.
Suppose you have reached level five and missed out on the opportunity to start well; no need to worry because we will tell you which profession you should choose. It doesn't matter which profession you've picked in the past. Professions can be changed by visiting the Statue of Uncertainty in the sewers and paying 10k gold to change one profession. If you've just started the game, then there's no need to worry about this.
Farming
Farming is one of the first things you'll learn when stepping into the world of Stardew Valley Professions. So, get a hold of it as fast as possible to level up as soon as possible. Here are the two options you get when you reach level five and then level 10. But before we get into more details, make sure you read our Stardew Valley Hardwood farming locations guide.
Rancher
Rancher is the first of the two professions you can choose from in Stardew Valley. In Rancher, you can sell Animal Products for 20 percent of its original price. The downside to this is that raw animal products don't sell for much, hence doesn't make you much money.
Coopmaster
You can choose Coopmaster profession after reaching level 10. Coopmaster helps you befriend coop animals two times faster.
Shephard
Shephard is the second choice you get when you reach level 10. In this, your sheep produces wool at a faster rate increasing productivity.
Tiller
Tiller is the second profession you can choose after reaching level 10. Tiller profession boosts crops' prices by 10 percent, including all vegetables, flowers, and fruits (those who have not been foraged). It is highly recommended that you choose Tiller as it will be a wise choice financially.
Artisan
Artisan is an excellent profession in Stardew Valley that gives more profit than most professions in the game. It makes artisan goods 40 percent more valuable. Selling raw goods would be foolish, so make sure you turn them into Artisan goods to make a decent amount of money. These include wine, cheese, mayonnaise, oil, and many more. Artisan is the best profession to choose if you've chosen Tiller on level five.
Agriculturist
When you choose the agriculturist Profession, your crops grow ten times faster than normal. Naturally, the Agriculturist profession suits those players in Stardew Valley who prefer to grow more agriculture-related things. On the subject of growing crops, read our Stardew Valley fall crops guide to learn about the best crops for this season in the game.
Moving on to the Agriculturist profession, you should prioritize picking up this profession if you are inclined to make a profit from all things related to agriculture. On the subject of profit, here are the best summer crops to maximize your profits in Stardew Valley.
The winner– When you start your Stardew Valley journey, remember that even if you manage to make a large animal farm, it will be more profitable if you turn products into artisan goods. It's also because they are more available and easier to get a hold of.
Foraging
Foraging is another thing you'll learn pretty early on. It is easier to get used to it, so don't waste time figuring out what to do, instead start leveling up and unlock new recipes. Forester or Gatherer, which profession should you choose in Stardew Valley? Well, we have listed some benefits of Forester and Gatherer, which will help you decide which professions are a better fit for you in the game.
Forester
Chop trees, logs, and stumps to get 25 percent more wood. This is the bonus you get if you opt for Forester as your profession. Stardew Valley has wood everywhere, so you won't have to worry about running out of them. Forester is the better choice and should be opted by players.
Lumberjack
Every tree you chop down may drop hardwood when you choose Lumberjack as your profession. Hardwood sells for 15 gold. On the note of selling things and making a profit, here is the list of best spring crops in Stardew Valley to make the most out of season.
Tapper
Tapper makes every syrup 25 percent more expensive.
Gatherer
As for Gatherer, this isn't a wrong choice at all. The only thing is that Forester provides you with constant income, while the Gatherer profession takes time but is more profitable than the Forester in the long run.
Botanist
A botanist may arguably be the most picked profession in the Foraging profession. It is because it makes all foraged items of the highest quality. Imagine how cool it would be if every item became iridium quality after foraging.
Tracker
Tracker is another useful profession but is overshadowed by Botanist. When you choose this profession, it allows you to find the location of every foraged item.
The Winner– Choosing the winner is tough, but if we were to call one of them superior to the rest, then it would be Botanist. But there is nothing to worry about if you've chosen Forester as your profession on level five. Lumberjack is a great profession and something that makes you decent money. Although, if you own a maple syrup operation, then Tapper is the right way to go.
Mining
The next skill that we're going to discuss is the Mining profession, which is one of the most rewarding skilled professions in Stardew Valley. Break rocks and level up: the more you do it, the faster you'll be presented with the options of choosing between Geologist and Miner as a profession. Make sure to conserve your energy when you're going for the mining. It takes time, patience, energy and needs dedication from the player. Let's discuss these professions and what they offer when we reach level 10.
Miner
The bonus in the Miner profession is that you get +1 ore in every vein. If you're new to the game, then choosing miner as your profession wouldn't particularly be a bad idea. At the start, it is understandable that you won't have much money to work with. The solution to this problem may very well be the miner profession. It doesn't make you much money, but it makes you quick money. If you're well-stable and aren't desperate for money, then it's all good; otherwise, you can always change your profession as you progress.
Blacksmith
Blacksmith allows your metal bars to be sold at a staggering 50 percent more price. The metals include copper, iron, gold, iridium, and radioactive bars.
Prospector
Prospector is another excellent profession for starters. Choose this and double your chances of finding coal.
Geologist
Gems sell for an outstanding amount but finding them could become a pain. Opting for a geologist makes it a notch easier for you. Whenever you find a gem, you'll get it with a pair.
Excavator
Reaching level 10 presents you with Excavator. If you choose this profession, your chances of finding geodes are doubled.
Gemologist
As for gemologist, every mineral and gem are worth 30 percent more than its original price.
The Winner– The winner for mining is Geologist at level five and a Gemologist at level 10. Gemologists may be a better choice if you're far in the game. After all, it all depends on your preference and what you enjoy. Choosing a profession that you don't enjoy is pointless. Excavator and Gemologist are both good, but it depends on what situation you're in. if you're looking to complete your museum collection, then excavator is the way to go. If you want to make more money, then Gemologist wins by a mile.
Fishing
Fishing is one of the skills that come in handy every season. Learning Fishing skills may take some of your time and energy, but the reward is fruitful. Many other skills such as foraging and farming are jeopardized by weather, but fishing continues all year. The more you do it, the better reward you'll start to get. Make sure to keep your energy levels sufficient.
Fishing shouldn't be occasional; in fact, every weather brings a new type of fish that may or may not sell for more. Especially when it rains, head out to fish, and you may as well get a fish worth much more than you've ever got. You are offered two professions in Stardew Valley when you reach level five. These are fisher and trapper.
Fisher
The function of a fisher is to catch fish and sell it. The good part is that your fish sell for 25 percent more than a normal civilian.
Angler
When you reach level 10, the angler is an upgrade as now, and your fish will sell for 50 percent of its original rate. It is a great profession if you're particularly skilled at fishing and know its basics.
Pirate
Whenever you're out to catch fish such as catfish, Walleye, and more, it doesn't come as a surprise when a treasure chest spawns near you. Some sell for so much more than you've ever anticipated, while the others are dull and aren't worth much. However, when you choose this profession, your chance of finding a treasure chest doubles in Stardew Valley.
Trapper
Trapper is the second option you can choose from when you reach level five. In this vocation, the resources required to make a crab pot reduces.
Mariner
In Mariner, crab pots no longer produce junk. This is a nice thing to have, but there are better choices.
Luremaster
As for luremaster, it is the better choice if you've opted for trapper as a profession at level five in Stardew Valley. This saves your bait from being used.
The winner– If we look at all these professions, fisher at level five and pirate at level 10 would definitely be the smarter choice. If you have chosen Trapper, then luremaster should be chosen. Saving your bait could prove to be very beneficial.
Combat
Combat is arguably the most 'Fun' skill the game has to offer. This is because Stardew Valley and its professions are peaceful and don't raise your heartbeat. Sometimes, a little bit of combat won't hurt in all that peace. In order to increase your levels, you'll need to fight monsters and defeat them. The more you fight and the higher your level increases.
Combat, just like any other profession in Stardew Valley, has two professions to offer at level five. These two are fighter and scout. If you don't know where to find the monsters, skull caverns and mines are the places to go.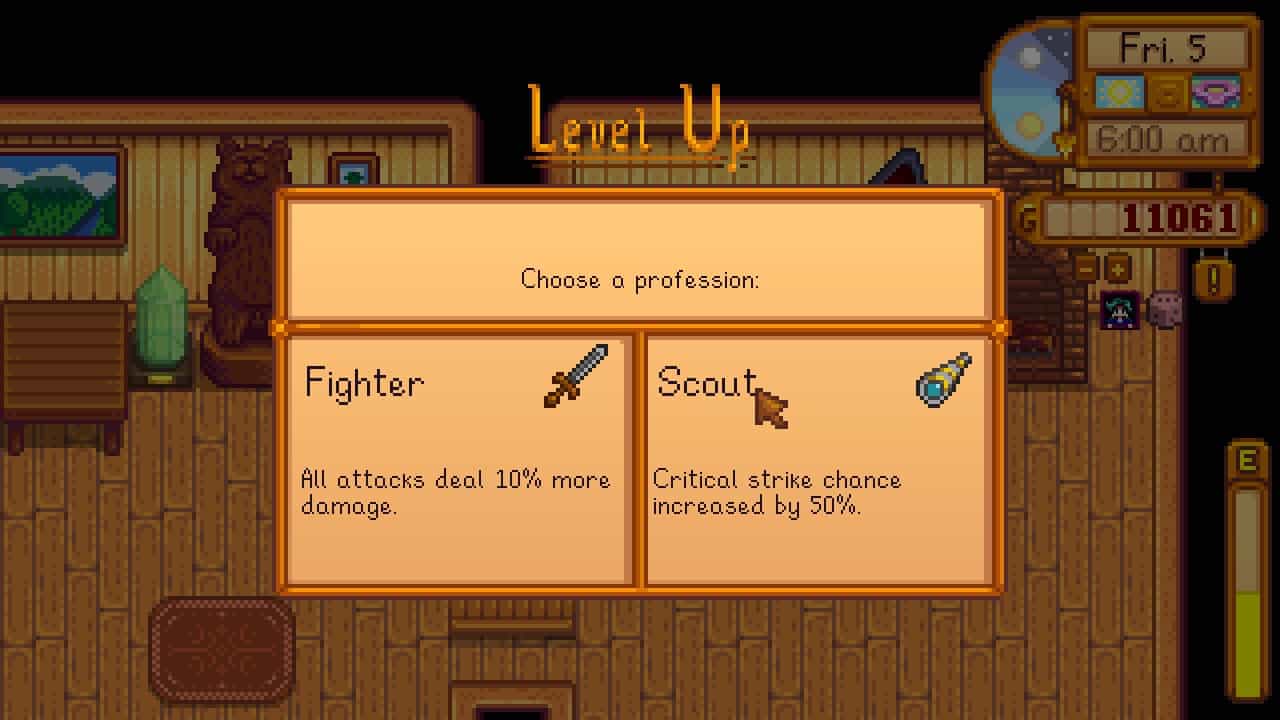 Fighter
The fighter is a great boost when fighting monsters. It's because you get +15 HP and all your attacks deal 10 percent more damage.
Brute
The first profession you can choose from when you reach level 10 is Brute. Your attacks upgrade, and your attacks deal 15 percent more damage, although HP doesn't increase.
Defender
The second option you're presented with is the defender. Unlike Brute, this profession does increase your HP by 25. And same goes for dealing with attacks, and they do not get any better in this occupation.
Scout
Scout is the second profession that pops on your screen when you reach level five in combat skills. This profession increases critical strike chance by 50 percent.
Acrobat
If you've chosen scout, you'll have to choose between acrobat and desperado, but first, let's talk about acrobat. Acrobat cuts down the cooldown time of your special moves by half.
Desperado
Desperado and acrobat are the same when it comes to increasing HP. Yes, neither of them increases your HP. But what separates desperado from acrobat is that critical strikes are far more dangerous and deadly than acrobat can ever be.
The Winner– The winner by a distance is the fighter at level five and the defender at level 10. This is because HP's are hard to get, and choosing fighter and defender, you're getting a 10 and 25 increase in HP, respectively. Your attacks are enough to take down the monster, but it is health that you really need to look after.
Summary
| | | |
| --- | --- | --- |
| Skill | Level 5 choice | Level 10 choice |
| Farming | Tiller | Artisan |
| Foraging | Gatherer | Botanist |
| Mining | Geologist | Gemologist |
| Fishing | Fisher | Pirate |
| Combat | Fighter | Defender |
These are all the best Stardew Valley Professions you can choose from each skill. The list isn't obsolete, and any changes wouldn't make a massive difference. Although, starting right would make your Stardew Valley journey very enjoyable. You can always change your profession, so experimenting is good for experience as well. If you've got a couple of sources of income, then it is welcomed that you try new things and explore what more the game has to offer.
Updates come every now and then, which sometimes changes the gameplay. So, don't fret if you've chosen the wrong profession. Be patient for now and try to make as much out of it as possible. After all, professions are based on your preference, and they can be changed at any time.
Was this article helpful?
Thanks! Do share your feedback with us. ⚡
How could we improve this post? Please Help us. ✍