Waging War in Victoria 3 is not the option to be put on your priority list to take over the world, yet it can't be just ignored. You'll find yourself in a war with some country one way or another due to political or diplomatic interests. If you must be at war, then why not be fully prepared for it and know your options beforehand? This is exactly what we are going to discuss in this Victoria 3 guide. This guide will take you to every minute detail of declaring war in Victoria 3 and how to win it.
Key Highlights
Diplomatic Play in Victoria 3 allows players to declare war on other countries to achieve

diplomatic, political

or

social goals

.

Some options for Diplomatic Play include

Annexing Subject

,

Ban Slavery

,

Conquer State

,

Humiliating

,

Regime Change

, Taking Treaty Port and transferring Subject.

Diplomatic Play can only be used against certain countries that the player has marked

an interest in

and the number of countries that can be used against

increases with the player's ranking

and prestige.

War in Victoria 3 requires the player to go through

two more phases

, the Escalation Phase and the Maneuvers Phase, after selecting a Diplomatic Play option.

In the

Escalation Phase

, players decide on the objectives they plan to achieve with war.

In the Maneuvers Phase

, players acquire support from other countries by using the Sway tab to sway countries to their side.
Declaring war bluntly isn't going to help you to achieve your goals, and you'd also not be able to do this until you have grown into a huge empire with no reliance on any other country. Also, this can take time, and for you to declare war in Victoria 3, you have to go through a process of Diplomatic Play.
Diplomatic Play in Victoria 3
Diplomatic Play can be understood as a legal or worldwide accepted excuse to declare war on a country to meet your diplomatic, political, or social goals in Victoria 3. Here is all the Diplomatic Play option you have in Victoria 3 and what consequences they'll have.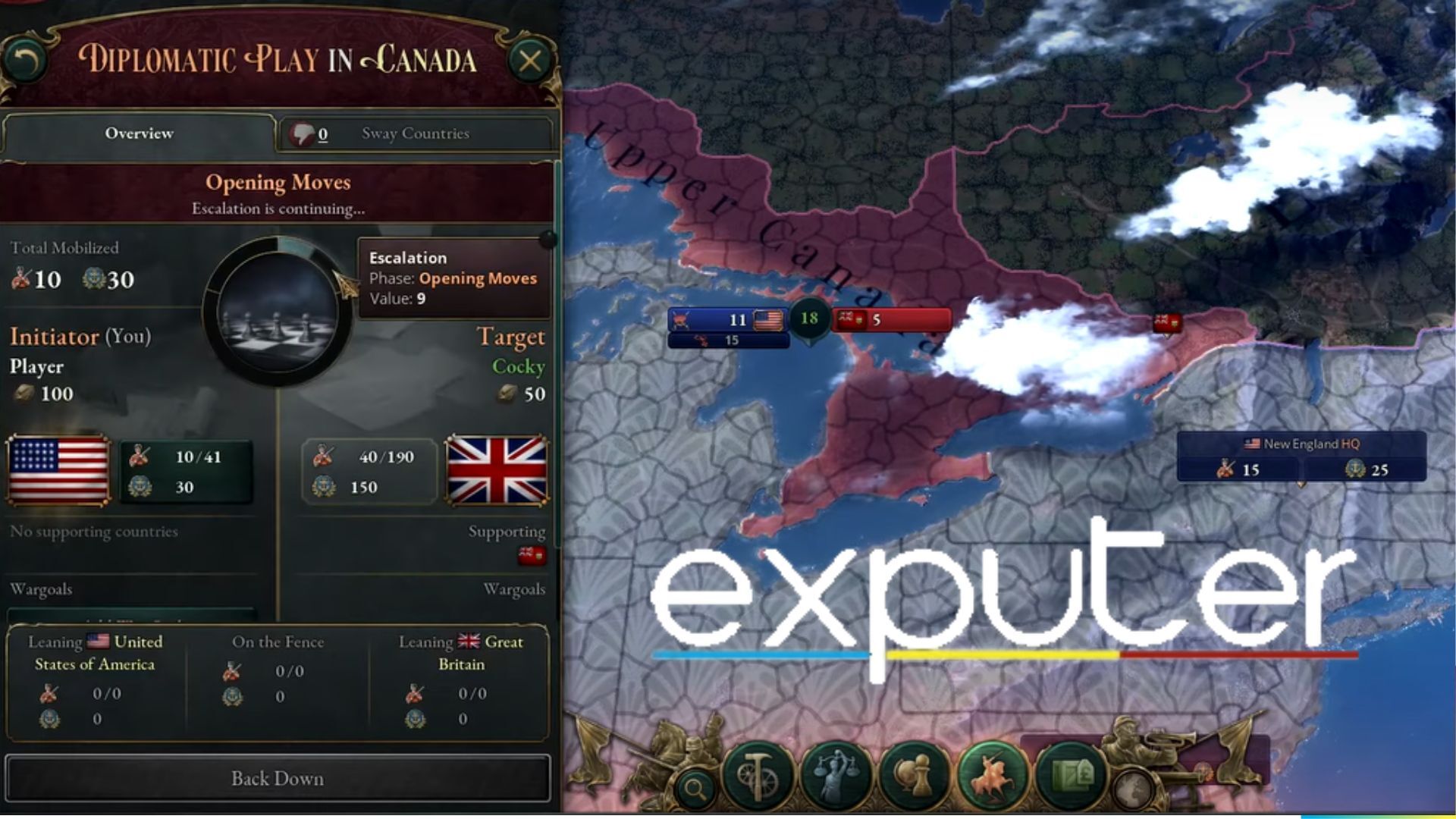 This allows you to include the conquered land in your country but doesn't allow having puppets.
This Diplomatic Play is opted to end slavery in any country.
Conquer state in Victoria 3 is to take control of the targeted state of the other's country and include it in yours.
This Diplomatic Play is to make a country smaller by liberating any occupied state or subject by the other country.
A Diplomatic Play to prevent your country from a country that can be a threat by lowering its prestige so that it could not harm you for some years.
Diplomatic Play to liberate your country from any overload.
Liberate Subject in Victoria 3 is to help the target country get of its overload.
To make a country become your dominion and pay 10% of weekly treasury income without having to join your wars.
A Puppet Subject in Victoria 3 is one who pays 20% of weekly treasury income with also an obligation of joining the wars of its overlord.
Vassal Subject in Victoria 3 is obliged to join in the wars of its overlords while paying 15% of its weekly treasury income.
This Victoria 3 war declaring Diplomatic Play is to covert the trade laws of the target country to open the market by force.
Diplomatic Play to throw the government in the target country and install your own government with your laws enforced in the target country.
This Diplomatic Play can be used against the countries that have occupied your states and declare them to be rightfully theirs. This is getting those occupied states back.
This is to take over the treaty port of the subject country to trade with other countries and escape tariffs.
To have a forceful overlordship of the target country.
Where Can Diplomatic Play Be Used?
It is important to keep in mind that you can not even use Diplomatic Play against every country. Rather, it can only be used against certain countries that you have marked an interest in. Also, the overall ranking and prestige of your country decide the number of countries you can declare interest in.
The giant country you are, the wide will your interests gets. Thus, the number of countries that you can use Diplomatic Play against increases with your ranking and prestige.
Escalation and Maneuvers Phase
After getting done with the Diplomatic Play, the next step towards declaring war in Victoria 3 is the Escalation and Maneuvers phase. Then, right after the selection of the Diplomatic Play in Victoria 3, war requires you to undergo two more steps.
Escalation Phase
Escalation is the phase during which you decide the objectives you plan to achieve with war. The players can add more goals to the war from the available ones. The goals to choose or available depending on the target country and the Diplomatic Play you opted for.
Maneuvers Phase
After defining the objectives of the war, the next task you are put against is to acquire maximum support from other countries. This phase is the Diplomatic Maneuvers and looking for countries with similar interests in the region to join your forces.
It is the longest phase towards waging war against your target country in Victoria 3. In this phase, you use the Sway tab to sway countries to your support. Go to the Sway tab and click on the country and click on the green thumbs-up icon there.
If the country accepts your proposal, it'll join you in your war with its forces. At the same time, some countries will join you without offering them anything in return based on their position in the conflict and region. But, the others can be pursued by offering Obligations to them. The obligation must be chosen smartly as the country may oblige you to join their wars, and that can wreck you if you are already struggling.
You can also Sway the countries who have joined the opponent's forces and make them neutral. They can't be made to join you in the war but it's better to have lesser enemies.
Countdown Phase
This phase starts after the Maneuvers phase has been passed. There's a countdown and both of the countries are given a chance to Back Down and surrender without war. But it's likely that AIs will fall on their knees if you have a huge advantage over the statics and the situation.
If one country has a clear advantage over the other, it should draw back and this can help them not face more destruction, blood loss, and Economic destruction. But if both countries don't fall back, then start the war in Victoria 3. Then, you can achieve your goals with the use of force.
Tips To Lead Towards Victoria 3 Wars
The strategy must be opted to win a war and here's how you can do that
Generals and Battalions
Generals and Battalions are the key to warfare in Victoria 3 and decide how you perform in the wars. More generals with expertise will help you move forward more steadily and strategically. But this must be kept in mind that generals and their promotion can greatly affect the political situation of the country. The more the generals are ranked higher, the more the soldiers are under their command.
Generals do have certain abilities and thus should be positioned in such a way as to take maximum advantage of their abilities and expertise. For instance, a general with the ability of an Expert Offensive Planner can be deployed in a region where you need to practice more offensive tactics.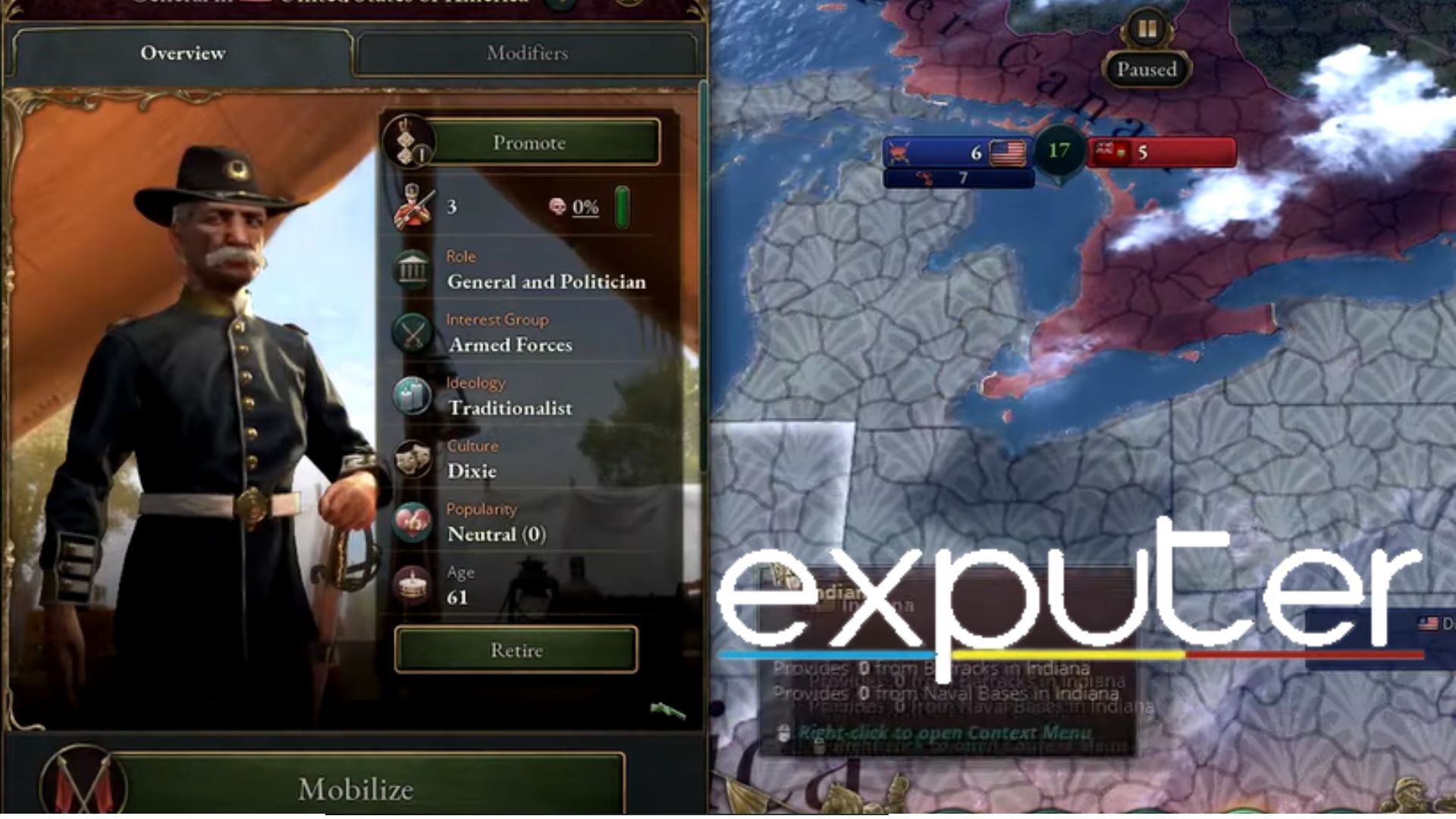 Army Size
It's no surprise that having a large number of troops is going to be very helpful in the war. So, if your army quality is just average, but you have a large number of troops to fight for you, you'll excel. It can be done by constructing more and more barracks and inducting civilians into the army. Inducting civilians into the army forcefully might affect happiness but if the war is that important to compromise happiness, go for it.
Diplomatic Standing
Another fact that plays a significant role in winning a war is your diplomatic standing. Diplomatic standing hugely dictates the support of other countries. Thus, if your diplomatic standing aligns with some other country, it'll surely join forces with you in the war. This will let you have more support in terms of soldiers also.
But having the support of AI allies might not be that beneficial all the time. Every country has its own issues going, and they can't just ignore everything to support you in your war.
Handling Of Country Affairs
Having said that, you should not expect your allies to help you blindly in the war; this is also to be followed by you. So, players must not forget about the handling of their country during a war. This means you must run your country simultaneously with the war.
Up Next:
Was this article helpful?
Thanks! Do share your feedback with us. ⚡
How could we improve this post? Please Help us. ✍