New Overwatch 2 Patch Notes Nerf The New Hero Illari And Bring Many Bug Fixes
The new hero has already seen several balance changes.
Story Highlights
Overwatch 2 has received the latest patch notes dated August 24, fixing a variety of bugs and nerfing the new hero Illari. Several of her abilities have been altered to make her more balanced.
The Healing Pylon's healing ability has been decreased from 40 to 30, and the shields for Illari have also been lowered from 75 to 50.
Illari's Captive Sun's ability projectile size now lasts from 1.5 to 0.75 meters. And the Sunstruck duration will only last six seconds instead of the usual seven. Some other heroes have also received bug fixes.
Overwatch 2 has been heavily criticized for a variety of reasons, getting bombarded with negative reviews to become the lowest-rated game on Steam soon after launching there.
Overwatch 2 has seen its fair share of high and low tides, but it continues to see new content and seasons in frequent updates. Blizzard has pushed out the latest patch notes dated August 24 for Overwatch 2, which features plenty of changes to the new hero Illari and bug fixes. It is fair to say that the new hero has already been struck with nerfs fairly well by the devs due to how overpowered she proved to be in certain situations.
Illari has had a strong showing since her launch. The following changes are meant to promote a better balance between healing and damage while adding more counterplay against her abilities," mentioned devs in the blog.
The Healing Pylon has seen quite a substantial reduction, with the heal decreasing from 40 to 30. These nerfs were made in an attempt to ensure players do not keep abusing the hero's abilities. The blog mentions that the Healing Pylon was being placed often at out-of-line-of-sight or odd angles, and it was not being destroyed as often as the team expected. The shields for Illari have also been lowered from 75 to 50.
Similarly, the Captive Sun ability has also received a fair share of setbacks to make it more balanced against other heroes' abilities. The projectile impact and explosions are now blocked by barriers. And the projectile size has also been dwindled down from 1.5 to 0.75 meters. The Sunstruck duration will only last six seconds instead of the usual seven since its effect stayed for too long to reasonably avoid the detonation damage threshold.
Some other Overwatch 2 heroes have also seen significant fixes and changes. An issue was fixed concerning Echo that was causing the cloned Illari's Captive Sun explosion to damage herself and her allies. Orisa's "Who Said Chivalry Is Dead?" voice line missing from the hero gallery has now also been patched. The World Cup Skin for Orisa remained inaccessible previously, which was also mended by the devs in the latest update.
---
Other Interesting Reads:
---
Coming towards the other changes and additions, the player progression has also been updated in the latest Overwatch 2 update. The Wins sub-badge level-up requirement has been updated from 2 to 1 across all heroes, game modes, and roles, and the XP granted to balance was re-tuned. The mission section of the game has also received patches for some lingering rather minor issues.
An issue was fixed with the Titan being invisible for the first few seconds of its intro in the Gothenburg mission. An invisible collision around the Mega-Cannon that blocks Brigitte's Shield Bash and Whip Shot is now also resolved. Similarly, many bug fixes have been squashed in the new Overwatch 2 patch notes. The bug fixes have been shared below: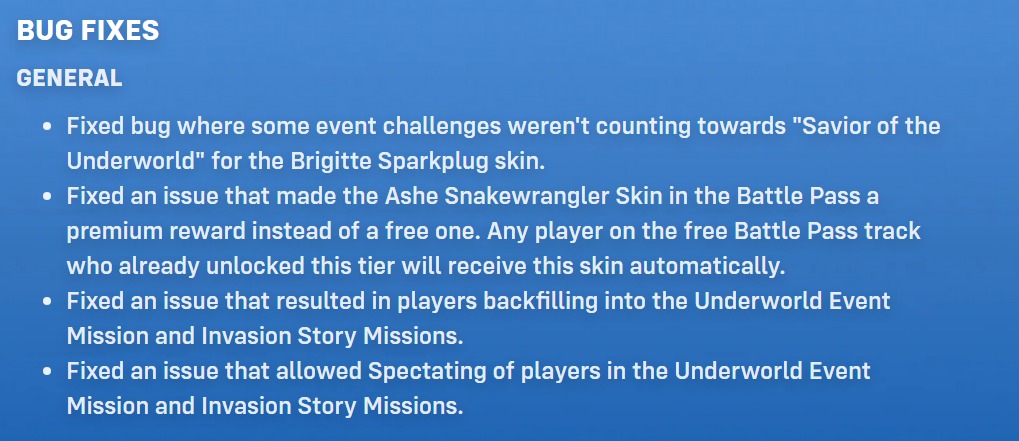 Overwatch 2 has been bombarded with plenty of negative reviews, especially after its launch on Steam. The entry soon descended its way to become the lowest-rated game on the platform. Part of the reason for its negative review is that Blizzard salvaged the promised PvE mode and compromised with paid single-player missions, and there are plenty of other reasons.
Latest News: Forza Motorsport Was Never Going To Have Split-Screen, Affirms Xbox CEO.
Was this article helpful?
Thanks! Do share your feedback with us. ⚡
How could we improve this post? Please Help us. ✍