PlayStation Hit With New Layoffs At Major Positions, Affecting An Unannounced Project
The reason for these layoffs remain unknown.
Story Highlights
PlayStation has become the target of another set of layoffs, involving major roles within its studios and an unannounced project. Multiple devs have been laid off as a result.
The reason behind the new wave of discharges at Sony Studios is currently unknown. Sony has seen a series of layoffs this year.
Naughty Dog fired its contract workers a few weeks ago. The action has harmed The Last of Us multiplayer spin-off title; a new rumor suggests it has been canceled.
Sony has been hit with a new string of layoffs out of nowhere, affecting some of the most notable devs in the industry. As initially spotted by @bogorad222, Daniel Bellemare, who was working as the Senior Level Designer on an unannounced title at PlayStation, has been dismissed. Matt Barney, the Senior Technical Recruiter at PlayStation, has also been hit by the new series of layoffs along with many other employees in various positions.
Unfortunately, following a wave of layoffs last week was my last at Playstation. While this is certainly not news I was hoping for, I'm grateful to have had a chance to work amongst extremely talented colleagues on incredible projects and I'm leaving with good memories of my time there," reads Daniel Bellemare's LinkedIn Post.
Daniel was working on an unannounced project at PlayStation for six months before being laid off. The fate of the unspecified project is currently unknown now that he has been laid off. The dev has expressed sadness for being hit with the new wave, but he also mentioned the jolly memories that were made working amongst some of the most talented in the industry.
---
Related Content:
---
It seems like this wave of layoffs had been brewing for a long time at Sony, as mentioned by Matt Barney in his LinkedIn post. He also enjoyed working with PlayStation for years instead of leaving when he had the chance.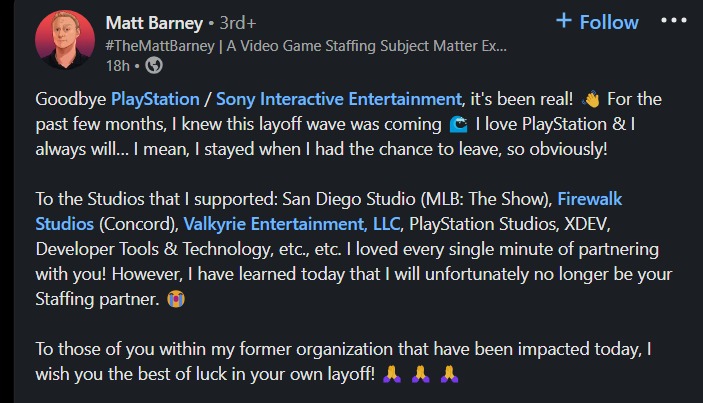 Sony has been through its fair share of layoffs this year. Previously, PlayStation Arts Studio laid off many of its workers as one of its unannounced entries went through some major shifts. The layoffs were affirmed by John Borba, a former project coordinator for the game. John, among many other devs, was fired because of the studio constricting the budget for the unnamed title.
On the flip side, Microsoft let go as many as over a thousand workers in a major layoff in the span of three months alone last year. It is alleged that Microsoft and Sony hired a lot of workers during the pandemic boom and then started shedding many of them off after some facets of the world came back to normal. As a result, various studios over at Microsoft have also been directly affected by firings, such as 343 Industries and The Coalition Studio.
Was this article helpful?
Thanks! Do share your feedback with us. ⚡
How could we improve this post? Please Help us. ✍