Octopath Traveler 2 Review
Story And Setting

Gameplay

Visuals And Performance
Verdict
Octopath Traveler 2 condenses everything that's great about the JRPG genre and delivers it in a beautifully designed package.
Developers:

Square Enix and Acquire

Publishers:

Square Enix

Release Date:

February 9, 2023

Platforms:

Nintendo Switch, PlayStation 5, PlayStation 4, and PC

Predecessor:

Octopath Traveler 

Tested On:

PC
Pros
Stellar Combat
Amazing Visuals
Top Tier Soundtrack
Character Writing 
World Building
Following the success of the first Octopath Traveler, it seemed nearly unavoidable that a sequel would be released. Fast forward a few years, and lo and behold here we are with our Octopath Traveler 2 Review, where we hope to discuss the game in detail.
The highly anticipated title keeps fairly true to the original while making a few tweaks here and there, and we are going to discuss what works well and where it falls short. So, without further ado, let's get started.
Story And Setting
Octopath Traveler 2 improves upon the same format as its predecessor when it comes to the story and the setting. The game starts out in the same way, as you have the choice to pick a protagonist out of eight different characters, each of whom has their own individual storyline that is different from the others, and you can play through each of them in any order. Once you pick one, you will play through their introductory chapter and then have the opportunity to come across and recruit the other seven characters from the start.
One of the major complaints that fans of the first game had was that the story of each party member was standalone and that the characters did not really interact in any meaningful way. This changes in Octopath Traveler 2, as each narrative, overlaps with the others to some extent, even though the interactions feel somewhat forced. As you're exploring the world, you will suddenly be prompted to watch two characters in your party interact, and as you press the button, the other characters disappear completely.
This structure makes it a little unconvincing because the characters act as if they just met each other, even though they have been in the same party for hours. Nevertheless, to be honest, this is preferable to having no interactions between the characters at all. The last part of the game, where all the characters meet and the overall links between their stories are revealed, makes the exchanges worthwhile though.
The same qualities that distinguished the first game can also be found in Octopath Traveler 2, namely exceptional character writing and world-building. Each of the eight characters has a distinct personality that helps you sympathize with their circumstances. One of my favorites, for example, is Osvald V. Vanstein, who has a tragic past that is revealed over time, and you learn to empathize with him. Similarly, the other characters have believable characteristics, which adds to the story's appeal.
Another important thing worth noting about the story is that it can be played in any order and it won't affect your enjoyment of the game. Each character has their story set in a place appropriate to them, and this gives the players more choices when it comes to exploration as well, which we will discuss in the next section of our Octopath Traveler 2 review.
Gameplay
When it comes to gameplay, Octopath Traveler 2 is not much different from its predecessor. That isn't necessarily a negative thing, however, given how addicting and rewarding the original's gameplay was. The sequel provides us with more of the same, with a few changes and upgrades sprinkled throughout, and we'll go over these aspects one by one now.
The exploration part of the game is one of its more enjoyable aspects, and after progressing through a bit of the game's story, players are granted complete freedom to roam and explore the environment. Some locations are plainly restricted by level, but aside from those few exceptions, you are free to explore the lovely landscapes.
There is a lot of optional content to explore, such as dungeons to explore and finding new jobs as you visit new locations. In comparison to the last game, the areas in this one feel quite packed, and there is always something to do. The towns feel alive, and there is always the motivation to explore and discover hidden mysteries spread around the world.
Another notable feature of the game is the inclusion of the day and night cycle. Players have complete control over this and can manipulate it any way they wish. It also serves a more tangible purpose other than aesthetics, and this ties in neatly with the next element I'd like to discuss; Path Actions. Each playable character has two unique Path Actions that they can use, and they allow them to perform specific activities when out in the environment.
These tasks can range from speaking with NPCs in order to acquire information or even obtaining specific goods from them. Temenos Mistral, one of your party members, has two path actions available to him. During the day, he can use his Guide Path Action to recruit random NPCs and then summon them in battle. During the night, however, he can use the Coerce Path Action to gain knowledge from characters he defeats in battle.
Keep in mind that these path actions vary based on the time of day. As a result, it is critical to understand which path actions will be available when and how to use them effectively. Another reason why the day and night cycle is significant is that certain NPCs can only be interacted with at specific times. Instead of wasting time walking across town, you can just adjust the time to your preferred time of day and converse with them.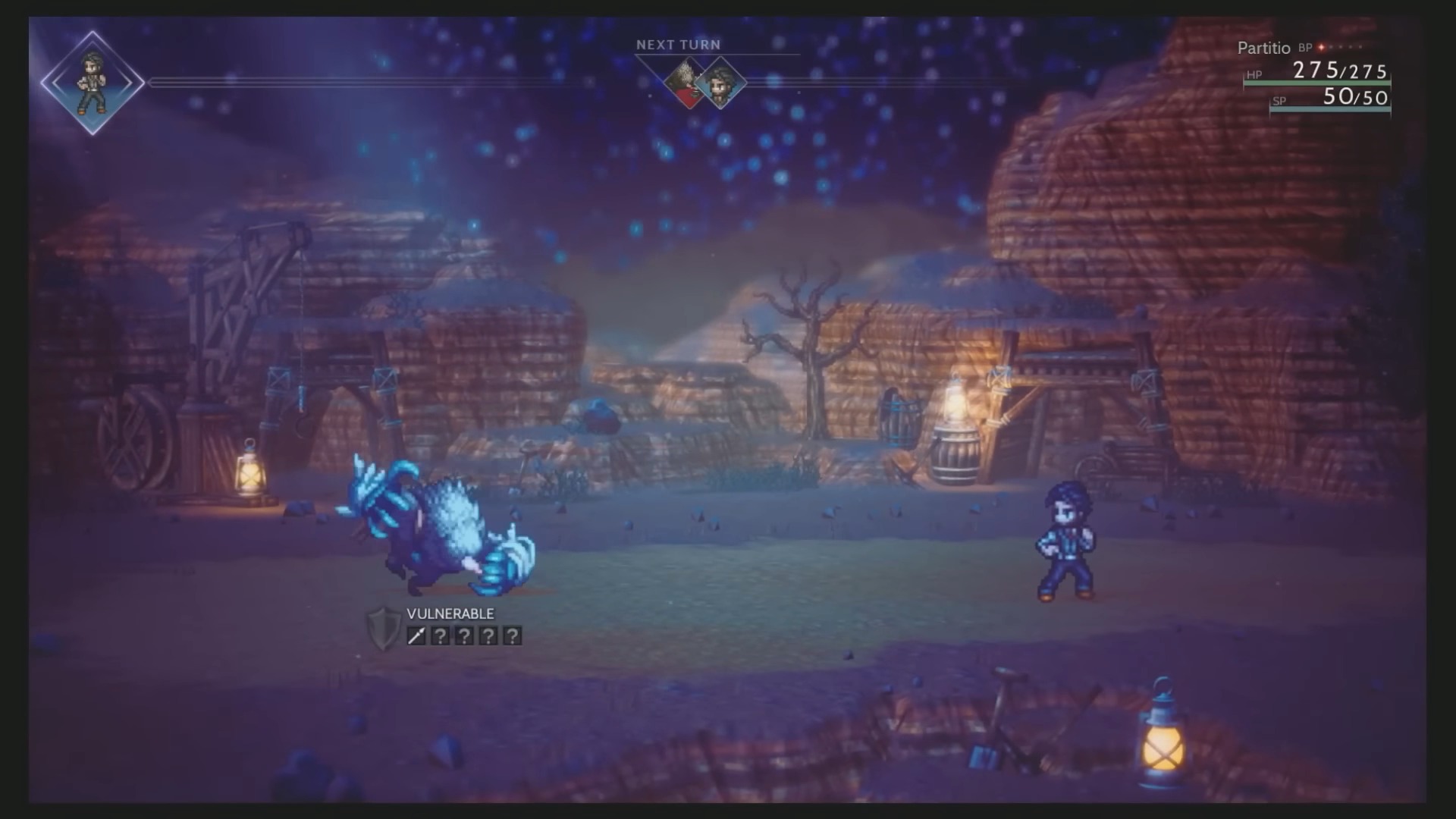 The game's combat features a turn-based system that draws inspiration from classic JRPGs like Final Fantasy while adding its own spin to the formula. There is a Shield System in the game which makes the fights more involved than they are in other similar titles.
When you first begin an encounter, each of the enemies you come against will have a shield. You can break this shield by targeting their weaknesses, which will in turn cause them to lose a turn in combat, giving you the opportunity to deal a lot of damage. And as you uncover these weaknesses, they are permanently revealed to you under the enemy's name, making it easy for you to remember going forward.
As an encounter progresses, your Latent Power gauge will fill up based on how much damage you take or how many enemy shields you break. When the gauge is full, your characters will be able to unleash a devastating special strike on your adversaries.
Regular enemies can put up a decent fight, but the boss battles at the end of each chapter are the really challenging encounters. You can't just brute force your way through them, you have to learn how to use each of your characters and their skills appropriately in order to succeed. To have a smooth and streamlined experience, you must know which enemies are vulnerable to magical assaults, and which enemies are weak to physical damage, and so on.
That being said, even if you're familiar with the game's fundamentals, a couple of bouts near the end of the game feel stretched out due to a sudden difficulty spike. Nonetheless, this is a minor complaint because the rest of the game gives a reasonable degree of challenge while remaining enjoyable to play. The Latent Power mechanic, which makes your characters stronger in battle, was added to the game to help with the more difficult conflicts.
All in all, Octopath Traveler 2 didn't need to make many adjustments or enhancements to the game's combat because it already has one of the best turn-based systems in any game I've played. The fighting is fast and spectacular, and there are seldom any dull moments. Every encounter also necessitates some sort of strategy, ensuring that you don't merely steamroll through the game while relying on the powerful skills of a few characters.
Visuals And Performance
For lack of a better phrase, the game looks and sounds phenomenal. The amazing HD-2D aesthetic returns in all its glory, complementing the game's already gorgeous pixel graphic style. Several regions have a completely distinct vibe depending on the time of day you visit them, and the environments in general also look really pretty and distinct from the others.
Fans of the series already know that the developers cannot improve upon near perfection when it comes to music. The OST of Octopath Traveler 2 is very similar to the original, and Square Enix is also known for creating grand orchestral arrangements for its JRPGs, and this game is no exception. The soundtrack, done by Yasunori Nishiki, perfectly suits the design and atmosphere of the game and completely immerses you in the world.
When it comes to performance, the game ran extremely well on my PC with consistent FPS throughout my playthrough. It is not a hardware-intensive game, to begin with, and it even runs extremely well on the Nintendo Switch.
Verdict
Octopath Traveler 2 condenses everything that's great about the JRPG genre and delivers it in a beautifully designed package. The overall narrative is very interesting and the combat in the game is second to none. Coupled with the amazing soundtrack and visual presentation of the game, you have yourself an instant classic.
If you are new to the genre and want to play something that will blow you away, I strongly recommend that you play this sequel.
This has been our Octopath Traveler 2 Review. While you're here, consider checking out some of our other articles.
Was this article helpful?
Thanks! Do share your feedback with us. ⚡
How could we improve this post? Please Help us. ✍