No matter the game, free rewards such as COD are always welcome. This will help your restaurant to stay afloat and you can also use it to purchase improvements for a better dining experience, and will make for a better gaming experience for everyone involved. This guide features everything you want to know about Animal Restaurant Codes, where to find them, and how to redeem them.
Key Takeaways
Having better

Active Codes

which can be used to keep smooth functioning and

purchase upgrades

for your

animal Restaurant

is necessary.

These

Animal Restaurant codes can get you a large number of freebies

in the game.

To Redeem the Active codes

, start the

Animal Restaurant

,

click on Gear,

and select the

cat with a question mark

, enter the

required code

here and you'll get the

reward

.

The

Active Animal Restaurant Codes

include

EGGYTROPHY

,

MERRYXMAS,

and

AR999

(to avoid the invalidation of the codes,

copy and paste

the code while using it).

You can easily find the newly released

codes

on Twitter or any

social media handles of the developers.
List Of Active Animal Restaurant Codes
Last Checked on June 1st, 2023.
We understand how it feels when you have to find an active code in a sea of multiple both active and inactive codes. This is why we took the task of differentiating the codes upon ourselves, and this list only features active codes.
As of right now, there are no active codes for Animal Restaurant. However, we encourage you to bookmark our definitive game codes guide page as it contains methods to get future codes for games that you could be playing.
List Of Expired Codes
The following codes for Animal Restaurant are expired and cannot be redeemed for a reward. These have only been added so you know which codes to avoid.
| | |
| --- | --- |
| Code | Reward |
| LOVESTORY | – |
| YEAROFRABBIT | – |
| EGGYTROPHY | – |
| MERRYXMAS | – |
| AR999 | – |
| GUMISPEARL | – |
| HALLOWEEN22 | – |
| 3RDANNGALA | – |
| MOONFESTIVAL | – |
| GUMILOVEU | – |
| HAPPYASACHILD | – |
| DORISAIMEOW | – |
| LOVEUMORE | – |
| HAPPY2022 | – |
| thx4following | – |
| jinglebells | – |
| XMAS2021 | – |
| thanksgiving | – |
| halloween2021 | – |
How To Redeem Animal Restaurant Codes?
Once you have acquired the codes necessary, comes the task of redeeming these codes to reveal the rewards that they come with. The process of redeeming codes is a fairly simple and short one, so follow the steps below to redeem your codes.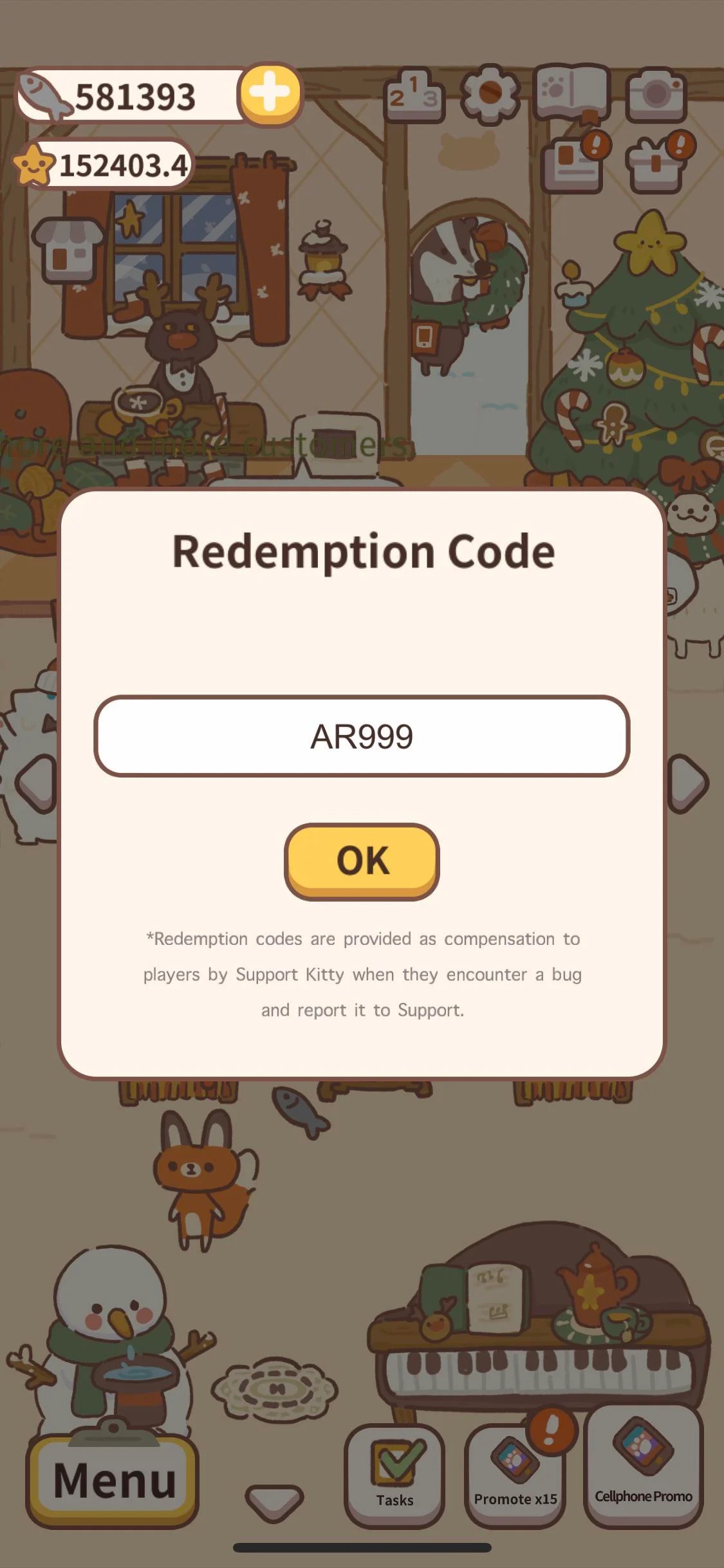 First of all, Launch Animal Restaurant.
Click the Gear icon in the top right corner of the game.
Click on the cat with question marks above its head, this can be found on the bottom left of the pop-up screen.
Enter your code into the text box.
Press the button labeled "OK"
Enjoy your Rewards!
Why Are My Codes Not Working?
A code not working can have multiple reasons. A few of these reasons, along with their fixes have been listed below.
First of all, the main reason why codes do not work is due to spelling mistakes. Make sure to double, or even triple-check whether a code has been entered correctly to avoid any issues. Codes are also case-sensitive, so make sure you add codes in the same capitalization as mentioned above. We highly recommend that you copy & paste the codes directly from above, this should help alleviate any human error, and lead to a working code.
However, if the spelling was not the cause of the code seeming inactive, it may as well be an expired code. Codes do not have that long of shelf life and expire as new ones come out. You will be able to find a new working code soon enough.
Where To Find More Codes?
To know about new codes as soon as they are released, there is only one place to go, straight to the source. The developers are extremely active on their social media accounts, where codes are also shared. We recommend following their Twitter and Facebook, the most common places where they post new codes and updates to the game.
Apart from the official social media accounts, we also update this page on a regular basis, and new codes are added here as soon as they are released. You can bookmark this page and visit back at different intervals to know when a new code is added.
What Is Animal Restaurant?
Animal Restaurant is a fun, and cutesy management game available to play on your mobile phone. You will be in charge of managing a restaurant, where your customers will be unconventional, Animals. The better the food provided, the better the service will equate to more rewards gained.
As you keep on earning COD, you can upgrade your restaurant to provide a better experience for the customers. The better the experience, the more rewards will be coming your way.
What Are Animal Restaurant Codes?
To earn more rewards in the game, you require some of the best facilities. The Animal Restaurant Codes will be redeemable for COD, the in-game currency. This can then be used to purchase upgrades for your restaurant and satisfy your customers.
Final Thoughts
This is all we have for Animal Restaurant codes for now, and we hope it helped you immensely. Make sure to check back whenever you are in need of more codes, we'll have you covered. Let us know in the comments below if you would like more guides like this.
Related:
Was this article helpful?
Thanks! Do share your feedback with us. ⚡
How could we improve this post? Please Help us. ✍