FFXVI players have been struggling to run the game well. There have been reports of Final Fantasy 16 crashing on PS5 either immediately after launching it or during intense fights when the PS5 performance is pushed to the max. There will be a while before developers address this issue, so until then, why not try these solutions to fix this problem until there's an official patch?
Key Takeaways
FFXVI is one of the most hyped games on PS5, which was released with some bugs and errors.
Final Fantasy 16 crashing error is one of them, preventing players from playing the game smoothly.
The crashing is caused by PS5 overheating, built-up cache, game files corruption or intense graphical load on the console.
---
You can fix the FFXVI crashing issue by trying the fixes mentioned below:

Switch Performance Mode To Frame Rate
Resolve The PS5 Overheating Issue
Clear Cache And Rebuild Databases
Update Final Fantasy 16
Reinstall The Game
Switch To Frame Rate Mode
There are two main modes in which you can play Final Fantasy 16 on your PS5; one's the graphics mode, and the other one is the frame rate mode. The graphics of FFXVI really shines in graphics mode as the visual fidelity gets a significant boost in this mode. Every texture and object are in-game looks astonishing. However, this mode is less stable and really taxing on performance, and also the reason behind the FFXVI crashing problem.
I recommend switching to the frame rate mode instead of the graphics mode. This will lower the graphical fidelity of your Final Fantasy 16, however, it will put significantly less load on your PS5. Less processing load means your game is less likely to crash between play sessions.
You can switch performance modes on your PS5 in two different ways. Here they are:
In-Game Settings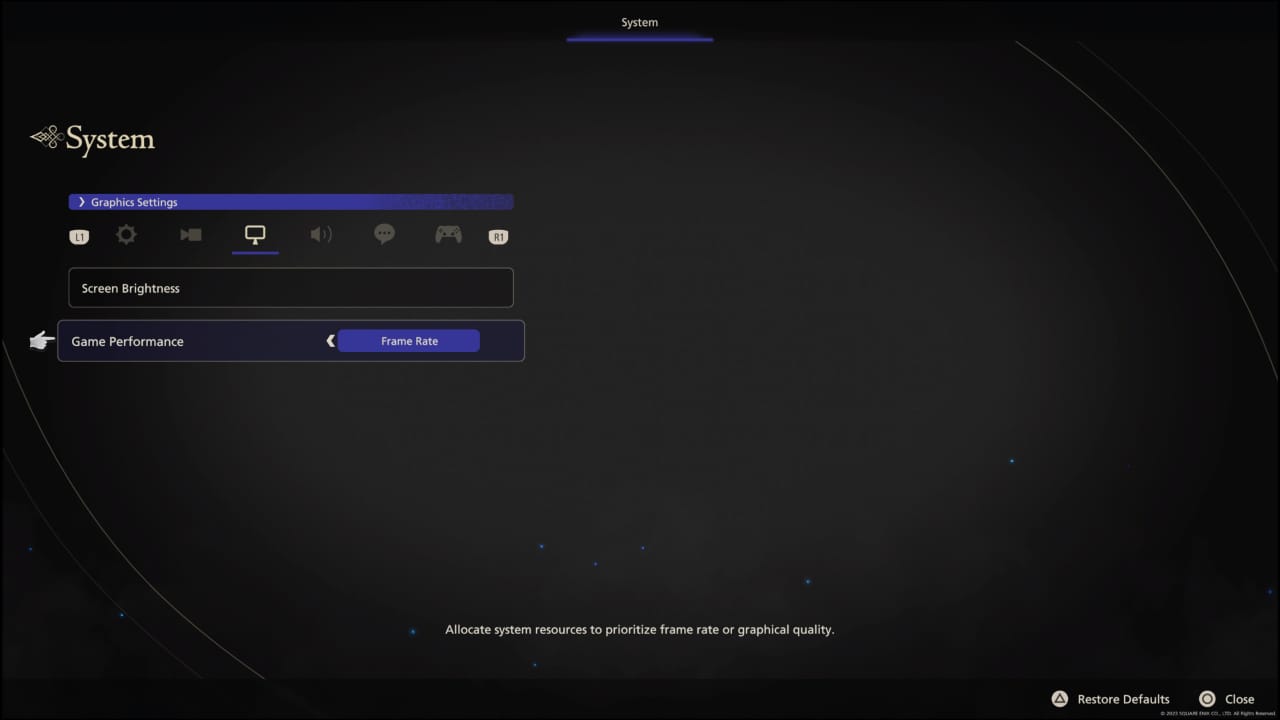 You'll have to be within the game to change the performance mode. Head over to the main menu and open it up.
Once inside the main menu, you must go into the Config menu.
From here, select the graphics settings, and you'll be able to switch Game performance modes from here.
Graphics will be selected as default; switch to Frame Rate Mode for best performance.
System Settings
Another way you can switch your game mode to performance mode is through the PS5 Game/App settings. Here's how:
First, you need to exit Final Fantasy 16 and come to the main dashboard.
From here, head over to the settings tab.
In the settings menu, you must head to the Data and Game/App Settings tab.
Here, you'll see an option called Performance Mode or Resolution Mode. Select Performance Mode here.
Once you're done, get back to the dashboard and launch the game again
This is supposed to override your in-game performance settings and help your game to prioritize performance over graphics.
Your PS5 Might Be Overheating
It doesn't matter where you live in the world; there will be some days that are chilly and some that bully your existence with a scorching sun. In those days, the temperature control can only work so much, and your PS5 is bound to get heated up during game sessions.
Besides the climate conditions, if you're playing a graphically intense game on your PS5, it's bound to get heated up. Heating up can even throttle your performance and even cause your PS5 crashing issue. We've come up with some ways you can avoid overheating your console and avoid the Final Fantasy 16 crashing issue on your PS5.
Clogged-Up Air Vents
Dust and grime can often clog up your PS5's airflow. Restricted airflow means there will be less air circulating through your console, affecting its cooling process. This slow clogging up of your PS5's air vents can lead to severe overheating issues that can damage your hardware.
Use a compressed air can or an electric air blower to blow off the dust from your PS5's air vents. You can also use a cloth to clean off any debris or grime accumulated over the vents.
Place PS5 In A Better Location
The located you place your PS5 serves a crucial role in maintaining PS5's optimal temperature during game sessions. If you place your PS5 in a confined space with little to no airflow, it will get heated up quickly and cause Final Fantasy 16 crashing issues more frequently.
Try to switch up your PS5 location and put it in an open space with better airflow. It could be on your console table with no objects blocking its airflow.
Change Up Your Playing Schedule
If you're playing more frequently during the daytime and it's summer, you'll be facing overheating issues more frequently. Daytime is when the sun is at its hottest, and even with temperature control, your PS5 is still gradually going to overheat.
I suggest you change your schedule if it's possible and play during the evening to nighttime to maintain the most optimal temperature on your PS5.
Clearing Cache And Rebuilding Databases
One of the most effective ways to fix Final Fantasy 16 crashes in your PS5 is to clear the software cache and rebuild databases.
The clear cache helps resolve any issues you might be having with any of the features in PS5 or experiencing crashes or performance drops.
On the other hand, Rebuild Database helps you scan your storage drive on the PS5 and create a new database of all the content stored on it. This is great if you're experiencing crashes or any bugs while launching or playing games on your PS5.
To clear cache and rebuild databases on your PS5, first, you need to access Safe Mode and then run these functions. Here's how to do everything:
Switch off your PS5 by holding the power button for 3 seconds. The power indicator will blind for a few seconds before turning off completely.
After PS5 shuts down, you'll need to unplug the cable and hold down the power button for 5-10 seconds to eliminate any residual electricity in the console.
After that, plug your PS5 back into the outlet and hold down the power button again. You'll hear one beep after you click it and another beep 7 seconds later. Upon hearing the second beep, release the power button, and your PS5 will boot into Safe Mode.
You'll need to plug your controller via a USB cable in order to navigate the Safe mode.
Head down toward the 5th option that says Clear Cache and Rebuild Database.
In this option, first, you have to select the clear cache option, and it'll reboot the console after completion.
Once your PS5 reboots, you'll have to put it into Safe Mode again and go back to the Clear Cache and Rebuild Database menu. This time, select the second option called Rebuild Database.
After a few minutes, reboot your PS5.
This will clear all the cache stored on your PS5 and re-organize content on your storage drive to make it easier for the console to access your data. This is sure to fix the Final Fantasy 16 crashing problem on PS5.
Update Final Fantasy 16
Final Fantasy 16 is still a newly released game that's gonna get a ton of hotfixes and patches over time. It's entirely possible that there was a new patch released during your play session. Playing an outdated version of the game is also one of the major reasons behind crashes.
All you need to do is close down FFXVI for a second and check for updates. If you're not seeing any updates, ensure your internet connection is working on your PS5. Try resetting your console just to be sure. If there are any updates, wait a while and install them before starting the game back up.
I highly recommend that you don't play Final Fantasy 16 without installing the latest title updates, as it won't give you the best gaming experience.
Reinstall The Game
This is a last resort method for those people who're experiencing incessant crashes in FFXVI and can't resolve them. It's possible that your files might have gone corrupted or gone missing, which is why you're facing these crashes. The best way to deal with them is to uninstall your game and reinstall it back.
Now this is where the process of reinstalling is going to differ for you. If you've got a disc version of Final Fantasy 16, it'll be a lot easier for you to install the game back up on your PS5 and download a few patches here and there to get it ready to go. However, if you bought the digital version, you'll need to re-download the entire again from scratch, which is going to take several hours, depending on how good your internet connection speed is.
Did I Help Resolve The Crashing Issue?
We've listed all the working fixes you can try to fix the Final Fantasy 16 crashing issue on your PS5. If nothing above works for you, you can always contact Square Enix's FFXVI support. They'll hopefully have a solution for your problem or at least give you an ETA on when to expect an official patch from the developers. But I'm quite confident that following the fixes above is sure to fix your problem of crashes and let you enjoy the game in its full glory.
FAQs
Is FF16 overheating PS5?
Yes, Final Fantasy 16 is a graphically intense game that puts quite a processing load on the PS5, making its temperature rise up. If there are problems with the air vents or your PS5 is placed in a confined area, it will lead to overheating.
Why is Final Fantasy 16 crashing on PS5?
There is a multitude of reasons ranging from problems in the game files to heavy load on the PS5 causing it to overheat.
What is the best fix for Final Fantasy 16 crashing?
Changing your performance mode from graphics to frame rate is one of the best fixes to solve the Final Fantasy 16 crashing issue on PS5.
Check out our coverage of other Final Fantasy 16 guides on eXputer:
Was this article helpful?
Thanks! Do share your feedback with us. ⚡
How could we improve this post? Please Help us. ✍