Unlike other Battle games, including PUBG and Fortnite, Apex Legends is not just another game on your mobile devices. It is similar to the base game, but the differences here are substantial enough to make even the Legends stumble once they enter the battlefield. Our guide will cover a detailed analysis of How to Play Apex Legends Mobile Game.
If you have played other Battle Royale games, you still need a lot of training before playing the Apex Legends Mobile game. However, if it is the very first time you are stepping into the Battle Ground, there is a lot of training and onboarding that is to be done. While you are at it, must read our guide explaining all the settings and errors in the game.
How To Play Best Apex Legends Mobile
Apex Legends is a new addition to the Battle Royale Games genre, but you can learn to play it just by following the steps mentioned below. The steps below cover everything you need to know before you start playing the game.
Utilize The Tutorial
Starting the game will make you encounter a nice little tutorial that will assist you in picking the right control for you. You will have two options to choose from, classic or Apex control schemes. Pick the one that best suits you. Let us give you a sneak peek at what both these control schemes offer. The game also has various modes that make the gaming experience fun.
The classic control schemes are much like any other Battle Royale Game. Thus, if you have played other games, it will not be something new for you. On the contrary, Apex control schemes are a bit complex, especially for beginners. If you want to enjoy the game to its fullest and keep playing it for a longer time, go for Apex control Schemes.
Get Hold On The Controls
Once you are done making the control scheme choice between classic and Apex control schemes, the next step is to adjust your hands with the controls. You can do it by exploring the advanced setting options, where you will be able to adjust the spacing of the buttons according to the size of your screen and the size of your hands.
Finalize the spacing in a position where your hands are the most comfortable, as you will be playing the game in that position. Another option could be using a controller, as it will prevent you from the hassle of adjusting the spacing. You will still be required to use the touch screen for map and menu selection or a few other tasks.
Explore The Guns
The guns are in the beginning for a reason. Do not jump right into the game after setting the controls; instead, try and test every gun. If you are a Battle Royal genre player, you will still find these guns different, so you should test them. However, for beginners, What can be better than testing how every gun works and what it does at the very beginning of the game?
Pick The Right Legend
There are 10 Legends in the game, each with a different set of capabilities and qualities, and the purpose here is to find the Legend that best suits your style. For this, you have to test almost every Legend and play using it. Playing with each Legend will reveal their capabilities to you, and then you can decide which one matches your style and comfort. It can sometimes take a few matches to click with one Legend.
Play The Arena Modes
Apex Legends is more than just any Battle Royale Game. However, playing the Arena Modes can give you some traditional feels. The Arena modes will allow you to pick your legends and weapons, so it is a good way to test both of these at a time. You can also play a Quick Battle because that will give a feel of actual Battle Ground.
The Quick Battle gives you the experience of the actual Battle with restricted area and limited features. In short, it helps you get familiar with the battle experience. The number of total players is also less than what you will see in an actual battle. Moreover, you will get a chance to explore the maps too while playing Arena Modes.
Team Up And Coordinate
The Apex Legend Mobile game allows a Solo Queue in the battleground but deciding on a strong team is always a better option. Get a team of three with the best legends to knock down the enemy. Your team should not be attack-focused; although it sounds fun, it works in a short-term period. For long-term success, you should have a balanced team of Attack, Defense, and Support.
Coordinating with the team is an essential step, as you need to communicate your steps with your teammates. Communicating the steps will give an overall sense of unity among the teammates and will make the team stronger against the enemy. Thus, the team will be able to move to the final round.
Be Smart About Dropping Spots
Different parts on the map have different concentrations depending on the danger level in that area. You should initially avoid the areas that are marked purple on the map, as these are the areas with multiple teams. Do not jump into these areas unless you and your teammates are confident enough that you can fight with multiple teams.
Not getting in the giant fights early on is a smart step if you see at least four other teams approaching the same region on the map that you were planning to land on, change the region, and move to a safer place.
Notice The New Skill System
Apex Legends Mobile Game also offers a system of new skills where you can unlock a skillset tree for your character. You can unlock new skills to make your character enriched with abilities. Although there is more than one type of feature you can unlock from one character, it is better to choose one and progress with it.
Best Tips & Tricks For
Apex Legends Mobile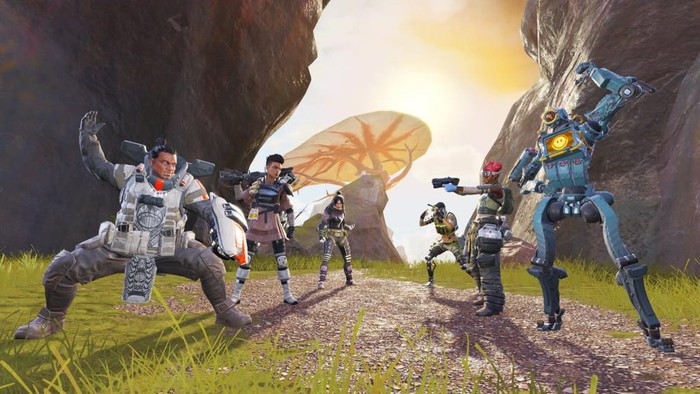 The guide mentioned above has covered all the steps on how to play the game, but you also need to know a few tips and tricks to play the game more smartly. A few tips you need to know about how to play Apex Legends Mobile Game properly are as follows.
Choose The Legends That Matches Your Personality
Do not dismiss a legend if you had a bad round with it, as playing a bad round does not reveal the true capabilities of the Legend. The trick here is to play at least three rounds with one Legend and then see if they suit your style. Playing with a legend that matches your personality will make you play better, as playing in your comfort zone brings the best out in a player.
Stay Close To Your Squad
Staying Close to the squad is another tip that will keep you firm on the battleground. If you encounter the enemy alone, it will make it easy for the enemy to knock you down. However, facing the enemy with two teammates by your side will make it difficult for them.
Keep In Touch With Teammates
You have to make sure that your teammates see what you see. Keep communicating with them through a built-in in-game system and tell them where you are headed. This will maintain a strong communication channel between you and your teammates, which is always beneficial for winning.
Explore And Get Familiar With Arena
The places are very diverse in the game; it ranges from wide-open fields to littered areas, from abandoned buildings to sprawling deserts. You need to explore these areas to find the one with the best loot. In the Battle, there is a ring around the battleground, and it keeps shrinking as the Battle progresses. You need to collect everything before the ring closes on you.
Use Features To Your Advantage
You should use features such as Jump Towers, Hot Zones, and Other features to the best of your advantage. Respawn beacons enable you to bring back the teammates that have been knocked down. Hot Zones give you access to a higher-tier loot on the random positions of the map. Jump towers allow you to fly in the air and land back on the ground.
Do Not Waste Anything
The game gives you a lot of opportunities to grab different items. You should not miss grabbing anything. Do not forget to loot the fallen enemies, as there is a higher chance you can get something useful from them. Similarly, explore the areas you think are not that important. Mostly these areas give you something useful to be used in the Battle.
Conclusion
Apex Legends Mobile Game is a bit different than the usual Battle Royale game, so we have covered everything in this guide to help you play the game. Always feel free to explore more options in the game.
Next: Best Apex Legends Players
Was this article helpful?
Thanks! Do share your feedback with us. ⚡
How could we improve this post? Please Help us. ✍