Raft The Final Chapter is a survival RPG; the game has many realistic mechanics. One of them is that you, as a player, need to gather food for survival. And on the ocean, the best way to do that is by fishing.
So in this guide, we will be talking about one of the most important elements of fishing, bait. Let us explore all there is to know about Raft Bait, its location, its importance, and more. Also, consider reading our Raft Varuna Point guide.
Key Takeaways
A

Bait

is basically used in order to

attract fish

which makes

catching fish

much easier and

less time taking

than if you used no

Bait.

To obtain

Bait

you will need to acquire

Trash Cubes

that you can

trade in for bait

from a

trading post. Trash Cubes

can be found on the

Ocean Floor

or can be made through the

Recycler.

There are

3 Bait

types that can be traded in from the

vendor

which are

Simple Bait, Advanced Bait, and Expert Bait.

The

Bait

you will be able to trade in will depend on your

reputation

with the

vendors

which can be increased by trading in some

raw fish.

For fishing there are two

rods

that you can use which are as follows:

The Wooden Rod

can be crafted by using

6 Wood Plank

and

8 Rope.
The Metal Rod

can be crafted by using

8 Rope, 3 Scrape,

and

1 Bolt.

Fishing

in the

Raft Game

is

throwing

the reel in and standing beside it while waiting for the

fish

to take the

bait

after then you can reel it in for catching it.
What is Bait in Raft The Final Chapter?
A bait is basically used to lure in animals, whether it is fish or land animals. In Raft, Bait is an item that you can use to improve your fishing results. With the help of a Bait, your proficiency in fishing goes a lot higher.
It is not a necessity though as you can always fish without finding bait. But in return your proficiency declines, not to mention you end up taking more time to get fish. While you're at it, consider reading our Raft New Characters and Crane Key guides.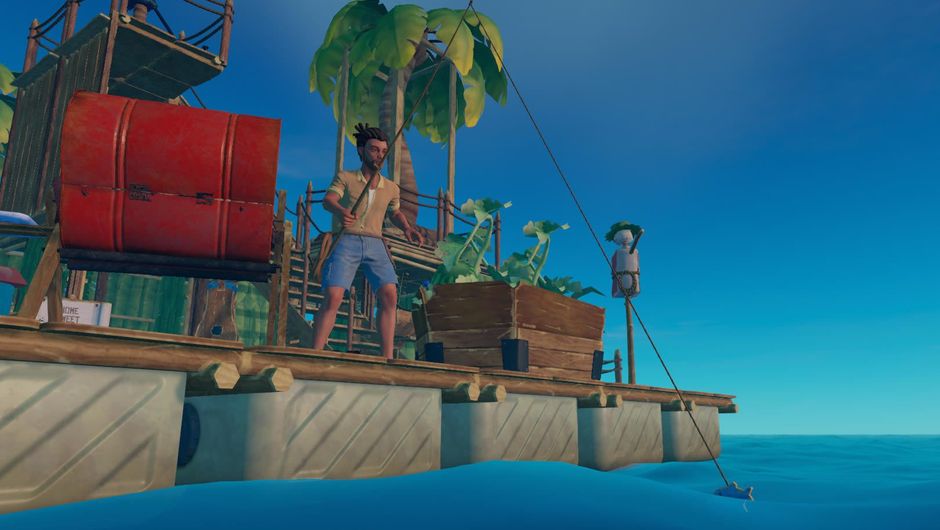 How To Get Bait in Raft?
The best way to obtain Bait in Raft is to simply trade it from a vendor/trading post. You can trade Bait or any other item for that matter, from the vendors in the exchange for Trash Cubes.
The Trash Cubes in Raft The Final Chapter can be found on the ocean floor or made in the Recycler. Once you get your hands on a Recycler Blueprint, you can build it using items. When you are in the possession of a Recycler, you can gather many useless items to make Trash Cubes and trade them for Bait.
All Bait Tiers & How To Unlock Them
There are 3 Tiers of Baits that you can trade from vendors throughout the game. They are listed below:
Simple Bait
Advanced Bait
Expert Bait
You can unlock a higher tier of Bait to increase its efficiency and help you fish faster. To do so you will have to increase your reputation with the vendors in the game. Increasing your reputation is not that big of a task in the game, all you need to do is trade in raw fish at the trading posts.
Tier 1 (Simple) Bait
The first tier of bait is already unlocked in the game. So all you need to do is to find or make a Trash Cube. It can be found in the debris floating in the ocean or made with the Recycler. Once you have purchased the Bait you can use it to fish with any kind of fishing rod.
Tier 2 (Advanced) Bait
After you finally obtain the tier 1 bait and catch fish, you can sell it to the vendors. This helps to unlock the second tier of Bait. When you unlock the second tier of bait the efficiency of fishing goes up.
The best thing about it is that the price of the bait does not change even after you unlock higher Tiers of Bait.
Tier 3 (Expert) Bait
To unlock the last Tier of bait in the game of Raft, you just need to follow the same steps you take to unlock the 2nd tier. After selling a bunch of Fish to the vendors, you can unlock Tier 3 Bait. This will help you find the best fish throughout the game when you are fishing.
How To Fish in Raft The Final Chapter?
Fishing in the game of Raft is a similar experience to fishing in Minecraft. You need to find water and throw the reel in while standing beside it. When a fish takes the bait and grabs onto the hook of the fishing rod, all you need to do is to reel it in.
There are two types of fishing rods that you can find in the game. They are listed below:
You can easily obtain the Wooden Rod early in the game. You can catch normal fish with it and start unlocking higher-tier Bait to catch more and better fish. To craft a wooden rod you will need:
After progressing through the game there will come a certain time when you will be able to craft a Metal Rod. These metal fishing rods are more durable than wooden rods. Unlike the wooden rods, you can catch bigger and heavier fish with the metal fishing rod. To craft a Metal Fishing rod you will need:
Final Thoughts
Survival is one of the biggest adventures of open-world RPGs. Most RPGs require your player to eat food to raise their hit points or HP. You may also need to eat food in this genre of games to improve your overall stats.
Raft is no different as it has all the survival elements of the RPG genre. And having bait at hand is one of the best ways to get the abundant food in the game. Once you raise the tier of your bait, fishing not only becomes easier but also enjoyable. So Upgrade the tier of your bait whenever you can.
Raft is a multiplayer RPG that brings something unique to the table. While this game has an open-world survival setting, you are found drifting in the sea on a raft. Your player is left to survive in a vast ocean by gathering Trash and using it to upgrade your raft.
Next: Raft Juicer Recipes
Was this article helpful?
Thanks! Do share your feedback with us. ⚡
How could we improve this post? Please Help us. ✍