By connecting our past experience with the game and merging new gathered knowledge, we've concocted an ultimate guide to all your Fortnite problems. This guide will help you find the best Fortnite Settings on PC, Xbox, and PS4/PS5 and the controller settings even. It'll also cover the Fortnite graphics settings and how to fix FPS drops in it. When I said the Ultimate Guide, I meant it. So let's begin!
Fortnite is one of the most played battle royale games to exist in recent memory. It's highly competitive, and beginners may have a hard time scoring their first win. Even if you're coming from another battle royale game like PUBG, and starting Fortnite thinking you'll dominate on day 1, you're quite mistaken. Why? It's because Fortnite isn't simply about aiming and shooting as much it's about out-building your opponent at breakneck speeds. Learning the game's building mechanics can take getting used to, but it can become frustrating if you have choppy performance. If you are into other Online Games, must check out Our Overwatch Settings as well as Valorant Settings.
With every new update, the quality of the textures is getting improved and new structures are being added. So, your frames are bound to dip in certain fights. Even your high refresh rate monitor will become useless if your PC isn't dishing out enough frames.
Now to get the best FPS in Fortnite to help you win fights, I'll list some great tweaks and fixes for you. These best Fortnite settings will give you high FPS and a noticeable visual upgrade. So, whether you want to boost fps in Fortnite, make graphics better in Fortnite, or fix fps drops in Fortnite, this guide has you covered from all angles.
This Fortnite Settings guide will be broken down into 4 parts:
Windows Tweaks for High FPS In Fortnite
Fix Fortnite FPS Drops
Software Settings for Best Fortnite Performance
Fortnite General Settings
Fortnite System Requirements
Fortnite began as a lightweight game that most of the systems back in 2017 could easily run. However, with every new update, crossovers, and season, they kept updating the game's visuals. Fornite became more flashy with fancy graphics and better visual effects to keep it up with the modern era. But, did your system's hardware keep up too? Let's find out.
Epic Games has 3 system requirements recommended for different quality presets of the game, here they are:
Minimum System Requirements (For Low)
| | |
| --- | --- |
| Processor | Core i3-3225 3.3GHz |
| Graphics Card | Intel HD 4000 or Iris Pro 5200 |
| Ram | 4 GB or Higher |
| Operating System | Windows 7/8/10 64 Bit or Mac Os Mojave 10.14.6 |
| Storage Type | HDD |
Recommended System Requirements (For Medium to High)
| | |
| --- | --- |
| Processor | Core i5-7300U 3.5GHz or AMD Ryzen 3 3300U |
| Graphics Card | Nvidia GTX 960 or AMD R9 280 (2GB Vram) |
| Ram | 8GB or Higher |
| Operating System | Windows 10 64 Bit |
| Storage Type | HDD |
Epic Quality System Requirements (For All Settings Max)
| | |
| --- | --- |
| Processor | Core i7-8700 or AMD Ryzen 7 3700x |
| Graphics Card | Nvidia GTX 1080 or AMD Radeon RX 5700 XT |
| Ram | 16 GB or Higher |
| Operating System | Windows 10 64-Bit |
| Storage Type | NVMe Solid State Drive |
After going through these system requirements you can easily point out whether if it's your hardware causing the low fps in Fortnite or something else.
If your system fulfills at least recommended system requirements, then you're all set. Follow the upcoming tweaks for Fortnite settings to get better performance.
Windows 10 Optimization for High FPS in Fortnite
Here are some great tweaks you can apply to your Windows system in order to boost the performance of Fortnite.
Update Windows to Latest Version
How To Fix Fortnite FPS Drops
Random FPS drops in games have been a problem for decades, and Fortnite is also not safe from this problem. Imagine having a perfect match while on a killing streak, and suddenly Fortnite's FPS drops from 150-200 to a measly 10-20. That 5-10 seconds of frame dipping was enough for your opponent to get the upper hand and end your perfect run in a blink of an eye. Frustration isn't even close to the feelings you have after this happens. Trust me, I've been there.
To if you're facing Fortnite FPS drops frequently, there's got a be a way to fix it right? Well, yes there just might be, and I've bundled the fixes for Fornite FPS drop together. So let's power through all these fixes and get you back on the battlefield ASAP.
Play On Low Settings
You don't always have to play Fortnite at all graphics settings cranked up. It's no shame turning down all the settings too low if it's giving you a smoother gameplay experience. As a matter of fact…
Did you know?
The
pro-Fortnite players
choose to play on "Low Present" graphics mode despite having monster PCs. They prefer increased FPS over fancy visual effects which gives them an edge in competitive play.
So all you have to do is select the low-quality preset in the graphics menu and apply the settings. Restart the game and play a match or two.
If doing this resolved FPS drops then great. You can either play like this or experiment a bit. Try turning some settings to high and see if you encounter any problems. If it goes great then bump a few more settings up until you find a sweet spot between decent performance and good visual quality.
Update Your Graphics Card's Driver
Updating your graphics card driver is crucial to solving Fotnite's FPS drops. New drivers bring a host of tweaks and fixes for games. So let's begin with Nvidia.
Update Nvidia Drivers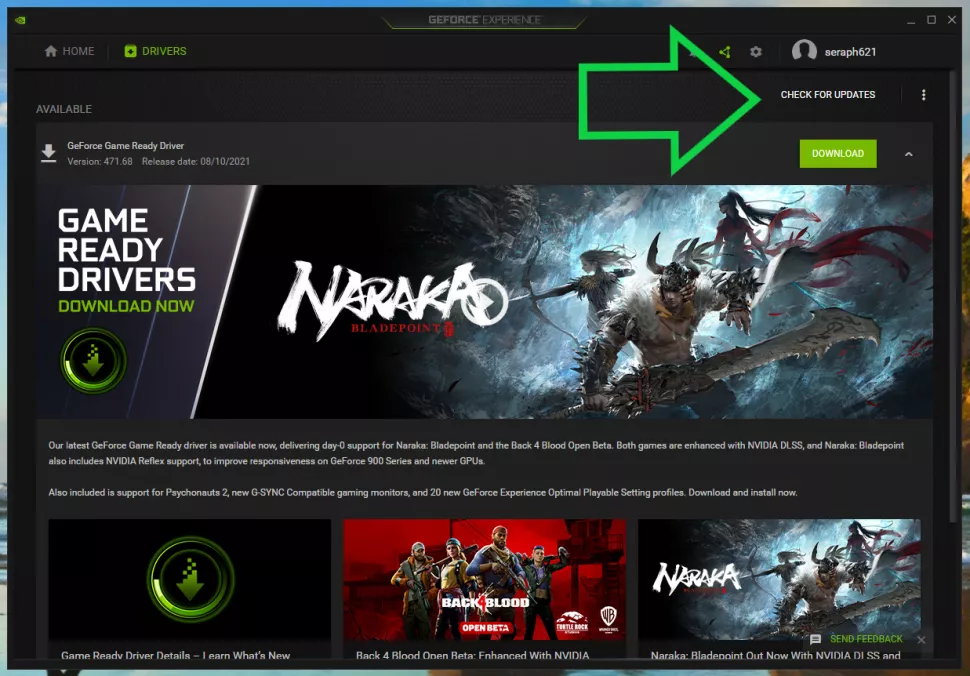 To update Nvidia drivers, follow these steps:
Open the Geforce Experience application and go to the driver's Tab.
In this section, you'll either see a message telling you to update your drivers as there is a new game-ready driver available. Or, you're already on the latest drivers which means you can skip these steps and move on to the next fix.
However, if there are updates available, click on the download button.
Choose "Express Installation" after the download finishes to install the new drivers.
Restart your system to finalize the driver installation.
Update AMD Drivers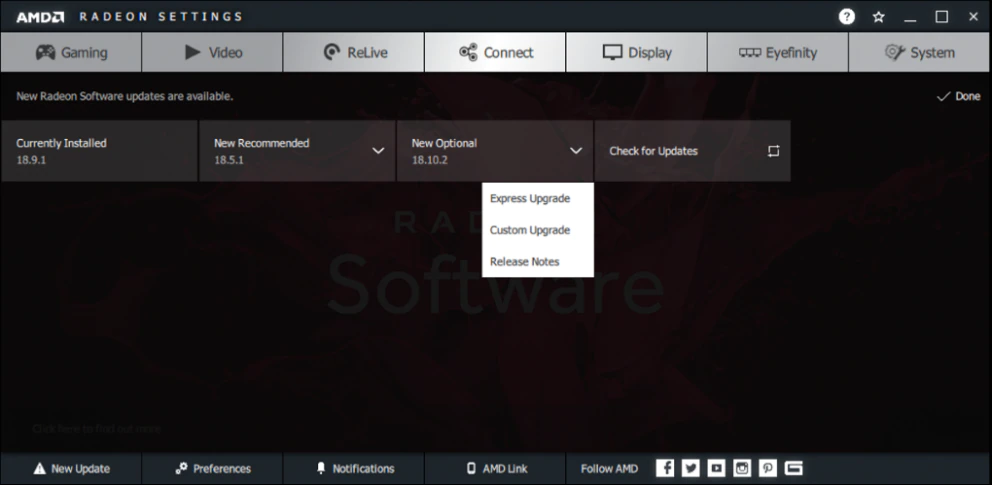 AMD drivers are also easy to update. Just follow the steps below:
Go to the "AMD Radeon" application and access the settings panel.
From here, click on the "Systems" tab on the top-right panel and you'll see the updates section on the bottom left.
I will tell you to update to newer drivers if updates are available. Choose "Express Installation" under "New Recommended" if that's the case. Otherwise, you're good to go.
Overheating Can Cause Fortnite FPS Drops
We've explored some software solutions, let's dabble into the hardware side of things. Overheating is an issue that is known to throttle your CPU and GPU which results in Fortnite FPS drops.
Now, overheating can be caused by several things. Some include the PC case's constricted airflow, dirty fans getting clogged, the thermal compound drying up, overclock profile going bad, etc.
First things first, is your PC overheating? Use applications like HWinfo or MSI Afterburner to view your temps. Depending on your hardware configuration, temperatures over 80 might be a sign of overheating. When it comes to laptops, anything above 95-98 is a warning sign.
Now to solve this, try the following steps:
Clean your PC or Laptop Fans
Your fans need to be in perfect shape to keep things nice and cool within your system. Once the air intake gets constricted, the overheating can later cause damage to your other components too. Before it gets to that, clean up the gunk from your fans.
To blow out the dust, you could use either a can of "compressed gas" or a high-powered blower. In the case of a PC, blow the air from inside out so all the dust gets blown out from your system not inside it. In the case of a laptop, blow the air inside the intake fans so it can clean its way out through the other fans. Repeat the process until no dust comes out from your fans.
It's recommended to be cautious while performing cleanup on your PC. Best remove any power source before attempting to do it to avoid damage. Clear air vents lead to proper cooling. Proper cooling means CPU and GPU operating at maximum frequencies and no chances of Fornite FPS drops.
Re-paste the Thermal Compound
Before you attempt to repaste the thermal compound, please know that doing so can potentially voice the warranty of your device. I recommend contacting the manufacturer first and asking them to do it for you.
In case you don't care about the warranty and just want the overheating to go away, follow through.
Unplug all power sources to your PC and accessories.
Disassemble your PC and look for the CPU socket.
Un-screw the cooler on top of your CPU and gently remove it.
Now clean the old thermal compound from both the cooler and the CPU plate. I recommend using Isopropyl alcohol swabs but be super careful in not touching in PC with it. Otherwise, you can shortcircuit other components.
Gently rub the old compound off from the CPU heat spreader and the cooler.
Apply the newer thermal compound on the CPU heat spreader in whatever pattern you prefer (I personally prefer the "X" pattern for maximum coverage).
Now put back the cooler on top of the CPU and try not to do any to-and-fro motion too much or the thermal compound might get air pockets formed in it.
Screw the cooler back on and Voila! your new thermal paste is ready to go.
Solving the overheating problem will either eliminate Fortnite FPS drops completely or at least bring you super close to solving it.
Undervolt Your CPU
The third and last solution to your overheating problem and Fortnite FPS drops is Undervolting. Your CPU is already getting excess power and reducing it helps reduce significant heat.
By using tools like Intel XTU or Throttlestop, you can start to gradually reduce your CPU's core voltage in increments of -50mv. After every increment, I recommend running a built-in benchmark to see if the system is performing without any hiccups.
Rinse and repeat until your system has a bluescreen or shows problems in the benchmark. This means that the value prior to the one that caused the problem was the best offset voltage for your CPU. Set it up and save it. Now enjoy reduced temperatures with the power of overclocking.
Hopefully, these solutions will help reduce your PC temperatures and finally put an end to Fortnite FPS Drops.
First and foremost, let's deal with sensitivity settings. Sensitivity is mostly set on personal preference and vary according to your controller. However, the following sensitivity settings are most used by players on average.
Set the Build Mode Sensitivity Multiplier to 1.6x
Put Edit Mode Sensitivity Multiplier to 16x
Turn the "Advanced Options" on
Set Look Horizontal Speed to 50%
The Look Vertical Speeds can be 60%
Turning Verticle Boost to 0%
Put the Turning Boost Ramp Time to 0 seconds
Turn on the Instant Boost When Building
Both ADS Look Horizontal and Vertical Speed can be set to 17%
Put ADS Turning Horizontal and Vertical Boost to 0%
ADS Turning Boost Ramp Time can be set to 0 seconds
Turn the Look Dampening Time to 0.20 seconds
Set Look Input Curve to Exponential
Aim Assist Strenght can be set anywhere from 80 to 100%.
Put the Move and Look Stick Deadzone to 6%
Enable the Foot Controller by turning it on
Set the Foot Controller Deadzone and Max Throttle to 1%
And there you have it! As far as sensitivities lie, these settings should have you covered in detail. Now let's jump onto some quality-of-life settings in Fortnite.
Fortnite Quality of Life Controller Settings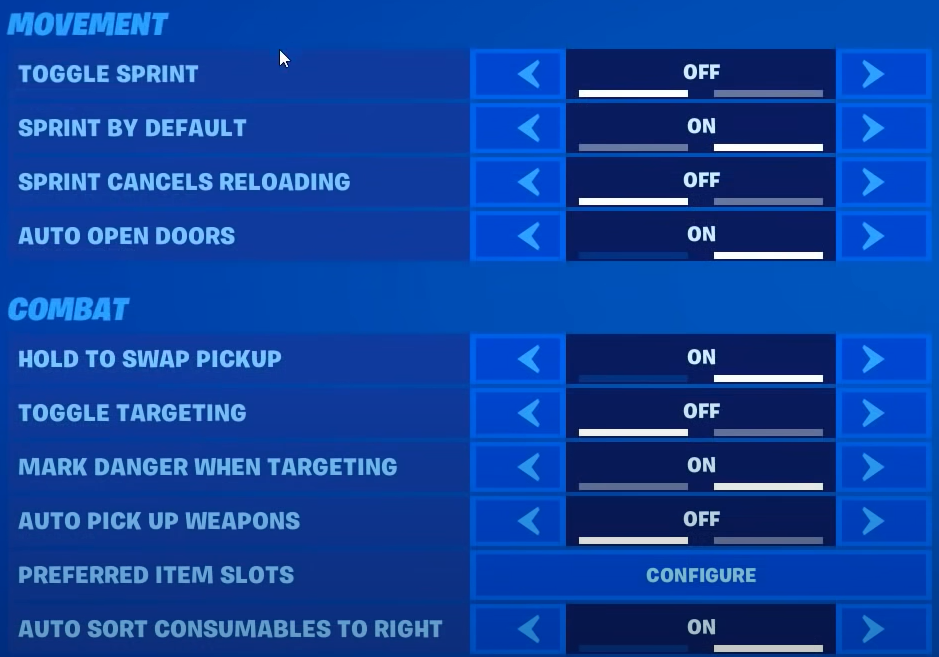 These Fortnite settings aren't really exclusive to controllers, but they can put you on a huge advantage if you're playing on a controller.
Movement
Toggle Sprint is a no-brainer setting that you need to turn on if you're playing on a controller. For obvious reasons, it's not optimal to keep holding the left stick button while aiming and shooting.
Next up is Sprint by Default, which you can turn on. In Fortnite, you'll be always sprinting anyway to cover large distances on the map. Turning it on will help you avoid wearing out your L3 or LS buttons on Playstation and Xbox controllers respectively.
Sprint Cancels Reload should be turned off. This setting disabled your ability to reload on the go which is really bad in a fight scene.
Auto-Open Doors is a preferential choice. I like it on so I can quickly move in and out of buildings while taking fire without needing to press a button.
Combat
Hold to Swap Pickup is an important setting when it comes to looting. You don't want to accidentally swap your favorite gun while quickly looting hence holding to swap avoids it from happening.
Put Toggle Targeting off because it provides you more control over aiming.
Set Mark Danger When Targeting to on to make the pinging seamless.
Auto Pickup Weapons should be turned off as you don't want to pick up anything by accident.
Auto Sort Consumables to Right is a nice setting that I recommend you turn on. It neatly arranges your consumables in one place for quick use.
Building

These options are geared towards building mechanics in the game. Turning these options on or off can give you an advantage while playing on a controller.
Reset Building Choice is preferential and dependant on your playstyle. If you want the building structure's choice to reset every time you start a new build, turn it on otherwise off.
Turn the Disable Pre-Edit Option on as it can help you quickly place structures then edit later. This is extremely helpful when you need an instant cover while taking fire.
Turbo Building is a player favorite option and should be turned on to create complex builds without repetitive button pressing.
Confirm Edit on Release should be turned off to avoid confirming a pre-mature edit on builds.
Replays

If you want better performance in Fortnite, turning all the settings in the "Replays" section off will be great. If you want to record replays then turn these settings on as you wish. But if performance is your priority then disabling them will do the trick.
Was this article helpful?
Thanks! Do share your feedback with us. ⚡
How could we improve this post? Please Help us. ✍