The Beginner's Guide for Hogwarts Legacy will entail every little intricate detail and information about the game that you need for your beginning hours, from the combat to the exploration and RPG aspects. There is a wide variety of elements that will unlock as you gradually progress and ease yourself within the game, which will end up being your first steps toward becoming a sorcery master at the infamous School of Witchcraft and Wizardry.
Key Takeaways
Hogwarts Legacy is a massive single-player RPG that can be overwhelming for new players, but with our Beginner's guide; nothing should prove too hard!
At the start of the game, players will be introduced to the core mechanics.
The basics of combat in Hogwarts Legacy will be important to understand as a beginner player.
Exploration is a key mechanic, one that the game will encourage the most.
Growing plants and other herbs are based on real-time progression.
Talents revolve around character traits and abilities.
Fast Travel through the map is done through the Floo Flame Network.
Knowing these key tricks can surely get you through Hogwarts Legacy in no time!
Here's a quick recap of all the major Tips and Tricks in Hogwarts Legacy:
| Tips and Tricks | Description |
| --- | --- |
| Beginning the Game | Start your journey in Diagon Alley, get your first wand, and experience early story sections. |
| Choosing Your House | Participate in the sorting ceremony to select your Hogwarts house. |
| Combat | Learn the combat mechanics, including spell casting and dodging. |
| Exploration | Explore Hogwarts thoroughly to uncover hidden secrets, items, and activities. |
| Herbology | Understand the real-time growth of plants and herbs, which are essential for crafting and combat. |
| The Restricted Areas | Explore restricted areas within Hogwarts at night, uncover high-level rewards, secrets, and enemies. |
| The Dark Arts | Master offensive spells and curses in specific classes. |
| NPC Vendors & Shops | Visit various shops and vendors for items, crafting materials, and currency used in the game. |
| Upgrading The Talents | Unlock talents across five categories to enhance your character's abilities. |
| Fast Travel | Utilize the Floo Flame Network to fast travel across the vast game world. |
In The Beginning
Of course, like any RPG, it starts off the player from rock bottom under most circumstances, and just like the true Hogwarts lore, you will be starting your adventures off in Diagon Alley. It is the infamous cobblestoned alleyway where most sorcerers venture off to in order to acquire their basic necessities for the journey ahead, most importantly being their wands which will be the most vital part of any Wizard or Witch's arsenal.
While you may not be fully exploring the alleyway, you will surely visit here in parts of the storytelling as Gringott's Bank is a key location where a few story sections will end up taking place. It is reassuring to know that despite already being faithful to the universe and lore, the game will obviously start you off at the roots before you can even make your way toward the Academy.
Choosing Your House
Upon your induction into Hogwarts School of Witchcraft and Wizardry, you will soon be introduced to the iconic sorting ceremony where the Sorting Hat will judge you as it will glance into your mind and choose the house which befits you the best. There are four different houses that you can be administered to; Gryffindor, Hufflepuff, Ravenclaw, and Slytherin.
Each of the houses represents a trait and meaning, such as Gryffindor representing Bravery and Ravenclaw being the hallmark of intelligence and wisdom. Every house will have its own common rooms, which are essentially your dormitories in which you explore and find secrets and talk to fellow students.
Thankfully, in Hogwarts Legacy, players have the utmost freedom to choose whichever house they want to belong to right from the ceremony. It will largely impact your playthrough as you will attend classes with the respective house's classmates, and there will also come a time when you will compete in the House Cup, an annual competition between all four houses to see which one excels in brilliance and fortitude.
Unfortunately, It won't be a significant element of the gameplay, but with the storytelling, you should expect a few nods on it. Aside from that, you should definitely look forward to choosing your rightful place among all four houses in the game.
The Basics Of Combat
While Hogwarts Legacy does an exceptional job of providing an in-depth guide to the players about the combat, there are still a few notable things to remember as you dive into it for the first time as a completely new player. Casting spells and other sorceries will obviously be your main tools of destruction in the game, whether it's offensive-type spells or even the ones which can provide defense or support to your character.
You can equip up to 16 different spells on the front face buttons, each slot mapped across the four different trigger and bumper buttons on the controller. As you slowly progress throughout the game and unlock more spells to equip, it will raise the combat's creativity to newer heights, allowing you to chain multiple spells at a given time in quick succession if done correctly.
Crowd controlling can become a hassle, especially considering the fact that your only defense options will be a handful of spells in that category or using the dedicated dodge roll functionality. Fortunately, the game has a warning indicator similar to the Batman Arkham games, where a golden halo will flash above your character's head for a brief moment, giving you the signal of when to time your evasions properly.
Exploration & Secrets
At this point, any Harry Potter fan will be well-acquainted with the rich world-building aspect of the series as it amazed fans at every interval with its jaw-dropping additions to the narrative and lore. The common rooms of each house are filled to the brim with secrets lurking in every corner, some more strikingly intriguing than the others while some dark or melancholic.
We encourage you to explore every part of Hogwarts as there is just a sheer number of collectibles or secrets just lying dead in front of your eyes. These secrets include hidden markings, items, interactable objects, and tons of other nifty activities. A lot of these may require you to use your 'Revelio' spell, which (as the name implies) can reveal certain things around the environment and world.
Furthermore, what may tickle everyone's fancy here is that even outside of the legendary Wizarding School, there is quite a handful of activities that or out-of-the-way secrets that you can uncover, which end leading you to quests as well as a plentiful of rewards to help you on your journey.
Most of these rewards may include unearthing treasure chests, which can reward you with a bountiful of Coins which will be one of your main currencies to use in the game. Aside from that, you may just be enticed to complete these secrets as they will end up letting you meet brand-new NPC characters and more. So hence why exploration is just one of the important elements to keep in mind in our Beginner's guide of Hogwarts Legacy.
Managing Time-Based Herbology
Botany plays an integral role in Hogwarts Legacy, as by learning the ins and outs of plants and other herbs in your Herbology class; you will grow in knowledge. This will help you craft and manage your own set of plants in the Room of Requirements, which will undoubtedly become a vital aspect of the game moving forward.
However, it is worth pointing out that managing and growing these plants is based on real-time. Meaning that you will have to wait from upwards of 20 or so minutes to even a few hours for specific items to grow and complete properly. There is a wide range of plants and herbs that you can grow here, from ones that can help you craft various potions to even attack-type ones which can heavily aid you during combat instances.
So for beginner players, it is highly suggested that you understand the mechanics we mentioned above and make sure to manage your plants timely. The worst-case scenario will be that you forget you had them growing while you were out doing other activities in the game. As long as you can remember to harvest the ones done, then you will have more than at hand to help you craft various essentials and other items with ease.
The Restricted Areas In Hogwarts
The Hogwarts school building itself is no stranger to its off-limit areas to students, as Prefects and other teachers will warn you from venturing into them. While you will obviously be attending your classes in the game's daytime and partaking in other gameplay activities, these hidden or restricted areas will progressively be available to explore as long as you go after them, which will contain high-level rewards as well as enemies.
At night while the curfew is active, players will be able to sneak past patrolling prefects and teachers in order to explore these locked areas, such as the restricted section of the Library, which has its own secrets within it.
Furthermore, by eavesdropping on several NPCs and students, as well as talking to magical beings such as the paintings, you will be able to learn more about hidden or tucked-away areas of the game. Who knows? You might even just find yourself entering the treacherous grounds of the Forbidden Forest where dark magical creatures reside, even amongst a few good ones too.
Learning The Dark Arts
The Dark Arts are an array of different spells which are mainly offensive-based, but while there are a sheer number of them in the universe of Hogwarts, these vary from sorcerer to sorcerer as while some can mainly use them as defensive countermeasures, others may seek to inflict nothing more than harm using them.
A few examples of these spells that you may learn during your time at Hogwarts include Stupefy, magic that can conjure a red-colored ray that can stun a target, as well as others such as Rictusempra, sorcery which can be used as a diversion tactic in order to make the targeted user laugh at any given moment.
You will, of course, have the pleasure of using these different spells in both the duels during classes as well as while fighting enemies in the game.
NPC Vendors & Shops
Hogwarts Legacy is a deeply rewarding RPG, but with that and our beginner's guide, do not forget that it has tons of NPC vendors and shops that you check out from time to time whilst doing other things. There are a variety of shops scattered throughout the map inside and around the main Academy grounds, such as Pippin's Potions and other shops in the nearby town of Hogsmeade.
These vendors can provide players with an assortment of items that can greatly help in crafting, botany as well as even making yourself stronger too. The stock can refresh from time to time, so be sure to check back regularly in case there is an item that you want to pick up. Lastly, these shops can require you to have a couple of different currencies, ranging from Knuts and Sickles to the golden coins called the Galleons.
Upgrading The Talents
Aside from the usual magic artistry and spells that you will be focusing on, your playable character's Talents are also something imperative that should be taken note of when playing Hogwarts Legacy for the first time. There are over 50 different types of Talents split across five categories, such as an entire talent tree dedicated to Stealth which can potentially help you sneak around the local authorities patrolling the school grounds.
Talents essentially function as skill points for your character, and upon leveling up every time, you will gain a talent point to invest in any talents among the five categories we mentioned previously. Experience can be gained in quite a few ways, from randomly discovering interactable activities in the world to the obvious ones, such as simply completing quests or other odd jobs.
Fast Travel Mechanics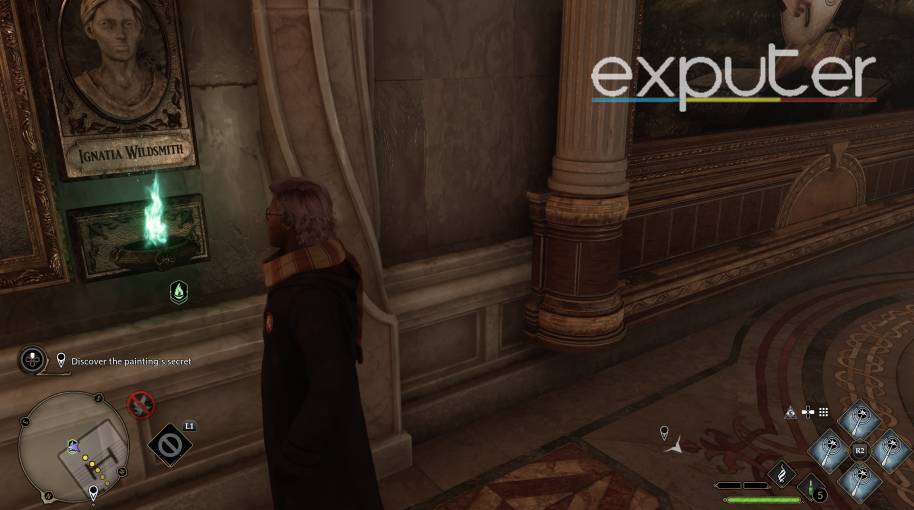 One of the last things in our Beginner's Guide for the game will surely be obvious to a few players if they're up-to-date with the news of the game, and that is the possibility of Fast travel. Thankfully the developers had already confirmed the existence of that with the Floo Flame Network in the game. These green-colored flame structures around the world will basically allow you to travel fast across the world at your leisure in any way you see fit.
The map of the game is absolutely massive, with a few bits of underground locations in the mix, too, that you will undoubtedly be revisiting a few times in the main story quests. Unlocking each of the Floo flames will allow you to access the respective area with ease so we highly recommend interacting with them at any chance you can get, which thankfully are present even in the common rooms of every house.
The Wrap-Up
In case you're looking for Games Like Hogwarts Legacy to play before the game releases, there was even a Subreddit Post where users discussed and entailed some of their favorite titles within the same genre, which will undoubtedly please someone craving for a similar experience, before or after playing this game.
Hogwarts Legacy is surely shaping up to be one of the most profound releases in modern gaming as it takes various elements from other Open World games but adds Harry Potter twists to it, which, of course, fans will adore and appreciate. The game's story itself takes place in 1890, almost a hundred years before the events of the Harry Potter series, making this game feature a unique narrative to the overall universe.
However, for now, this wraps up our guide to the Beginner's guide of the game. If you have any other questions or queries related to the guide, then feel free to let us know about it in the comments section below! We hope you enjoy taking your time with the game and learning your first steps to becoming a master magician in Hogwarts Legacy. As always, eXputer wishes you luck!
Next:
Was this article helpful?
Thanks! Do share your feedback with us. ⚡
How could we improve this post? Please Help us. ✍