My Marvel's Spider-Man 2 Best Tips and Tricks guide is aimed to provide the optimal experience for new players, as there are a couple of things that the game does not tell you about. It even contains a few of my own tips after spending roughly 12+ hours with Spider-Man 2, such as the viability of the new Parrying mechanic and a few traversal tricks, such as the Web Slingshot feature.
Key Takeaways
The Spider-Man 2 best tips and tricks allow you to get an efficient start in-game with hidden details and the best upgrades and skills.
These tips and tricks include missable details, such as gliding over water, and my personal tips, such as the best early skills.
It also details hidden tricks regarding Film and Comic effects for suits and my personal tips on which suit techs to get.
In my opinion, the best tip to know from the get-go is to increase your traversal capabilities using Web Slingshot and Wind Tunnels.
Spider-Man 2 Tips And Tricks
Here is an overview of all the tips and tricks in Spider-Man 2, with my own experience:
| SR. NO | TIPS AND TRICKS | WHAT IT OFFERS |
| --- | --- | --- |
| 12 | Hunter Blinds and Side Missions | Best source for XP to level up aside from main missions. |
| 11 | Tech Crates | Rewards extra Tech and Rare Tech Parts. |
| 10 | Glide Over Water | Use the Web Wings to traverse over water if needed. |
| 9 | Wind Tunnels | Considerably travel speed when using Web Wings. |
| 8 | Parrying | Much more efficient for melee attacks than perfect dodging if mastered. |
| 7 | Web Slingshot | Greatly boosts traversal speed by launching at high speed. |
| 6 | Best Early Skills | Entails best beginner skills to get such as Air Swap and Loop De Loop. |
| 5 | Best Suit Tech Upgrades | Suit Techs such as Air Marshal and Focused Strike to help you in combat. |
| 4 | Shortcut Bindings | Assign different actions for ease-of-access during gameplay. |
| 3 | Accessibility Settings | Helpful features such as Auto-Heal without pressing button and dodge/parry timing increase. |
| 2 | Comic Book and Film Effects | Adds special effects to suits and combat |
| 1 | Web Grabber Gadget | The best gadgets in the game which pulls enemies and objects. |
12. Hunter Blinds And Side Missions
If you're someone like me and want to learn the best way to level up quickly as soon as you get past the initial hours of Spider-Man 2, then I strongly recommend doing the Hunter Blind activities and the Side Missions, the latter of which can be mainly found via the FNSM App by swiping left on your Dualsense Touchpad.
Both Peter and Miles will need to complete three Hunter Blinds to track down the main base; each of these Blinds rewards you with a hefty sum of 1000xp and Rare Tech Parts if you decide to do them from the early moments along with the Main Story.
Lastly, Side Missions also reward you with 800xp along with City Tokens in case you need them.
11. Tech Crates
Tech Crates is something that most players will accidentally overlook even if they get introduced to their feature. These crates are scattered around the city and reward you with Rare Tech Parts to normal Tech Parts depending on the Tech Crate's rarity.
You can also get the "All Seeing" Suit Tech upgrade to help you spot these crates much more easily when near their location.
They're mostly found on rooftops of various buildings and even in the Hunter Blind bases. In my experience, I strongly recommend not missing whenever they show up in your vicinity; one trick that I found useful is that your Dualsense will slightly vibrate when near one of them.
10. Glide Over Water
Here's something you might not know: you can use your brand-new Web Wings in Spider-Man 2 to glide over the water, which is extremely helpful when you're trying to get across Manhattan to either Queens or Brooklyn and vice versa. In my experience, I combined the water glide with jumping and web-swinging amidst it to boost my speed, so thankfully, you won't have to tediously suffer by swimming.
9. Use Wind Tunnels
The Wind Tunnels is an excellent new addition to Spider-Man 2, which complements the Web Wings greatly as going through its rings immensely boosts your gliding speed. They're found across NYC, visually indicated by long lines of Wind in the air. I found that they're very useful on the River part of the map when you're trying to get across the boroughs as quickly as possible without fast travel.
8. Parrying
Parrying is one of the newest combat additions and can be used by pressing L1 when the Spider-Sense ring glows red on a melee attack. I strongly urge that you use Parry because, as of now, I'm playing Spider-Man 2 on Spectacular Difficulty, where enemies are brutal and aggressive, and parrying is much more viable here due to the damage and skills associated with it, but of course, I will say it is definitely a risk-reward functionality.
7. Web Slingshot
The Web Slingshot is one of my favorite traversal aspects introduced in Spider-Man 2, where, as shown in the image above, both Spider-Men can launch themselves at high speeds into the air, allowing you to travel from one point to another as fast as possible.
There are multiple Slingshot Map Markers throughout the rooftops of NYC, but I recommend getting the Slingshot Launch skill from the Shared Tree so that you can use it from anywhere you wish.
6. Best Early Skills
If you want an extensive analysis, then I suggest reading my guide on Spider-Man 2's Best Skills. But aside from that, I will still mention a few notable skills that you should grab as soon as possible early on because I found them extremely viable in my experience.
Spider Rush Tornado: Skill that enhances the AOE Range and capabilities of Peter's Spider Rush ability.
Air Swap: A Shared Tree skill that increases your effectiveness in Mid-Air combat to allow you to dodge behind the enemy during combos.
Venom Dash Double Dash: Allows you to follow up with another Venom Dash attack on an enemy when using Miles.
Loop De Loop: When Diving during Web-Swinging, you can Hold R2 to do a web-swing, which slightly boosts your travel speed.
5. Best Suit Tech Upgrades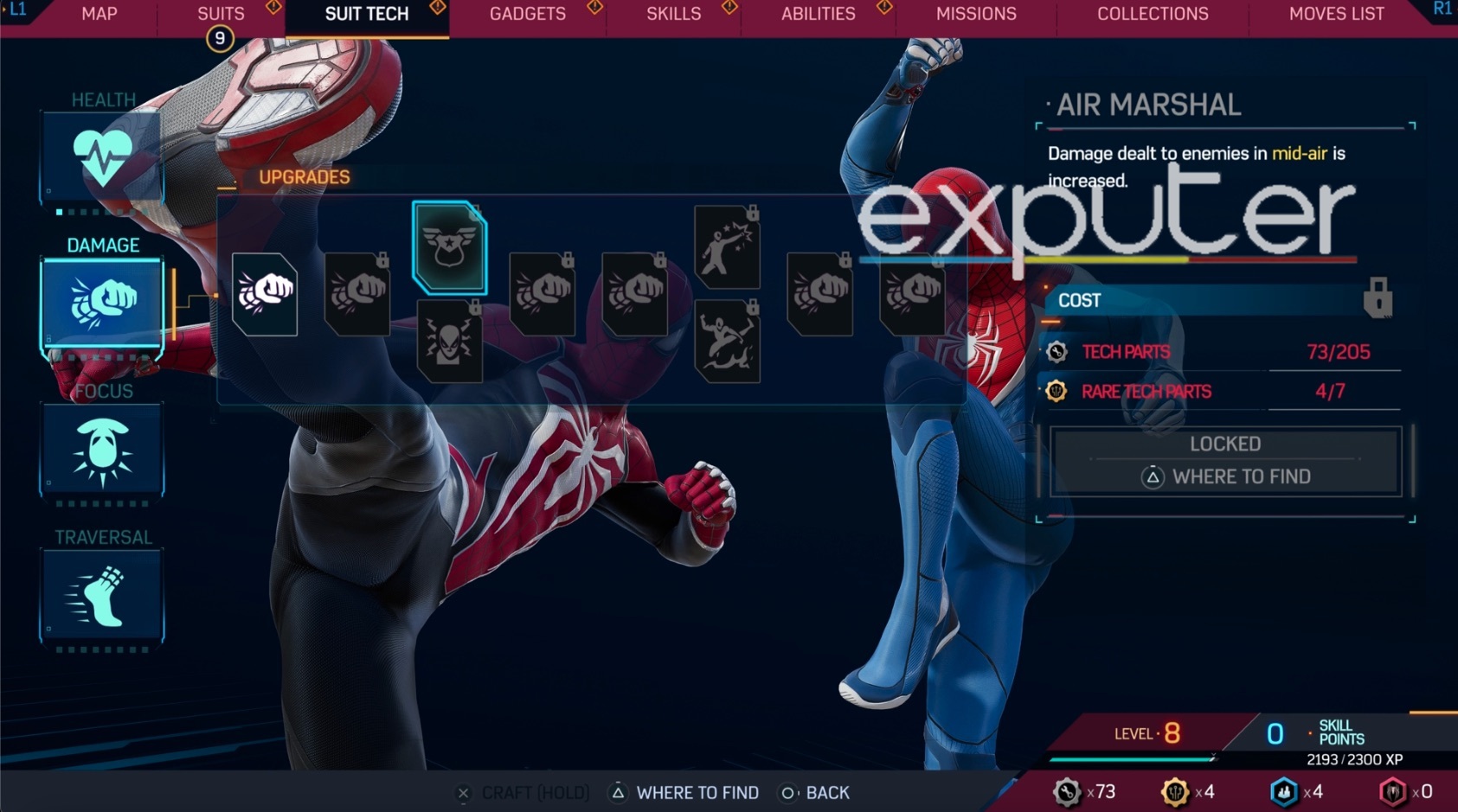 For a comprehensive list of the various Suit Techs and trees to focus on, I suggest checking
Atik Younus' best Suit Tech upgrades guide for Spider-Man 2.
However, if you still want my suggestions on the best Suit Techs to get from the early going that I found effective, I've listed them below in brief detail:
Confidence Boost (Health): Allows you to heal via performing Perfect Dodges during combat.
Air Marshal (Damage): Increases damage dealt to enemies in Mid-Air.
Focused Strike (Focus): Focus charge gained by using abilities is increased by 10%.
Triple Focus: (Focus): Adds a third focus bar.
Acrobat (Traversal): Increases the intensity and power of Point Launch.
4. Shortcut Bindings
The Shortcut Binds is a returning feature that I enjoyed in the Spider-Man Miles Morales spin-off, which allows you to bind two different actions to the left and right D-pad on the Dualsense. The actions that I recommend binding to these shortcuts include either a Gadget you intend to use the most in combat along with an Ability.
For me, I have assigned shortcuts for the L1 + O ability and the Web Grabber Gadget.
But you can go with anything that suits your preference or that you want to easily use without pressing two different buttons.
3. Useful Accessibility Settings
Insomniac Games has gone above and beyond to provide a variety of amazing QoL and Accessibility features for players of Spider-Man 2.
As shown above, in the image, the Gameplay Assists section is especially useful due to helpful settings such as Auto-Heal, which you can set accordingly to heal you whenever you're below a given HP threshold in combat.
It even allows you to adjust the Dodge/Parry timing to make it easier to execute.
You can easily toggle them Off/On at almost any given moment, so I strongly urge you to check them out and tune which one fits your preference or helps you play the game at your own feasibility.
2. Comic Book And Film Suit Effects
If you were a massive fan of the few animated suits in the previous Spider-Man games from Insomniac, you will be glad to know that they've actually added visual effects related to them, as shown in the image above.
For outfits such as the Noir suit from Into The Spider-Verse movie, you can enable Film effects for it, which slows down its animation in-game to match it with the source material. You can even turn on Comic Book SFX, which displays comical bubble text in combat. Thankfully, if you find this hidden feature annoying, you can easily turn it off in the Visual Settings section of Spider-Man 2.
1. Web Grabber Gadget
Lastly, I can't stress enough how powerful the Web Grabber gadget is in this game. The Web Grabber essentially allows you to pull in enemies at a location, grouping them up for easy AOE attacks. What makes it the Best Gadgets, in my experience, is how the first upgrade allows you to pull in nearby throwable objects alongside enemies. Not to mention, you can also pull in Brutes and more enemies at later upgrade levels.
Since I had pre-ordered the Digital Deluxe edition, I was able to use the Web Grabber right out of the gate without needing to unlock it for the first time.
My Take On The Best Tips And Tricks
If you ask me (PSN: Liontamer55460), the versatile traversal options introduced in Spider-Man 2, such as always taking advantage of the Wind Tunnels and the Web Slingshot, are by far my most recommended tips to offer to you.
But the Film and Comic Book VFX is also a cool trick that players may not know about playing this game for the first time. I'm 12+ hours into Spider-Man 2 with halfway through the story, and getting the 100 percent completion is quite addicting.
If you enjoyed reading this guide, then I highly suggest checking out my full thoughts on this game via my Review of Marvel's Spider-Man 2. Let me know what you think about the guide in the comments section below!
Up Next:
Was this article helpful?
Thanks! Do share your feedback with us. ⚡
How could we improve this post? Please Help us. ✍