It has hardly been a day since Warzone 2.0 launched, and players are already facing many bugs, errors, and crashes. Nothing is more annoying than starting your game, connecting to a lobby, and then getting a message that the game has crashed. Fortunately, we are here to provide some legit Fixes for some of the most common COD Warzone 2.0 Crashing Issues.
Key Highlights
This type of

crashing

is most likely to

appear

when you are trying to

enter a lobby

, but then see a

dialogue box

explaining that your

game has crashed

.

Every single major

bug

,

error

, and

crash

is

covered

in this guide.

If you are on a

PC

, you can use the

following solutions

:

Set your

shader quality

to

low

, and also turn off

NVIDIA reflex

and "

on-demand texture streaming

."

Try using the

restart shaders optimization

option in the game settings.

Set your game as a high-priority application. Additionally, try to

scan

and

repair

your

game files

.

PlayStation

users should follow

these fixes

:

Rebuild

the

database

of your

console.

Additionally, make sure there is

enough airflow

for your console.

If you are unable to

invite your friends

through the

social hub

, then you can try to invite them through the "

channel

" tab.

In case you are getting the

dev error 6144

, instead of

directly booting

up in the game, go to the

weapons tab

and stay there

until

the game

boots up

.

For players experiencing the

DMZ loadout glitch

, get rid of the

weapon blueprints

and use a

custom build

instead.
In our Mega Guide, we will do our best to cover every ongoing Dev errors, bugs, crashes, and other various problems in Warzone 2.0. There are plenty of fixes that you can try out for ongoing problems. Our guide won't include some basic workarounds which are of no use, like restarting your PC or updating windows and GPU drivers.
With that said, here are all the existing Call of Duty MW2 Warzone 2 errors, along with their fixes that you can try out.
COD Warzone 2.0 Crashing On PC
Stepping into our guide, we will first address the crashing problems that players are facing in Warzone 2.0. It hasn't even been 24 hours since the new Warzone launched, and gamers are already seeing the black crashing screen after loading up the game.
Most of these players are facing the issue while trying to connect to a lobby or even during the middle of their BR games. Some of you would already be familiar with these problems due to facing Call of Duty Modern Warfare 2 Crashing errors a few weeks ago.
Regardless of that, a common error message that has been associated with Warzone 2.0's crashing, reads "The application has unexpectedly stopped working". The error code linked with this message is '0x887A0005'. Many users have reported the issue on Reddit and other COD-related forums online. Luckily, we were able to accumulate some fixes that have been tried and tested by many players.
The issue correlates with the early performance issues in the game. Hence, it is possible to fix the potential crashing problem in COD Warzone 2.0 by tweaking some graphical settings on your PC.
Set Shader Quality To Low
The first solution that we found is quite simple to perform. It can be quickly attempted and tested, and because it was successful for a sizable number of people, it is worthwhile to try. All you need to do is set your
Shader Quality
in Call of Duty MW2 Warzone 2.0 to '
Low
'.
You can do this by going to the 'Settings' tab inside your game on your PC. Shader Quality is the standard of lighting treatment on some surfaces inside the game; this graphic setting has a medium-level impact on your GPU. For those of you who are still confused, here is a step-by-step guide to turning the Shader Quality to Low in Warzone 2.0.
Open Battle.net or Steam engine and load up Warzone 2.0 on your PC.
Once the game loads up, click the 'Gear' (Settings) icon on the top right of the screen.
From the side menu, choose 'Graphics'.
Now pick the second tab in the Graphics menu, which reads 'Quality'.
Scroll down a little until you reach the 'Details & Textures' section.
Choose Shader Quality and pick the 'Low' option from the drop-down menu.
Then press the 'Apply Settings' and back out of the game.
After following the above steps, it is advised to restart the whole game. Once Warzone 2.0 loads up again, head to the Graphics settings again to check if the Shader Quality is still set at low. If it is, then try joining a lobby and check if the game works fine for you or not.
Set NVIDIA Reflex Off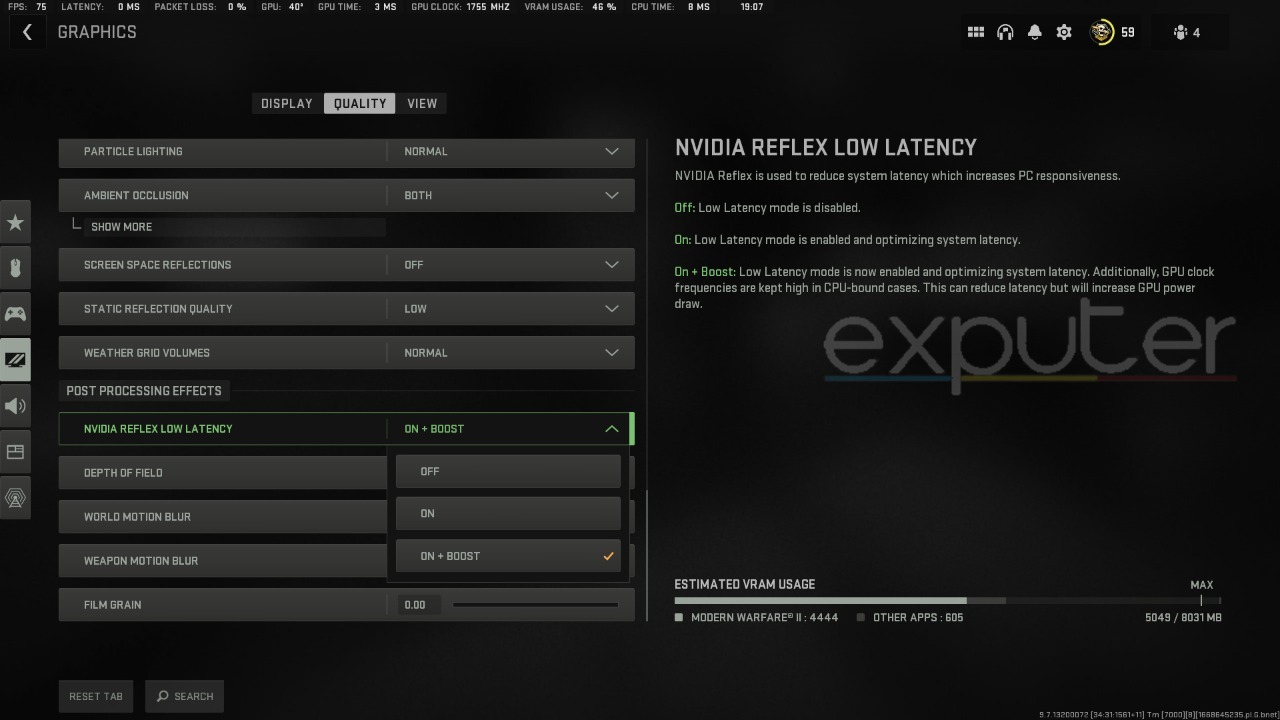 Nvidia Reflex is used to reduce system latency which increases PC responsiveness. Even though the setting's description seems like it will make your game run smoother, for a lot of people, it has been the main cause of crashing issues in WZ 2.0. Of course, the fix is only applicable to the players who are currently using
NVIDIA Graphic Card
on their system. [
Note
: If you use an
AMD GPU,
then
skip this fix
]
We found a fix through Reddit that turning the NVIDIA Reflex to 'Off' prevented the game from crashing. Like most of the other solutions, you can tweak this through the in-game Call of Duty settings. With that said, let us walk you through the simple process of turning the NVIDIA Reflex off so that you can potentially fix COD WZ 2.0.
Tune into Warzone 2.0 on your PC.
Head toward the in-game 'Settings'.
Navigate your way to the 'Graphics' option and then choose the 'Quality' tab.
Scroll all the way to the bottom until you reach 'Post Processing Effects'.
Here choose the drop-down menu of 'NVIDIA Reflex Low Latency' and pick 'Off'.
After you've followed all the above-mentioned steps, restart Call of Duty Warzone 2.0 and check if the crash error has been fixed on your PC.
Turn Off 'On-Demand Texture Streaming'
Infinity Ward introduced a high-end setting to increase the performance of their game after a few months of Warzone's release. The '
On-demand Texture Streaming
' makes it returns in the Graphics setting of
Modern Warfare 2
and Warzone 2.0. Despite being a fantastic way to increase your game's graphics, it can place high pressures on mid-range PCs, causing unexpected crashes.
Therefore, for a lot of users online, we learned that turning the On-demand Texture Streaming to Off fixed the problem of crashes in Warzone 2.0. To make things clear, On-demand Texture Streaming downloads quality textures from the internet while you play the game. This allows Warzone 2.0 to provide you with much cleaner and smoother color details on surfaces. Hence, it is quite obvious that keeping the option turned on on your PC will impose unnecessary pressure on the system.
With that said, here is a quick rundown of all the steps that you need to perform in order to turn the specific setting off on Warzone 2.0.
Open Warzone 2.0 on your PC.
Head towards the in-game Settings on Call of Duty Warzone 2.0.
Choose the 'Graphics' option and then pick the 'Quality' tab.
Scroll down until you see the Details & Textures section.
Here search for 'On-Demand Texture Streaming' and set it to 'Off'.
Apply Settings and then restart your game.
Even though the game claims that the texture streaming only imposes a low effect on your CPU, it still makes a considerable difference once you turn it off. Putting less load on your PC will potentially fix the COD Warzone 2.0 crashing issue for you. It is best suited if you link this solution with the Nvidia Reflex to Off fix. If it still doesn't fix the issue for you then move on to the next method that we found.
Restart Shaders Optimization
Restarting Shaders Optimization
is another fix for crashing bugs in Warzone 2.0 that we found on
Reddit
. Even though the method can take some time to optimize your game fully, it is still worthwhile to attempt since it has provided a solution to many people's game-crashing issues. Restarting the Shaders Optimization will delete the current shaders cache on your PC and then reoptimize them from the beginning.
When your shaders are reoptimized, you will face a much smoother experience while playing in Al Mazrah. Now that you've gone through that, here is a quick guide on how you can restart shaders optimization.
Boot up Warzone 2.0 on your PC through Battle.net and Steam.
Go to the 'Settings' tab by clicking the Gear icon on the top right corner.
After that, head to the 'Graphics' tab and scroll down a bit in the 'Display' tab.
Pick 'Restart Shaders Optimization' and then choose 'Restart' in the pop-up window.
Now let the game restart its shaders.
Once the procedure is done, simply restart the game.
Your Warzone 2.0 will take a little time before it fully reoptimizes the whole game. As we mentioned in the steps, restarting is important after completing the reset. After completing the whole process, try loading up a Call of Duty Warzone 2.0 Quads game to see if the crashing problem has been resolved.
Setting COD Warzone 2.0 To High Priority
Another common fix that can solve the ongoing crashing hiccups in COD Warzone 2.0 is by setting your game at High Priority. You can do this quite easily on your system. When allocating system resources like CPU time and memory, tasks with a higher priority are given preference, which enables them to process much faster. Hence, putting Warzone 2.0 on a higher priority will allow the PC to allocate more resources toward it.
Thus, it is possible that doing so will help you overcome multiple bugs and crashes in Warzone 2.0. For the people who don't know how to perform the task, here is a quick guide on it.
Load up your PC system and run Call of Duty Warzone 2.0.
Once your system and game are up and running, open the Task Manager by pressing "Ctrl + Shift + ESC".
In the Task Manager, choose 'Call of Duty HQ' and Right-click on it.
From the drop-down menu, press 'Go to Details'.
When you reach the 'Details' tab, right-click on the highlighted COD icon.
Hover over 'Set Priority' and choose 'High'.
After following the steps, load Warzone 2.0 and try playing through a few games to check if the errors are fixed.
Scan & Repair Game Files
If your game isn't loading up at all and you can't even reach the in-game settings, then the best you can do is try 'Scan & Repair' on your Battle.net client. If you're playing through Steam on your PC, then you could Verify the game files of COD Warzone 2.0.
These are very common fixes that most players try out by themselves. However, if you haven't tried it out yet, then here is a quick rundown of all the steps you need to perform in order to Repair your Call of Duty WZ 2.0 game files.
For Battle.net users:
Open the Battle.net app on your PC.
Once the app loads up, choose Call of Duty Modern Warfare 2 Warzone 2.0 from the given list of owned games.
Press the Gear icon next to the 'Play' button.
From the list of options, choose 'Scan and Repair'.
The client will then take a few minutes to thoroughly scan all the Warzone 2.0 files to see if there is anything wrong with them. Battle.net will then automatically fix these issues within the game files. You can then try running the game once again to see if the COD Warzone 2.0 startup crashing problem has been fixed on your PC.
For Steam users:
Open up the Steam client on your PC.
Once the application has loaded up, make your way to the 'Library' tab in Steam.
Now locate Call of Duty Modern Warfare 2 Warzone 2.0 and Right-click on it.
From the drop-down menu, choose 'Properties'.
You will now be able to see the Properties tab; from the list of options on the left, choose 'Local Files'.
Now click on the 'Verify Integrity of game files'.
Steam will then begin scanning Warzone 2.0 and fix the bad files it finds after it has completely checked the game files. You can then try running the game to check if the crashing issue on Warzone 2.0 was caused by corrupt files.
Warzone 2.0 Crashing On PS4/PS5
So far most of the error complaints have been reported by PC players. However, there have also been some reports from Playstation players. Some PS4/PS5 players have reported that Warzone 2.0 is continuing to crash on their consoles. Even though there aren't any in-game fixes so far for the console players, many people have fixed the issue by running some Basic troubleshooting methods on PS4 and PS5.
Without further ado, let us dive right into some of these fixes that are capable of solving Warzone 2.0. crashing on your PS4 and PS5 problem.
Rebuild Database
PS4 and PS5 have a very helpful feature called 'Rebuild Database'. It allows users to get rid of corrupt files and numerous bugs on their Sony console. Therefore, whenever you run into any type of bug while playing Playstation, especially in Warzone 2.0, then make sure to follow the steps we have mentioned below.
First off, you need to completely Shut down your PS4/PS5. Do not put it into sleep mode; instead, head to the 'Power' menu which can be found by pressing the 'Up' button on the main screen and sliding all the way to the right. Then choose the power-off option from the given choices.
Once the console shuts down, Hold down the Power button on the console for up to 8-10 seconds until you hear Two beeps. Now you will see the Safe Mode screen on your console.
Connect a controller via a USB port and then press the PS button.
After that, scroll down to 'Rebuild Database' and press 'X'.
Your PlayStation will now begin rebuilding its database. The process could take minutes or might even go on for an hour or so. Despite the length of the process, it is still worth trying if you're looking to fix your COD WZ 2.0 crashing problems. By rebuilding the Database, your PS4/PS4 will organize the game files in the HDD in a systematic manner. This will ultimately make it easier for it to load up all the files while you play games.
Allow Airflow
We have included a self-tested method which may not be a technical one but it can do wonders for you while playing games like Warzone 2.0. Sometimes keeping your PlayStation, especially PS4, in a confined space can make it heat up quickly. When it gets heated up, you are bound to face loads of crashes in Warzone 2.0.
We constantly faced the issue while playing the first Warzone. However, you could easily fix the issue if your PS5/PS4 is heating up constantly. Move your PS to a new spot, and make sure that there is at least 1-2 feet of free space on each side of the console. We know this may be a bit tricky depending on your setup, but it has the potential to fix your PlayStation getting heated up during Warzone 2.0.
Call of Duty Warzone 2.0 Social Tab Not Working
Let's be honest the menu design isn't the best feature of Call of Duty Warzone 2.0. Due to that, a lot of players are not able to invite
friends
to their party because the
Social Tab in Warzone 2.0
is currently
broken
. The bug has annoyed many gamers. This is why the forums and subreddits are filled with complaints regarding the Social tab problem.
After loading up to the game, when players try heading to their Social Tab by opening up the side menu, the game kicks them back to the main menu immediately. Hence, players have been unable to invite their friends to their lobby to run some Duos and Quads. Even though there isn't an outright fix for the Social Tab Not Working bug in Call of Duty Warzone 2.0, however, fortunately, we have found an Easy Workaround.
Invite Friends Through The 'Channel' Tab
If you're currently unable to invite your friends to Warzone 2.0 because you keep getting kicked out of the Social tab then here is an easy solution you can try out.
Load up Call of Duty Warzone 2.0 on your PC or gaming console.
From the main screen, click on the 'Channels' tab (It is represented by a 'Headset' as an icon). You can find the icon on the top right side of the screen.
After the Channels tab opens up, you will be able to see your Party under 'Game Channels'.
If you're on PC Right-click on it or on a PS or XBOX Controller you can press the 'X/A' button.
From the drop-down menu, choose 'Invite Friends' and pick the friends you want in your lobby.
So there you have it. A small workaround that we found to solve the Social Hub not working error in Warzone 2.0. Apart from that, the game features a very clanky friends system which is causing problems for players around the world. Hopefully, Infinity Ward can address the issue soon and then roll out an update to fix the irritating bug in COD Warzone 2.0.
How To Fix Warzone 2.0 Dev Error 6144?
On plenty of forums and Reddit, we also came across reports about Warzone 2.0 Dev Error 6144. The error appears right when you're joining a lobby while loading up Warzone 2.0. The game seems to run fine until then; players can easily browse the menus and edit their loadouts. However, once they start searching for a match, the game seems to crash unexpectedly by showing an error prompt that reads 'Dev Error 6144'.
Like Dev Error 356, Dev Error 6144 was also a common error before Warzone 2.0 launch; people were facing it while trying to join Multiplayer lobbies in MW2.
So to Fix the problem at hand, simply load up Warzone 2.0 on your preferred system. After that, head into the Battle Royale mode of your choice. Press the 'Start – Find a Match' button to begin searching for a game. Once Call of Duty starts searching for a game, do not stay on the main screen. Instead, head to the Weapons tab and wait there until the game boots up. The simple workaround should prevent the game from crashing and show you Dev Error 6144 in COD Warzone 2.0.
The error seems to be linked with the main lobby screen, where you can see your character and the "Searching for a Match" button. Hence, players are seemingly leapfrogging over the glitch by staying on another tab until the game searches and links them up to a BR lobby.
Call Of Duty Warzone 2.0 DMZ Loadout Glitch
Adding to the ongoing issues in
Call of Duty
, we shift our focus toward the all-new
DMZ
mode. Players are unable to use their
loadouts
due to a certain
glitch
in Call of Duty Warzone 2.0 DMZ. Just like the basic Battle Royale in Warzone 2.0, the DMZ mode is also an online mode where plenty of players are thrown into an open-world map. However, in the DMZ mode, players are tasked to carry out particular missions in order to complete the match.
Players can use their custom-made loadouts while dropping in on the DMZ mode. Although, there have been constant reports that players are not equipping their loadout once they spawn on the map. The bug is causing a lot of annoyance among players forcing them to drop out of the game.
Despite picking their preferred loadout, gamers spawn with either the default weapons or with their bare hands. Although there isn't an outright fix for it we did manage to narrow down its workaround by digging deep into Reddit.
Fixing The DMZ Loadout Glitch
Luckily, there is a simple fix that you can perform to overcome the Loadout glitch in the DMZ mode in Warzone 2.0. Although, the fix will bar you from using your preferred weapon blueprint. Nonetheless, here is how you can fix the problem.
First up, run Call of Duty Warzone 2.0, and then head to the DMZ menu. Once you reach the home screen of the DMZ mode, press R1/RB to switch the tabs. Head to the 'Weapons' menu and then review your Loadout. The reason why you're running into loadout glitches is due to the Blueprints in Call of Duty Warzone 2.0. For some reason, the game fails to load up the blueprints, which ultimately spawns you with regular weapons or bare hands.
So, to fix the problem, you will need to Unequip the weapon blueprints you have in your loadout and instead go for a Custom build. We know that this is a huge inconvenience, especially if you don't have your guns upgraded to a certain level yet. Nonetheless, this is the only workaround available for the ongoing DMZ Loadout Glitch in Call of Duty Warzone 2.0.
Try creating your own loadout by equipping any base gun and attaching the best attachments to it. You can refer to our following loadouts to create your own class; M4, M13, TAQ-56, and VEL-46.
We hope you found our Warzone 2.0 error fix guide helpful. Stay tuned at eXputer for more bug fixes and helpful guides regarding Call of Duty Warzone 2.0.
Was this article helpful?
Thanks! Do share your feedback with us. ⚡
How could we improve this post? Please Help us. ✍