M13 is here in Call of Duty Warzone 2.0 with all its previous features of rapid fires and insanely stable recoil. M13 has stood its ground in every iteration of COD Warzone, and this is the reason you are here. So, without any further ado, let's find out the COD Warzone 2.0: Best M13 Loadout.
---
Story Highlights
M13 is one of the best short to mid-range Assault Rifle in COD Warzone 2.0
The performance of a weapon depends greatly on the best suitable customization of the loadout
Attachments provide the necessary support to the weapon
The Perk Package in the loadout contains all the necessary perks to support a short to mid-range rifle
Equipment and secondary weapons in a loadout are as vital as the primary weapon to keep up with enemies
---
M13 Best Attachments
M13 has got one of the best recoils, along with the ability to fire bullets at a very fast speed. The recoil and speed of the gun make it one of the best candidates for short to medium-range fights. M13 may not make it to the top 10 list of Call of Duty Warzone 2.0 because of the immense competition of ARs, but still, it is one of the finest of choices.
With just the right touch of attachments to the riffle, it can wreak havoc upon the enemies and literally roast them up. The attachments discussed in this Call of Duty Warzone 2 M13 loadout will enhance the ability of the M13 to take clean shots in the mid-range. For the short range, you can even just go with an extended mag, and you would be giving the same humiliating treatment to the enemies as with attachments. This just shows how the AR is reliable in COD Warzone 2.
Muzzle
: Harbinger D20
Attachments in COD Warzone 2.0 have been divided into two types. The first one is Universal Attachments, while the second type is Specific Attachments. Here, Universal Attachments can be used with any weapon, and Specific Attachments can only be used with specific weapons.
The gunsmith and Attachment system in COD Warzone 2.0 has made it easy for the players to get their set of attachments with ease. Now the players don't need to unlock an attachment over and over again for every different weapon. But now you only need to unlock an attachment once and can use it with other compatible weapons as well.
Every Muzzle in Call of Duty Warzone 2.0 is a Universal Attachment. Muzzles are used to control the recoil of the guns. Most of the time focuses on vertical recoil, as horizontal recoil is difficult to control. Harbinger D20 is an excellent choice to be used with M13 as it reduces the recoil and provides stability to the gun. It provides an enhanced velocity to the bullets alongside increasing the damage range of the M13 Assault Riffle.
Barrel
: 14″ Bruen Echelon
Barrels in Call of Duty Warzone 2.0 fall under the category of Specific Attachments. This means they are compatible with certain weapons and can only be used with those. It would not be wrong to call Barrel the essence of a loadout in COD Warzone 2. Also, it plays one of the most significant parts in the excellence of any weapon.
14″ Bruen Echelon in this COD Warzone 2.0 Best M13 Loadout plays a very significant role by improving the bullet velocity as well as reducing the recoil. The weapon we are concerned about right now is for short and mid-range, and in mid-range, bullet velocity plays a vital role. The enhanced recoil and bullet speed not only make the M13 better for medium range, but it also pushes the limits of the weapon to be a medium to short-range AR.
Laser
: VLK LZR 7MW
Laser is also a Universal Attachment in COD Warzone 2.0. Lasers enhance the performance of a weapon by a small amount, and these small improvements are sometimes used to cover the downsides of some other attachments. Some attachments give some advantage in a certain field but at the expense of some other defect. So, the attachments are used not only to add something to the weapon but also to cancel the negative impacts of other attachments.
While using a short to a mid-range weapon such as our beloved M13, the sprint-to-fire ratio is important. VLK LZR 7MW increases the sprint to fire of the M13 and makes it easy to pick up targets without affecting letting others find an easy at you. VLK LZR 7MW further enhances the Aim Down Sight Speed and Aiming Stability.
Magazine
: 45-Round Mag
To provide you with enough bullets to take down enemies, 45 round mag is being chosen here. Also, taking the high firing rate of the M13 into consideration, it must be kept in mind how fast the mag will be dried up. Short-range encounters are mag sensitive, and you would never want to have a reload while executing a short rush.
This obviously will turn things to the benefit of your opponents, and no one wants that. So, a 45-round mag with M13 sounds like a standard choice that provides you enough bullets per mag to get the job done. The players can get this Specific Attachment by taking the M4 to level 4.
Optic
: Cronen Mini Pro/Slimline Pro
Both Cronen Mini Pro and Slimline Pro optics are the perfect fit for short and medium-range encounters. Cronen Mini Pro is great with precision sight pictures which can ease things up in mid-range fights. Having the enemies under clear sight makes it easier to take them down as well. Slimline Pro does the same thing as Cronen Mini Pro, and you can choose either one of them with an M13.
M13 Best Class Setup
Run and Gun style is the one that suits M13 the best. With Mid-range weapons, Run and Gun style while keeping a distance can take the experience to the next level and can make your enemies regret coming into that range of fire. The Perks to be used with M13 are designed as such to get maximum advantage in the short and mid-range. Therefore the perk package for this COD Warzone 2 Best M13 Loadout is Specter. Specter in COD Warzone 2.0 has the following perks.
Base Perk 1:

Double Time

Base Perk 2:

Tracker

Bonus Perk:

Spotter

Ultimate Perk:

Ghost
The base perks in any package are available at the start of the match, while Bonus and Ultimate Perks are available after 4 and 8 minutes, respectively. Here's a breakdown of each perk in the Specter Perk Package that we are going to use.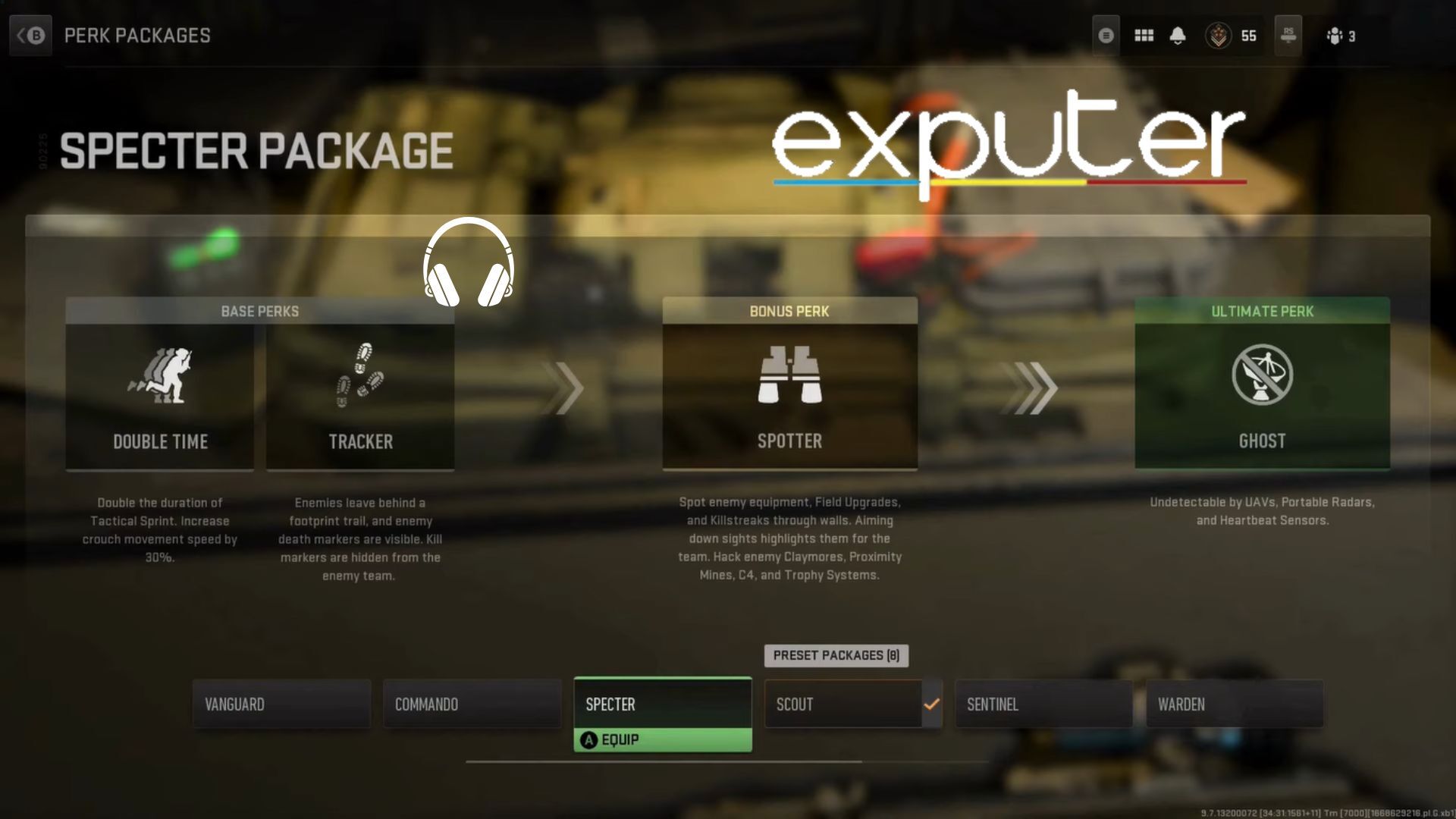 Double Time
In close fights, movement and mobility play the utmost role in taking down the enemies while taking quick cover. This is what double time is going to give you here. Double Time increases the super sprint duration by 2x and increases the speed of the player by 30% while crouching.
Hence, it makes it easier for the players to move faster while maintaining a low position. The speed will come in handy in making it harder for the opponents to set aim at you, and you can take covers more rapidly.
Tracker
The tracker traces the movement of the enemies. It can serve the most important role while you're chasing your enemies, especially in a building or a compound. The tracker can help you get to the exact locations of the enemies. This can not only take you the upper hand, but the enemy will also be shocked. Tracker in this Call of Duty Warzone guide provides you with the element of surprise.
Spotter
The spotter is a great addition to this COD Warzone 2 M13 loadout, as it makes things easy for you and your whole party. Spotter enables you to find out any kind of equipment owned by the enemies alongside killstreaks and filed upgrades. Spotter also enables the players to spot the traps laid by the enemies. Players can see these traps through the walls. Therefore, Spotter fits just right in this COD Warzone 2.0 M13 loadout.
Ghost
This ultimate perk is an addition to your stealth and makes you hideous and untraceable. Ghost makes it impossible for heartbeat sensors, UAVs, and even radar drones to locate you. So, this perk is an absolute package of countering any kind of equipment used by your enemies to locate you.
Equipment
In the lethal category, we are going to use the Throwing Knife. Throwing Knife in COD Warzone 2 is a very deadly weapon, especially at close ranges. It deals a huge amount of damage, and given that the range is sufficiently close, it will definitely kill the enemy. This COD Warzone 2 M13 Best Loadout focuses on fights that are close to mid-range, and for that reason, Throwing Knife suits the best here.
Another good reason to carry Throwing Knife is that it can be picked and used as many times as you like. You just need to go to the place where you threw it and pick it up again. And again, you are ready to deal some quality damage to the enemies.
The tactical equipment being used here is the Heartbeat Sensor. It is a tablet that shows a rough map of nearby enemies. It is to be kept in mind that it has a very short-term battery that drains real quick. So, you better use it in a really tight situation where you have no idea of enemies.
Best Secondary Weapon
The best secondary weapon with M13 is the Kastov-762 for its very versatile nature. It is an Assault Riffle that has the capability of being a great secondary support with M13. It can be used in head-to-head encounters at close range, and with just the right touch of attachments and equipment, it can be turned into a great long-range rifle. So, with M13 being a mid to close-range rifle, you need to have a long-range rifle. And, Kastov-762 is the best contestant to fill up the gap of a long-range rifle.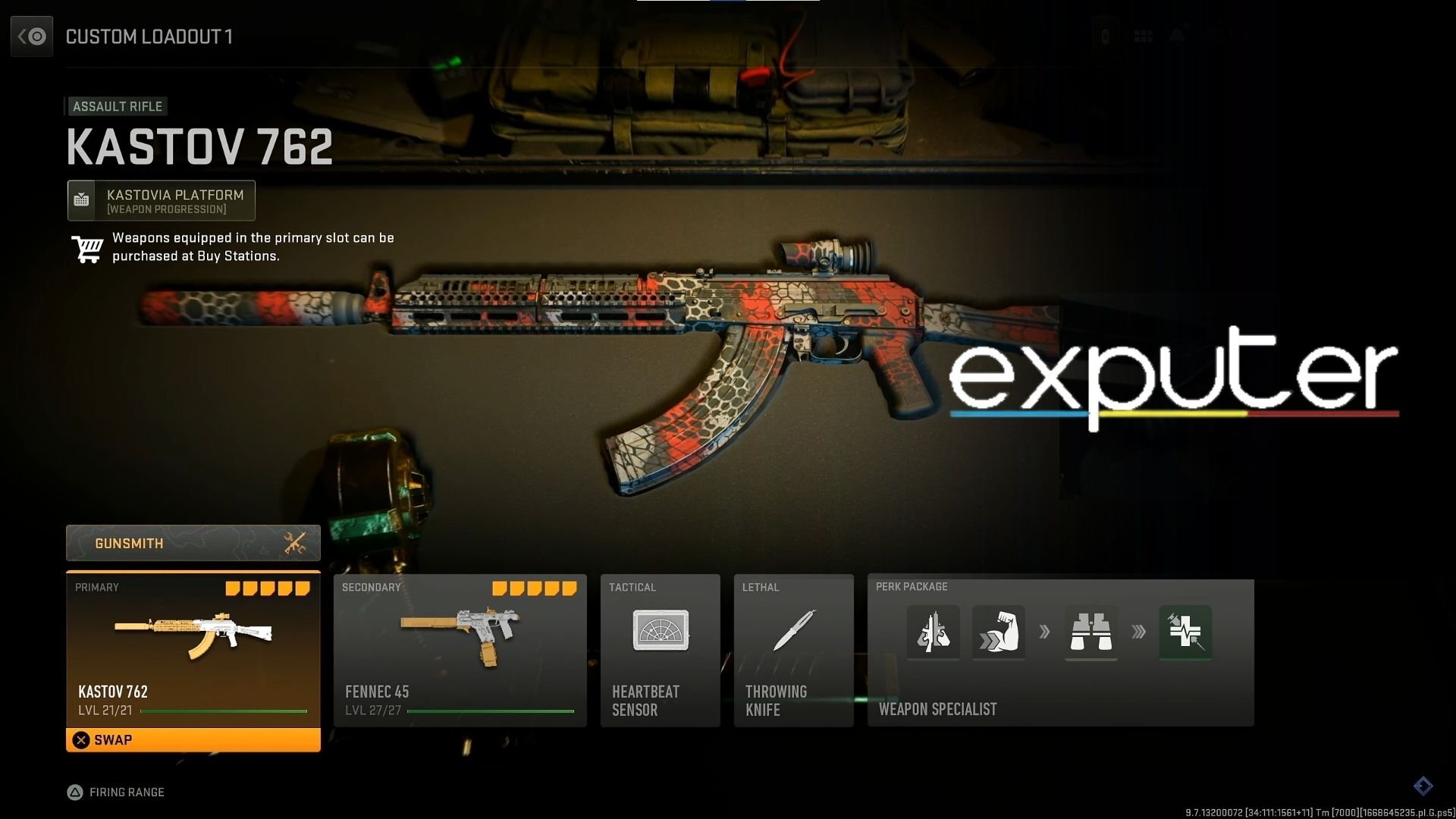 Final Thoughts
Here's all that this COD Warzone 2.0 Best M13 Loadout guide had to offer you guys. Customization of loadouts in COD Warzone 2.0 plays a vital role in your gameplay. Your performance is directly affected by the selection that you make in the loadout, and thus this needs to be paid attention to. As far as the M13 best loadout in Call of Duty Warzone 2.0 is concerned, this guide sums everything up.
Up Next:
Was this article helpful?
Thanks! Do share your feedback with us. ⚡
How could we improve this post? Please Help us. ✍