The Warzone 2 weapon tuning is one of the several new features added to Call of Duty's new battle royale mode. In addition to a completely new range of weapons, players can now further customize their weapons to fit their preferred playing style. There are many attachments to pick from, just like in the previous version of Warzone, but the addition of weapon tuning gives an additional level of weapon customization.
---
Key Highlights:
One of the many new features added to Call of Duty's new battle royale mode is weapon tuning.
The weapon must be at the Maximum Level in order to access the Weapon Tuning system.
Utilizing the tuning menu's weight and length sliders, you can modify the performance of an attachment.
If you tend to boost one stat, the other stat will generally drop by an equal amount.


---
How To Tune Weapons In Warzone 2
To access attachment tuning, you must first attain a weapon's maximum level. Check this level from the custom loadout option, as it varies from weapon to weapon. All tunable attachments will have a Tune option above them when you enter gunsmith for that weapon once you have attained the maximum level. By clicking on the Tune button, you can access the Tuning Menu.
The stats of the attachment are shown here via graph, along with two sliders that have opposing traits on either end. Finding the tuning levels that enable your attachment to operate at optimal efficiency is advised because moving toward one characteristic tends to reduce the attribute on the opposing side. That's how you tune weapons in Warzone 2.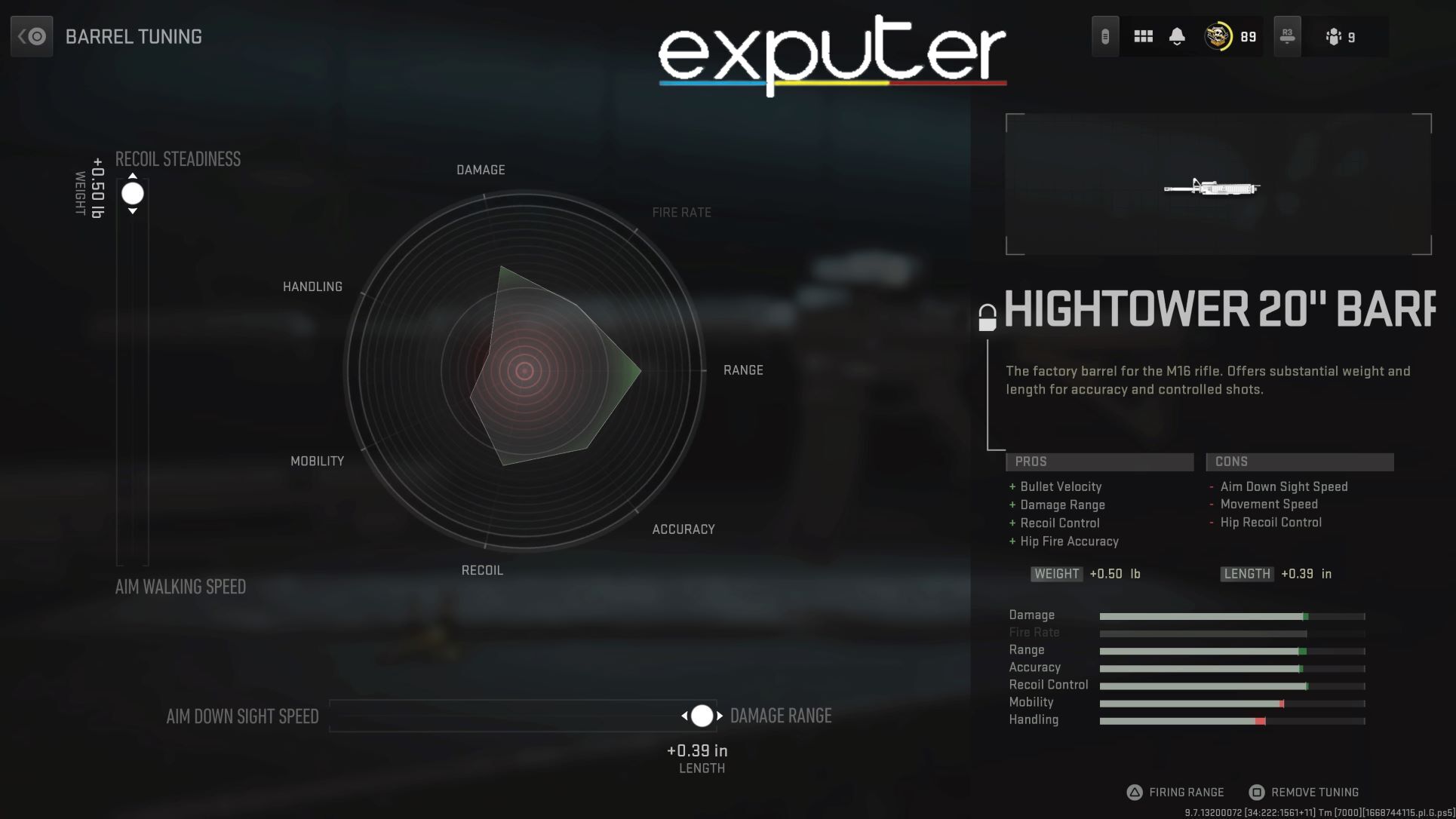 You can modify the performance of an attachment using 2 different sliders from the tuning menu named weight and length. For instance, the Hightower 20″ Barrel gives players the ability to fine-tune the recoil steadiness/aim walking speed and damage range/aim down sights (ADS) speed.
When the slider is moved in one direction, one stat is enhanced while the opposite stat is decreased. For example, as seen in the above figure, moving the Hightower 20″ Barrel's length slider toward damage range will tank the weapon's ADS speed.
Unfortunately, the game doesn't explain to you how the attachment behaves when the slider is adjusted. For instance, if you slide the above-length barrel to ADS, there is no way to know how fast the ADS speed is in milliseconds without physically testing it. As a result, it's not always clear how an attachment is affected by tuning effects.
Tuning Certain Attributes
Weapon tuning can also be chosen based on a specific playstyle. For instance, you can raise your Damage Range, Fire Rate, and Handling if your playstyle leans towards aggressive and severe damage output. On the other hand, if you use a sniper, accuracy, aim idle stability, and range will be your main focus areas.
Similarly to this, shotgun users must pay close attention to accuracy, fire rate, mobility, ADS, and recoil control. If you use M4, you might want to think about tuning your optic. Your Aim Down Sight speed will be considerably increased if you turn it in the correct direction. Additionally, you can also adjust its barrel to boost the M4's accuracy while simultaneously increasing the weapon's bullet velocity.
Though weapon tuning is a fantastic choice, the change you will notice won't be all that noticeable. For instance, utilizing a shotgun at a distance won't allow you to do much damage. Another drawback of weapon tuning is that if you tend to boost one stat, another stat will typically drop by an equal amount.
Unlocking Weapon Tuning In Warzone 2
Weapon Tuning unlocking in Warzone 2 is very simple, which is good news for people who are puzzled by the new weapon platforms and advancement trees.
You have to simply rank up your weaponry to the highest level to use this feature. Once it's unlocked, go to the gunsmith, where there is a tuning option above the attachment slots. Choose it, then begin adjusting!
Getting Maximum Level On A Weapon
You should concentrate on using weapons with lower maximum levels. The fact that the maximum level of weapons in Warzone 2 is not as high as the maximum level of weapons in previous titles is another advantage for you.
It's also important to be aware of the specific steps you can take to raise your maximum level quickly. By applying various techniques, you can easily enhance your weapon level. A popular approach is to use the Double XP Tokens, which significantly raise your weapon level.
If you want to keep track of your progress, you can quickly access your statistics by going to the Gunsmith menu, looking for your weapon, and viewing your current level.
Tips About Weapon Tuning
Following are some tips regarding the tuning of weapons that players should keep in mind while selecting their favorite loadout attachments.
Maximum Tuning Isn't Always Preferable
A radar graph of values will appear if you select an attachment for tuning. The selected attachment has an impact on the highlighted values in the graph. When you change a tuning value, you should pay great attention to how the graph changes. If you travel near the edge, the values are often worse; instead, search for the locations with the best values.
If you set the slider to the maximum, you will unnecessarily lose movement speed when shooting through the magnificent Hightower 20″ Barrel. You can gain a little more mobility and avoid the drawbacks of recoil if you only utilize 0.30 lb as compared to 0.50 lb.
Additional Reveals By Weapon Tuning
When tuning, two of the four attributes are always balanced against one another. Verify the values you are mutually modifying with each tuning. Because some values are often not listed as pros or cons, as shown in the figure.
Let's continue using the Hightower 20″ Barrel. Decreasing movement speed is listed in cons here in the figure. The Aim Walking Speed will be decreased if you move the Weight slider in the direction of Recoil Steadiness. As a result, even if they are not included in the list of pros and cons, the tuning further indicates which values are impacted by the relevant attachments.
Focus On Radar Graph
You should be aware that the Warzone 2 and COD MW2 attachment values are determined linearly and independently of the base values. It doesn't matter how high the base value is if a grip lessens your target time by 20 milliseconds. The grip always lessens the duration by 20 milliseconds, whether the weapon takes 250 or 300 milliseconds to aim.
However, because of the tuning, everything gets a bit complicated, so the players should mainly focus on how the graph changes. When tuning, it's important to pay great attention to the graph. It provides you with essential information regarding the changes you can make to your weapon. By doing so, you should ensure that your
settings
are improved and efficient.
Weapon Specifications To Tune In Warzone 2
The statistics that you can tune into the game are listed below. It's important to switch between them as effectively as you can without prioritizing one stat over another because doing so will eventually have an impact on your weapon's remaining attributes.
Damage
The amount of damage your weapon can deal is determined by its damage attribute. You can quickly deplete your enemy's health by raising the damage of a particular weapon.
Handling
By improving this ability, you can boost the speed at which you can switch between weapons and reload your weapon.
Fire Rate
A weapon's fire rate will affect how quickly and efficiently rounds can be fired from that weapon. You can hit your targets more quickly and precisely by increasing your rate of fire.
Range
The range directly affects how far away the enemies can be hit by your weapon. The more enemies you can kill who are far away from you, the longer your range will be. You can even have the efficiency of a sniper on your standard assault weapon by raising the range characteristic.
Mobility
Mobility is a good attribute to level up for weapons that are heavier and bulkier in nature because it directly affects the player's movement speed.
Recoil Control
This quality is important for weapons that shake a lot when you fire them. As your recoil control increases, your aim gets steady, and your weapon becomes stable. Your weapon will be more stable, and your aim will be more accurate as you have more recoil control characteristics. A key consideration when leveling up assault rifles is recoil control.
Accuracy
This attribute will increase the accuracy of your fires and make your weapon more deadly. For weapons like shotguns, accuracy is a key component, so if you want to use one as your primary weapon, you should think about improving it.
Wrap Up
This brings an end to our guide on how to tune weapons in Warzone 2, as well as the unlocking procedure and various attributes that can be enhanced by the tuning system.
Try out the methods listed above, and let us know what you think of the recommendations we have made. Everyone has different interests, so we commonly suggest modifying things to suit your preferences.
In addition, you can customize your loadout in the game by changing each attachment to meet your preferences. To find the attachment that works best for you, you should experiment with a variety of options.
Was this article helpful?
Thanks! Do share your feedback with us. ⚡
How could we improve this post? Please Help us. ✍