Honkai Star Rail follows in the steps of the other Mihoyo games and has challenges known as Stagnant Shadows. Completing these trials grants the players with multiple rewards, especially some essential materials. These trials have to be unlocked. Therefore, an in-depth look into the Honkai Star Rail Stagnant Shadow is a sure help.
Key Takeaways
Stagnant Shadows In Honkai Star Rail are challenges that reward you with Character Ascension materials.
There are 9 Stagnant Shadows in Honkai Star Rail as of now.
In order to unlock the Stagnant Shadows, you must be Trailblaze Level 30.
Your Equilibrium Level must be 3 before you can get access to Stagnant Shadows.
Each Stagnant Shadow is different, and they all require a different strategy and team to beat.
What Are Honkai Star Rail Stagnant Shadows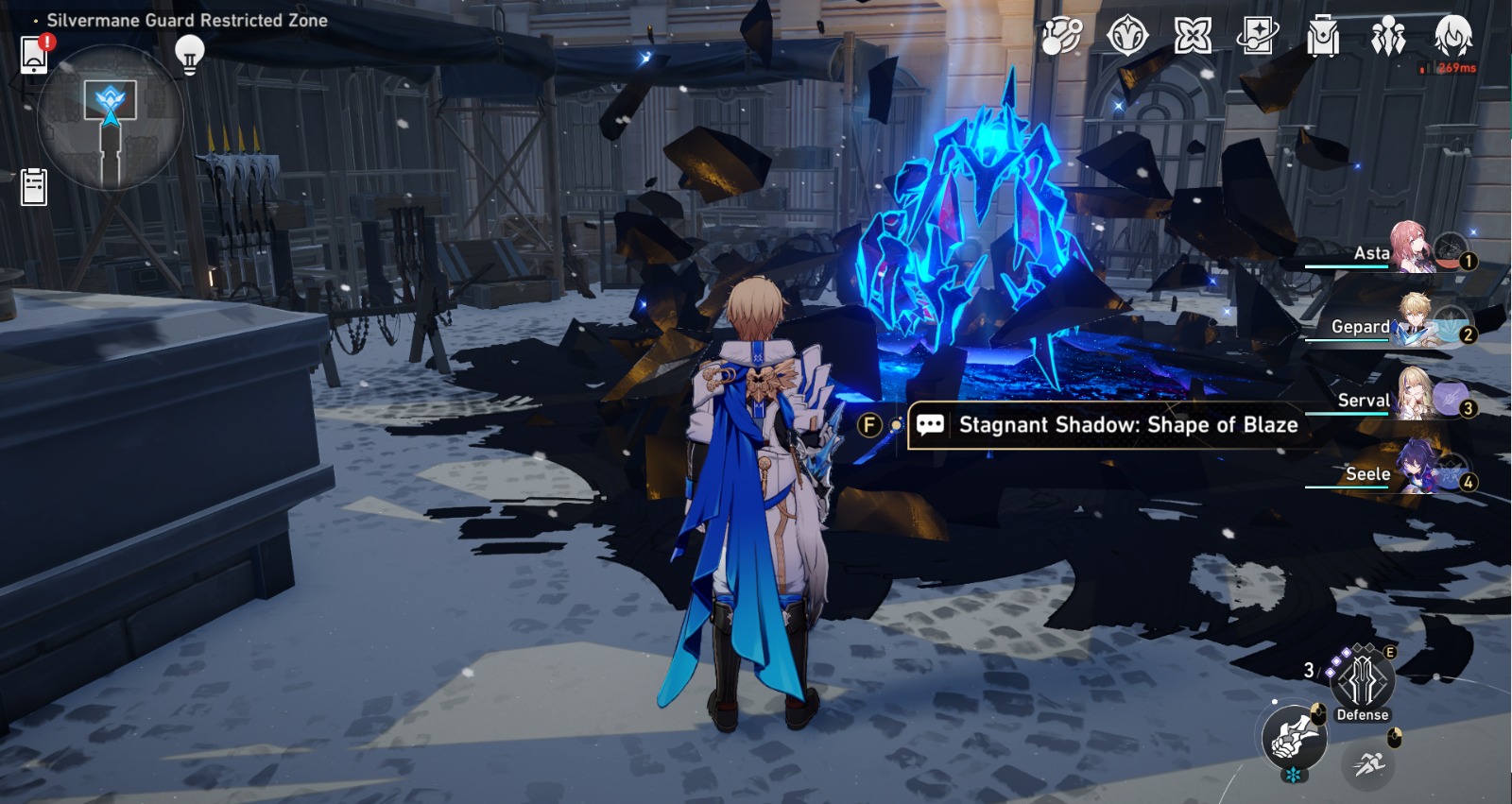 Stagnant Shadows are challenging trials in Honkai: Star Rail that reward you with materials when completed.
These materials are one-of-a-kind in nature and are known as Ascension Materials. This means that you have to complete these trials in order to obtain the materials required for ascending your characters. Since Stangnant Shadows are considered late-game content, you will not be able to ascend your characters that depend on these materials until you unlock them.
In terms of the lore, Stagnant Shadows are entities that have been influenced by Fragmentum energy and are confined within static space-time. As of now, there are 9 Stagnant Shadows in Honkai: Star Rail. This may change in the future as new characters are added that need new materials. For now, here are all the Stagnant Shadows in Honkai: Star Rail:
| | |
| --- | --- |
| Stagnant Shadow | Location |
| Shape of Quanta | Base Zone |
| Shape of Mirage | Backwater Pass |
| Shape of Fulmination | Corridor of Fading Echoes |
| Shape of Rime | Corridor of Fading Echoes |
| Shape of Gust | Rivet Town |
| Shape of Blaze | Silvermane Guard Restricted Zone |
| Shape of Spike | The Great Mine |
| Shape of Icicle | Cloudford |
| Shape of Doom | Stargazer Navalia |
Once you unlock the Stagnant Shadows, you can access them in the Interastral Guide. They will be under the Survival Index part of the guide.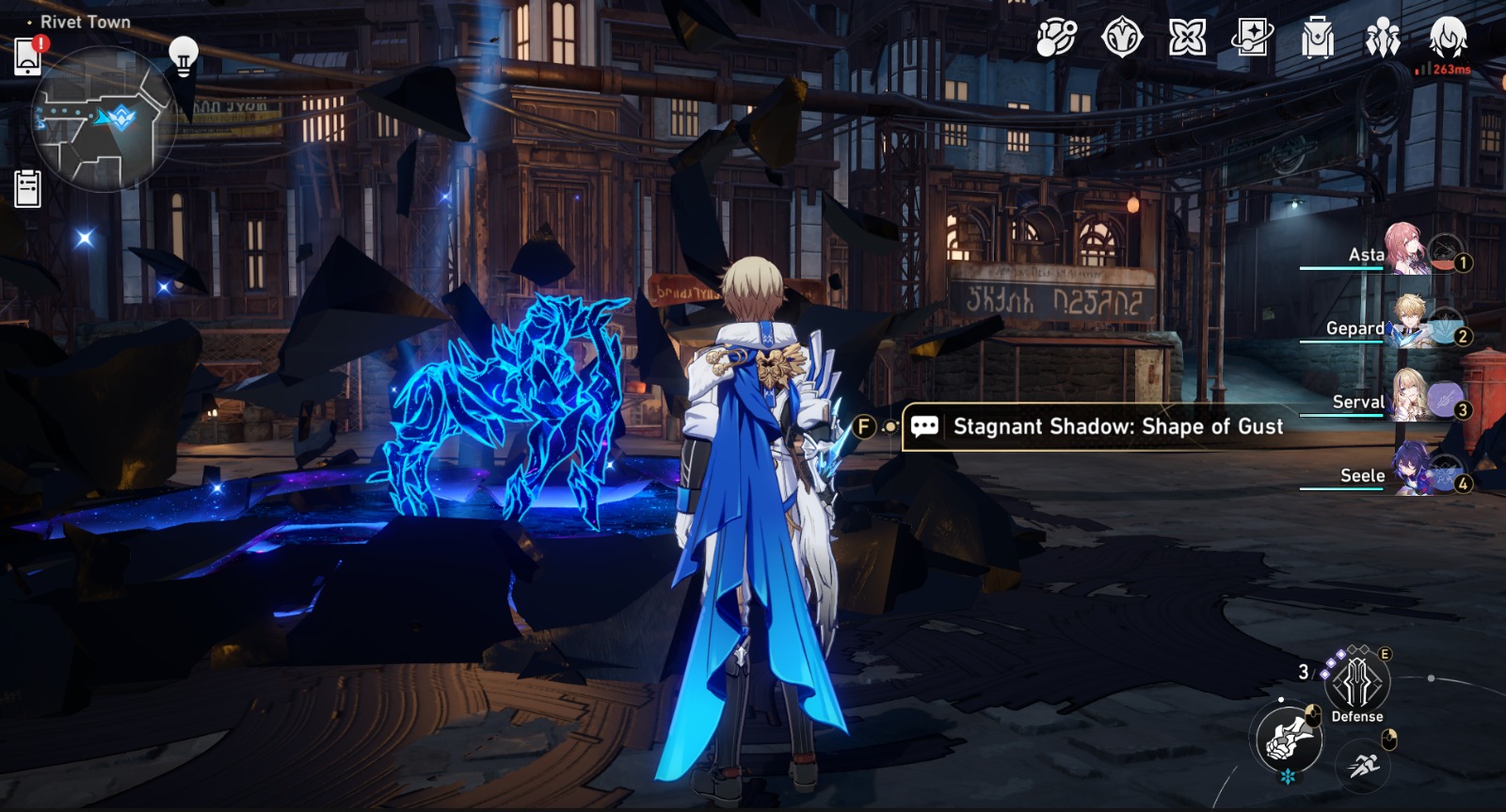 Unlocking Stagnant Shadows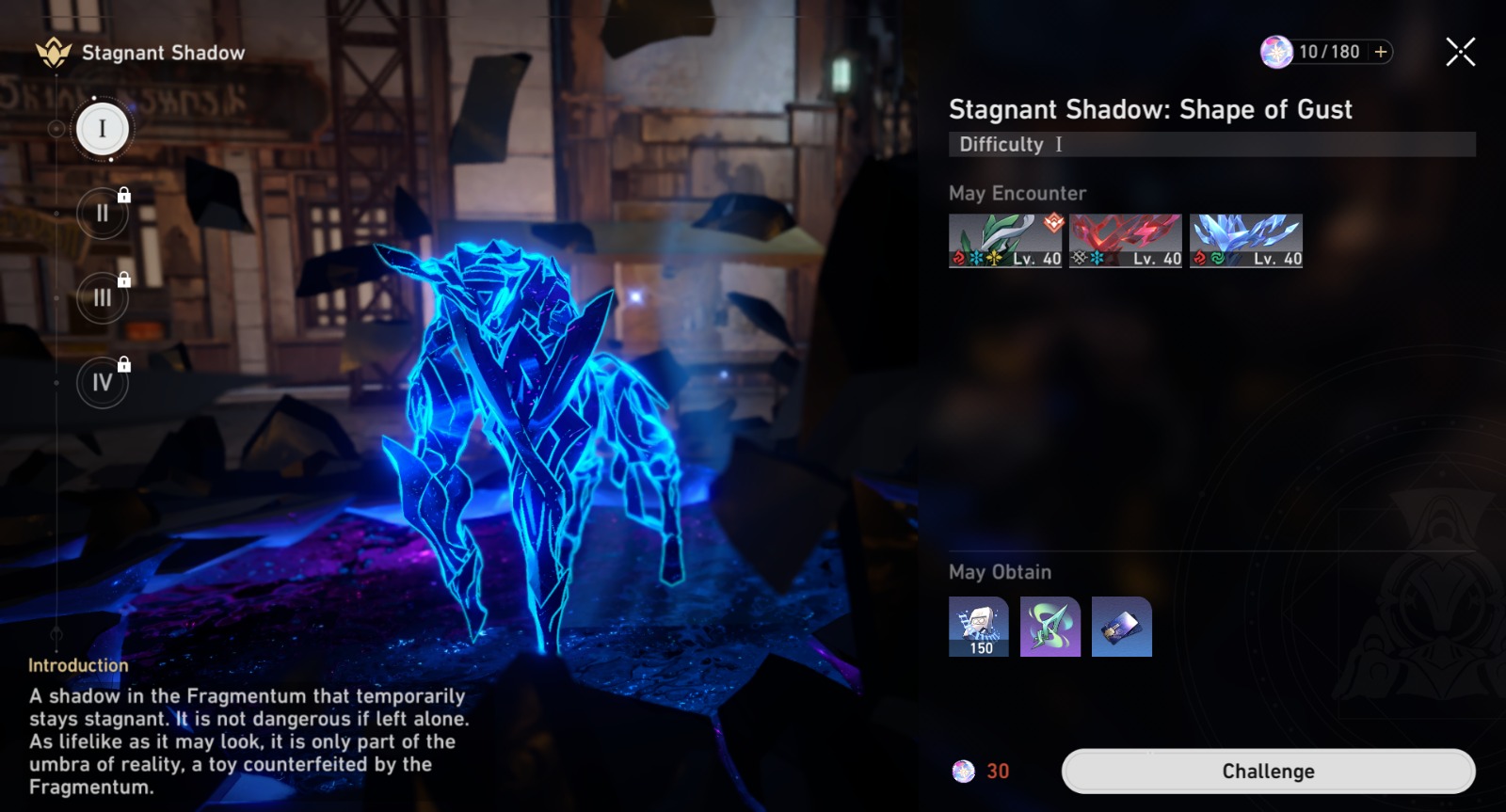 As established before, the Stagnant Shadow trials are not available from the get-go, and you have to unlock them yourself as you progress. There are two main requirements before you can unlock them, which are:
Trailblaze Level: 30
Equilibrium Level: 3
For fans who are familiar with Genshin Impact, a sister game, and the systems in it, then these terms are quite simple to understand. The Trailblaze Level is the same as your Adventure Rank, which means the level of your main character in Honkai: Star Rail. The Equilibrium Level is the same as the World Level, which reflects the difficulty of the content in your world and the rewards you gain from completing quests and challenges.
Once you have reached Trailblaze Level 30, you will get a quest to enhance your Equilibrium Level. Go to the Corridor Of Fading Echoes and initiate the quest. It is not an easy quest, so be fully prepared before you attempt it. I recommend leveling up your entire team to the level cap before you take a shot at it. There are a few rewards at the end, including some Jades. But the main reward is the ability to clear Stagnant Shadows now.
Tips For Clearing Stagnant Shadows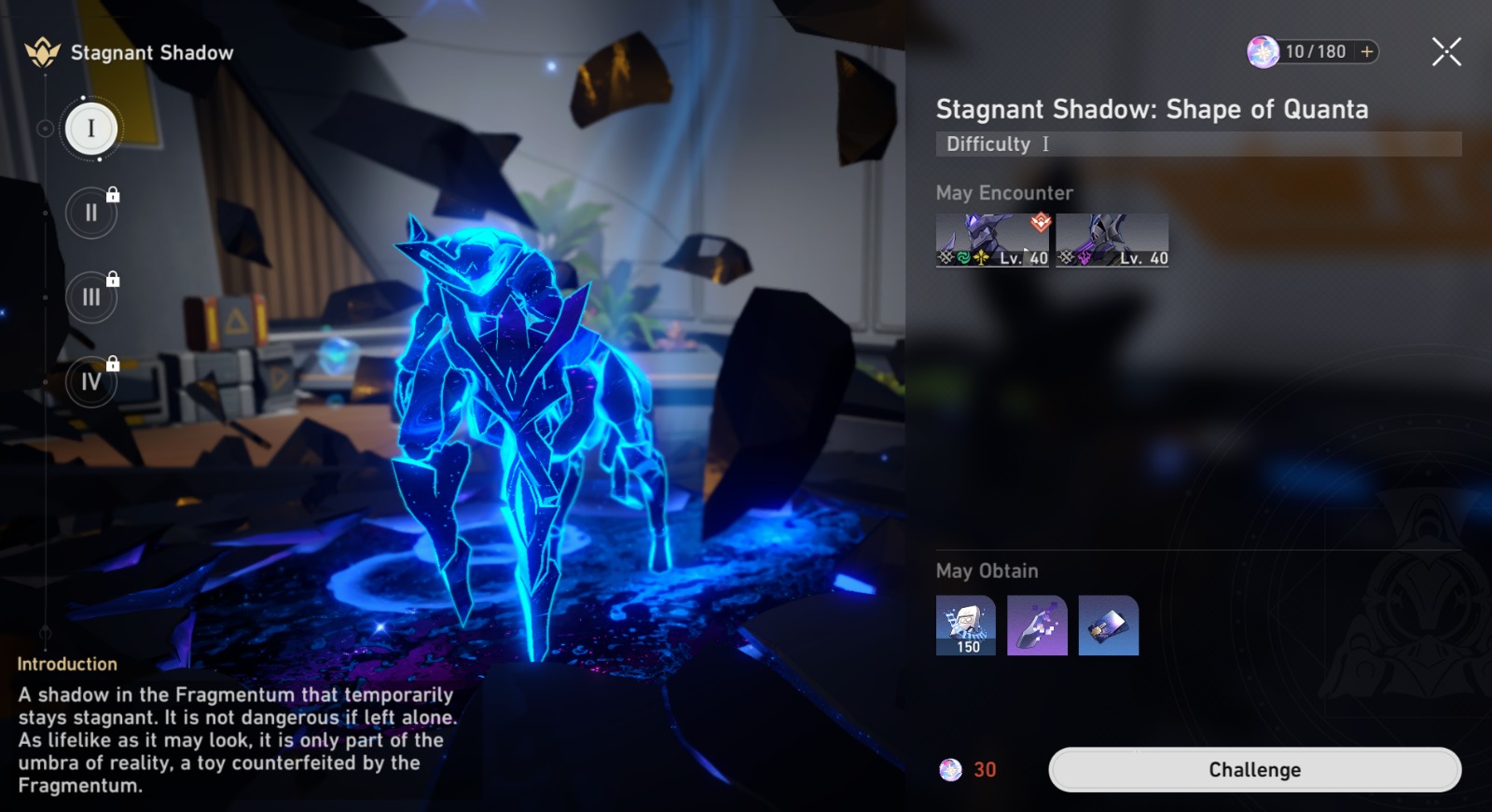 Each Stagnant Shadow is different from the rest and requires different strategies. Here are some general tips to help you clear them out easily.
Pay attention to the enemy types before you begin the battle, as these are stronger enemies.
Trying to fight against these enemies without having the type advantage makes the combat very inefficient and sluggish.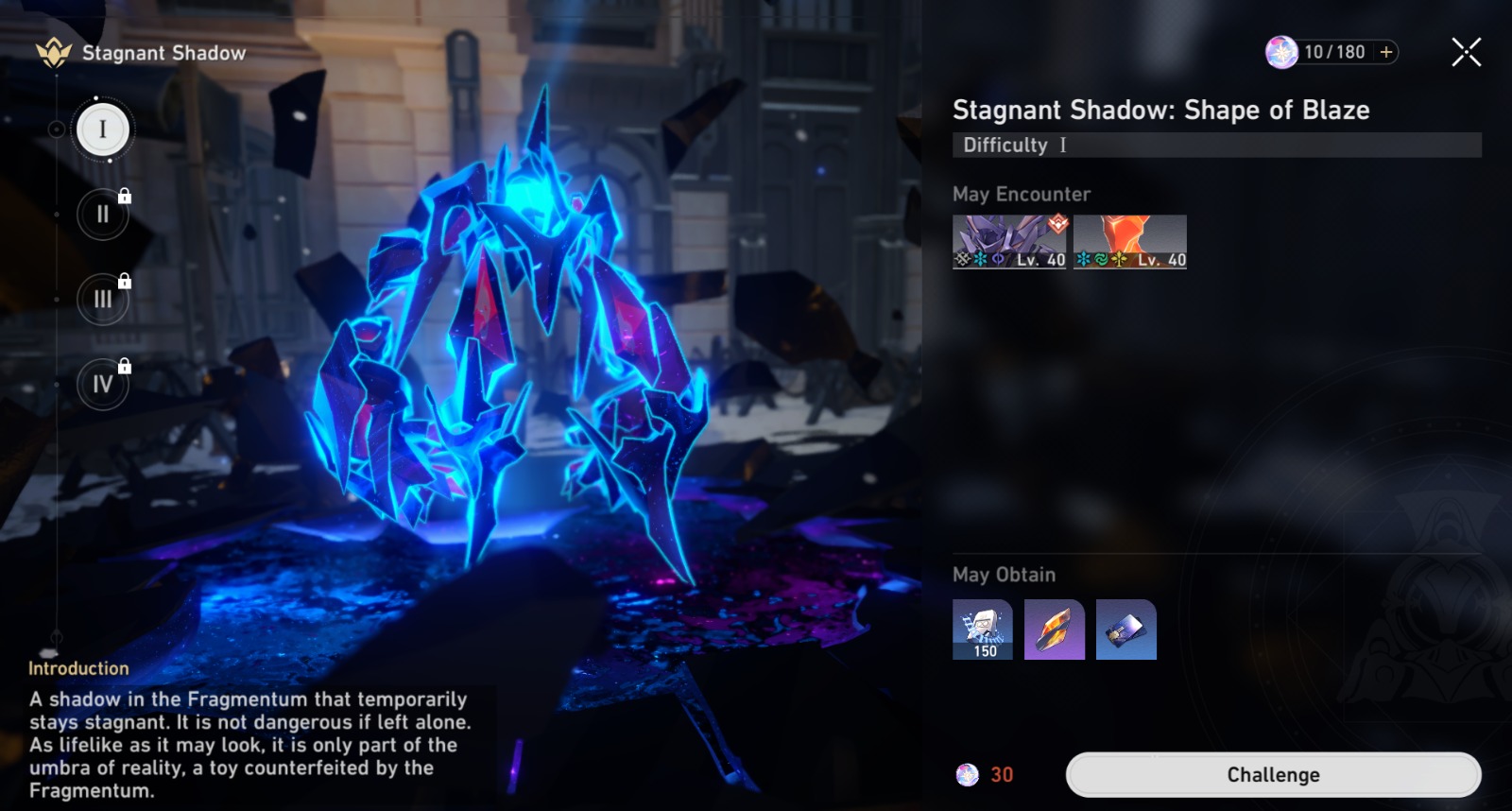 The great thing about Stagnant Shadows is that you can enlist the help of support units from your friends.
Take a unit from your friend list if your own team is underdeveloped or lacks synergy.
Make use of the auto-battle feature if you have a strong team that can plow through the enemies without needing you to overlook the strategy.
Summary
Stagnant Shadows are an important aspect of Honkai: Star Rail's endgame content, as they provide players with unique Ascension Materials to help them level up their characters. While they can be difficult to unlock and complete, the benefits are well worth the effort. In case you need help with team building for the Stagnant Shadows, check out this post in the Honkai Star Rail subreddit community. That concludes the guide for Honkai Star Rail Stagnant Shadow.
While you are here, consider checking out the guide on Honkai Star Rail Triple Authentication Door. In case you are interested in relics and what they do, check out the guide on How To Get Relics. If you are interested in learning more about the effect hit rate, then check out the guide on Effect Hit Rate. In case you want to know more about the best 4-star characters in Honkai Star Rail, then check out the guide on Best 4 Stars Characters.
Was this guide helpful? Let us know in the comments below!
Next
Was this article helpful?
Thanks! Do share your feedback with us. ⚡
How could we improve this post? Please Help us. ✍