What is Athenaeum in V Rising
Athenaeum is a research workstation in V Rising and is a very good station at that. It is a high-tier research workstation that offers many recipes for overpowered items. Recipes for Bloodmoon armor and Sanguine weapons are some of the few high-level stuff it offers.
Key Highlights
Athenaeum

in

V Rising

is a workstation in the game that provides different recipes or empowered items. Most commonly offers Recipes for

Bloodmoon armor

and

Sanguine weapons

.

In order to unlock the

Athenaeum

, you have to defeat the level 60 boss named

Raziel, the Shepherd

.

After defeating

Raziel

, he'll drop blueprints in V Rising instead of

Athenaeum

. So, in order to construct

Athenaeum

you need

40x Scrolls

,

12x Scourgestones

and

8x Reinforced Planks

.

Athenaeum

also crafts and unlock recipes for different

Armors

,

Weapons

,

Structures

,

Consumables

etc.

Each of them will increase the crafting bonus at high speed in V Rising.
Every type of desk in V Rising requires some form of currency in order to trade or operate. Athenaeum is not exempted from this rule either. You will need schematics to buy recipes from Athenaeum. Some of the end-game recipes can cost as much as 100 schematics. Worry not as farming schematics in V Rising is a simple task.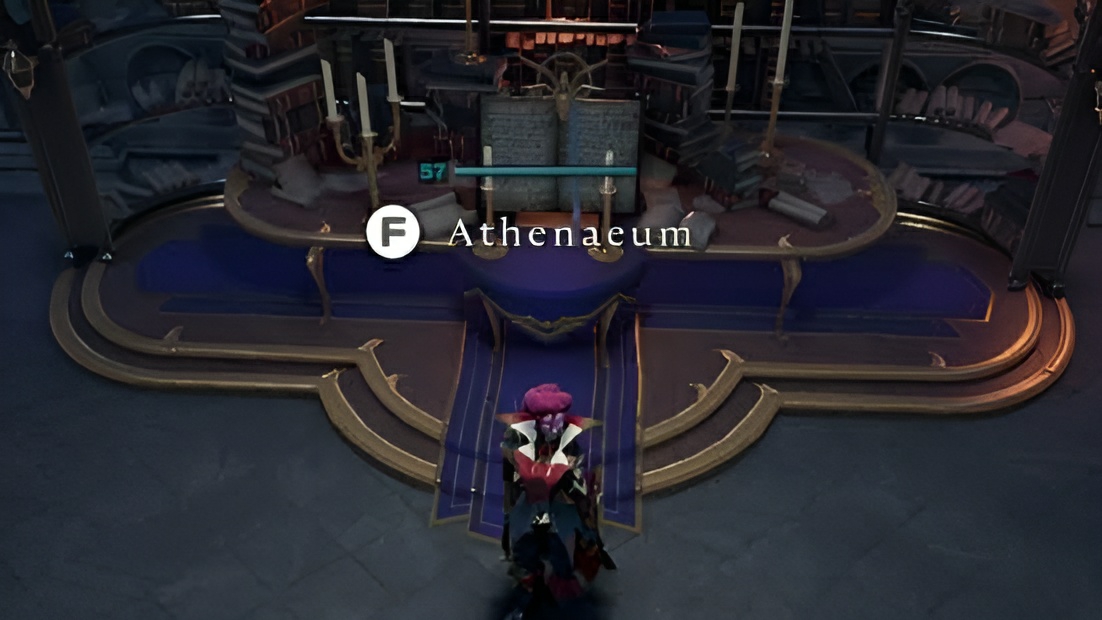 How To Farm Schematics
Following are the methods of obtaining schematics in V Rising;
Search containers
Farm enemy mobs
Craft schematics
Crafting schematics in V Rising requires the use of a Paper Press. Paper Press can be unlocked through study and our guide on it goes into detail about its crafting. Paper for Paper Press can be easily looted from bandit camps scattered in Farbane Woods.
How To Unlock Athenaeum in V Rising
Players will need to beat an in-game boss to unlock the Athenaeum blueprint and some items to build it. The boss in question is Raziel the Shepherd who is a level 60 boss and quite tough. Raziel is located in the Dunley Monastery of the Dunley Farmlands. This boss can deal a large amount of Holy damage. Craft Holy Resistance Potion before fighting him in order to tank his attacks.
Beating Raziel The Shepherd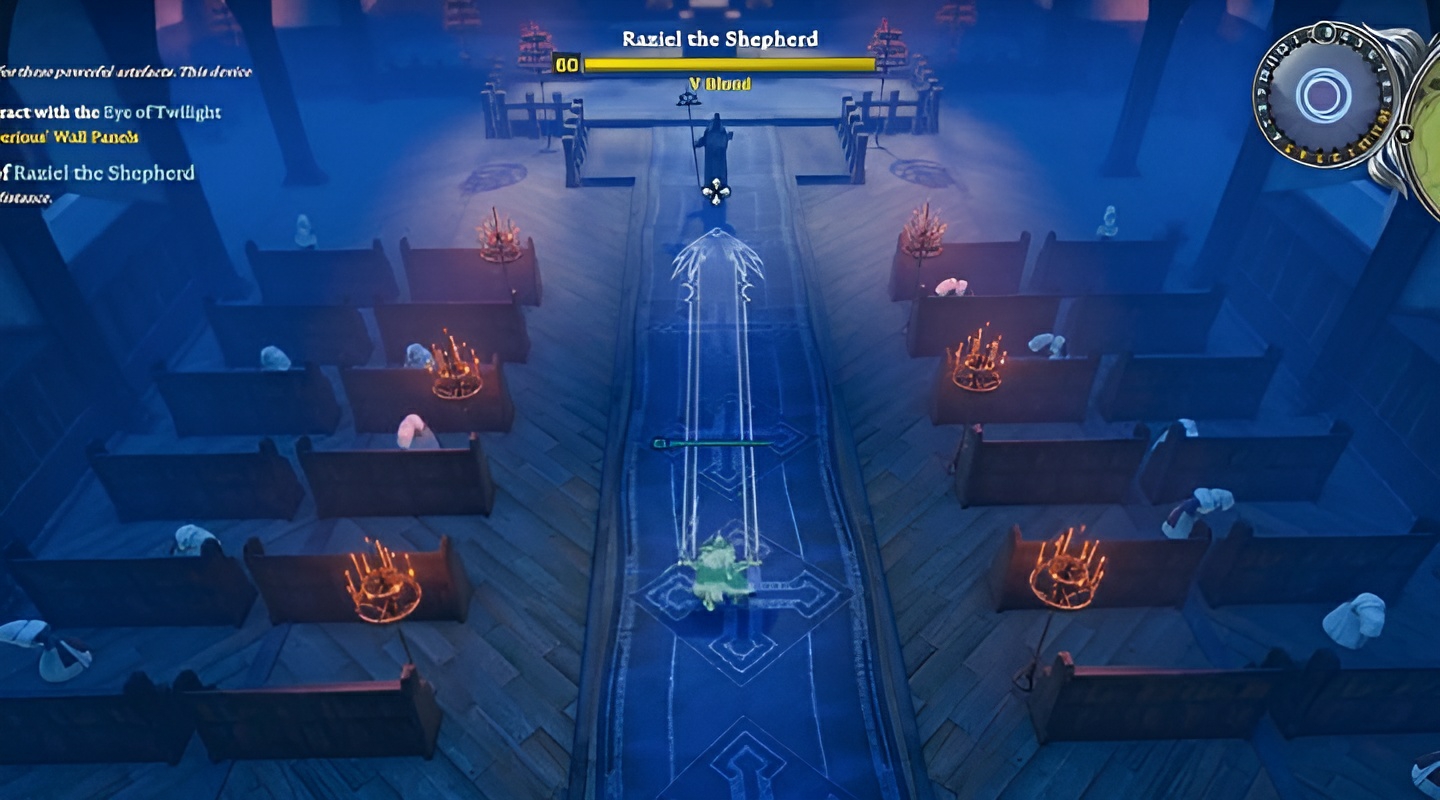 Boss room of Raziel can become a bit of a problem as it contains many obstacles and fodder enemies. Players are advised to defeat these enemies and destroy the obstacles before fighting Raziel. Otherwise, it will become hectic to dodge many of Raziel's AOE attacks.
Use as many long-range abilities to deal damage because close-up combat almost always results in death. Use Power Surge to counter his Hp draining move. After you've defeated Raziel he will drop blueprints for Athenaeum in V Rising.
Building Athenaeum
Athenaeum isn't a direct reward for defeating Raziel instead you get blueprints from it. The following items are required to construct Athenaeum from its blueprints;
40 x Scrolls

12 x Scourgestones

8 x Reinforced Planks
We have a detailed guide on farming and crafting of Scourgestones that you should check out. Scrolls are easily obtainable in the over-world or can also be crafted. Planks are also easy to come by in V Risingbut you can still get more of them from Saw Mill.
Now that you have acquired all crafting materials, build your Athenaeum. Get ready to obtain some of the best crafting recipes available in V Rising from this research bench.
Crafting Using Athenaeum in V Rising
Once again schematics play an important role in your research using Athenaeum. High-level or end-game recipes will cost more schematics. So make sure to keep a good supply of schematics by both crafting and farming. Schematics crafting can only be accessed by defeating a level 72 boss known as Matka the Curse Weaver.
Getting all this grinding out of our way, let us talk about crafting using Athenaeum. This Research Station offers a massive catalog of overpowered recipes. Structures, Armors, Weapons, Consumables you name it, Athenaeum has got recipes for everything in V Rising.
Structure Recipes of Athenaeum in V Rising
V Rising allows you to build your very own castle. This can be done both on a private or a public server. Although finding enough space on a public server can become quite tedious. Building castles requires you to build basic structures. And recipes for such structures come from research stations.
Athenaeum unlocks recipes for the following structures;
Jeweler Chamber Room
Jeweler Chamber Flooring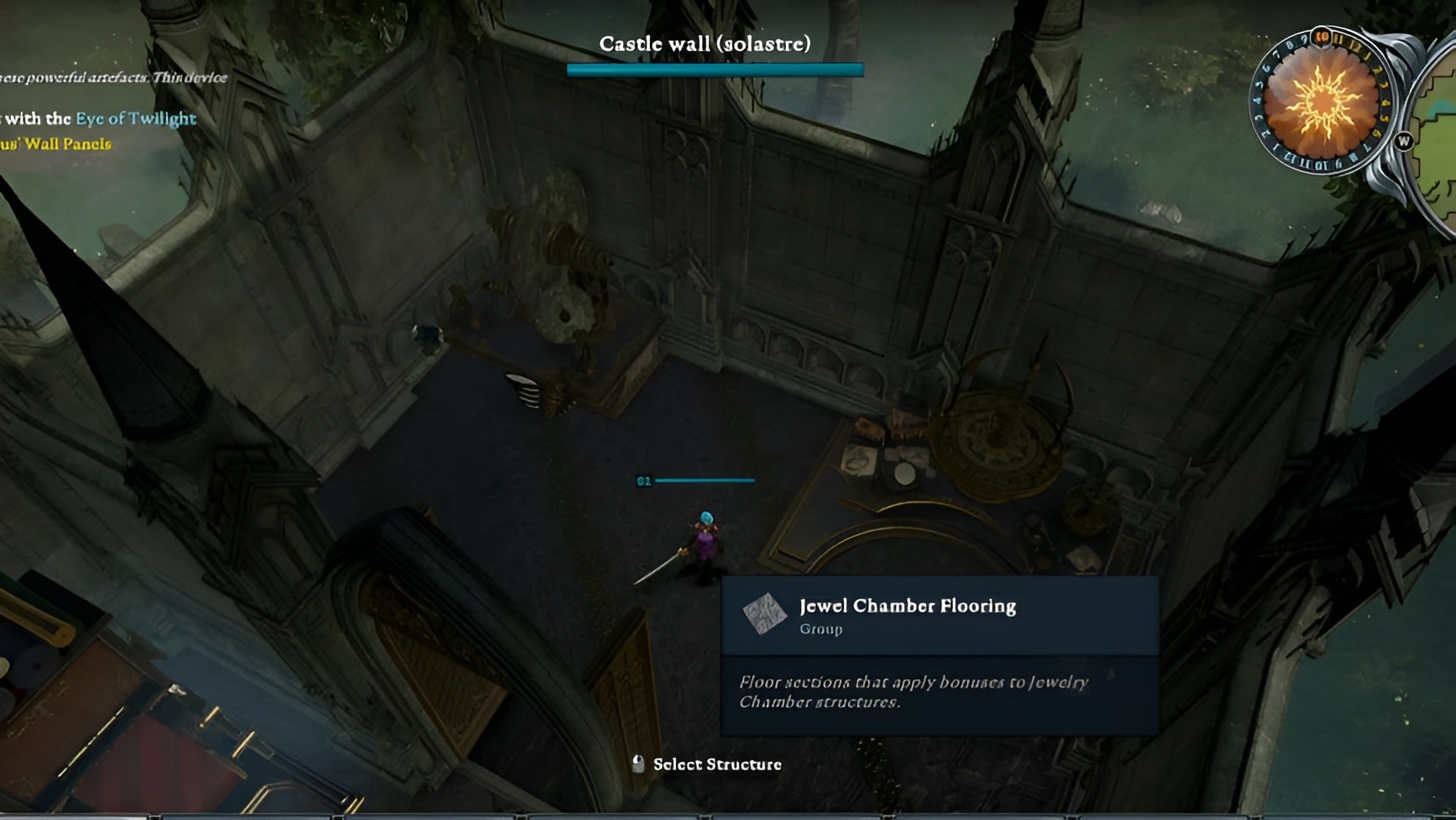 It will take less time to craft stuff whenever you do it inside Jeweler Chamber Room. This room will give you the bonus of crafting at faster speeds. The jeweler chamber also gives bonus buffs to the Gem Cutting table and Jewel Crafting Table. Chamber flooring is required to completely build Jeweler Room.
Armour Recipes of Athenaeum in V Rising
Armour is an important part of gameplay in V Rising. Not only does it increase your defense but it also boosts your stats and gives you buffs. Armor is categorized into 8 gear levels, the higher the better. Athenaeum provides us with the best and most powerful armor recipe. Following Armor recipes are unlocked by obtaining Athenaeum;
Bloodmoon Chestguard
Leggings of Bloodmoon
Bloodmoon Gloves
Boots of Bloodmoon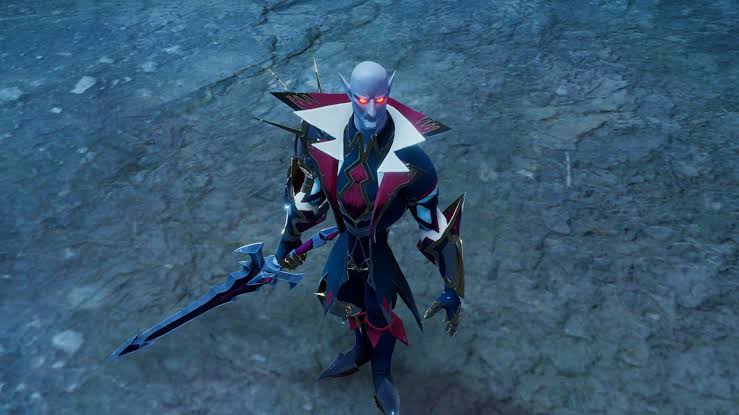 The Bloodmoon armor is a gear Level 8 armor and is perfect for the endgame. If you wear 2 pieces of this armor, then it will increase your movement speed by 6%. If you wear all 4 pieces, then it will also boost your attack speed by 6%. The following items are needed to craft any one part of Bloodmoon Armor;
Weapon Recipes of Athenaeum in V Rising
V Rising contains a variety of weapon types. It includes swords, axes, maces, spears, crossbows, reapers, and slashers. Every weapon type has a different buff attached to it. Swords and Slashers boost physical damage to vegetation by 25%.
Axes boost physical damage to Wood by 25%. Maces boost physical damage to minerals by 25%. Spears boost physical damage to creatures by 25%. Reapers boost physical damage to the undead by 25%.
Athenaeum once again provides us with the recipes for the best weapons in each type of class. Following weapon recipes are unlocked from Athenaeum in V Rising;
Sanguine Sword
Sanguine Crossbow
Sanguine Reaper
Sanguine Slicers
Sanguine Axe
Sanguine Mace
Sanguine Spear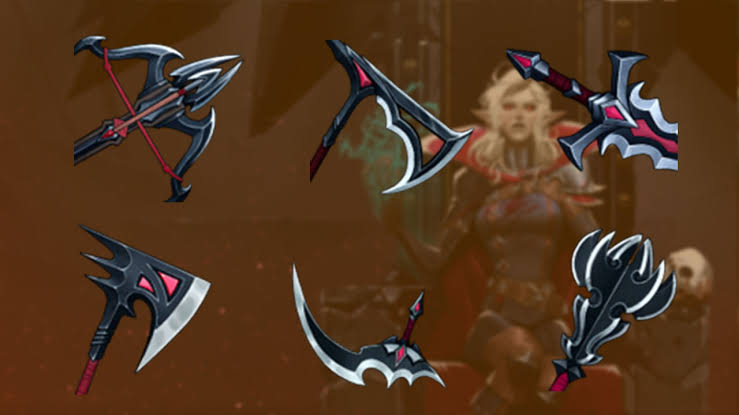 The following items are needed to craft any one type of Sanguine Weapon;
1 Dark Silver Axe
4 Flawless Saphire, Ruby, Topaz, Emerald, Miststone, or Amethyst depending upon your weapon type
4 Primal Blood Essence
12 Pristine Leather
Magical Item Recipes of Athenaeum in V Rising
Athenaeum provides us with the best magic items that boost both our magic stats and the power of our spells. Recipes for the following magical items are obtained from Athenaeum;
Nightstone of the Beast
Jewel of the Wicked Prophet
Shard of the Frozen Crypt
Nightstone of the Beast boosts our magic level and damage of spells. Jewel of the Wicked Prophet is one of the best jewelry items in V Rising. It increases movement speed by 5%, weapon attack speed by 10%, and spell power by 27.9%. The following items are needed to craft the magical items mentioned above;
4 Flawless Amethyst, Saphire, or Ruby depending upon the magical item you craft
8 Gold Ingot
1 Corrupted Artefact
Consumable Recipes of Athenaeum in V Rising
Consumables are items in V Rising that either recover your health, boost your damage, or just give a general buff upon use. Following consumable recipes are accessed through Athenaeum;
Witch Potion
Potion of Rage
Witch Potion boosts the power of our spells by 8 for 20 minutes. That is a huge boost for sorcerers in V Rising. On the contrary, Potion of Rage boosts our physical strength by 8 for 20 minutes which is viable for a physical build.
Both of these potions can be crafted at the alchemy table once you've obtained their recipes from Athenaeum. Fierce Stinger Fish is needed to craft Potion of Rage and Swamp Dweller Fish is required to craft Witch Potion.
Summary
V Rising is available to download on PC via Steam. It is one of the fastest-growing online survival experiences that every PC player should try at least once. V Rising gameplay heavily depends on farming and crafting. Our farming guides include Quartz Farming, Leather crafting, and High Lotus in V Rising.
Other Game Tips
V Rising is the latest Survival game developed and published by Stunlock Studios. The game ended up gaining a large amount of attention from gamers everywhere in its early access release. It has now gathered a huge community of fans on Steam.
. V Rising is not only a massively multiplayer game but also an adventure role-playing game. Since the game heavily depends on PVP, you should check out our guide on Best PVP Weapons in V Rising.
V Rising offers a large number of Items to players including some of the best Weapons, Armor, Jewelry, and Cloaks. Players can find the Best Armor and different Types of Cloaks in V Rising as well to shield the vampire from the sun, garlic, and silver. Developers have included some really cool bosses in this game including Terah The Geomancer and Vincent The Frostbringer in V Rising.
Before you proceed further, try checking out our guides on Best Servants and Best Base Locations in V Rising. Information related to every single thing in V Rising is given in our V Rising Wiki guide.
V Rising gets regular updates too and new content is always being added. This concludes our guide on Athenaeum in V Rising. We hope it helped you to take advantage of Athenaeum and you were able to craft the strongest items in V Rising.
Was this article helpful?
Thanks! Do share your feedback with us. ⚡
How could we improve this post? Please Help us. ✍