Farming spots are some of the best ways to get rich quickly. These locations provide access to high-end Gear and Gold, allowing players to improve their rank as well! This guide hopes to inform you guys of the Diablo 4 Best Farming Spots so you do not have to waste any time searching for them.
Key Takeaways
Diablo 4 Best Farming Spots can be found all around the map, but there are a few that include the better stuff!
The top 4 Diablo Farming locations include the following:

Kehjistan
Anica's Claim Dungeon
Hold your Ground World Event
Osgar Reede

All these places house the most, and the best stuff to farm!
You can make multiple trips to these farming spots, and keep on building up your inventory.
You will have to defeat multiple elites to get your mitts on these items, so be prepared.
There are so many methods players can adopt to get their desired gear and increase their gold count in Diablo 4; these include farming at specific locations that are filled with items, participating in certain events, or even fighting a beast. This guide will feature the best way to get your hands on your desired items!
1. Best Legendary Farming Spot: Kehjistan
The first, out of many, locations, is Kehjistan. This can be found in the far southwest of Kyovashad. This place is one of the many places that are considered the Diablo 4 Best Farming Spots!
The best way to farm Legendary items is by going around and defeating Elite enemies. Almost every 3-4 Elite enemies down, they will drop a ton of Legendary items. The times they do not drop any legendary items, they will drop Rare items, but those are a common find here. Apart from just only battling Elite enemies, you can also go against normal enemies. However, they won't be dropping items as well as the Elite enemies will.
Treasure Goblins are also a great way to loot Legendary items, and thankfully this space is full of them! A simple visit to the area will highlight all the Elite enemies and Treasure Goblins, and those are the ones you want to keep an eye out for!
Killing enemies will not only gain you Legendary items, but they will also drop Blood Seeds. Make sure to pick them up, and travel to the Altar of Extraction located at different places around Kehjistan. Here, once activated, you will gain Gold in return for them. That can be used to purchase stuff, or just collect it all up!
Kehjistan is not only a great farming spot, but it is also home to Lifesbane. It is an herb that is used in the creation of many different potions, elixirs, and incense.
2. Anica's Claim Dungeon
Another place for the books is Anica's Claim Dungeon. This can be found in Malnok, by going south of the Bear Tribe Refuge waypoint, and you can't miss it!
Once inside the dungeon, you find the place crawling with Animus Carriers. The best way to farm a tonne of Legendary items is by defeating these cretins. They are Elite enemies and a great source of Legendary items with the amount you will in the dungeon. They will drop not only Legendary items but also a great amount of other high-level gear. Walking out of the dungeon with legendary and high-level items is almost guaranteed!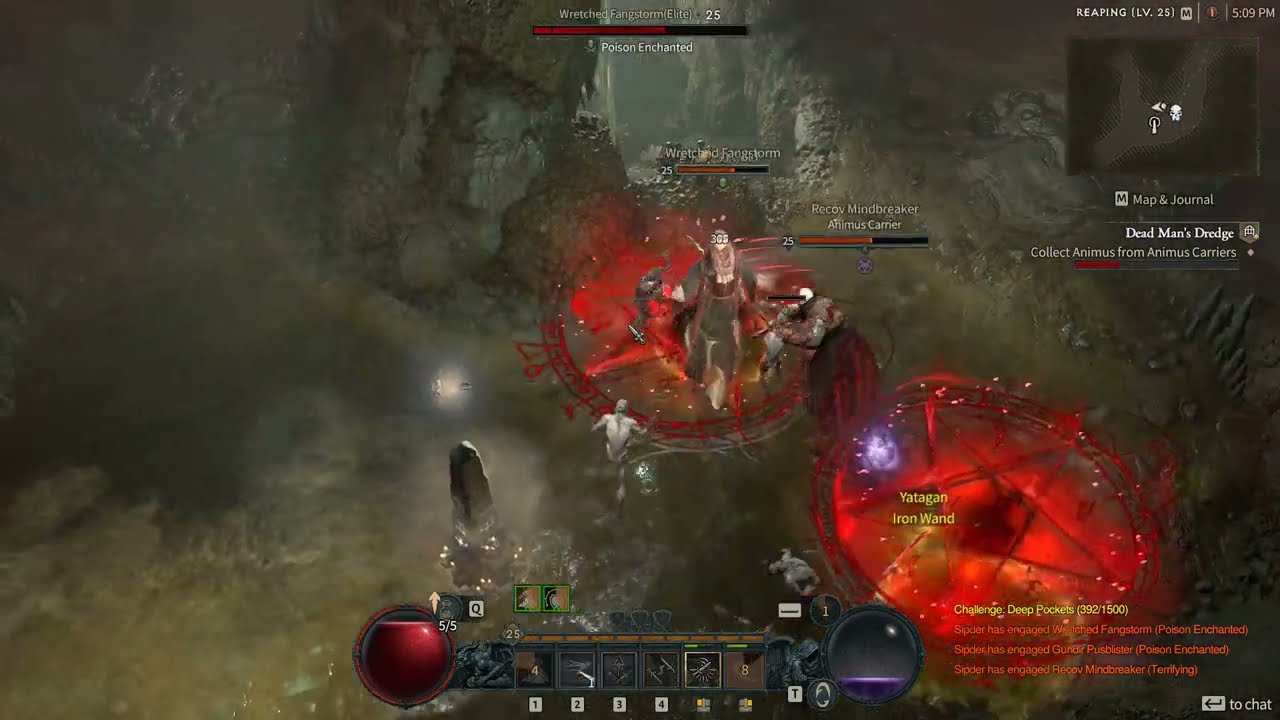 To get your hands on Gold, the easiest and most trusted method is to farm Gold by selling any unwanted items in your inventory. This will not only help by getting rid of the clutter but also be a great way to farm Gold. Apart from this, head on over to the Greed Shrine; this can be found at different places, and once activated, it makes enemies drop Gold when they are defeated.
Once you are done with farming, till your heart's content, or till your inventory fills up, do not leave the dungeon. Instead, reset the dungeon so you get kicked out and teleported back to your own town. There, you can sell any additional items you gathered and repeat your farming at the dungeon once more!
Important: Each trip to the dungeon will help you earn 25000 Gold and a bunch of Legendary items.
3. Hold Your Ground World Event
Another great way to farm Gold and Items is by participating in events, and luckily for us, this event takes place just next to Anica's Claim Dungeon. This is located northwest of the Bear Tribe Refuge waypoint, the northern part of the Frigid Expanse region in Fractured Peaks.
The good thing about this event is that its difficulty is not that hard, and is level based. So the higher your level, the harder the enemies will be! Make sure to go in knowledgeable about how to beat different enemies and a jam-packed inventory.
Once you win this event, you will win XP and a bunch of Legendaries. The best part is, as soon as you get teleported back to your own town, you can head back here and restart the quest as if you haven't done it before! An extremely efficient way to farm items in Diablo 4.
4. Defeating Osgar Reede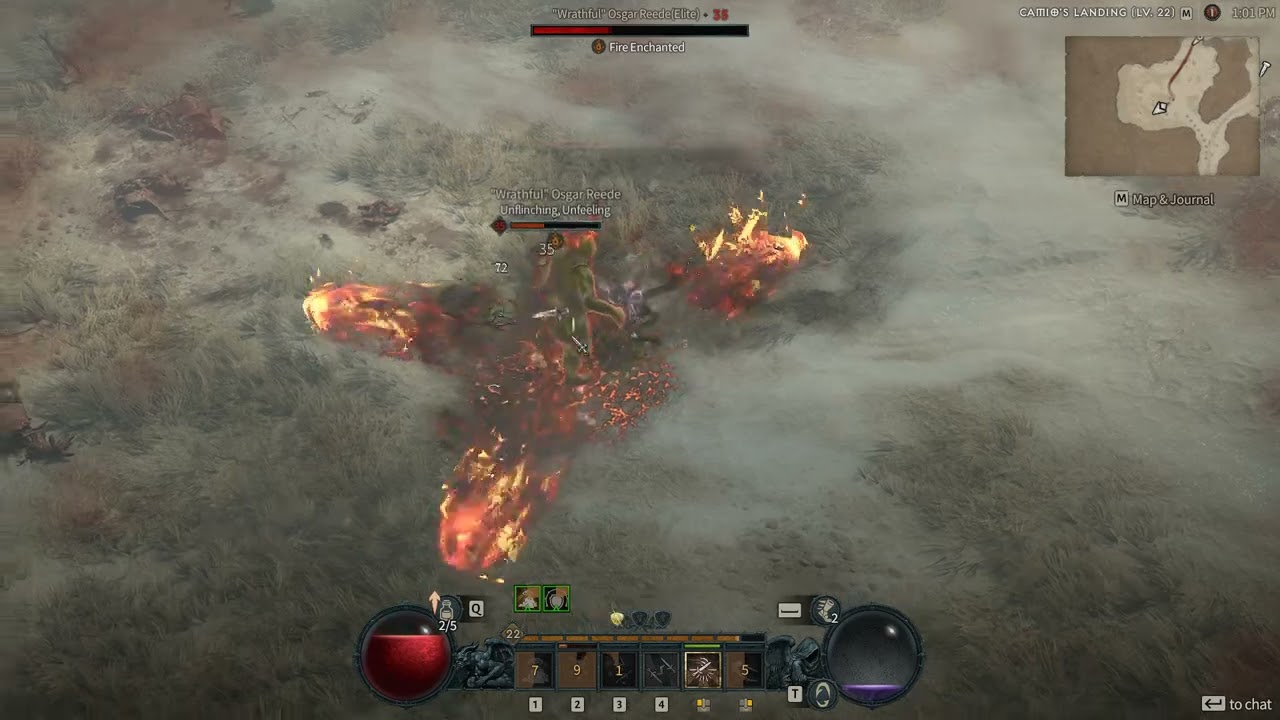 This method is not a location per se, but a great way to farm Items and Gold in Diablo 4. Osgar Reede is an Elite enemy, but not just a normal one. He is a Unique Elite Enemy, and defeating him is no easy feat.
To find Osgar Reede, head to the Camios Landing which is in the northern part of Nostrava. It can be easily accessed by the Nostrava Waypoint.
To defeat this enemy, you will have to make sure you get hit as less as possible, none would be great. Since Osgar Reede is Fire-Enhanced, his attacks will cause a lot of damage, and staying away from this is the best option possible. Only launch attacks against him whenever the coast is clear, you do not want to take a lot of damage from him.
Once you have defeated Osgar Reede, make sure to get out of the way as quickly as possible. He will explode, and this does cause damage. His remnants will include high-value loot, and some Level 35 power items. Although this is a great way to farm items and gold in Diablo 4, it is a difficult task. Make sure to only head here if you have enough means to defeat the beast.
Final Thoughts
It is time to wrap up now, that is all there is to know right now about the Diablo 4 Best Farming spots! These spots are not unequivocally the best farming spots in the whole of Diablo 4, but they are some of the better ones.
While you are knee-deep in the Diablo 4 gameplay, make sure to check out the Best Twitsting Blade Builds, they might come in handy when fighting Elites. Also, check out the Best Necromancer build, you never know when they could be of help
Let us know in the comments below if you would like more guides like this one! If there is any guide you have been scrapping for, let us know down below.
Up Next:
Was this article helpful?
Thanks! Do share your feedback with us. ⚡
How could we improve this post? Please Help us. ✍