Farthest Frontier is a real-time strategy-based survival game with lots of elements to explore. The high-end detailed simulation and fancy graphics make Farthest Frontier look unbelievably realistic. It offers you everything from planting several crops to taking care of your own villagers. Once in a while, your villagers might get sick, and you will have to discover some ghastly dead bodies lying on the grounds of your village in Farthest Frontier.
Key Highlights
Villagers may get sick and there may be dead bodies found in the village.
Maintaining the village includes repairing buildings and getting rid of bears and wolves to prevent death.
Disease outbreak, wild bears, wolves, and food shortage are common causes of death among villagers.

To prevent death, villagers should attack bears and wolves in a group, prevent heat waves and freeze temperatures, have an abundance of crops, and build an Arborist building.

Building a graveyard in the game is important for taking care of dead bodies and villagers' well-being.
After you have successfully set up the best city in Farthest Frontier, you have to maintain it as well. It is important that you repair buildings so that no villager dies due to the collapse of these buildings. Also, make sure to get rid of the bears; otherwise, they may kill one of your villagers.
Make sure to destroy any wolf dens that you come across, as there are high chances of villagers getting eaten by wolves if the population grows. Furthermore, try to prevent food shortage as much as possible otherwise, your villagers will have nothing to eat, and eventually, they will die of starvation.
There are many more factors that can lead to the death of your villagers. Our guide today is all about the dead villagers and dead bodies you find in Farthest Frontier, the causes of their death, and how to prevent them in the best ways possible.
Dead Bodies In Farthest Frontier
After constructing all the important buildings in Farthest Frontier, the next step is to take care of your villagers and their well-being. You can avoid crop failures by checking out our guide on the best crop rotation in Farthest Frontier.
If you fail to do so, there will be a lot of dead bodies, and you won't be able to take care of them all in Farthest Frontier. Don't forget to check out our extensive guide on all the possible endings in Farthest Frontier that you can get.
Causes Of Villagers Death And How To Prevent It
There are a lot of reasons behind the death of your villagers in Farthest Frontier. Following are the most common ones;
Disease Outbreak
Villagers will get sick as sometimes there will be a disease outbreak in your village that can cause the death of many. If you don't get rid of the outbreak soon and heal the sick villagers in Farthest Frontier, you will see a lot of dead bodies lying all around the land. An important aspect is to prevent heat waves and to freeze temperatures as much as you can.
Bears
Another big cause of the villager's death is the wild bear. Whenever a villager comes across a bear, it will attack them and eventually kill them, a villager. Therefore you must never order a single villager to attack bears. It is important that the villagers attack the bear in a group so that they can take him down easily.
Wolves
Another wild animal that can be found lurking in your village is a wolf. Once again, it is not a good idea to let a normal villager fight the wolf on its own as they will likely end up with wounds and may even die. However, if you're using soldiers, guards, or even hunters and there are high chances of the wolf being killed. You can also use barracks or the lookout tower for this purpose.
Shortage Of Food
Food shortage may also lead to the death of your villagers. Therefore it is important that you always have an abundance of crops and use arborist building to plant as many fruit trees as possible. Furthermore, make sure that there are no crop failures if you want to keep your citizens alive and happy.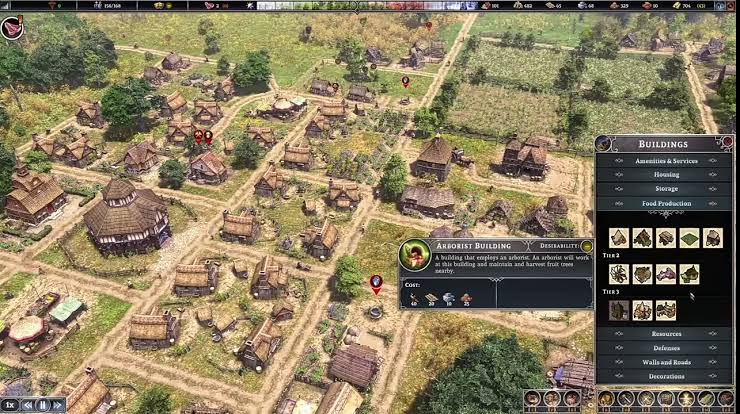 Building A Graveyard In Farthest Frontier
Since Farthest Frontier is all about survival, it is important that you take care of the well-being of your villagers. However, since it is a real-time simulation, you cannot evade that completely, and eventually, it will come for some of your villagers. We have also formulated our detailed trading guide for Farthest Frontier that you should definitely check out.
When it happens, it is important that you have a graveyard because, let's be honest dead bodies lying around the village are not a good look for an ideal city, now is it? Also, while you are at it, check out our guide on how to make cheese in Farthest Frontier in an easy way.
Therefore, it is important that at the start of your game, the first thing you do is to build a graveyard. You can do so in your second year in the game. Because at this time, you will have enough resources in the game. Do check out our guide on how to get wood and cows in Farthest Frontier.
Removing Graveyards
Also, you can build a graveyard on the side of your town. However, we recommend that you take your time while selecting a site for your graveyard because as you will be expanding your town, there might come a time that you will want to remove or delete the graveyards. Don't forget to check out our guides on an apiary.
In early access, the feature is not available, and you cannot remove, or you delete your graveyard. Make sure that you avoid putting a graveyard on fertile land.
Summary
With this we wrap up our extensive guide on dead bodies and how to take care of them in Farthest Frontier by building a graveyard. We have also suggested ways that will help you increase the lifespan of your villagers. Make sure to leave any queries you have in the comment section down below and we will get back to you as soon as possible.
Was this article helpful?
Thanks! Do share your feedback with us. ⚡
How could we improve this post? Please Help us. ✍