Horizon Forbidden West: Apex Stalker Location
Our detailed guide has everything you need to know about the Apex Stalker, it's location, loot drops and body components as well as how to defeat it.
What Is An Apex Stalker In Horizon Forbidden West?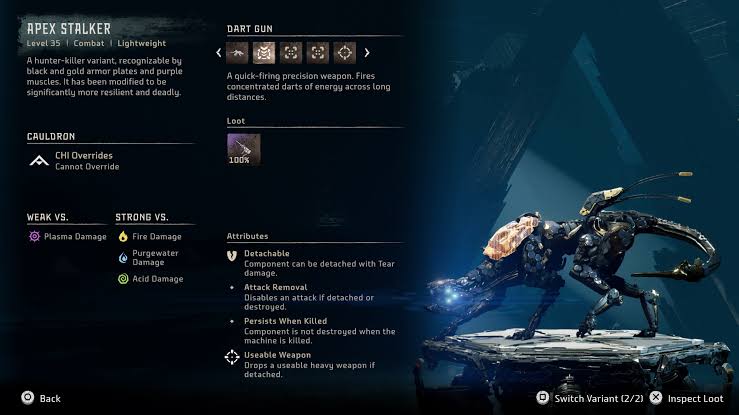 One of the most dangerous and powerful machines that you will encounter in Horizon Forbidden West is an Apex Stalker. The enemy is stealth focused and will attack you from hiding. They are found in jungles that can only be accessed after you have crossed the mountains found in "The Dying Lands" mission.
Weapons like the legendary Skykiller will help you defeat it.Once you've completed the mission, you can enter the jungles to take on these brutal machines. They camouflage themselves among the trees so locating them can be quite a nightmare. Players are advised to move carefully through the woods as they are littered with bombs dropped by the Apex Stalker.
Attacks
Since the combat machine can disguise itself and become almost invincible, spotting its attacks can be quite hard. Apex Stalker attacks the players using alarm flares and mines in Horizon Forbidden West that are heavily damaging.
They can do ranged and melee attacks eating up a lot of HP of the players. Apex Stalkers are lightweight and will attack by jumping on you, giving you very little time to recover. Give them a taste of their own medicine by using weapons like arrows to detonate any bombs near them.
Apex Stalker Machine Features
Following are some unique features that are possessed by Apex Stalker in the game.
| | |
| --- | --- |
| Machine Level | Apex Stalker has level 22 in Horizon Forbidden West |
| Machine Type | It is a Combat focused machine |
| Variants | Stalker and Apex Stalker are its variants |
| Weightclass | Apex Stalker is a Lightweight machine |
| Ride ability | It cannot be used as a mount in Horizon Forbidden West |
| Weak Vs | Apex Stalker is weak toward Shock |
| Strong Vs | It can survive Fire, Purgewater and Acid |
| Override Cauldron | Partially unlocked CHI Overrides |
| Body | Apex Stalker has a hard and strong outer casting that protects its operating systems and synthetic muscles |
| Attributes | None |
Apex Stalker Components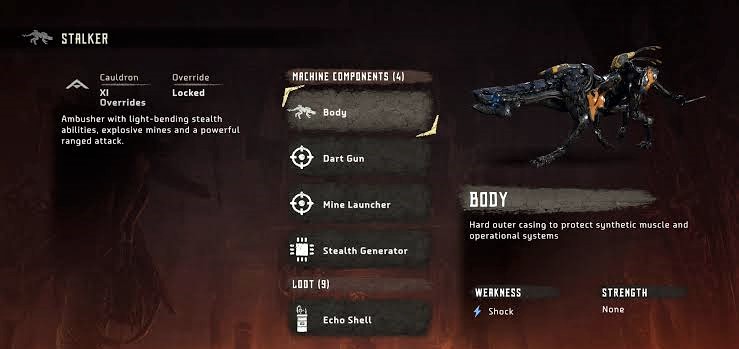 Following are the components possessed by the Apex Stalker. While you're at it, consider reading our guide on How To Get Diving Mask.
Dart Gun
It is one of the detachable components of Apex Stalker and it can be separated by Tear Damage in Horizon Forbidden West. If Dart Gun is destroyed or detached, it will disable the attack.
The component will remain intact even after the machine is killed and can be collected as loot. When you detach this component from the Apex Staker, it will drop a useable shield in Horizon Forbidden West.
Stealth Generator
It is also one of the detachable components of the enemy that can be detached using Tear Damage. Moreover, it can disable the ability if you detach or destroy it. If you don't detach it, it will get destroyed with Apex Stalker.
Stealth Generator is one of the most valuable components of the Apex Stalker as it allows you to upgrade your weapons and outfits in Horizon Forbidden West.
Antenna
The component can be detached using Tear Damage. If the antenna is destroyed or detached it will disable the machine. If the component is not detached, it will get destroyed by the machine. The component can be used to obtain valuable loot resources.
Mine Launcher
The Mine Launcher can be detached using Tear Damage. It will disable any ability if it's destroyed or detached. The component will be destroyed if you fail to remove it from the machine.
Apex Stalker
Loot Items And Drop Chances
Like every other machine in Horizon Forbidden West, the Apex Stalker drops valuable goods that can help you throughout your journey. Some of these can be removed from the machine while some are dropped while attacking it. Following are all loot items dropped from Apex Stalker and their chances in Horizon Forbidden West.
Items

Drop

Chances

Crystal Braiding

100%

Metal Shards

100%

Braided Wire

73%

Stalker Circulator

33%

Sturdy Harplate

41%

Machine Muscle

31 %

Stalker Primary Nerve

23%

Metal Bone

10%

Small Machine Core

17%

Blast plate

84%

Medium Machine Core

59%

Dart Gun

100%

Stalker Stealth Generator

100%
Apex Stalker Location
Stalkers are hiding in the dense jungles of the game and are fairly hard to locate. After you have completed the Dying Lands Mission, look for them in the forest beyond the mountains.
Head towards the Lowland's Path. It is located under Memorial Grove. After locating the Lowland's Path look for a clearing in the forest. You will find the stalker roaming nearby. It has the ability to become invisible for a short period of time, so keep an eye out for any kind of movement in the woods.
You will know if you're on the right track when you see land mines and explosives scattered across the ground. We have also marked Apex Stalker's location on the map of Horizon Forbidden West for your convenience.
How To Defeat Apex Stalker
Their ranged attacks can deal an incredible amount of damage from a distance. Due to this, you will hardly get the chance to attack the stalker if you're using melee weapons. Moreover, the cloaking abilities of the Apex Stalker make them very hard to locate.
Try to use weapons like bows in Horizon Forbidden West so that you can detonate the land mines near the stalker in order to deal damage to it. If you manage to disable the Stealth Generator of the Apex Stalker, it will lose its cloaking abilities making it vulnerable to your attacks.
Additionally, the Dart Gun can also be used to disable the ranged assault abilities of the Apex Stalker. Using Elemental Damage here is a good strategy to overcome its attacks.
Elemental Assaults like Fire, Shock, Purgewater, Frost, Plasma, and Acid can be used against him. It is to be noted that only Shock can feel considerable damage to the stalker and elements like Plasma, Purgewater and Acid are useless against him.
Conclusion
Destroying Apex Stalker is essential as it drops the Apex Heart in Horizon Forbidden West. The item can be used to upgrade your armor and weapons.
One of the best RPG releases of 2022, Horizon Forbidden West took the world by storm owing to its stunning graphics and epic gameplay. You can customize your characters using Kratos Face Paint. There are also certain items scattered throughout the map like Black Box. Additionally, you can fight cruel enemies like Apex Stalker in Horizon Forbidden West which will drop tons of rewards.
You can also get Survey Drones and Cauldron. There are Signal Towers that you can climb and Relic Ruins that you can collect. To gain more XP and level up faster, you can farm Metal Shards well. If you're just starting out in the game, make sure you check our tips guide. Moreover, if you want to complete the game quickly, try our Fast Travel Methods guide.
With this, we conclude our guide on what is Apex Stalker, where you can find it and the rewards it drops in Horizon Forbidden West.
Was this article helpful?
Thanks! Do share your feedback with us. ⚡
How could we improve this post? Please Help us. ✍