What Are Ship Blueprints
Navigation is the bread and butter of Lost Ark. Adventuring around multiple islands, and fighting bosses is its core gameplay. However, you cant just traverse the sea without a ship. Ships are just as important for your survival in this game.
---
Key Highlights
Upgrading the ship

plays a key role to get through all the challenging Islands and seas in

Lost Ark

to explore around.

To upgrade the ship, the player will need

Ship Blueprints

.

There are only

three levels

where the player can upgrade the ship, they are level

3, 4, and 5

. A total of

60 ship blueprints

are required to get this done.

The players can purchase the ship blueprints from

Traveling Ship Merchants

. They can be found in various ports on different Islands. The top recommended Merchants are

Spearfish Hunting Guild Vessel

and

Plumpcrab Fishing Guild Vessel.

Another way of purchasing the ship blueprints is from

Trade Merchants

, they are tied to your

Stronghold

. Some of them are

Duekhyeon

,

Illayne

,

Rami

,

Tago

, etc.

Completing different challenges in Events in Lost Ark is also a way of obtaining the Ship Blueprints.
---
There is a huge catalog of ships to choose from in Lost Ark, but only some of them are the best. You might like our guide on Best Ships in Lost Ark for a detailed review of these ships. Different ships have a different set of attributes. Some are faster than others but have lower durability. Some ships offer average attributes in all stats.
However, ships on their own cannot last long in the world of Lost Ark. They need to be upgraded and strengthened throughout your playthrough. Various materials are needed to upgrade ships which include;
Timber
Ship Parts
Ship Blueprints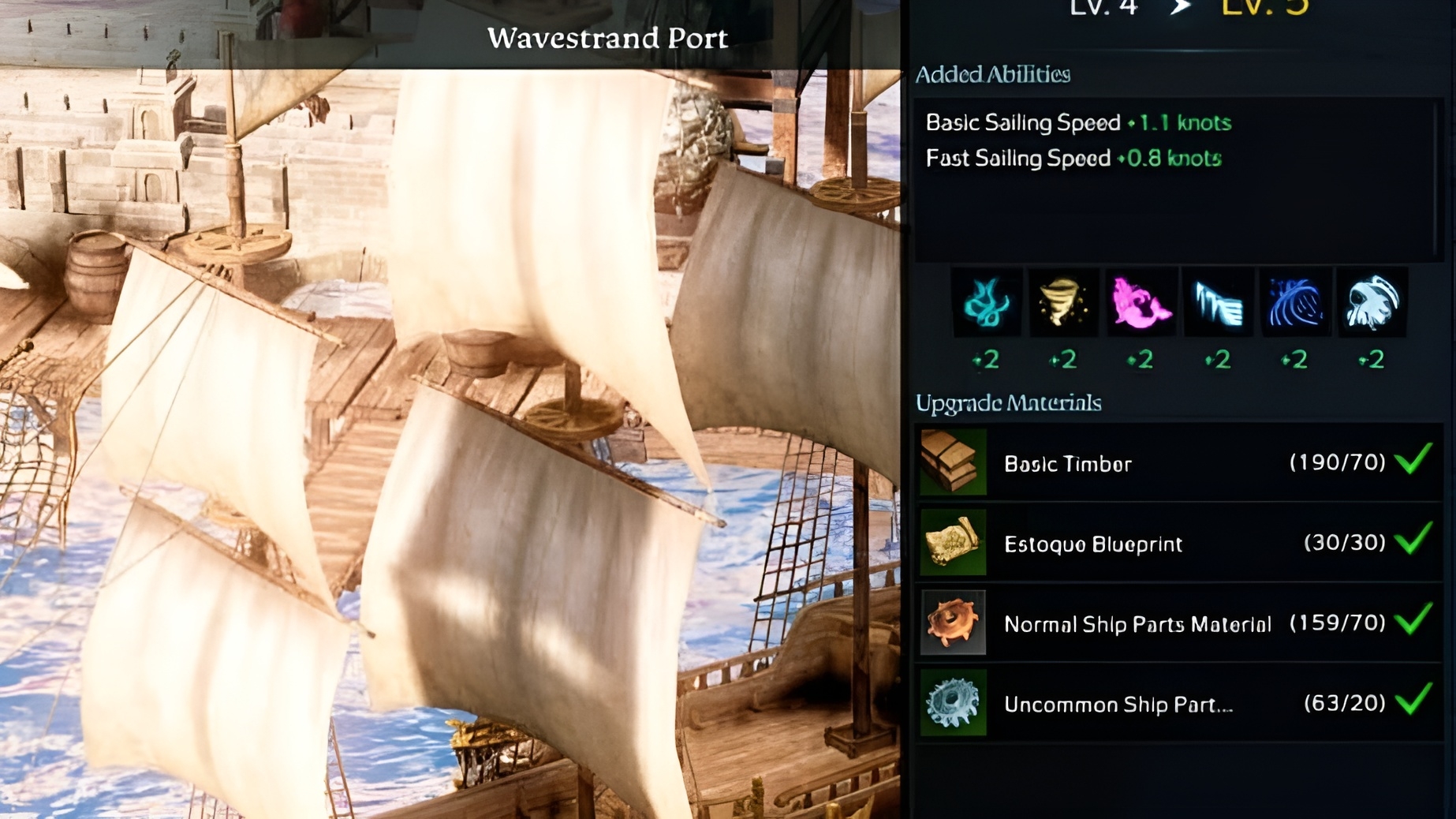 As you can see, blueprints are important for upgrading your ships in Lost Ark, and you'll need the best ones. Lost Ark seas are dangerous and challenging, and without an upgraded ship, you'll need to face many repairs. So, make sure to invest in upgrading as soon as you unlock this feature.
Timber for your ships can easily be bought from Travelling Merchants or can be traded from Trade Merchants. It can be bought with Pirate Coins, which are easy to get around. Ship Parts can be bought from Processor NPCs or crafted using different materials such as Iron Ores and Pearls.
Where Do You Use Ship Blueprints
As mentioned above, ship blueprints are needed to upgrade your ship's attributes. They will increase both the durability and speed of your sea vehicle. Although, ship blueprints are only needed for 3 upgrades. This means that over the whole run of your upgrades, you'll use blueprints only thrice.
You need a total of 60 blueprints to get those three upgrades for your ship. These are Level 3, 4, and 5 upgrades. As the level of your ship increases, so will the rarity of blueprints required to upgrade it. The number of blueprints needed will decrease, but their rarity will jump a tier above.
Blueprints are only needed for three ship upgrades in Lost Ark; however, getting your hands on them can get a bit difficult. We will now explain multiple methods of obtaining ship blueprints in Lost Ark.
How To Get Ship Blueprints
There are multiple methods of obtaining the best ship blueprints in Lost Ark, but we will discuss three major methods here. Ship upgrades boost both speed and durability, helping your adventure around these dangerous seas of Lost Ark. Following methods can be used to get your hands on ship blueprints;
Purchasing from Traveling Merchant Ships
Purchasing from Trade Merchants in your Stronghold
Obtaining Blueprints from events
Now we will discuss each of these methods in detail.
Purchasing From Traveling Merchant Ships
Every island in Lost Ark has a port or a dock. Multiple ships can be found at this location. Travelling Merchant ships are also docked near the waters of these ports. Different islands have different merchants who offer different materials for sale. But most of them will sell you ship blueprints.
In order to reach the merchant, firstly get on your ship. Then sail your way towards the merchant. Once you are near him, press 'G' on your keyboard or just do a Left Click with your mouse. A merchant shop will open up, and you will find ship blueprints under the Upgrades menu.
Ship blueprints can be bought with Gienah's coins at these merchants. Gienah's coins are the currency in Lost Ark and are needed to purchase almost everything its world offers, including best ship blueprints. Merchant Ships can sometimes also sail away to other islands, so be quick in purchasing these upgrades. Spearfish Hunting Guild Vessel and Plumpcrab Fishing Guild Vessel are some recommended traveling merchants.
Purchasing From Trade Merchants in your Stronghold
Trade Merchants are your second best source for best ship blueprints in Lost Ark when you're out of Traveling Merchants. These merchants are tied to your Stronghold in Lost Ark, and their abundance depends upon the level of your stronghold.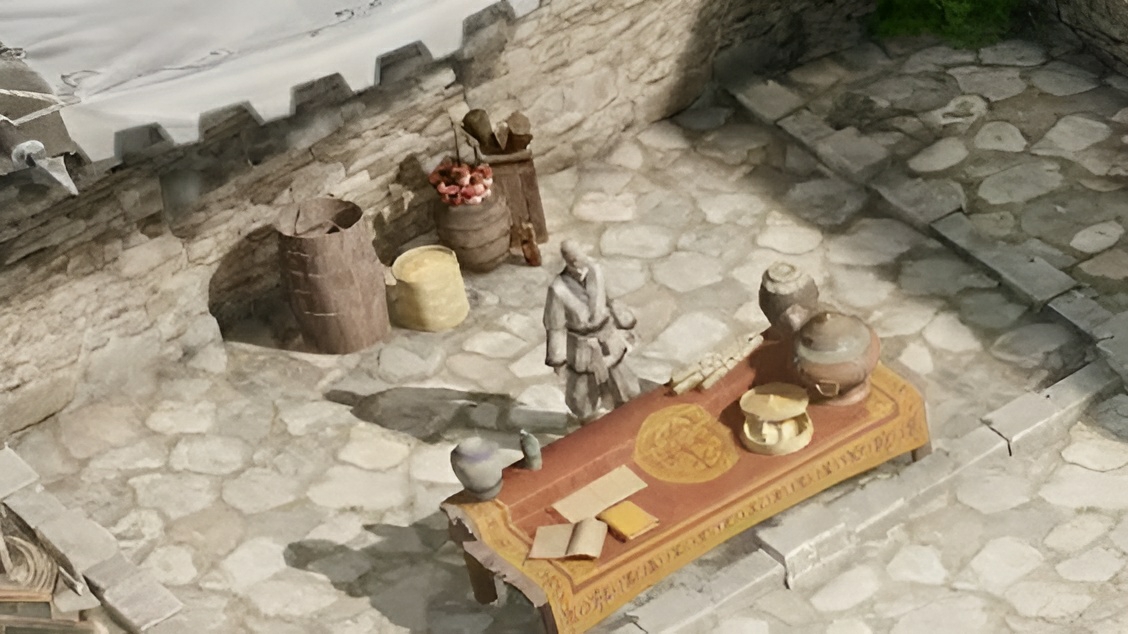 If you are unfamiliar with Strongholds, then try checking out our comprehensive guide on Stronghold in Lost Ark, and you should get the gist of it. Trade merchants are tied to your Lab of Stronghold. As you continue to research Trade merchants in this lab, more Trade merchants will start appearing in your Stronghold with better loot.
Not all Trade merchants will have ship blueprints for sale; that is why it is always recommended to research them. It increases the chance of Trade merchants with ship blueprints to appear at your Stronghold. Following Trade, merchants are always guaranteed to sell ship blueprints;
Duekhyeon
Illayne
Rami
Tago
Flarke
Trade merchants will sell you blueprints for different Seals. Worry not, as seals can be easily obtained by completing Stronghold dispatch missions. Trade merchants are often present at the NPC corner of the island, also known as the bottom-left corner of your map.
Additionally, if you want to locate a Trade merchant, then open management. Management can be opened by using the command Ctrl+1 and then surf your way over to your Stronghold info tab. You should see all the trade merchants over there.
Obtaining From Events
Sometimes, in-game events take place which is special and only occur for a specific time. These events feature new challenges and tasks. Participating in these events and completing challenges will also earn you ship blueprints. Although this method is not as good as the other two, it depends upon the chance of that specific event happening.
Daily login also rewards ship blueprints. So whatever you do, do not miss out on these daily logins. They are literally free and the most simple method of obtaining rare/best ship blueprints in Lost Ark.
Tips
Lost Ark is the latest online action role-playing game developed and released by Tripod and Smilegate Studios. There is a sense of adventure implemented in Lost Ark as you have to explore multiple islands. Exploration requires the use of ships. Additionally, islands in Lost Ark include Asura, Cradle of the Sea Fermata, Turtle, Lagoon, Snowpang, and Lush Reed Island.
Every island is overrun by loot, treasure chests, world bosses, and raid bosses. Treasure Chests are very well hidden, but they offer good rewards. We feature a comprehensive guide on Islands in Lost Ark that explains every little thing about these locations, including the location of treasures.
Raid bosses are generally harder than world bosses and are for the endgame. Caspiel is a world boss, whereas Achates is a raid boss. Our guides on these bosses will help you beat them in no time. You can also attempt boss fights online as Lost Ark features massive multiplayer gameplay.
Your build and class define your character in Lost Ark. Make sure to choose the best class and invest in the most viable build for your game. PVP also depends on your class, so you should check out our guide on Classes in Lost Ark. Solo players can check out the Best Solo Classes in Lost Ark guide.
Every class further offers different builds to choose from. We recommend using Shadowhunter Build and Destroyer Build in Lost Ark. You'll need gold in order to perform upgrades, so check out our Lost Ark Gold Farming guide if you're running low on gold currency.
Summary
Lost Ark is a free-to-play game and is available to download on Steam. It was initially released for PC on December 4, 2019. Unfortunately, Lost Ark is currently only playable on PC and no other platform. However, every PC gamer interested in both Multiplayer and RPG games should definitely give it a try. The game definitely rewards your time with unique content present on every island.
This concludes our guide for Best Ship Blueprints in Lost Ark. We went into complete detail about the blueprint item and how it is used. We also explained all the ways to obtain blueprints. Hopefully, it helped you to upgrade your favorite ship in Lost Ark. Let us know what you think about Lost Ark in the comments below!
Was this article helpful?
Thanks! Do share your feedback with us. ⚡
How could we improve this post? Please Help us. ✍