What are Raid Matches
There is a diversity in MMOs based on endgame progression activities. These may range from hunting down the Best Crews In Lost Ark to collecting the Best Card Sets throughout the game.
However, raid matches tend to have incentives that make every player want to accomplish them. This activity offers the richest rewards obtainable in the game. You can party up with your guildmates or match-make to join them. They can also be attempted solo if you have the Best Solo classes in Lost Ark.
---
Key Highlights
Lost Ark

features

various classes

, such as the Paladin, Berserker, Gunlancer, Sharpshooter, and Sorceresses, that players can use in the game.

These classes can be

heavily modified

to change their builds and playstyles, with some of the most powerful being the

Gunslinger

and

Destroyer builds

.

Raid matches

in Lost Ark are the

endgame activities

that offer the

richest rewards

in the game and consist of tough boss fights.

Guardian Raids, Abyssal Raids, Abyss Raids

are the three types of raids.

Players can participate in raid matches with a group of up to

16 people

or

solo

with the best solo classes in the game.

To unlock the Guardian Raids, players must have completed

the North Vern Adventure Tome

and have access to

the Guardian Raid Qualification Certificate

.

Other raid matches can be unlocked through the main progression and story of the game and require a

character level

of at least

50

.
---
Players should also be prepared with the right gear, such as having item levels above 460, and strategy to be successful in raid matches.
These raid matches have varied types of bosses, which we will cover later on in the guide. The raid matches mainly consist of 4-player parties and may go upward to 16-player parties too in some harder difficulty raids.
Most raid battles throw you straight into the boss fight arena in Lost Ark, but some test your capabilities, such as combat prowess and teamwork with other players. These raids consist of complex mechanics and various puzzles that you will need to be aware of to be able to triumph over them.
You will need to bring your powerful classes if you want the optimal DPS during most raid encounters. Players will want to fill in the roles of either being a pure damage sponge Tank or a powerhouse DPS machine. This is why we have also covered a guide on the Best DPS Classes of Lost Ark.
So let's take a brief look at how to unlock the important Guardian Raids as well as the requirements needed for the other raid matches in the game.
How to Unlock & Access Raid Matches
Players only need to look out to unlock the Guardian Raids specifically. These are one of the few raid matches players will be to conquer daily in Lost Ark., So excluding the latter raid boss fights, make it a priority to unlock them as soon as possible.
The rest of the raid matches will slowly be discovered throughout the Main Progression & Story. The crucial detail to remember is that players need to be at least Character Level 50 for most of these raid matches. You can learn to maximize your levels by reading our Lost Ark leveling guide.
The level is also the soft cap level until you reach level 60. But rest assured, several endgame challenges will only open up during your time at this level in the game.
To unlock the Guardian Raids, you will need to have completed the North Vern Adventure Tome. You will also need to have access to the Guardian Raid Qualification Certificate quests. The exact quest steps are:
Locate and speak with Seifeltz
Sign the document required to join the Guardian Raids
Submit the document back to Seifeltz
The waiver will allow players to participate in the Guardian Raids
So the quest itself is pretty simple and takes only a couple of minutes to complete. After which, players can take on the different raid matches' boss fights via the Guardian Raid Bulletin Board in Lost Ark.
The Relation of Raid Matches with Guilds
There is a particular Raid match that is progressively handled by being a part of a Guild. These are similar to Player-created Clans from the games like Clash of Clans or Call of Duty. They have unique activities which involve both the PVE and PVP content of the game.
The guild raid match functions as a special event where all guild players can take part in challenging the powerful Sylmael Devourer. The faster you can defeat it, and the higher your guild will go in overall Guild Rankings.
You can join guilds using the [Alt-U] hotkey or navigate to the guild menus by pressing the escape key. There also are various guilds you can discover by checking the official Reddit and Discord communities of Lost Ark.
Before we continue, why not check out our guides on the Best places to Level up Foraging as well as how to Unlock Skins for your Classes in Lost Ark to make them look stylish as possible.
Types of Raid Matches & Bosses
There are a wide variety of bosses to be hunted in the Raid matches of Lost Ark. These bosses include the likes of the formidable Achates or even various bosses found within dungeons of The Gate of Paradise in Lost Ark.
The types of Raid matches differ from each other both mechanically and in total duration. They have specific time limits, reward pools, and a completely special dungeon infrastructure. The following are the three types of raid matches available to tackle in the world of Lost Ark:
Guardian Raids
Abyssal Raids
Abyss Raids
We have already discussed guardian raid matches and how to unlock them, but now we will be discussing a general overview of these raids as well as the mechanics and bosses in them. We recommend checking out our Classes Tier List as well as the Weapons Tier List in Lost Ark to be thoroughly prepared for this endgame activity.
However, it is worth pointing out that raid matches have 5 different difficulty levels. Each difficulty tier offers its bosses and rewards. It also boasts different styles of mechanics and strategies to triumph over them.
Most of the larger raid matches are broken into small sections where you clear mobs or solve complex puzzles. As we move on to explain each raid match, players should be mindful of their teammates. Maintaining a healthy and positive attitude is the key to perfect communication and synergy with other players during raid matches.
Guardian Raids
Guardian raid matches can be accessed from the Guardian Bulletin board by fulfilling the requirements we have already mentioned above in the guide. They are the earliest endgame activities you can unlock in the game. These raids can be attempted every day to earn valuable rewards up to 2x times.
These raid matches primarily consist of the players battling a single Guardian boss fight in an arena. You must defeat the main boss of the dungeon and claim the "Guardian's soul" to fully complete the objectives. Guardian raids are possible to solo with overpowered builds such as the Shadowhunter and Deathblade in Lost Ark.
There is an aspect of Guardian raids called the Rest Meter. You will accumulate rest points to fill the meter if you do not harvest a guardian soul for the end of the day. You will be able to earn a Guardian soul once the meter fills up to 100 rest points. The meter is designed for players who might miss a few days of grinding this raid.
The guardian raids will reward you for your efforts by gifting you with useful upgrade materials as well as stones and gems to boost your characters past their potential.
As we mentioned previously, Most raid matches have difficulty setting that differentiates them heavily. Following are the Difficulty types, and various Boss fights of the Guardian Raid matches in Lost Ark:
Raid Level 1
Ur'nil
Lumerus
Icy Legoros
Vertus
Raid Level 2
Chromanium
Nacrasena
Flame fox Yoho
Tytalos
Raid Level 3
Dark Legoros
Helgaia
Calventus
Achates
Raid Level 4
Frost Helgaia
Lava Chromanium
Levanos
Alberhastic
Raid Level 5
Armored Nacrasena
Igrexion
Night Fox Yoho
Velganos
Abyssal Raids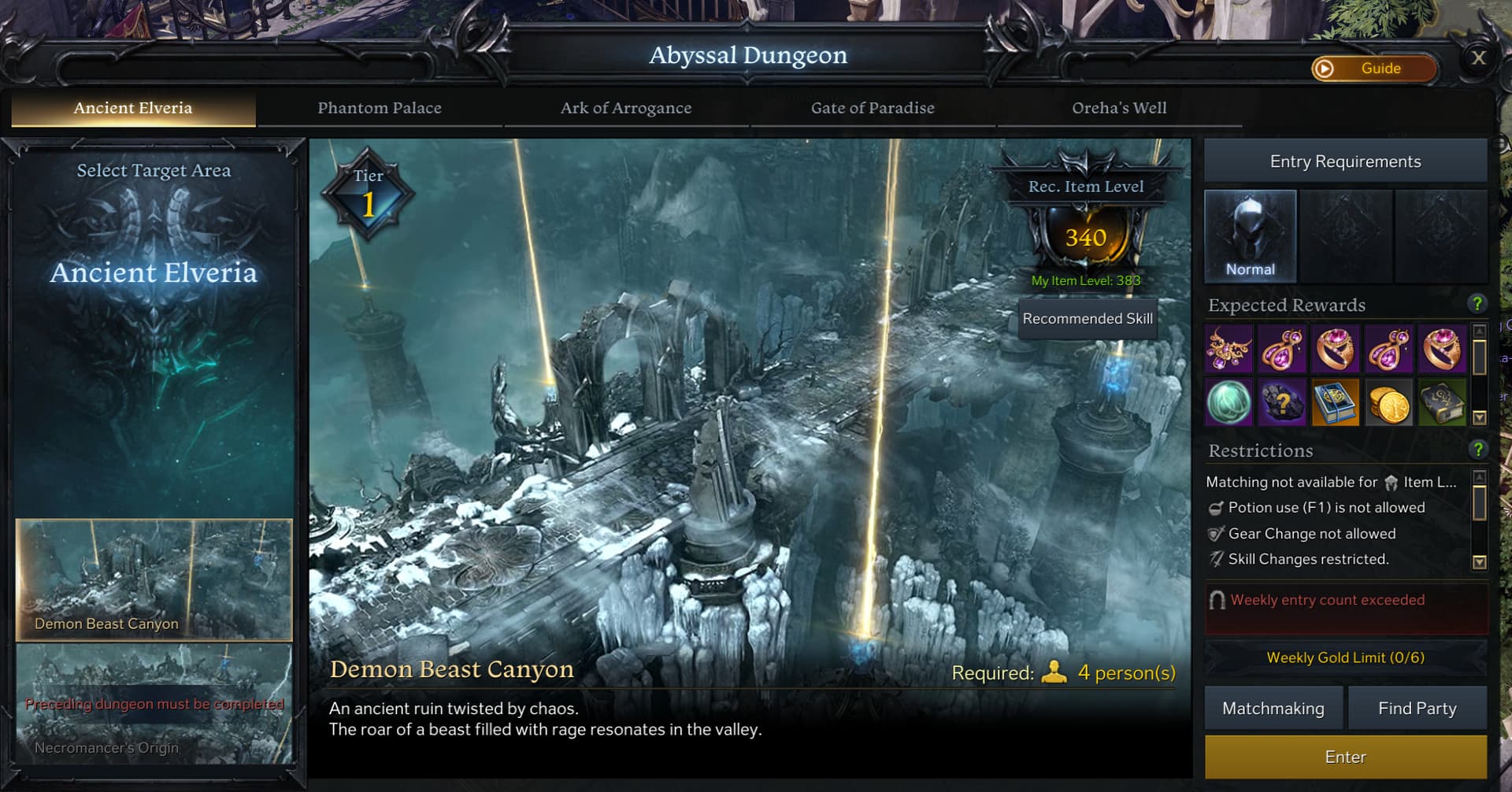 Abyssal dungeons are pretty much the true endgame raid matches of Lost Ark. They are a step up to the usual guardian raids you do as you step into the endgame. They offer valuable rewards such as epic accessories.
You will fight through numerous stages, battling mini-bosses as well as clear enemies with proper coordination. It is important to know that the Final Boss will force you and your team to learn and follow its mechanics to defeat it; otherwise, the game will wipe your team and restart the fight.
The various mechanics range from standing in the right spot to avoiding AOE damage from boss fights to destroying certain objects and memorizing the bosses' attack patterns. You are also restricted to the number of lives you can have in these types of raids. You only have access to 4 total lives for the entire raid.
Additionally, you can receive Scar of The Abyss chests at the end of each run by spending your gold. We highly suggest purchasing them since you can only complete these dungeons once per week anyways.
There should be anything too tough if you form a party with the right people through various communities or even via match make option. The recommended Gear Level for these raid matches is between 340-380. But most importantly, the five different difficulty tiers are as follows:
Ancient Elveria
Demon Beast Canyon
Necromancer's Origin
Phantom Palace
Hall of the Twisted Warlord
Hildebrandt Palace
Ark of Arrogance
Road of Lament
Forge of Fallen Pride
Gate of Paradise
Sea of Indolence
Tranquil Karkosa
Alaric's Sanctuary
–
Oreha's Well
Aira's Oculus
Oreha Preveza
Abyss Raids
The Abyss raids are one of the hardest content to overcome in the game. The raid tests your true skills of the game in these dungeons where the most powerful bosses like Argos, Kaiser, and Mystic await.
The raid requires a party of 8 total players. You will be split into teams of two with colored auras to mark your teammates as well as to differentiate your objectives from each other during the encounters. The colors will also depend on what kind of mechanics you face during each battle in the Abyss raid.
The Abyss raid matches perform on the same basis and functionality as the Abyssal Dungeons. The only key difference is that you will face the Godly Monsters as final bosses, which will all have three different phases.
There are also Gear Levels for the three different phases of the fight ranging from 1370 to 1400. No matter how powerful your character may be, you will need to work together with your team to defeat these bosses. Players will be able to gather extremely precious rewards such as legendary gear sets and ability stones.
Most importantly, you can claim a Box of Captured Souls at the end of these runs by trading in Blue Crystals. These crystals can be rewarded by successfully clearing each of the Abyss raid phases. They are worthwhile in the long run because you can receive extra Gear Sets by opening them.
Tips
Lost Ark is a Korean MMORPG that has quickly swept the Western audience with its worldwide release. It features a ton of important activities to complete, like The Song of Resonance and the various Una's Tasks. The game also has a plethora of pursuits like building your StrongHold Farm and unlocking the Tower of Thanks. Most importantly, the combat is based on hack and slash. There are various Classes in Lost Ark you can use in the game. These classes will aid you against the various types of Boss fights during Raid Matches in Lost Ark.
These classes can be heavily modified to change their builds and playstyles. These Builds include the likes of the Paladin, Berserker, Gunlancer, Sharpshooter, and Sorceresses. But undoubtedly, the most powerful ones are either the badass Gunslinger or the almighty Destroyer Builds in Lost Ark.
Before attempting these raid match boss fights in Lost Ark, you must be properly prepared for them. You need to Level up Your Virtues, maximize your Trading Skills as well as Hunt down the Engravings in Lost Ark. These are just a few of the many things you will need in this game alongside the Stone of Chaos and Mounts.
The raids matches arenas are scattered across the worlds of Lost Ark. There are Multiple Islands to be discovered in Lost Ark where a few of these arenas' locations can be found. Most islands are dispersed around the world. The important ones comprise the Lush Reeds Island as well as the Asura Island along with their Treasure Maps in Lost Ark.
This concludes our in-depth guide entailing the Raid Matches and their unique Types in Lost Ark. If you have any further related questions to the guide, let us know in the comments below!
Was this article helpful?
Thanks! Do share your feedback with us. ⚡
How could we improve this post? Please Help us. ✍