Lost Ark Yudia Adventure Tome: Definitive Guide
Our guide on Yudia will help you complete the quests in The Adventure Tome in Lost Ark. and the rewards you can farm here.
Lost Ark is an action and adventure RPG known for having some of the best gameplay experiences in the vidya community. The game keeps you glue to your screen as it offers amazing activities and quests for you to take on. You will discover some of the best islands like Forpe Island, Heartbeat Island, Shangra Island, and Opportunity Isle in Lost Ark.
Moreover, the region of Yudia also holds a lot of rewards in Lost Ark, and you will have a lot of tasks to accomplish for its Adventure Tome. You will also have the chance to discover items here that you can trade in Lost Ark's Market Online. Additionally, you will get Song of Temptation here, which is considered even better than the Song of Resonance in Lost Ark.
The bosses here are even harder to defeat than the likes of Kungelanium and Tarmakum in Lost Ark. Want to take the bosses out in style? Take a look at the Umar Collection Skins and the Legendary Skins in Lost Ark that we have put together!
Searching the extensive region of Yudia can be tough, so make sure you have the Nightmare Ship or some of the Best Ship Blueprints in Lost Ark. The rewards you will get here will help you a lot in the Raid Matches of Lost Ark . Have you seen our guide on getting the cool LED glasses in Lost Ark? If not then check it out!
Our guide today will help you complete every task and search every nook and cranny for the rewards that Yudia holds so that you can complete the Adventure Tome of the Region in Lost Ark.
What Is Yudia In Lost Ark?
Yudia is one of the most important regions in Lost Ark, and completing its Adventure Tome or Book is necessary if you want to progress in the game. The beautiful plateau is covered with a blanket of salt that reflects the sky. In Yudia, a salt trade company is in a fight with a group of bandits. These bandits intend to own the land of Yudia and turn it into their base.
Yudia is a region of abundant items. You will meet NPCs, fight some of the cruelest bosses in Lost Ark, get rewards, and much more in Yudia, thus making it one of the most extensive Adventure Tomes to complete. The region is considered a great place to farm Tier One Materials in Lost Ark.
Adventure Tome Collectibles
When you're completing the Adventure Tome for the region of Yudia, you will get certain collectibles along the way. Following are all the collectibles for this Adventure Tome;
Solar Salt x25
The item cannot be dismantled. Scholars of Luterra studied the Salt of Yudia and realized that it has magical powers. You can stack 999 of them in your inventory.
Oath Of Bandits x25
It is a journal of a Bandit that was abandoned a long time ago. There is an oath written on it, and you can stack 999 of them.
Research Note On Sapira
There are drops of blood on this paper. The research is about a demon named Kharmine. It wanted to know about the Soul of Transference, a tradition famous in Rohendel. He has the power to absorb other demons. You can stack 999 of them.
Ramella's Mirror x10
It is known to show the true self of someone. Ramella was a vain queen of Encavia; upon looking into the mirror, her hair started falling down, and her skin wrinkled. The Shaman was called Riphale, The Shaman of Darkness.
Levatonos Core x4
The item appears in the Aregal Salt Plains after rain. This core was sucking in salt to produce demons. It was discovered by an adventurer named Levatanos. You can stack 999 of them.
Salt Tree Fruit x4
The item cannot be dismantled, and you can stack 999 of them. It comes from the Salt Tree and is known for guiding the people in the desert.
Nomadic Dream x1
Nomads search the desert for Solar Salt. They occasionally find Relic along their journey. One such is the Nomadic Dream which is an ancient relic of the Encavian Dynasty.
Yudia Adventure Tome Rewards
The rewards you get in Yudia in Lost Ark depend on how much you've progressed in the Adventure Tome. Below is the list of all the rewards you can get while completing the Adventure Tome of Yudia in Lost Ark. If you want a similar Rpg experience, read our Diablo Immortal vs Lost Ark guide.
Resurrection Feathers x 10
Completion Required: 10 percent
They will automatically appear in your inventory when you pick them up, and to move them from your roster to your current inventory, simply right-click on them. Also known as Phoenix Plume, the magical feather has the ability to bring the dead back to life. Additionally, the item cannot be dismantled or sold. You cannot destroy it as well. You will get 10 of these in one drop.
Major HP Potion(Bound) x10
Completion Required: 20 percent
The item will be automatically bound to your roster when you obtain it. Upon use, your HP will be recovered by 45 percent. It will be consumed before the tradable items and cannot be dismantled. Additionally, you will get 10 of this per drop. It is limited to 5 uses only in some areas, and the cooldown for it is 10 seconds.
Salt Giant
Completion Required: 30 percent
One of the field bosses that you will face in Yudia is the Salt Giant. In fact, he is termed as one of the trickiest bosses to defeat. He is made of salt and attacks you by swinging his fists in your direction, inflicting heavy damage.
The boss drops many rewards, and you can farm him in order to gain some XP. We have also curated a guide on The Salt Giant in Lost Ark, so you can see in detail how to take over the boss.
Wisdom Potion
Completion Required: 40 percent
The best thing about quests in the Adventure Tome of Yudia is that they let you stock up on some stats in Lost Ark. For instance, you will get the Wisdom Potion as a reward on the Island. By using it, you will get 10 Wisdom. Additionally, it has a cooldown rate of only 1 second and cannot be dismantled, sold, or destroyed.
Song Of Temptation
Completion Required: 50 percent
One of the Normal Items in the Adventure Tome of Yudia that you can equip in Lost Ark is the Song Of Temptation. It will bind to your Roster Automatically when you obtain it. It is a sweet and gentle melody that has the ability to capture the soul of the listener.
Additionally, you can use it to build rapport with some of your favorite NPCs in Lost Ark. You cannot sell or destroy it, and it cannot be dismantled. We have also curated a guide on Bot Farming in Lost Ark so you can easily collect all rewards without wasting your time.
Sky Reflection Oil
Completion Required: 60 percent
When you're done with completing 60 percent of the Adventure Tome of Yudia, you will get the Sky Reflection Oil as a Reward. Moreover, the Legendary item can be used to build Rapport with Certain NPCs in Lost Ark. The liquid solution contains key items like Saltree Seed, Mungka Oil, and the Solar Salt.
Yudians use it to protect their skin from the sun. Thus you can give it to any Yudian NPC, and they will certainly appreciate it. The item can also be obtained from the Shadowmoon Market and from the Wandering Merchant in the city. Once you have the item, your Yudia Adventure Book will be 60 percent completed in Lost Ark.
Stat Increase Portion
Completion Required: 70 percent
If you're looking for a way to increase your stats in Lost Ark in a faster way, then the Stat Increase Potion Reward of the Yudia Adventure Tome is perfect for it. In fact, it will increase your Dexterity, Intelligence, and Strength by 5 when you obtain it. It will be bound to your inventory roster when you pick it up.
Additionally, it cannot be destroyed, said, or dismantled. The cooldown rate for the Epic Potion is 1 second. This Stat Potion will help you fight the cruel Dungeon Bosses in Gates of Paradise Lost Ark.
Encavian Crown
Completion Required: 80 percent
The Relic type item is the most important reward of Yudia Adventure Book and can greatly increase your Rapport with certain NPCs of Lost Ark. Moreover, the item can be accessed easily from inventory once you obtain it. Encavian Crown is an ancient Relic of the kingdom of Encavia.
The Encavia kingdom ruled Yudia several ages ago. Thus if you give it to a male NPC, your Rapport will increase a lot. Additionally, it can only be gifted once, and you cannot destroy or sell it. Want to increase your damage per second? Check out our DPS Meter in Lost Ark.
Structure: Yudia Geyser
Completion Required: 90 percent
The Legendary reward that you will get when you complete Yudia Adventure Tome 90 percent is the Yudia Geyser in Lost Ark. It is, in fact, a set of materials that can be used to make a Yudia Geyser in the Stronghold in Lost Ark.
However, the geyser is dangerous and should be observed from a distance. Similar to previous rewards, you cannot sell or destroy them.
Ignea Token Of Yudia
Completion Required: 100 percent
It is proof that you have successfully completed all the quests present in the Adventure Tome of Yudia. The image of the Legendary Adventurer Ignea is imprinted on it. You cannot dismantle, sell or destroy it.
Z
ones To Farm In Adventure Tome OF Yudia
Yudia has two farmable regions with dungeons and caves that hold rewards and items necessary to complete the Adventure Tome of Yudia. It has the following zones.
Saland Hill
This region has a northern and southern half filled with plenty of items that you can farm in Lost Ark. Following are the Adventure Tome Collectibles that you can get here.
Five Unique Monsters

Thirteen Hidden Stories

Three Food Items

Two Key Ingredients

One Field Boss

Two Vista Locations

Nine Mokoko Seeds

One Dungeon to complete called the Morai Ruins
Ozhorn Hill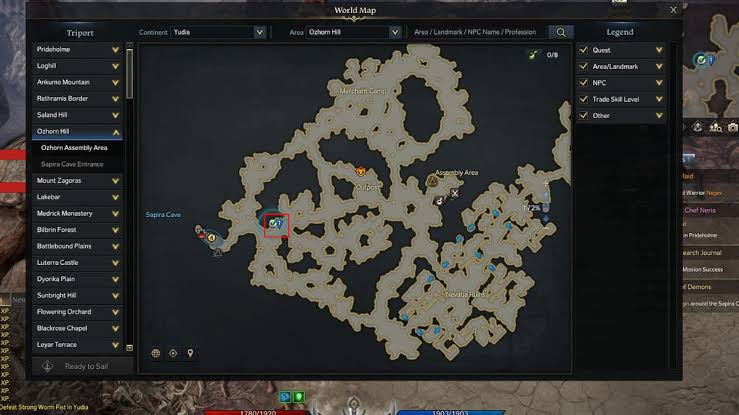 The second region of Yudia that you need to farm to complete the Adventure Tome is Ozhorn Hill in Lost Ark. It has the following collectibles;
Six Unique Monsters

A Hidden Story

One Vista Location

A Key Ingredient

Sapira Cave Dungeon to complete

Eight Mokoko Seeds
Yudia Cooking Guide For Adventure Tome
When completing the Adventure Book of Yudia, you need to collect certain recipes and foods in Lost Ark. You will need to locate the cook of Yudia called Hella. She can be found in the Nomad Camp of Saland Hill. Following are all the cooking recipes needed to complete the Adventure Tome of Yudia. It is also considered one of the best places to level up foraging in Lost Ark.
Salt Grilled Saltbug
It can be found far to the north of the Saland Hills. The Saltbug is an Epic item that will automatically bind to the inventory upon obtaining. Additionally, it cannot be sold or destroyed. You can have 999 of them in your inventory.
Natural Mungka Jerky
You can obtain this Epic item at the bottom of the Saland Hills in Yudia. It will bring you one step closer to the completion of Yudia's Adventure Tome. According to the item's description, it is the Meat of Mungka that has been jerked naturally by the heat of Yudia. Moreover, it seems as if the sunlight is absorbed quite well in this meat. However, you cannot sell or destroy it.
Worm Poop Coffee
You won't get the item as it is; instead, you will have to craft it. Collect some Salt Worm Poop, which is the feces of salt worms located in Saland Hill. Take it to the cook, and you will get the Worm Poop Coffee. Despite its world-class flavor, the process of making it keeps many people from tasting it. You cannot sell or dismantle this item.
Age Old Cavatian Wine
Another craftable item in Lost Ark needed to complete the Adventure Tome of the region of Yudia is the Cavatian Wine. You need to find the Hidden Encavian Liquor Bottle in the Sapira cave and take it to the cook. She will craft the Age Old Encavian Wine that has been a favorite of royalty and is rich in flavor. Moreover, you cannot sell or destroy the item.
Salted Food Box
You need to craft this item by finding the Old Encavian Food Chest in Ozhorn Hills. Give the item to Hella and she will make a Salted Food Box that is an Epic-type item. It will be bound to your roster and is an old food chest filled with items from the Encavian age.
They have been salted for preservation purposes. However, you cannot sell or destroy it. If you are just getting into mining, we have curated a guide on the best Mining Spots in Lost Ark.
Rainmaking Ritual Leftovers
Next, we have another craftable item that has certain requirements to be created. You need to reach the Trusted Stage with Thunder NPC in order to get the Ritual Food Ingredient. It is a legendary item that can be given to Hella the Cook to be converted into Rainmaking Ritual Food.
After you have eaten it, you will be left with the Rainmaking Ritual Leftovers. It is a common food item used by the Yudian Nomads in Rainmaking Rituals.
Salt Cracker
To make this item, you need to find one of the rarest items of the Yudia Adventure Tome, namely the Salt Crystal in Lost Ark.
However, there is only a small chance of this Salt Crystal being turned into a Salt Cracker. You can find it in Occupied Salem of Saland Hill. It is located beneath a rock. Give the item to Hella to get a Salt Cracker.
Wandering Merchant Location In Yudia
You cannot progress in the Adventure Tome until you've met Lucas in Yudia that spawns randomly in Lost Ark. Moreover, Lucas spawns in both Saland Hill and Ozhorn Hill. He will stay for 25 minutes in a random zone and will be present on all channels. He spawns around 1:30, 4:30, 5:30, 7:30, 8:30, and 11:30 am as well as pm.
If you intend to find Lucas quickly, we recommend you work with teammates and with each player covering a spawn location. Wandering Merchants spawn foR a specific zone in all the channels. Thus you will require only two people for this task. Keep an eye out in the chat, as other players mention when a sighting has occurred.
Rapport Items
Following Rapport, items can be bought or acquired to build Rapport with the NPC.
Yudia Natural Salt

Yudia Spellbook

Sky Reflection Oil
Cards
You will get the following cards from Lucas, the Wandering Merchant, upon exchange.
Morina Card

Giant Worm Card

Thunder Card
Yudia Field Boss To Complete The Adventure Tome
The main field boss that you will need to defeat in order to complete Yudia Region and its Adventure Tome is the Salt Giant in Lost Ark. Salt Giant I'd located in the South of the Saland Hills City. It will respawn after 30 minutes. In case you don't see one when you arrive, wait for some time, and the boss will spawn eventually. Equip the best weapons in Lost Ark to defeat the Salt Giant.
How To Kill The Salt Giant
The Salt Giant is very powerful and can be quite hard to defeat. However, you cannot progress in the Adventure Tome and get the token for Yudia until you defeat him. The best way to kill him is to fight him with a party.
He has ten million hit points and a wide range of attacks. However, if you fight the boss with your teammates, you can take him down in no time. Additionally, your party should have a few tanks and damage dealers; otherwise, dealing with his attacks would be tough. Remember the Resurrection Feathers or Phoenix Plumes that you obtained before? Now is the chance to use it!
Stack up on some healing supplies as well so you can last throughout the battle. The boss is even harder to defeat than Achates in Lost Ark, so be careful.
Unique Monsters Of The Adventure Tome
Unfortunately for you, the Salt Giant won't be the only boss you'll have to defeat in Yudia. The Adventure Tome of this region requires you to defeat several other unique monsters and farm them for rewards in Yudia. Following are all the unique booses you will face here.
Boss Mungka

Hard-shelled Saltbug

Old-Salt Rock Turtle

Salt Desert Bandit Fighter

Boss Paingolin

Stinging Wallou Cactus

Reanimated Chieftain

Dirty Saltworm

Whitesand Bolchi Boss

Strong Worm Fist

Alluring Shaman

Dirty Mucus Lump

Corrupted Red Eye Rock Demon

Lonely Morai Clay Soldier

Morai Clay Shaman Chief
Vista Locations In Yudia
Following are the three Vistas that you need to visit in order to complete the Adventure Tome.
Salt Works

Nomad Camp

Blood Soaked Salt Road
Adventure Tome Story And Rewards
You will have to complete the Hidden Story as well as Another Story to get the Token of Yudia.
Another Story
There are two Another Stories that you have to complete for The Adventure Tome.
Eliminating The Bandits
Before you start this quest, you need to complete the "Staring into Space" and " Supplies for his Survival" quest. Your objective is to rescue three captured Nomads and eliminate the Bandit Camp. The first quest, Supplies for his Survival can be unlocked by interacting with NPC Lokon. Staring Into Space and Eliminating The Bandits can be taken from the NPC Bharat.
Rewards
Roster XP x1080

XP x3966

Stat Increase Potion x1

Silver x650
Source Of Demons
You will have to complete the "Armen and The Demon" Quest to unlock "Source Of Demons". Your main objective is to look for Hoagin in the Sapira Cave. The quest will be assigned to you by the Nomad Warrior Aldin.
Rewards
Roster XP x86

XP x4389

Providence Stone

Silver x103
Hidden Story
There are seven Hidden Stories that should be completed in order to finish the Adventure Tome of the region of Yudia. You will find some of the best cards in Lost Ark in the region.
The Mirage

Ominous Prediction

Spending an Eternity Together

Flawless Marksmanship

The Origin of the Name

Tododo Song

The Solar Salt Candy
Main Quests Of Yudia
Some quests of Yudia are important to complete if you want to complete the Adventure Tome. The main quests of Yudia are as follows;
Bandit Road

Finding The Monument

Another Monument

The Last Monument

Morai Ruins
Rapport NPCs
There are two NPCs in Yudia, one in Saland Hills and the other in Ozhorn. They are called Thunder and Morina in Yudia, and they are an important part of completing the Adventure Tome in Lost Ark.
Thunder NPC
She is a Shaman living in the Aregal Salt Plains and is a firm believer in the existence of Encavia.
You will get the following Rewards upon building Rapport in Lost Ark with her.
Ancient Gold Coin

Creation Fragment

Character Card

Ritual Food Ingredient

Harmony Battle Engraving Recipe Pouch
Morina
She is a student of a Shaman and is famous as Foxfire in Ozhorn Hill. Morina aims to help the Yudian Nomads.
Upon completing Rapport with her, you will receive the following rewards;
Ancient Gold Coin

Character Card

Vitality Increasing Potion
Conclusion
This concludes our extensive guide on The Yudia Region and all the quests you need to complete The Adventure Tome of this island in Lost Ark. Hopefully, with our guide, you will be able to check out all the activities in the Adventure Tome.
Was this article helpful?
Good job! Please give your positive feedback ⚡
How could we improve this post? Please Help us. ✍