The Challenger is one of the tankiest Archetypes in Remnant 2. It is a great class for close to mid-range combat, and its ability to work with greatswords makes it great for melee combat as well. But, to utilize the maximum potential for the Challenger, you need to incorporate the best Remnant 2 Challenger Build.
Key Takeaways
The Challenger is one of the more aggressive archetypes in Remnant 2.
A build surrounding the Challenger is focused on utilizing its sheer raw power and letting it take out enemies in a mid to close-range distance.
For a second archetype, the Challenger can benefit from those that offer more mobility or better-ranged abilities.
The main weapons for the Challenger are those that perform well at close range, like melee weapons or shotguns.
You can enhance the power of the Challenger by equipping it with Rings and Amulets that provide more damage or increase your mobility.
Best Challenger Build In Remnant 2
Here is an overview of the Challenger build in Remnant 2 including the weapons, skills, armor set, traits, and more.
| Category | Item/Feature |
| --- | --- |
| Second Class Options | Hunter, Invader, Engineer |
| Skills | Rampage Skill, Heavy Vulcan Ability |
| Recommended Traits | Untouchable, Fitness, Fortify, Swiftness |
| Weapons | Merciless, Meridian, Nightshade |
| Armor | Leto Mark II Armor |
| Rings | Ring Of Omen, Dying Ember, Blood Jewel, Burden of the Destroyer |
| Amulets | Ravager's Mark, Death's Embrace |
Challenger Build Overview
When creating a build, you need to consider the second archetype and the main skills and traits that you'll focus on for that build. Although your skills will be unlocked as you progress, the traits that you opt for can vary heavily according to your playstyle. Here are the recommended options for the Remnant 2 Challenger Build.
Second Class
Consider these options to enhance your Challenger build:
Hunter: Perfect for long-range precision, it complements the Challenger's close combat strength, ensuring versatility.
Invader: Boosts the Challenger's strengths with speed and agility, creating a swift, hard-hitting combo.
Engineer: Unconventional but effective, it complements melee skills with versatile tools for efficient room clearing.
Choose based on your playstyle, but for simplicity, Engineer is the top choice as a secondary class for the Challenger.
Skills
Choose one skill from the Challenger and one from the Engineer:
Rampage Skill: Enter battle frenzy for 20 seconds, boosting fire rate by 15%, reloading speed by 20%, and movement by 10%. Accumulate Rage stacks with significant damage, each increasing ranged damage by 5%. At 10 stacks, go Berserk, reloading and doubling Rampage's effects for 20 seconds.
Heavy Vulcan Ability: Deploy a Vulcan Cannon Turret until it runs out of ammo. It targets your selected enemies; a second press makes it target autonomously. Holding the button activates Heavy Carry Mode. With Engineer Prime, supercharge your current weapon. Double-press to reclaim the weapon, refunding 75% of the remaining ammo.
Recommended Traits
For the Remnant 2 Challenger Build, focus on Archetype traits. They offer flexibility compared to the fixed Core Traits. Here are key trait options:
Untouchable: Enhances dodging speed for close-range combat.
Fitness: Increases Evade Distance for better evasion.
Fortify: Boosts Armor Effectiveness by 50% to withstand surprise attacks.
Swiftness: Improves overall movement speed for combat mobility.
Challenger Build Equipment
While looking at the different weapons for the Remnant 2 Challenger Build, you will ideally need to make your melee weapon the strongest while choosing other weapons, such as Long Guns and Handguns, to ensure you're also effective in ranged combat.
Merciless
| | |
| --- | --- |
| Attribute | Value |
| Damage | 13 |
| RPS | 8.6 |
| Magazine | 50 |
| Ideal Range | 20m |
| Falloff Range | 45m |
| Max Ammo | 250 |
| Critical Hit Chance | 10% |
| Weak Spot Damage Bonus | 100% |
| Stagger Modifier | 0% |
| Bloodline | Specific Mod |
| Bleeding Damage | 250 over 10s |
The Merciless Long Gun suits the aggressive Challenger Class playstyle, perfect for front-line combat.
Its Bloodline ability penetrates enemies, gaining damage with each hit, ideal for crowd control and facing hordes.
Inflicting bleeding damage in close-quarters combat adds depth to the Challenger's tactics.
To acquire it, defeat the Corrupted Ravager in Yaesha, echoing the Challenger's approach to combat. Crafting at McCabe Store enhances its appeal.
Meridian
| | |
| --- | --- |
| Attribute | Value |
| Damage | 82 |
| RPS | 1.9 |
| Magazine | 5 |
| Ideal Range | 15m |
| Falloff Range | 30m |
| Max Ammo | 40 |
| Critical Hit Chance | N/A |
| Weak Spot Damage Bonus | N/A |
| Stagger Modifier | 0% |
| Special Effect | Grenades |
| Mod | Screamer |
The "Meridian" handgun in Remnant 2 perfectly fits the Challenger Class, offering explosive secondary firepower. It excels in close-quarters combat and complements the Challenger's aggressive style.
Meridian's grenades explode on contact, enhancing the Challenger's reputation for heavy damage with a 4-meter radius AOE attack. Additionally, the Screamer's high-powered rocket deals up to 200 damage in a 2.5-meter radius, reinforcing the Challenger's powerful attacks.
To obtain the Meridian, venture into the Flooded Sewer event, which can appear in various locations. Acquiring this weapon mirrors the Challenger's pursuit of strength and challenge, providing a thrilling adventure.
Nightshade
| | |
| --- | --- |
| Attribute | Value |
| Damage | 47 |
| Critical Hit Chance | 18% |
| Weak Spot Damage Bonus | +110% |
| Stagger Modifier | -20% |
| Special Effect | Lifesteal |
| Mod | Beyond The Veil |
Nightshade, a unique melee weapon, suits the aggressive Challenger Class in Remnant 2.
Challengers thrive in close combat, and Nightshade's swift claws deal heavy damage, making them a perfect fit.
Nightshade's lifesteal ability adds a strategic element, providing 5% base damage as lifesteal for 5 seconds, doubling with a perfect dodge.
Obtaining Nightshade is a thrilling quest. Craft it at McCabe using materials like the Nightweaver's Finger, Lumenite Crystal, and Scrap. Defeating The Nightweaver for the required drop adds a flavorful challenge to acquiring this weapon.
Leto Mark II Armor
The Leto Mark II Armor is the obvious choice for an ideal Remnant 2 Challenger Build, as it is one of the heaviest and strongest armors in Remnant 2.
It offers solid protection against every single type of damage in Remnant 2 and has a base 168 armor value.
To get every piece of the Leto Mark 2 Armor in Remnant 2, start at the Fractured Ingress, navigate through portals and ledges, and use the Biome Portal Key to reach a secret area in Ward 13, where you'll find the armor set in a container.
The only thing worth considering while choosing this armor piece is that it will greatly affect your carrying capacity.
But if you can use rings to increase your carrying capacity, you can adapt accordingly.
Rings
Rings are essential accessories for enhancing your build in Remnant 2, offering valuable buffs.
Ring Of Omen: Enhance your evasive abilities with the Ring of Omen. It enables you to utilize your grey health section while evading, providing more than just stamina during close encounters in the Challenger build.
Dying Ember: Lifesteal plays a crucial role in Remnant 2, and the Dying Ember ring boosts it by granting 5% of melee damage as Lifesteal.
Blood Jewel: When using melee combat, charged-up attacks become more effective with the Blood Jewel, causing them to inflict bleed damage alongside their regular impact.
Burden of the Destroyer: Opt for the Burden of the Destroyer ring, ideal for mid or close-range combat in the Challenger build. It reduces your weapon's range but significantly increases its damage output by 15%.
Amulets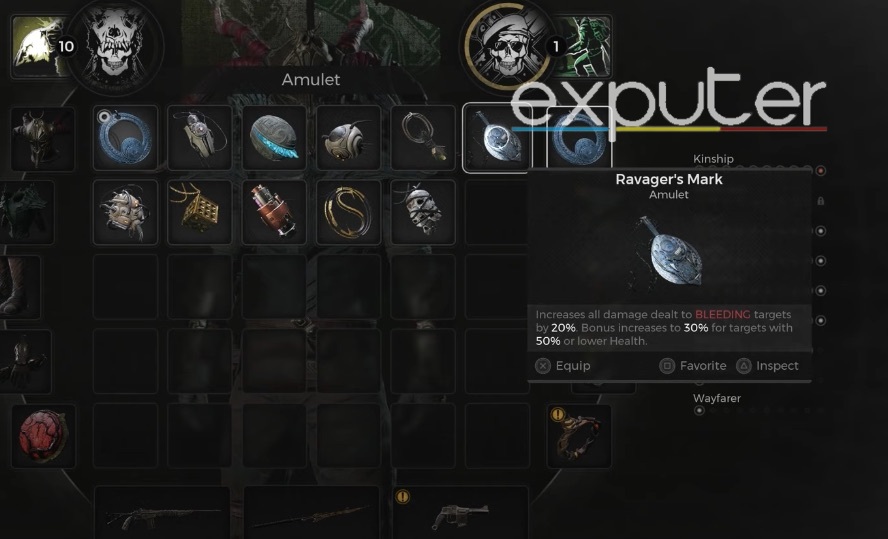 Ravager's Mark:
Due to the Blood Jewel ring, there is a solid chance that you'll be able to deal quite a lot of bleed damage to many of your enemies.
You can enhance that further by incorporating the Raveger's Mark Amulet.
The Ravager's Mark increases the damage to already bleeding enemies by 20%.
The only issue is you cannot get the Ravager's Mark Amulet and the Merciless weapon in the same playthrough; that is why there is another Amulet you can consider.
Death's Embrace:
Death's Embrace allows you to deal 20% more damage for all types of damage, as long as your health is not 100%.
It is rare for your health to be completely topped up, especially in combat, so you'll usually always have the buff.
With that, you know all about the Remnant 2 Challenger Build! It is quite a powerful build, especially at close range. But if you're looking for more builds, definitely check out the best katana build. Also, check out how to get the Void Heart or the Burden of the Gambler for useful awards.
Next:
Was this article helpful?
Thanks! Do share your feedback with us. ⚡
How could we improve this post? Please Help us. ✍